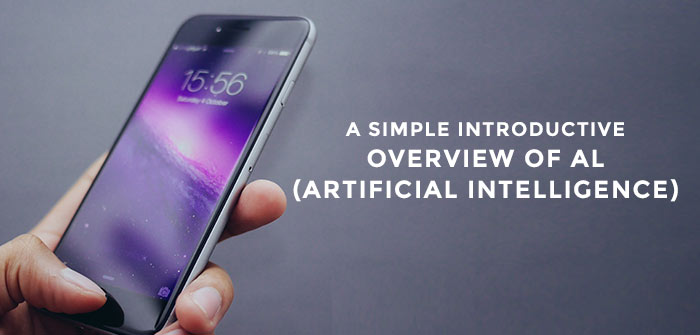 AI stands for Artificial Intelligence, which is also called machine Intelligence. AI is the most trending and new technology used for both web & mobile application development.
In this blog, we try to give a simple introduction to Artificial Intelligence.
What is AI?
AI is the branch of the computer science, which primarily aim to make the machine as intelligent as a human how a human thinks, learn, decide and work.
So, we can define AI as, "Artificial Intelligence is the science which use to make the intelligent and smart machine with the help of engineering, especially intelligent computer programs".
It means a computer or a software work and thinks intelligently. At the time of any problem, it should be able to solve itself with the using basis of developing intelligent software and systems.
Goals of AI
AI developed to set up some special goals, which as:
Develop human intelligence in machines – The main purpose of AI is to develop an intelligence system for the machine for the better smart work same as human being.
Provide better reliability to machines – AI design to provide reliability to machines for the better customer support, free and error-free work.
Develop Better Expert Systems – Artificial intelligence create to design to provide a better expert system in machines to provide better user guidance.
Advantages of AI
Fast and working compare to the human being.
Perform Infinite error-free functions from a system.
Provide better customer support and expert advice as well.
Application Areas of AI
Artificial intelligence work in various areas such as:
Robotics – Robots are the very best example of AI which performs any given task same as humans. Robots have sensors to understand the given task and perform in a better way.
Gaming – AI widely used for game development. Because from a smart and intelligent system a machine can think more position for a particular game compared to the human being.
Natural language processing – A smart develop system also play the role as a translator. A smart computer can understand the natural language of humans and then provide suggestion accordingly.
Mobile Application Development – AI also plays an important role in both mobile app development services. Voice assistant, auto system reminder, battery cleaner all is the good examples where AI can be used in mobile apps.
Artificial Intelligence can be helpful also some other areas of health, expert system, education, vision system and much more.
Contact Top Mobile App Development Company Dev Technosys Today for AI-Based Mobile Application
Dev Technosys is one of the Top mobile application development company in India which Develops the next generation of smart mobile apps works based on Artificial Intelligence. So, if you are thinking about smart apps or artificial intelligence (AI) today or looking to develop an AI-based mobile application development, then you can contact with Dev Technosys today to make your dream come true.