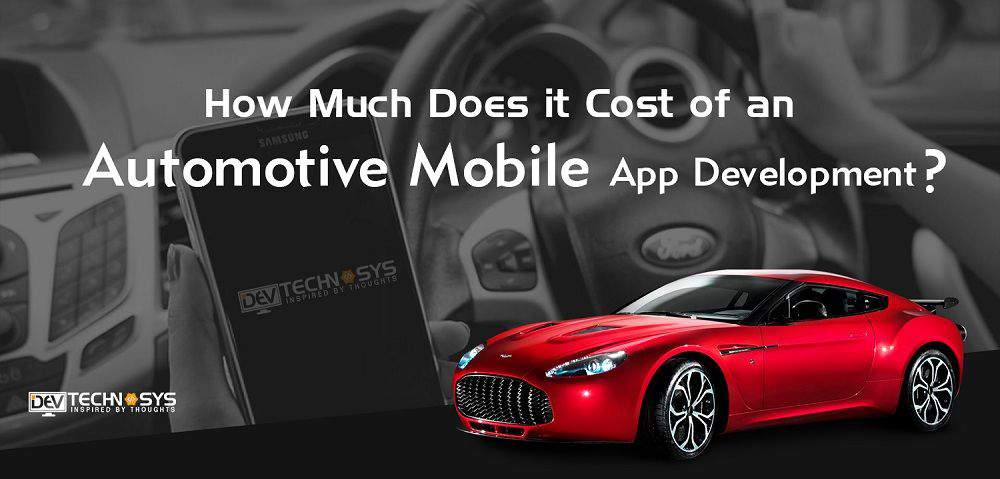 Introduction
Mobile apps are now everywhere. Many thought that they would be limited to smartphones. But after few years, apps have almost integrated themselves into various aspects of our daily lives. Even the automotive industry isn't unaffected by it, and mobile app development in this industry is witnessing a substantial rise. It has increasingly become a norm in the automotive industry.
For example, whether it is about adjusting the temperature before you enter the car, intelligent temperature control, etc. it has overtaken the simple temperature control system in our vehicles. Over the years, automotive is among the top industries which have been affected by smartphone devices, and there is a rise in automotive app development.
Smartphones and Automotive Apps
Most of the people often use smartphones to purchase they drive, and a lot of them look for new parts through mobile applications. Smartphone devices are now used for selecting as well as reviewing mechanics. This is a particular shift which is indicating a completely new landscape where the customers are empowered to compare the prices, receive and redeem coupons and offers, browse different sales offers and reviews as well as option to go for a particular purchase. Buying a car from a car sales store is no longer the norm.
There has been a massive usage of smartphones in the purchase of vehicles. There are various car-specific applications which enable the customers to search for cars with ease and understand them more. Now they can purchase a vehicle with more knowledge and information. There are apps where customers can look for expert reviews as well as organize test drives. There are apps which assist in calculating the exact market price of a vehicle which empowers the customers.
Increased Usage of Automotive Apps
This particular transition of the customers on mobile applications have enabled them to compare the prices and reviews, wisely. Few automotive brands are now aware of this customer transition, and they are developing game-changing and innovative automotive, mobile apps which can easily engage with their customers.
Along with this, they are adopting it in their different marketing efforts also. One such example is from Audi which has designed Start/Stop technology where the new Audi models' engines get instinctively turned off at the traffic lights and then turn back on when the driver presses the accelerator. There are increased development of transportation automobile solutions which are available for the companies to use in their cars.
Features Affecting Automotive Mobile App development Cost
There are a plethora of features which drives the cost of mobile applications in automotive industry. Features that help in determining the cost of development of an automotive app.
For instance, an app can easily detect any incoming open app which is not being used for some time and then send the users with an alert to close it hence saving battery and also making the smartphone more efficient, just like the Stop/Start technology in Audi cars. This is just an example how apps are getting more intelligent. There is high-end software development model which helps in the development of cars. There are app development companies which are expert in mobile app development for cars as well as designing the UX/UI of the apps.
An essential part of an automotive app is the complete enterprise solution to automate the back-end as well as sell process. An automotive app as provides stock information, customer inquiry, information on sales services, which help in automating the complete business process. This drives the cost of automotive mobile app development.
Another essential feature is the creation of interactive UX/UI designs for the applications on both mobile and web. The automotive app has to be developed with lean UX methods as well as extensive user research in order to understand the customers' persona. User interactions and Visual design are also needed to be carefully analyzed. It is important to follow a design-first approach which helps in creating path-breaking designs for the clients. Hence, designing plays a key role in the app development cost.
Internet of Things is now essential in developing automotive apps. It is essential to create an ecosystem where the customers can get real-time updates on engine performance, fuel efficiency etc. and can have the driving experience of a Smart Cart.
Cost of Automotive Mobile App development
Developing an automotive app comes with their own restrictions. It is highly dependent on the use of the platform by the customers and companies. The development cost is driven by the platform used, the features included in the app, the UX/UI of the app as well as testing.
All these features have their own development cost. On an average, it takes nearly 800 to 1000 operational hours to develop an automotive app. Various features and embedding the technologies like the Internet of Things drives up the cost. The average cost of mobile app development is $50 to $100 per hour. This puts the total development cost at around $40,000 to $100,000 for an automotive app.