The scenario of the entertainment industry is changed now; there is no need to wait in the queue for a ticket at the theatre. All our favorite movies and TV shows are just one click away; only we need to login into our Netflix account. There are several- Netflix like apps available on the internet, and people are using these.
If you are looking for OTT app development for business purposes, it is such a great idea to implement with the help of on-demand app developers. Here we have arranged some information to take you through the points related to the actual Netflix-like app development cost.
However, the average cost to develop an app like Netflix is $25,000, and then the rest of the things depends upon the features and requirements.
The video streaming apps or Netflix-like apps are revolutionary applications that have replaced the traditional video entertainment methods. Although there are several video streaming or OTT apps available the Netflix is more than anything else. You can watch more than 15000 titles from its robust video library available for subscribers.
Among other OTT apps, it has the largest subscriber count, 208 million in 2021. The second app that has the largest subscribers around the world is Amazon Prime. It puts entertainment industry solutions on the high rise. If we specifically talk about the US audience, then there are 74.38 million Netflix subscribers from US and Canada in combination. As per the statistics, its users spend an average of 3.2 hours watching the video on the Netflix app.

Although the video streaming industry was on the rise before the Pandemic, OTT platform users exponentially increased during the global lockdown. In 2020, the survey agency eMarketer Projects found that 106 million U.S. households. The prime time watching days are gone now people have their prime time that they can shift as per their preference it gives them the freedom to watch the shows & films at the desired time.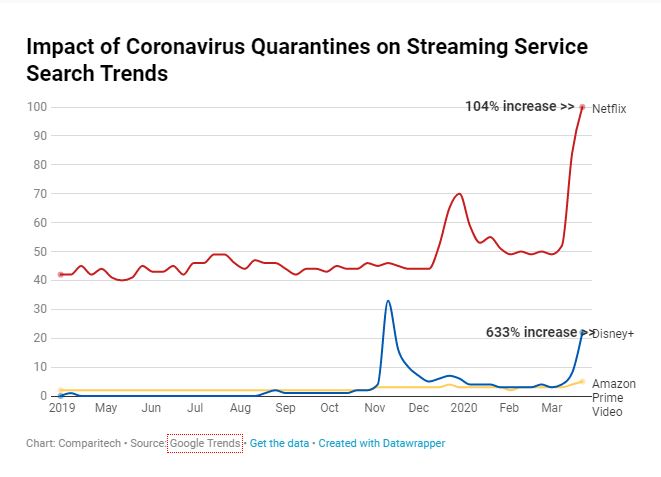 Not only had the viewers, but advertisers also leveraged this latest trend. They can showcase their ads on Netflix like app anytime without booking the time slot as they did earlier on the TV. The brands like Netflix, YouTube, Amazon Prime, and Disney+ are ad-supported platforms and enable brands to display their ads during the playtime of any video. Among these apps, YouTube is on the top for ads.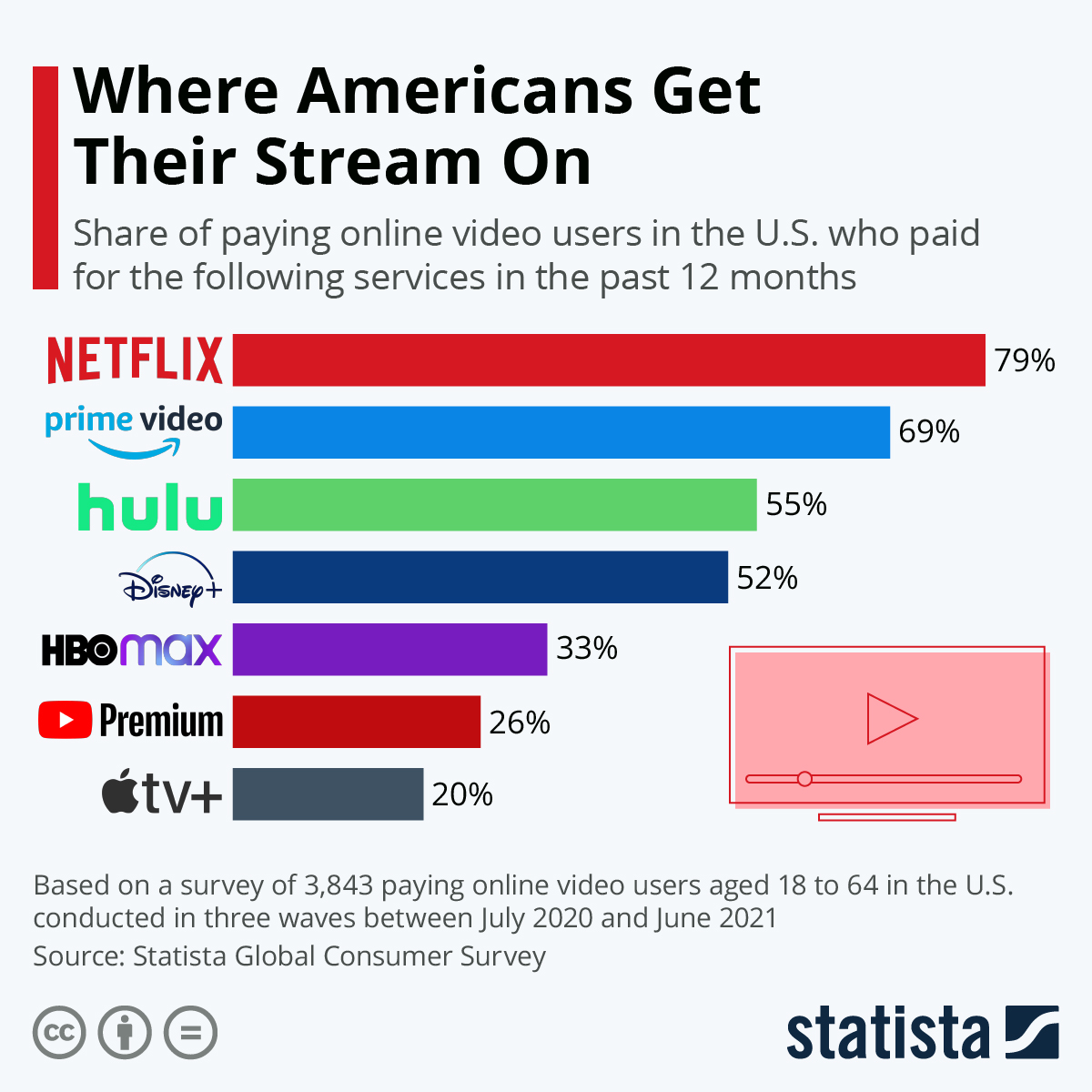 What Are The Benefits Of Having Netflix Like App?
There are several benefits of launching an app like Netflix from the business point of view. Post pandemic time streaming app like Netflix are in high demand as the choice of viewers is changed. They want to watch the video content at their convenience and their place. It is the reason instead of watching traditional TV; they purchase the subscription plans available on the Netflix-like app.
Following are the benefits that you would like to read-
1. Media Quality
Most video streaming devices support HD quality 4K videos. Users also love to watch high-quality video that is easy to make available with the help of apps like Netflix. It will help in better customer engagement and user experience.
2. Live Streaming 
Live streaming app development is one of the latest trends in the OTT market. Now users enjoy live shows, matches, and much other content. So, if you are going to launch your Netflix-like app, you should also focus on live streaming of content to target a large audience.
3. Targeting Wider Audience
Launching an OTT app like Netflix, Amazon Prime, or HULU is best to target a wider audience. People are taking much interest in live video streaming mobile applications and OTT applications. You can reach the global audience with fewer efforts, and once the users find interesting content on your app, then mouth publicity will work miraculously for you.
4. In-App Purchase
You can also earn via offering an in-app purchase service, and it is a new feature that most of the OTT apps are offering now. Including various subscription plans, you can offer t-shirt purchases, goodies, and others.
5. Revenue Generation Via Displaying Third-Party Ads
While streaming the movies or shows or media content, you can display third-party ads that can help you generate good revenue. What you can do is you can offer third parties various plans for displaying the ads on Netflix like app same as Facebook or YouTube ads do.
What is Netflix? 
It is a top video streaming service via the Netflix app available on Google Play Store and Apple App Store. In addition, viewers can also watch their favorite movies and shows after log-in into its website called Netflix.com. Here you can find multiple award-winning shows, movies, anime, documentaries, and more video content of different genres. You can watch as much as you can in a day without a single ad, and that makes it the most favorable media streaming app.
Users can watch Netflix on smartphones, laptops, desktops, smart TV, and other media streaming devices. Here users have to purchase subscription plans accordingly, and subscription plans are the monthly basis that a user can choose accordingly. Most apps like Netflix follow this pattern for better customer engagement and retention.
How Does Netflix Like App Works?
The working of Netflix is simple, but if you are planning to launch your Netflix-like app, it would be better to know that you need servers to store and stream the content, including the high-speed internet connection. Here you can take the example of Netflix working.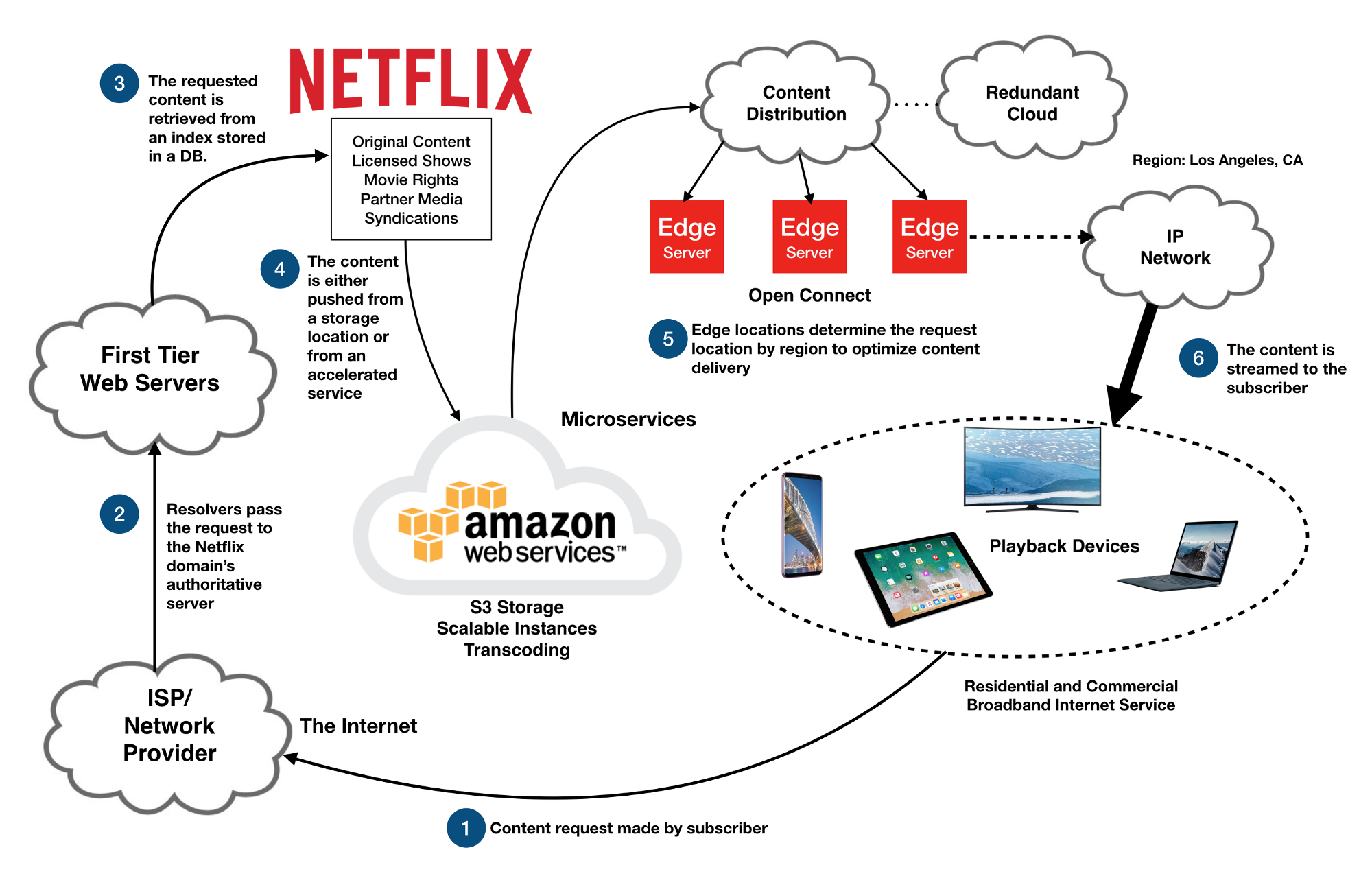 This video streaming app uses the internet and servers to stream the media. The content travels across from servers to your screen via your ISP. There are several servers installed across the globe. When a user clicks on the play button, media or video is reached via the shortest path to the user's screen.
The whole game is routing and the shortest network path to the user's device to deliver high-quality video streaming. It is why a mobile app development company takes reference of it to develop apps like Netflix.
What Are The Features You Need To Consider While Developing Netflix Like App?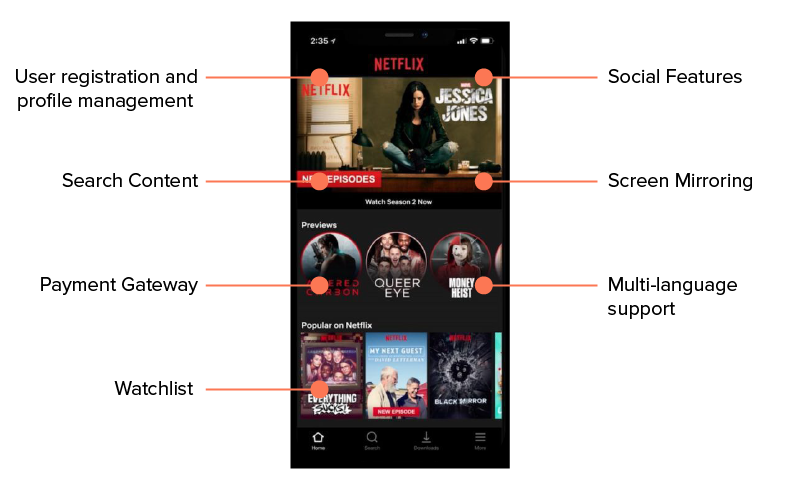 For any app, features are most important. If you are focusing on launching an OTT app like Netflix, you must take care of the features that will help you make your app robust and unique to draw the attention of users to a great extent. So, here are some key features that you need to include in your OTT app.
1. User Registration and Login
For the security of an app, user registration and login are a must. While registering on the app, a user will fill in the details such as desired user name, e-mail id, phone number, social media id, and password. After filling in all the details, users can log in to the app with their username and password.
2. User Profile
Via this feature, users can create and manage their profiles with ease. They can add or remove the un-essential details such as alternate phone number, e-mail id, and all.
3. Live Video Streaming
Most people are now sending their videos in real-time over the internet. So, here you can implement a feature that allows the app users to make available their real-time video for others, and you can also stream your developed content live. It is the best way to engage the users.
Read More : How video-streaming apps work?
4. Subscription Plan Purchase
To generate revenue from a Netflix-like app, you need to implement the feature that allows users to choose and purchase the subscription plan of their choice. You can decide the plans such as monthly, yearly, or per pay view, and you can also limit the content as per the subscription plan.
5. Payment Gateway
Offering multiple payment options is a much-needed thing in modern apps, and this concept is also applicable to the apps like Netflix. For payment, users must be facilitated to pay subscription fees via their favorite payment methods like net banking, credit card, and debit card.
6. Multi-language Support
The audiences are not limited to the specific geo-location from any location a user can use your app. It is also good for the business, so your app must have multi-language support to eliminate language barriers.
7. Multi-device Support
Most of the media streaming apps support multi-device support. The reason is that the user may have multiple devices at their home and office, so it is useless to purchase a subscription for each device for watching the shows. It must be taken care of by yourself that the user must be able to log in to the desired device at a time with the same subscription.
8. Content Search
A powerful search option can make your app awesome, where your users can search the desired content with ease. Here it would help if you implemented multiple filters so the content can be searched smoothly. It is directly related to the proverb that you need to put your feet into the customer's shoes.

9. Create Video Playlists
It is an interesting feature that allows the users to create a playlist of their favorite content to watch in a day or for days. A user must be allowed to create multiple playlists.
10. Settings
The setting allows the users to use the app accordingly. They can set the volume up & down, set the screen resolution and video quality streaming the same as YouTube allows the users to change the video quality from 480P to 1080P or higher.
11. Watch Offline
It is one of the latest features that almost all apps have. Via this feature, a user can download the video in-app only. So, they can watch it later without buffering. It also helps prevent the piracy of content because if you are directly allowed to download the video, it may be distributed as pirated video.
12. Push Notifications
Suppose you are developing an OTT or Netflix-like app for business, then the value of push notification is more. It will help you to directly share the messages or alerts to the user's inbox. You can also use it for sending promotional offers to the customers.
13. Review & Ratings
Reviews and ratings are more important for quality assurance where you can handle & eliminate the issues raised by users in the form of reviews. It is such a best thing to improve the quality of an app.
Read More: What Is OTT (Over-The-Top) And How Does It Relate To Apps?
Cost To Develop a Netflix Like App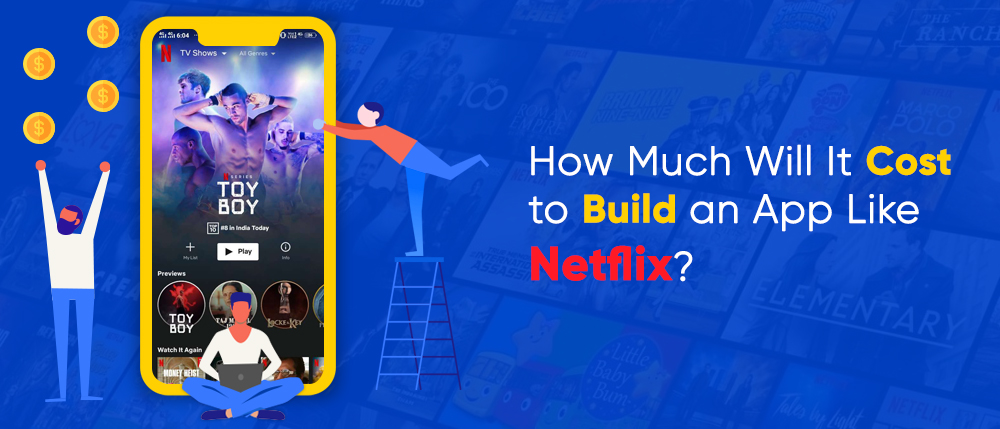 When it comes to finding out the cost, then most of the users search the following queries on the internet, which are:
1. How much does it cost to make an app like Netflix?
2. Can I create an app like Netflix at an average cost?
3. How much does it cost to develop a streaming app?
If you plan to develop and launch your Netflix-like app, then note that several factors affect the app development cost. Although to develop an OTT app, the direct cost ranges from US $10,000-US $35,000 for the basic version. The cost will be increased if you want to include the advanced features. It is the only factor that has an impact on the cost; other factors are the following –
– Platform on which you want to launch your app ex.- Android, iOS
– Team Size
– Tech Stack
– Hiring Model
– Features & Functionalities
– Marketing & Promotion Cost
The most important factor related to the cost is hiring OTT video app development, experts. Businesses hire the developers via two major modes one is project basis, and another is hourly basis. To develop a Netflix app clone, the hourly basis developers will cost you around $25-$50 / hr. However, the best method is hiring developers on a project basis as, throughout the work, they will take care of all the things, including designing to development.

How to Earn From the Netflix-like App
For the business, monetization of the app means a lot. If you want to earn from your app, then you can refer to several monetization models. Although the most recommended revenue models are following –
1. Pay-Per-View
It allows users to pay for a single-time watch. Suppose a user wants to watch his favorite movie, then he will pay only for it, and after payment, the link will be active for 24 hours.
2. Subscription
The monetization model that Netflix, Amazon Prime, Hulu, Disney+, and other OTT apps follow. Under this model, there will be subscription plans such as monthly, quarterly, and yearly. It gives the flexibility to the users to watch and enjoy the shows, web series, documentaries, movies, and other shows.
3. Advertising
You can earn by allowing third-party apps or brands to advertise on your app, so whenever the users watch the content, they will also see it.
The Conclusion
Netflix is such a great app to take reference for on-demand video streaming app development. There is an unexpected change in the viewer's behavior since the world suffered from the pandemic. Due to the global lockdown, people worked from home and stayed maximum time at home due to the fear of infection, so they moved from traditional TV to the media streaming apps like Netflix. Now, 68% of Wi-Fi-enabled households are accessing digital media streaming platforms. So, if you are looking for opportunities in the OTT app market, then there are multiple only you need to introduce a unique app similar to Netflix.