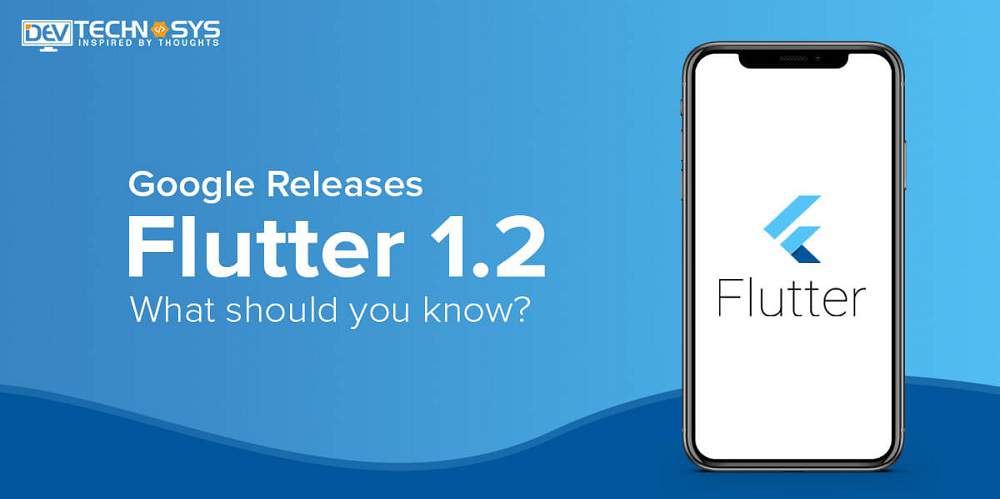 Flutter is an open-source mobile application development framework created by Google. It helps in developing cross-platform applications for Android and IOS platforms. The first version of Flutter was launched in 2015. It was known as "Sky". Initially, it only supported the Android platform. Soon after its first release, it took over the market as one of the best app developing frameworks.
Since its first launch, Google is constantly working on improving its functionality and performance. Recently in Feb 2019, Google launched the much awaited updated version of Flutter i.e Flutter 1.2. It has come as a great opportunity for the Android App Development company and other app developers for the set of advantages the framework is offering. And, with the new interesting features, it has certainly become the most successful among its rivals.
With the Flutter 1.2, Google has also launched and incorporated the Dart Programming language 2.2 (new version of Dart tools) in the framework to improve its functionality and stability. Due to the launch of Dart 2.2 integrated Flutter 1.2, Google has provided a wide range of mobile app development solutions to different app developers across the globe.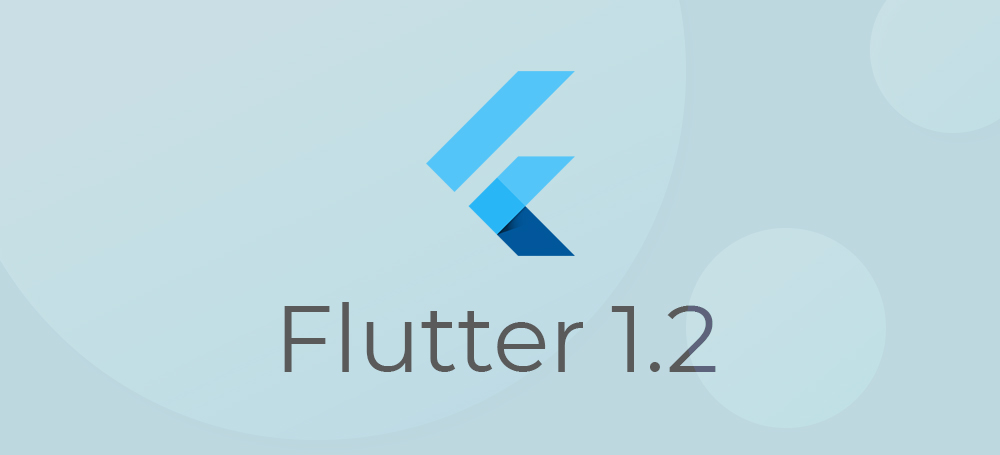 Few Things You Should Know About the Flutter 1.2 Version
1. More plugins
Google has introduced some very interesting and useful sets of plugins in the Flutter 1.2 thus making it more complete, self-sufficient and user-friendly. The earlier versions of Flutter depended on outside frameworks and SDKs but not anymore. Some features that the new plug-ins provide are as follows:
They provide support for in-app purchases
They provide support and help in fixing bugs and errors for the video player, WebView, and maps.
It will enable and support Android App Bundles. This helps in reducing the size of the apps.
Enables Integration of IAP purchases into their applications
2. Updated widget sets
In the new version of Flutter 1.2, Google has updated both the widget sets of the framework i.e Material and Cupertino. It supports flexible usage. For the IOS platforms, the floating cursor support is added for editing the text. This was done to make the framework more IOS friendly and compatible. This will surely be of great advantage to the iPhone app developers. Apart from that, a new set of motion and animated functions are also present in the new version of the framework.
Read the Blog: Everything you need to know about Flutter 1.0
3. Dart Programing Language 2.2
Dart is a set of web-based programming tools. It is one of the most used ways of writing the programming language in Flutter framework. With flutter 1.2, Google has also updated and incorporated Dart 2.2 in it. A number of interesting features have been added to the new version. It is featured with improved AOT performance and also provides supports for literal language. Some additional benefits of the Dart 2.2 are as under:
It will help the app developers to analyze and debug their apps
It Helps in inspecting the widgets to explore the hierarchy of all the elements in the applications
It also provides a timeline view of the application which will help in analyzing the applications, frame by frame.
Helps in fixing bugs and glitches
Faster and efficient tracking of issues existing in the codes
It helps to keep a record of every single activity related to the application
4. Open source community
The next best advantage this new flutter version offers is its development community. It is an open source framework that means it allows users and app developers to contribute towards its development by providing feedback and suggestions to the community. App developers can also build native apps for both IOS and Android. This feature is not available in other app development frameworks.
Read the Blog: Time and Cost to develop a Web Application
Additional Key Features of Flutter 1.2
The update offers improved testing and code infrastructure.
Major updates have been made to both the widget sets to support flexible usage.
It supports new User Interfaces (UI) languages.
It enables new keyboard events and mouse hover support
Helps in building perfect Flutter apps without depending on other frameworks and SDKs.
It enables dynamic delivery, thus dispensing off with the need to download codes and resources for running the applications
The new version of Flutter also enables users to build web-based applications in addition to mobile applications.
It encourages third-party contribution as well
Compatible for all types of businesses, be it a small startup or a big enterprise
Keeps a check on software delivery issues and other maintenance issues
Conclusion
Cross-platform is the demand of time and any prudent company would not stretch its arms back from developing the perfect app running regardless of the platform. In case you have not shifted to Flutter 1.2 yet, then it is high time you do because it is undoubtedly one of the best platforms for the development of cross-platform applications. You can also take the help of expert app development companies, which will provide you with all the required flutter mobile development services.