While it hasn't been too long since mobile phone has become as common as they are today, one cannot deny the fact they have completely changed how we use technology.
And in this process, they have come part of our lives. This has been a great change from a user's perspective there is doubting that. But it has also opened a lot of business opportunities.
Everybody has a mobile phone in their hand today. This is the reason why the mobile application has been the front for businesses in the past some time. And this has also resulted in the birth of a lot of top app development companies.
Getting a mobile app developed today is as easy as it can be. This is evident as it resulted in millions and millions of mobile applications available to download for all mobile phone users across the world. And more businesses are looking to get into this industry as it offers a lot of benefits. A large user base and ease of business are just two of the many benefits it offers.
Now, this is all fine and good, but the problem begins when a person wonders "What would be the Cost To Develop A Mobile App?". While this might seem like something that would be quite a simple thing, except it's not. And there is quite a logical reason behind this.
You see, there is one fixed cost to developing a mobile app. There are a lot of things that go behind creating an App like Instagram. This is the problem that most businesses and startups face when they want to create an application. After all, the cost of the project is the signal largest factor from the client's side.
So, what is the solution to this, how do you get to know the cost of mobile application development? Because an internet search won't give you an accurate result. You need a thorough explanation of how every different factor affects the cost of development.
But you don't need to worry about all of that because this blog shall be answering all your questions related to the same. We will be looking at each and everything from hiring a Mobile App Development Company to the different factors that can affect the final price.
So, with this being said, let's get right into it:
What is The Cost to Develop a Mobile Application?
The average cost to develop a mobile application starts from $8000 to $25,000 on average. Nevertheless, the price can highly vary based on the price of the same.  The same is mentioned in the table below:
| | | |
| --- | --- | --- |
| App Type |    Estimate Cost | Time |
| MVP App Development |             $12,000 – $18,000 | 2-3 months |
| Basic App Development | $8,000 – $12,000 |    3-6 months |
| Complex App Development |                       $25,000+ |     9+ months |
Mobile App Development Statistics
Much like mobile users, mobile app development has been growing over the years. Furthermore, the same factor also determines the app's popularity and its development cost. As of now, there are more than 7 million applications available for download in-app store.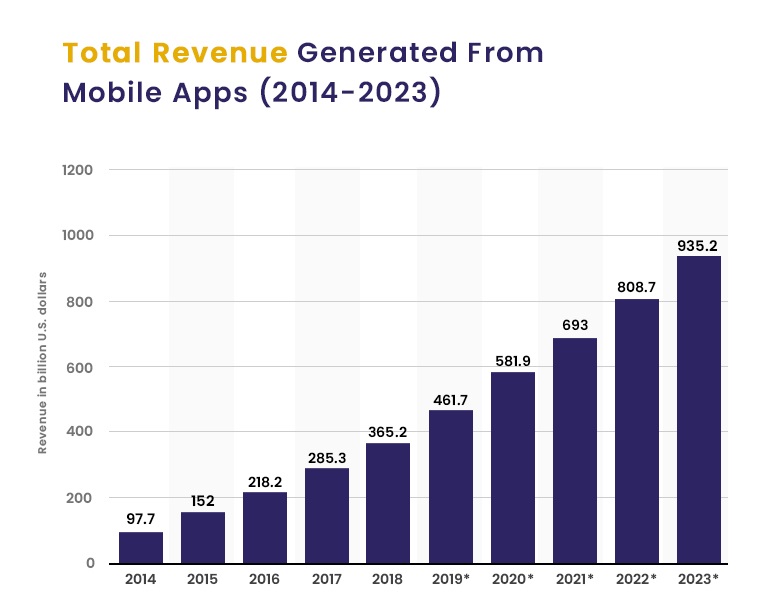 Furthermore, as per the statistics, there are some amazing facts about mobile app development cost and industry in general in the year 2022. With this said, mentioned below are some of these stats and facts.
More than 100,000 new Android applications are released on Google Play Store every month on average. In contrast, the Apple App Store gets over 30,000 a month.
Free mobile applications dominate the market. As such free and freemium business models are the most popular among users.
The mobile application market generated over $581.9 Billion back in 2020. The growth is predicted to reach around $1 trillion in the year 2023.
The market of mobile application development is forecasted to grow by 18.4% by 2026. This amounts to $ 407.31 billion for the whole industry.
Most of the time spent on mobile phones is spent using apps. This amounts to about 90% of the entire usage.
More than 65% of mobile phone users download games. As such, 95% of user downloads messaging, communication applications, web browsers, etc.
The cost of the application again depends highly on what kind of application you are looking for. The same shall be discussed in the next section.

Cost of App Development by Type
There are several different types of mobile applications regardless of their platform. The Cost to develop a mobile app is also varied based on what kind of application it is.

The same is, as mentioned below:
| | |
| --- | --- |
| App Type | Estimate Cost |
| Mobile App | $8000-$15,000 |
| iPhone App | $18,000-$22,000 |
| Android App | $15,000-$20,000 |
| Web App | $18,000-$25,000 |
| Healthcare App | $20,000-$25,000 |
| Taxi App | $18,000-$25,000 |
| Game App | $20,000-$25,000 |
| Retail App | $14,000-$18,000 |
| AR App | $20,000-$25,000+ |
| eCommerce App | $12,000-$18,000 |
| Social Media App | $20,000-$25,000 |
| Business App | $20,000-$25,000 |
| E-Learning App | $15,000-$20,000 |
| Video Streaming App | $20,000-$25,000+ |
| Restaurant App | $10,000-$18,000 |
| Dating App | $20,000-$25,000 |
| Food Delivery App | $20,000-$25,000 |
| Hybrid App | $15,000-$20,000+ |
The Cost To Develop A Mobile App Example 
In this section of the blog, we shall be looking at the cost to develop a mobile application through some examples. In these examples, we shall be looking at the time as well as money required to develop this application. All these apps are built with amazing mobile development frameworks.
This will give you a slight idea of what a mobile app development project is going to cost you. With this said, let's see what these are:
Example #1: Tinder
Tinder is a cross-platform mobile application. It is the most popular dating app and one of the most popular apps in general. Back in 2012 when this app first launched in the market, it raised more than $485,000 in seed.
So needless to say, this application's success inspired a lot of startups and businesses to create a dating app like tinder. This is a simple application, which many engage by swiping right and left for liking or disliking a profile, respectively.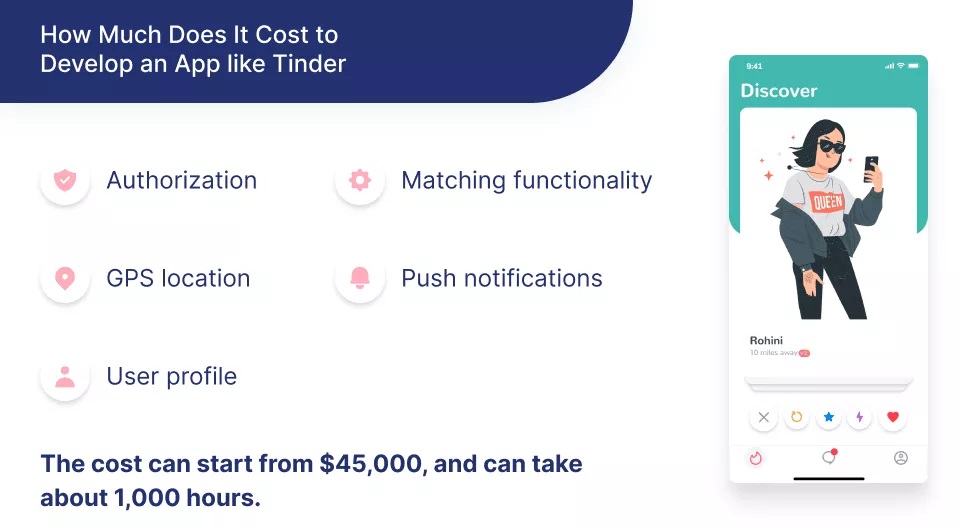 The cost of this type of mobile app will start somewhere around $25,000. As far as time is concerned, it will take 2 to 3 months. Since the price of app development also depends on its features, the main features of Tinder are, as mentioned below:
authorization
GPS location
settings
user profile
matching functionality
push notifications
communication
3rd party integration
Example #2: MDLiveCare
This is a good example for you to know about Doctor mobile app development costs. The reason is that MDLive is one of the best and most popular telehealth mobile apps. This app started back in 2009.
Since then it is known to provide some of the best on-demand healthcare services. This has proven to be beneficial for patients, hospitals, employers, and clinics. Coming to the cost of development, it would cost you around $20,000 onwards and the time will be 3-4 months.
Some of the highlighting features of this application are, as mentioned below:
Profile Creating
Appointment booking
Virtual Doctor appointment
Physician consulting
Push Notification
Real-time chatting
Example #3: Shipt
Shipt is an American delivery service provider which is owned by Target Corporation. The target itself is the chain of supermarkets, which is available throughout the country. This grocery delivery mobile application business is based in Birmingham, Alabama.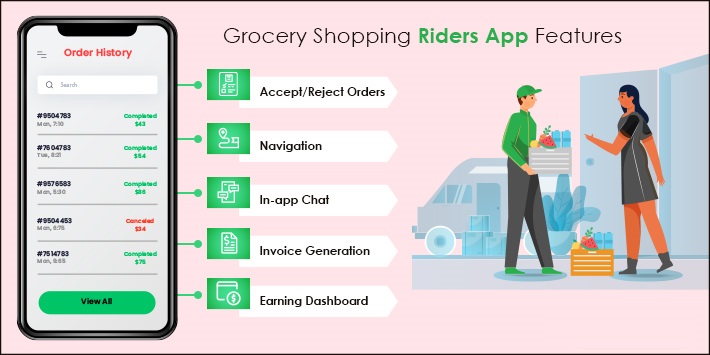 As far as cost is concerned the Grocery App Development Cost is around $20,000 and takes around 2-3 months. As of today, there are many apps on-demand application development solutions available for the same.
Nevertheless, some of the highlighting features of this app are, as mentioned below:
Inventory management
Real-time tracking
Delivery system
Real-time interaction
User Registration
Example #4: TikTok
TikTok is quite a popular social media application that is based on video sharing. It is known throughout the world and inspired by the same a lot of businesses have made their app like TikTok.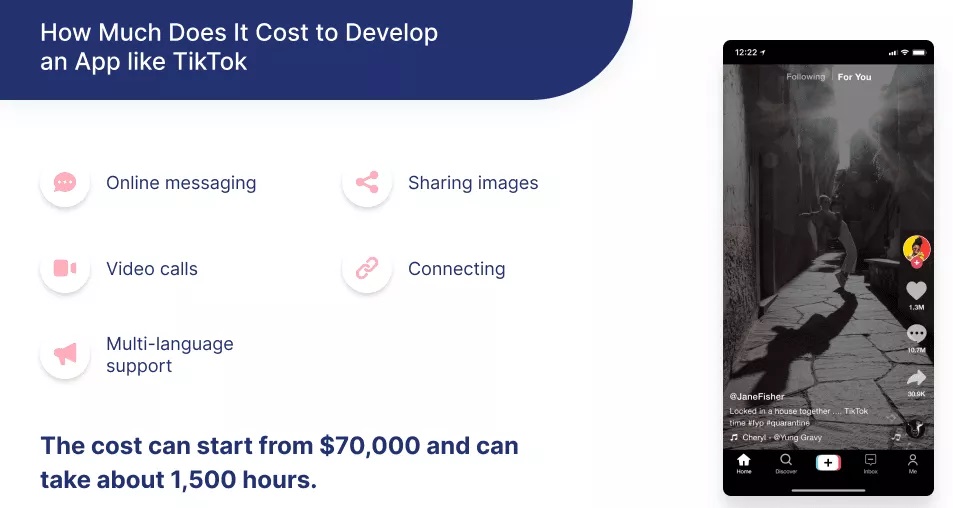 Now, the cost of developing an application like TikTok would be around $8,000 – $20,000 and can take about 1,200 hours. Again the same depends on the feature of the application as they take quite some effort to be developed.
The app features include:
online messaging
video calls
multi-language support
sharing images
videos
user connecting
Example #5: Instagram
Instagram is yet another social media application with a lot of user base and popularity in the market. In fact, in recent years, this image-sharing-based social media platform surpassed its parent company Facebook.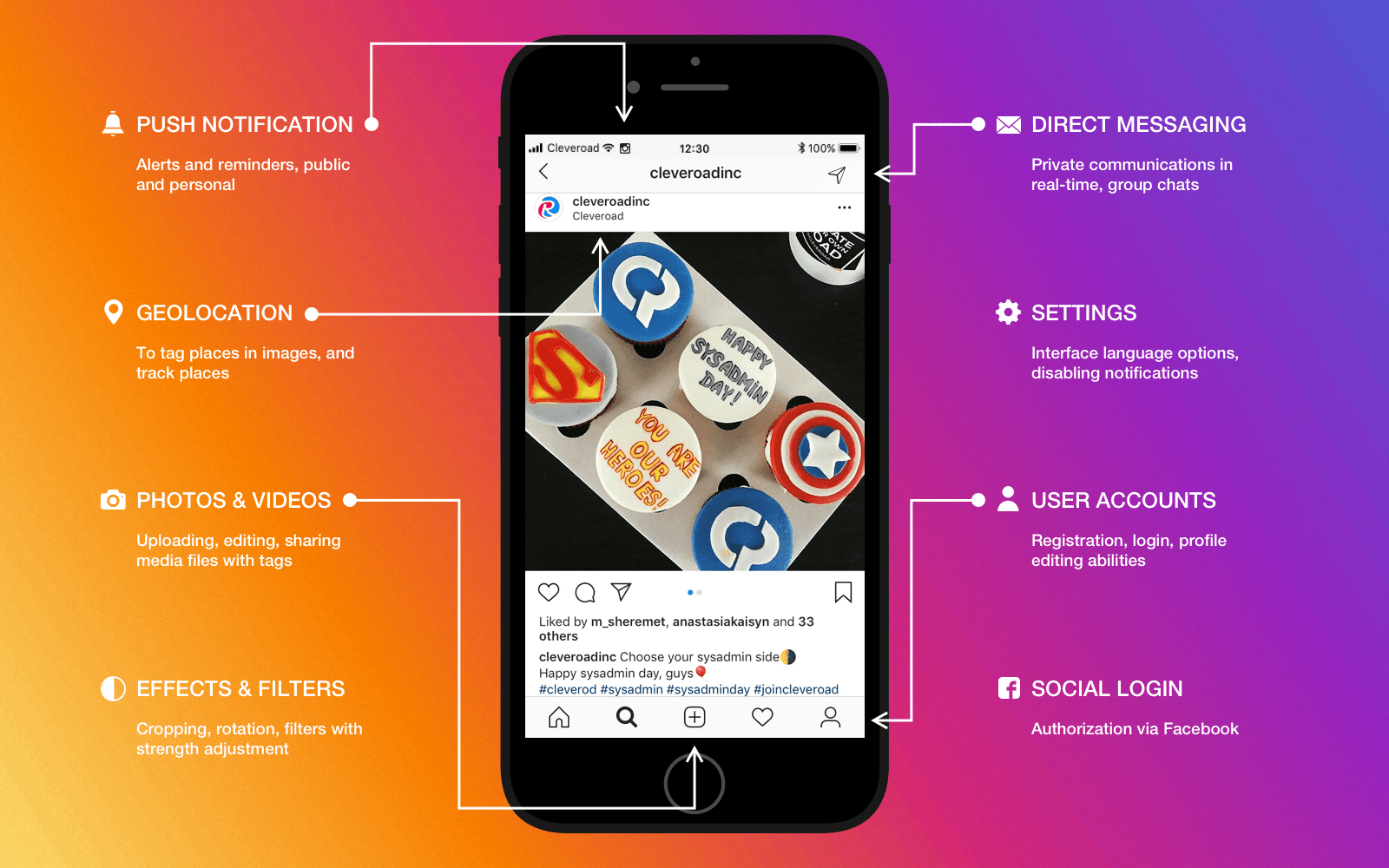 So, what would an App Like Instagram cost you? Well, it is around $13,000 and it takes time 3 – 4 months. Some of the highlighting features of this application are, as mentioned below:
Image And Video Sharing
Chatting and messaging
Video and Voice calling
Filters and reel feature
Example #6: Rinse
Rinse is the number one Laundry app. It provides all the on-demand laundry services with just a click in its mobile application. Looking at this, one might wonder "What is the laundry app development cost ?".  
Well, it takes around 900 hours to develop such an application and costs around 15,000 USD. As far as features of the same are concerned, these are, as mentioned below:
User Registration
Availability checking
Order Status
Online payment methods

Different Types of Mobile Application Developers and Their Cost
It is no rocket science that when you want to develop a mobile application regardless of platform or its type the first thing you need to do is hire a mobile app developer. Now, it is simple enough, but there are different types of developers. And depending on which one of these you hire, the Cost to develop a mobile app can also vary greatly.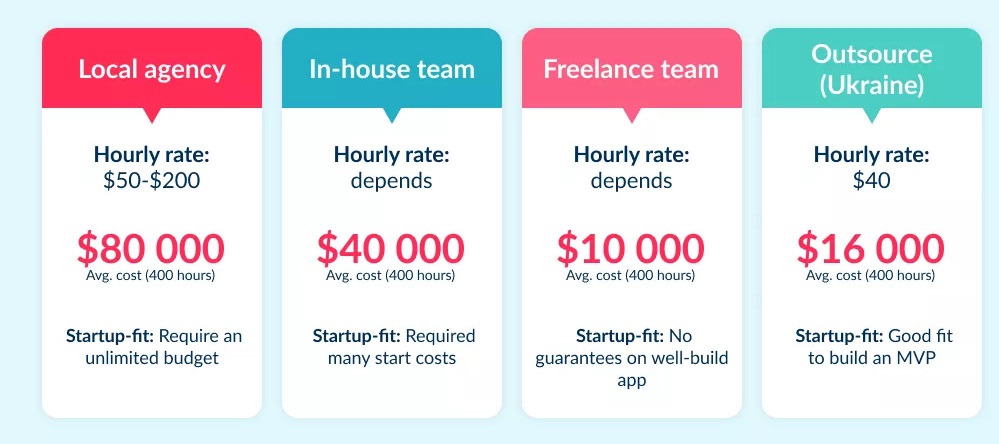 So, let's see how a freelancer can affect the cost:
1. Hire a Local Agency
If you are living in a  big city, there should be a lot of application development companies around you. All you need to do is choose the right Mobile app-building company for you. There is a criterion for doing so, and we shall be discussing the same later. As far as the price for the same is concerned, it can range between $ 8,000 and $15,000.
2. Freelancer
Freelancers are the first thing that comes to our minds when we talk about hiring a developer for creating a mobile application. You see, there are a lot of freelancers across the world. And one of the best things you get with this option is that your freelancer can be anywhere and still provide their services.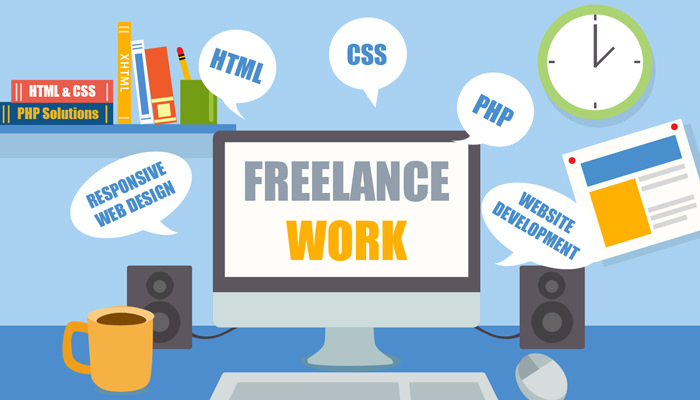 The cost of hiring freelancers can greatly differ based on the (but not limited to) following factors:
Experience
Expertise
Project
Location
Nevertheless, the Cost to hire an Android developer would be anywhere between 10$ per hour to 20$ per hour.
3. Outsourcing Company
Outsourcing work is the most popular mode of hiring a developer among the bunch. Outsourcing as we know it means transferring the project to an Android app development company and they will do it for you. This is done for a said amount of money of course.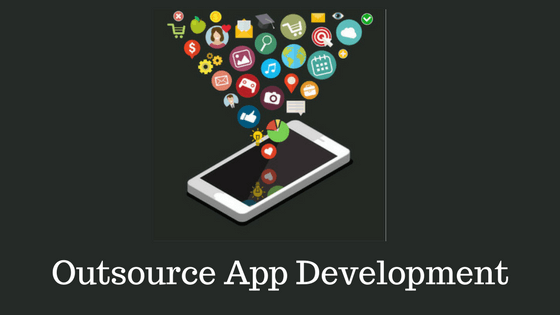 Now, there are many benefits you get from hiring an outsourcing company. To name a few, they have an entire dedicated team of developers, they have a lot of relevant experience, and they are preferable options when it comes to after-development services.
Again, the price of the development will depend on many different factors. But if we speak of an average, it would be between 15000 USD to 25000 USD.
4. In-House Team
The second and the least popular option for hiring developers are employing one. Now you might be wondering why it is the least popular of the bunch. And the reason behind it is that assembling an in-house team is not that is off task.
Firstly you have to hire a recruiter who will hire developers for you. Now, developers are not cheap, and you will have to pay a monthly salary. But apart from these drawbacks, there are some benefits like you can have face-to-face interaction with them. In addition to this, they will work wholly dedicated to your project which results in better productivity.
App Development Cost For Each Phase
Now, all of the cost to develop a mobile app is concentrated on one point and that is developing the app itself. Confused? Well, let us explain. Development of application in the technical sense is what costs the most, and there are various steps in this.
To better understand the cost of mobile application development, we shall be looking at what these different phases of the development cost.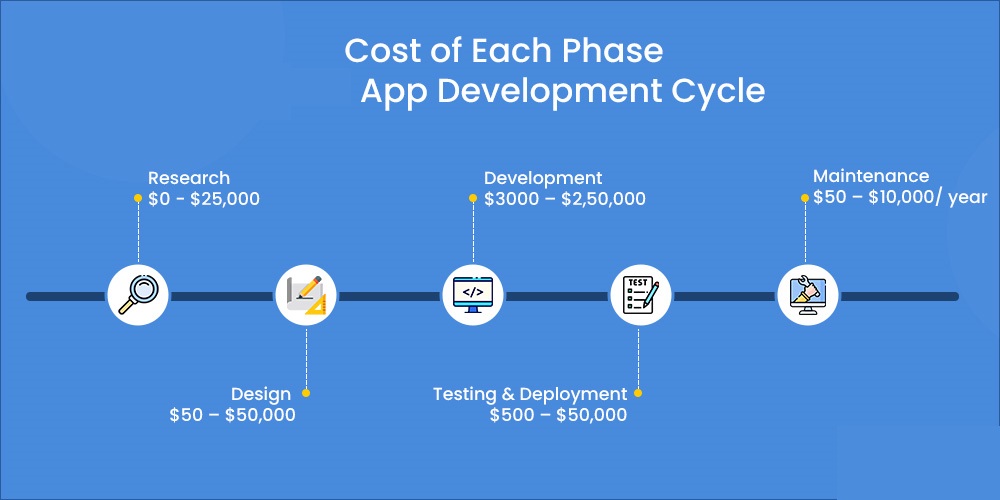 Usually, the mobile application process can be divided into six different steps or phases, as some might call them.
These are, as mentioned below:
Market Analysis and Research
UI/UX design
App development
Project management
App testing and deployment
Ongoing support and maintenance
It doesn't matter how big your application is or how complex it is, these are the six-step process it has to go through. So, let's see how much each of these steps costs you individually.
1. Market Analysis and Research
The first step or phase of mobile application development is conducting market research and analysis. After all, you need to make sure that your idea is unique and also relatable to the real market. This is the reason why this step is so important.
Here you will be looking at the application of your idea in the market and the viability of the same with the audience base. You don't want to introduce a mobile application that doesn't have a target audience.
In addition, you will also need to conduct a competitor analysis. Because you want to know who you are competing against to win the race.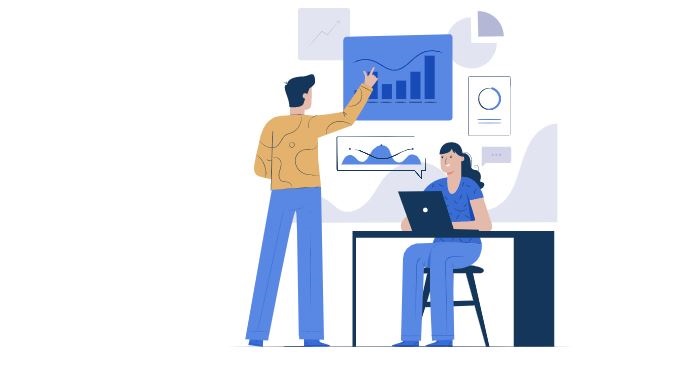 If you hire a good hybrid app development company, they would conduct the research and let you know where the areas which have room for improvement are. Plus, the reviews and feedback on the applications of competitors can also be analyzed to see where they are lacking. Later on, you can strengthen these points in your mobile application.
Coming to the cost of the same, the market audit phase usually costs between $1,200 to $5,000. This is for the time between 2-4 weeks. As such, if you hire experienced developers they would use around 10% of the entire budget during this phase.
2. UI/UX Design
Whether you are wondering about the Cost to develop a mobile app, one thing you must know is that the first impression of the app is the most important one. This is the reason why UI/UX plays such an important part. If this is an important part of the application, it must also cost you a lot of money, right? Exactly.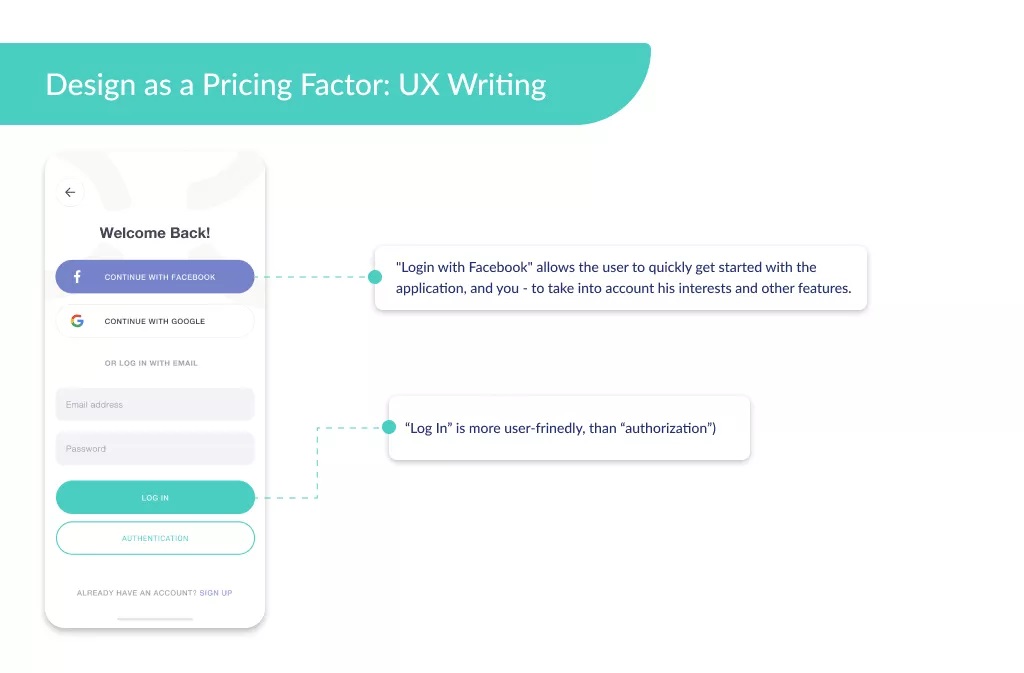 UI/UX designing takes a lot of development budget since it takes a lot of time and effort from the developers' side. Now, choosing UI/UX that is more complex is going to cost you more money, on the other hand, if it's really simple, it will be comparatively cheaper.
Nevertheless, this phase of the development would cost you anywhere between $2,500 to $6,000.
3. App Development
This is the phase where all of the codings are done. Therefore, codings the programming and coding costs are associated with this part. Just so that you know, this is also the step that takes the largest chunk of the cost to develop a mobile app.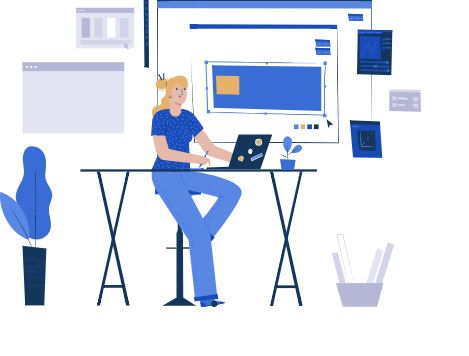 When we talk about app development cost, this is something you neither comprise with nor neglect. Speaking of cost, the application app architecture and functionality development costs range from $20,000 to $25,000.
The range in this one is the largest of the bunch because it again depends on the complexity of the application.
4. Project Management
Project management is yet another important part of the whole development cost. After all, it is none other than the project manager who looks after and controls the whole development process from business analysis to app maintenance.
Whether you talk about an app development cost, the project manager makes sure the quality is followed throughout the same. This is also the reason why you have to pay the manager 10 to 15% of the total mobile application development budget.  This translates to around $1,200 to $5,000.
5. Testing and Deployment
Before the mobile application is deployed into the real market, it has to be tested. Testing is an important part of application development. The reason is that without this step the application will be filled with errors and lack in quality.
The developers themselves incorporate various yet precise testing systems. This is done when the application is deployed in a live environment. And when all of it is done, the application is developed in the real market. As far as cost is concerned, the app testing and deployment phase costs less than $5,000.
6. App Maintenance
Contrary to popular belief launching an application in the market won't put a full stop to the expenses. After you have deployed the application on either the app store or play store, there are still things that will add to the cost to develop a mobile app.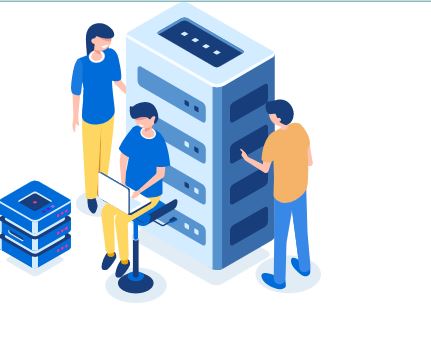 We are talking about the maintenance of the mobile application. As such mobile application maintenance includes the following things:
Fixing bugs
Updating your app to the latest OS versions
Upgrading the app to make it compatible with new technologies
Code optimization
Improving app stability
Scale up the server infrastructure as the number of users grows
Now, maintenance is a crucial step, but there is no fixed price tag on this. This is because it can highly vary based on the application and niche. Nevertheless, it usually takes up to 10-20% of the development cost.

Factors That Mobile Development Cost
Various factors can affect the Cost of Develop A Mobile App. In this section of the blog, we shall be discussing the very same factors. With this being said, let's start with one of the most important factors which is "complexity".
1. Complexity
If you hire an on-demand app development company they will let you know that the complexity of the mobile application is the most affected factor. And several different things can add up to the complexity. For instance that more advanced features, the developers will take more time as well as effort to do the same.
In addition to this, we already know that the more complex an application is, the more time it is going to need to get developed. And the more time it takes to develop the application, the more expensive it is for the client. So, this is one of the factors you need to look out for.
2. Platform
Everyone knows that there are two big boys in the world of mobiles regarding platforms. These are the iOS from Apple and Android from Google. Whether you decide to hire an iPhone app developer or an Android one, it is going to affect the cost greatly.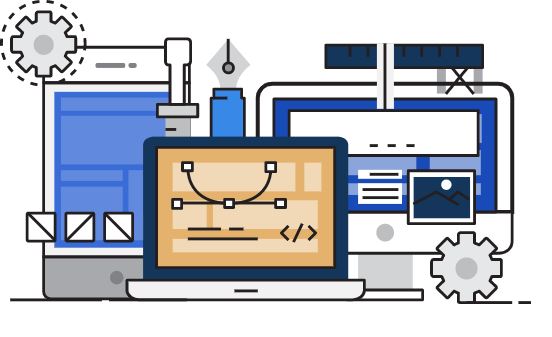 You see, there is a lot of difference between Android app development and iOS application development. One of the points within this factor is that Android application development suffers from fragmentation. This is due to the largely unregulated Android versions in the market.
on the other hand, iOS is only used by Apple and is highly regulated by the same. This is the reason why the development time is faster as well as cheaper. This is how this factor affects the cost of development and you can finalize whether you want to hire an android app developer or an iOS one.
3. Location
Location is where the developer or the mobile application development company is based placed a big role in the final cost of the application development. North America, Australia, the UK, South America, India, Ukraine, and Indonesia are some of the top countries when it comes to mobile application development.
Now, the price of the development cost depends on which of these places the developer is based. as such, the countries which are in Asia usually charge between $10 to $25 per hour. On the other hand, other countries from Europe and Australia are higher ranging between $80 to $110.
Now, this gets overhead and most expensive when you are talking about North America with a price range between $250 to $350+ per hour. However, this doesn't mean that the countries with cheaper prices do the bad work and one with more expensive ones do it better. Various things cause this difference, but we won't be getting into this.
4. Features
Features are one of the most important components of any application. It is often said that good features can make an app and bad ones can break it. This is true as users usually judge the application by how good its features are.
While you can hire a custom iOS app development company, features will still affect the price of the development. The more advanced features you want the more expensive they are going to be.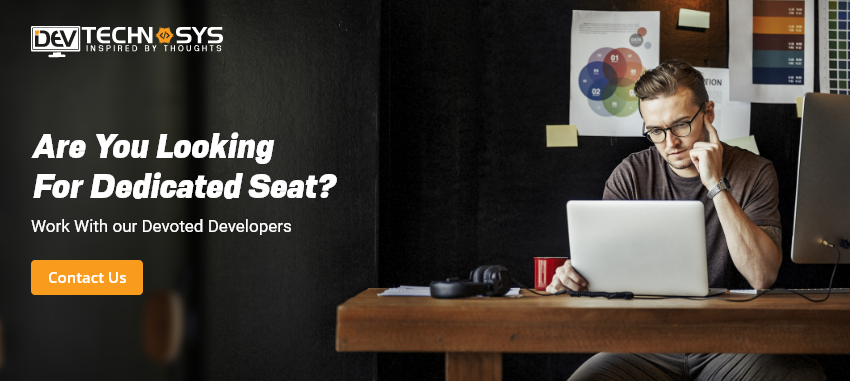 Things To Look Out For When Choosing an App Development Company
When you are looking for a mobile app development company, there are some things you need to keep in mind. With this you can make sure the people you are hiring are the right match to do your job the way you want it, with this being said, we shall be discussing the same below:
1. The Project Requirement
Before you go consulting top app development companies, the first thing you need to do is decide on your project requirement. If this is clear it would be easier for you to talk to developers, and for them to understand your needs. Here, you also need to decide upon the fund allocation as well as the timeline along with the developed platform.
If you can write down the technologies you want to be put into your application that would be even better. In short, make a list of everything including what you want, and how you want it. This is the first step you need to before looking for a developer.
2. Full-Service Companies
Now, there is a lot of different kind of mobile application development companies. Some have a big name along with an impressive portfolio. You want to make sure that you hire one of those companies that have qualified development specialists with the right experience. You must also determine that the company you hire must choose the best framework for app development.
With this you will make sure, your application is in the right hands, if not the best hands. You should also make sure whether or not the development company has all the required resources needed in different phases of development.
3. Interview The developers
If you want to hire an on-demand app development company, the first step will be to talk to their sales representative. While this might be good enough for you, you should also consider interviewing the developers directly.
Take your time to question the developers' team thoroughly as they will be handling the application through the development process. Here, you can also ask them about their previous experience and their views on the current ones. Conversing with developers will help you gain insight.
4. Portfolio
When you are in a meeting with a mobile app Development Company's representative, ask them about their portfolio. Companies who are proud of what they are doing will show their portfolio even without you asking.
This will provide you with some knowledge about the company's work and the company itself in general. So, this is an important thing to do when you are in talks with a mobile app developer.
5. Privacy and Data Security Policy
The privacy and data security of the mobile app is the important thing. After all, nobody wants their business-related data to be floating around on the internet.
Thus, you want your developers to sign confidentiality as well as a non-disclosure agreement. This is an important step in protecting your sensitive information. If the developers aren't too keen on agreeing with this step, it is recommended to not move further with that company.

How is App Development Cost Estimated- The Formula
Is there any method to calculate the mobile app development cost? Well, there is a formula to calculate the cost of application development. Here, we take into consideration the main processes of the application development phases.
The same formula is, as mentioned below:
UI/UX Design Hours + App development hours (depends on platform) + backend Hours × Hourly rate of Developers = Total Cost of Development
Conclusion
In this blog, we looked at each and everything related to the mobile app development cost. Starting from the different methods of hiring a developer to the various factors that can affect the cost to develop a mobile application.
All of these points were important when you speak about the price of the development. But something we learned along the way is that one cannot pinpoint the price without knowing the specification of the project.
That is why we recommend you to consult a professional mobile application developer as they can help you better understand the cost and also reduce it to an extent.
Frequently Asked Questions
1. How Much Does it Cost to Develop a Mobile App?
The cost of app development can vary between 10,000 USD to 25,000 USD depending on the complexity of the application. It is recommended to consult an app development company for better insight.
2. How Much Does it Cost to Build a Mobile App for Your Business?
Depending on the nature of the application as well as the features and other aspects, the final cost of building an app can vary. Apart from this, the average cost is between 8000 USD to 25,000 USD based on the complexity of the app.
3. How Long Does it Take to Build an App?
Again, depending on the complexity of the app and the type of app you want, it can take anywhere between 2 months and 10 months + for app development. However, the best way to build mobile apps is to use a combination of user-centric design, agile development, and robust testing.
4. How do I Hire Someone to Build an App?
There are multiple ways through which you can hire an app developer. These are, as mentioned below:
Local Company
Outsourcing Company
Freelancer
In-house team
5. How Much Does it Cost to Maintain and Keep an App Running?
The post-release maintenance of the application takes up to 10% of the total budget meaning somewhere between 1000$ to 2000$.
6. How Much Does it Cost to Create an App?
The cost of creating an app varies significantly depending on factors like complexity, features, platform, and development team rates. On average, a basic app can cost around $5,000 to $10,000, while a more complex or feature-rich app can range from $20,000 to $100,000 or more. It's essential to consult with app development professionals to get accurate cost estimates for your specific requirements.
7. What is The Hourly Rate For App Developers?
The hourly rate of a developer can be anywhere from $10 to $25 based on their specification and experience.
8. How Much Money Do Apps Make?
The top 200 apps on the App Store earn around $82,500 per day, while in the top 800 apps, the average income falls to around $3,500.