"Laundry apps are a testament to human ingenuity – simplifying life, one wash at a time."
– Albert Einstein
Demand for laundry products is increasing due to the increased awareness of eco-friendly detergents, and the desire among consumers for a healthy and balanced lifestyle. Due to the fierce competition in the laundry industry, many companies choose to invest in app development. However, their main concern before investing is "how much does laundry app development cost?"
According to Verified Market research estimates, the global online on-demand laundry market is worth $9.72 billion and will reach $113.24 by 2027. This represents a 35.9% CAGR from 2020 to 2027.
These statistics indicate a promising future for the laundry app industry. If you're considering investment in custom laundry app development, you're in the right place to explore this opportunity.
In this blog, we will discuss the laundry app development cost, its factors, key features and other necessary aspects required to develop a laundry app.
So let's begin.
What is a Laundry App?
The laundry app is an application for mobile devices that simplifies the process of receiving laundry services. The app allows users to select services and schedule pick-ups and deliveries, as well as make payments via their smartphone.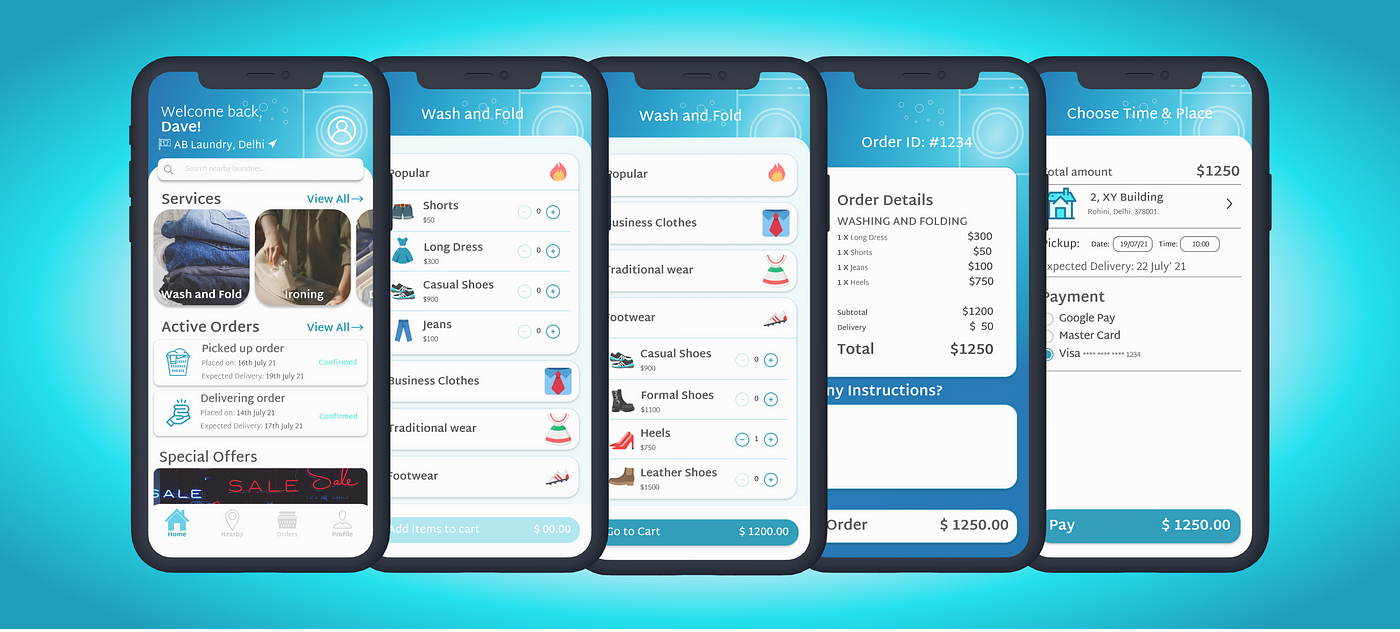 These applications provide features like pricing estimates, user ratings, and real-time order tracking. The laundry service apps offer users the convenience of laundry services on demand, saving them time and effort when compared with traditional methods for dropping off and collecting laundry.
Laundry apps offer opportunities for business to laundry service providers, connecting them with more customers and streamlining their operations. So, if you are looking to develop an on demand laundry app for your laundry business, then you must consult with an on demand app development company.
Online On-demand Laundry Service Market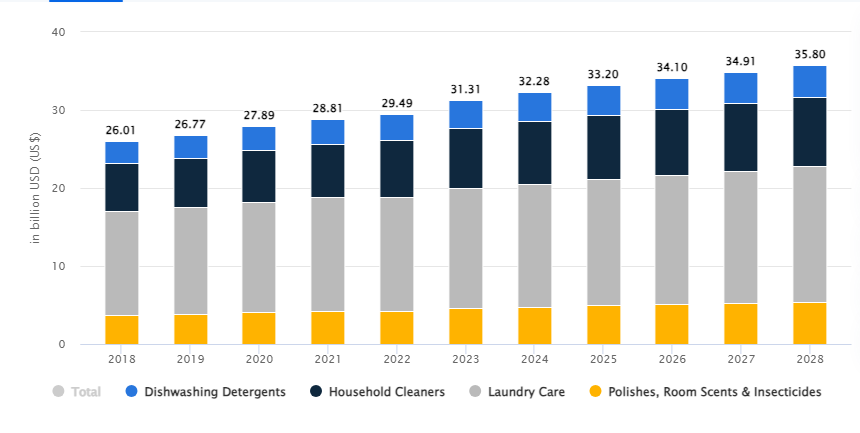 Over the course of the forecast period, the on-demand laundry service market is anticipated to develop at a CAGR of between 34.80 and 35.80 percent.
In 2023, the Home & Laundry Care Market is expected to generate revenues of US$31.31bn. The market is projected to grow by 2.71 percent annually (CAGR from 2023-2028).
In 2023, the Laundry Care segment will be the largest market segment with a volume of US$15.35bn.
Comparatively, the United States generates most of its revenue (US$31.310.00m by 2023).
The 2023 revenue per capita is US$92.10.
Online sales will generate 11.8% of the total revenue in the Home & Laundry Care Market by 2023.
Between 2023 and 2028, the global revenue for home & laundry products was expected to increase by 44.7 billion U.S. Dollars (+22.9%).

Types of On-Demand Laundry App
Three business models can be used to wrap your idea for an on-demand washing application. Let's look at the following types which is recommended by a mobile app development company: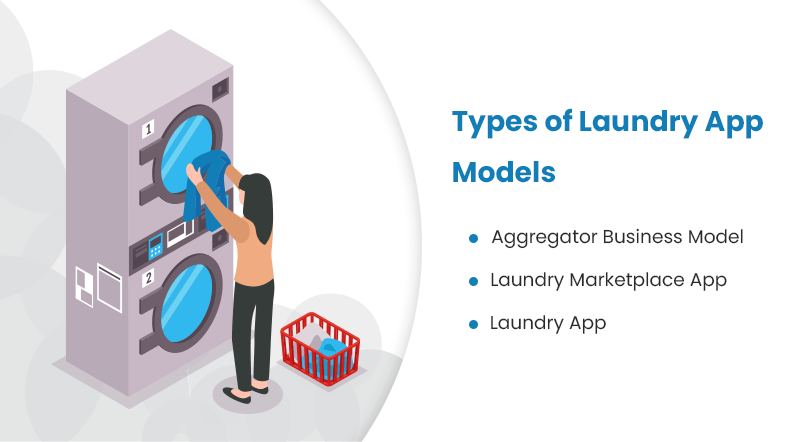 1.Aggregator Laundry App
The owner of the laundry pickup app who doesn't have a laundry shop would like to build a platform that could connect launderers with customers and offer services.
You will only be able to list laundry shops in your application. Payment, pickup and delivery are handled directly between the customer and launderer.
2. Laundry Marketplace App
The laundry marketplace provides laundry services as needed. Laundry shops will be listed, and activities like pickup and drop-off will also get taken care of. The platform manages the delivery and multiple launderers are listed to provide the marketplace.
3. Dedicated Laundry App
A dedicated laundry application is designed for a particular laundry shop. These laundry shops usually have multiple outlets, and in order to offer superior-quality service they developed dedicated apps stating the services available and their prices.
How Much Does Laundry App Development Cost?
It is difficult to estimate the laundry mobile app development cost. Development expenses are influenced by a wide range of elements, such as the platform, functionality, tech stack, etc. The location is one of the most important things to take into account while creating an app for washing. Cost-affecting factors are listed as follows:
Complexity of laundry app
List of Features
Functional components
App's segments
Platforms like Android, iOS and PWA
Team Size
Developers' Location
There is a way to estimate the average cost for on-demand app development. The cost of developing a laundry application is between $8,000 and $16,000 with basic features.
The cost of an advanced laundry application can be as high as $25,000 or even more. To get an accurate cost estimate, it is best to consult with an android app development services provider that has experience in developing high-quality business laundry apps.
Factors Affecting The Laundry App Development Cost   
Developing an app for laundry can be profitable in the fast-paced, modern world. Convenience and on-demand services have become highly valued. The laundry on demand app development cost depends on a number of variables. In this section, you will learn about the factors which affect the laundry app development cost.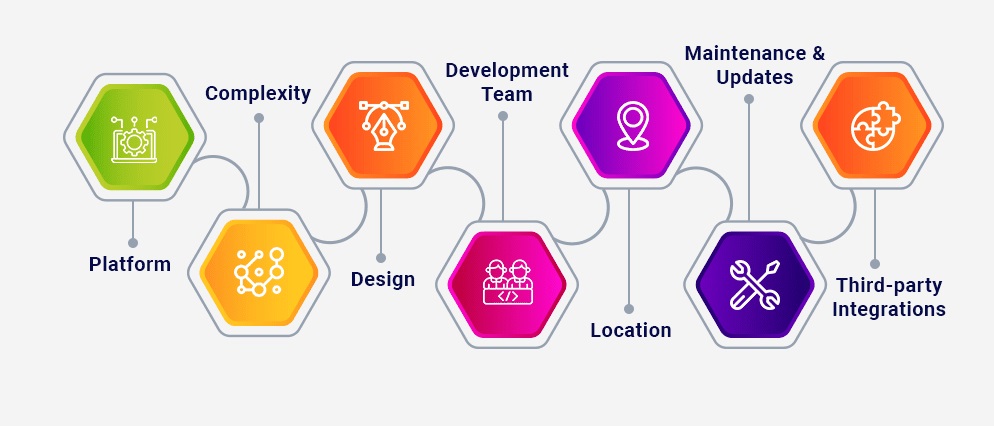 1. App Features and Complexity
The complexity of a laundry app will determine its cost. The development time and cost to develop a mobile app will increase if you add more features, such as order tracking, payment processing and scheduling.
The complexity of the interface and the design of the user experience can also impact the cost. Apps with basic features and limited functionality will be cheaper than more comprehensive solutions.
2. Platform Selection
In estimating laundry app development cost, the choice of platform is crucial. It is cheaper to create a mobile app for one platform (iOS or Android) than a cross-platform version. Cross-platform apps can be more expensive initially, but they save money over time by eliminating the need to develop separate platforms.
3. Backend Infrastructure
Costs are affected by the backend infrastructure chosen and the technology stack. The app may need a robust, scalable, and expensive backend system to manage a high volume of orders, users, and data. With the assistance of an iPhone app development company, You must integrate the third-party services such as SMS notifications and payment gateways which can also increase the cost.
4. User Authentication & Security
App security is critical, especially for apps that handle user data or payments. The laundry app development cost can be increased by implementing strong authentication measures and data encryption. The higher the security requirements are, the more resources and time will be required to provide a safe user experience.
5. Location and Regulations
Geographic location can influence the laundry app development cost. The cost of labor and the regulatory requirements may vary greatly from one region to the next. Complying with local, national and international data protection legislation and regulations can require additional resources. This will affect the cost.
6. Testing and Quality Assurance
To ensure that your app is bug-free, you must conduct thorough testing and perform quality assurance. The higher the tide cleaners cost, the more testing is required. Testing on different devices, operating systems, screen sizes and other factors is included. Also, user feedback will be addressed and improvements made.

Top 5 On-demand Laundry Apps
1. TaskRabbit
TaskRabbit offers a more general service that connects those who need help with those seeking work. This includes everything from cleaning and moving to event planning. According to the company, each "Tasker" has been vetted through in-person interviews as well as background checks.
2. Laundryheap
Laundryheap is an on-demand laundry and dry cleaning service app. Users can schedule pickups and deliveries for their laundry and have it cleaned, folded, and returned within 24 hours. The laundry mobile app like Laundryheap offers convenience and efficient laundry app solutions in various cities, making it a popular choice for busy individuals and households.
3. Delivery.com   
Delivery.com allows you to choose the person who will clean your clothes. You don't pay for the service, but rather the business that cleans and delivers your clothes. Delivery.com is one of the best laundry services apps that does not take responsibility for the shrinkage of your favorite shirt. You can check out the Yelp reviews and user ratings to see how the company is rated.
4. ByNext
This new app, created by the merger of Cleanly and NextCleaners offers options for home cleaning as well as clothing care. The laundry section of the app offers dry cleaning and traditional laundry. It is the best laundry app to make money which also allows you to choose between options such as next-day turnaround, setting your preferences for washing, drying and detergent, and more.
5. Cleanly
Cleanly was a laundry and dry cleaning service app available in select cities. Users could schedule laundry and dry cleaning pickups and deliveries, track their orders, and customize preferences.
The laundry share app aimed to simplify the laundry process, offering convenience to busy individuals who wanted their clothes professionally cleaned and delivered to their doorstep. So, if you are planning to invest in the best laundry app, then you must build a laundry app like Cleanly.
Steps to Build an On-demand Laundry Business App
Building an on-demand laundry app can be a lucrative venture in today's fast-paced world. With the assistance of a dry cleaning app development firm, businesses can easily build their own laundry app. So, let's have a look at the step-by-step procedure: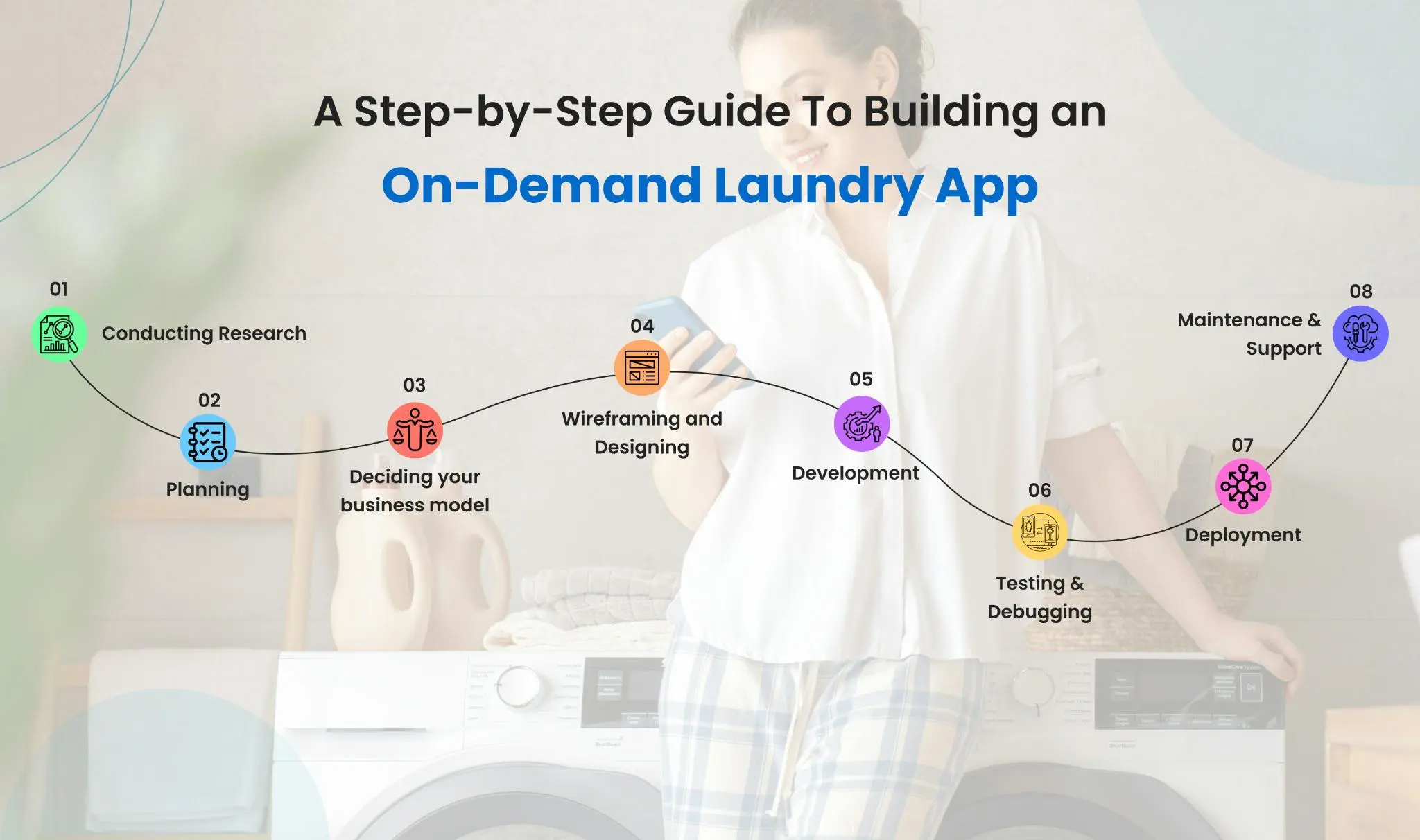 Step 1: Do Market Research
Firstly, you must thoroughly research your target market. Understanding the local demographics and competition is key to understanding the demand for services like laundry. What makes your app unique and what value can it offer to users? All these questions must be clear and solved before jumping on to the next step.
Step 2: Define App Features
The next step is to decide what features you want your app to offer. The core features include registration of users, order placements, real-time tracking and payment processing. You can add additional features such as scheduling pickups and subscription options.
Step 3: Choose a Technology Stack
Choose the technology stack that will be used for your application with help of a laundry mobile app developers services provider. You will need a front end for the user interface and a backend to manage servers. Use languages such as Python or Node.js on the backend, and frameworks such as React Native on the frontend to provide a seamless experience for users across platforms.
Step 4: Design & Development
Now the next step is to hire dedicated developers to create a user-friendly, attractive interface. Before you begin the development phase, create wireframes and prototyping. Create both admin and user panels for your application. Make sure the app is intuitive and pleasing to look at.
Step 5: App Testing 
It is important to thoroughly test your app in order to make sure it is free of bugs and works smoothly. Usability testing is a great way to find out if there are any issues with the user experience. Check for security flaws and make sure the app is able to handle heavy user loads without crashing. Before the launch, fix any problems.
Step 6: Launching and Marketing
Launch your laundry app in major app stores such as Apple App Store or Google Play Store after rigorous testing and quality control. Use a marketing plan to get your first users. Offer incentives and promotional deals to spread the word. Encourage customers to rate and review your business.
Key Features to Integrate in On-demand Laundry App
To survive the fierce competition on the market, you should develop an application with many features. Before launching the app, it is wise to think about the features of laundry apps. Integrating such features may increase the laundry app development cost, so be sure to carefully review and integrate them into your app.
1. Cost Calculation
Instead of showing all clothing prices together, the customer should be able identify different prices for each type of garment. If discounts are available, the customer should be able apply for them. The customer should be able, when placing a request for laundry services, to view the breakdown of the total price showing the service prices of each garment.
2. Feedback and Rating
Customers should be able rate the experience they had with a particular launderer after using their service. It can help users find launderers, and laundry workers improve their work.
3. CRM and CMS Integration
Both the customer relationship management system and the Content Management system are essential for the long-term growth and scalability of the Application. Customers can contact support or customer service through CRM for any question or complaint. The admin or launderer manages the content regarding pricing, availability and services offered, as well as promotions.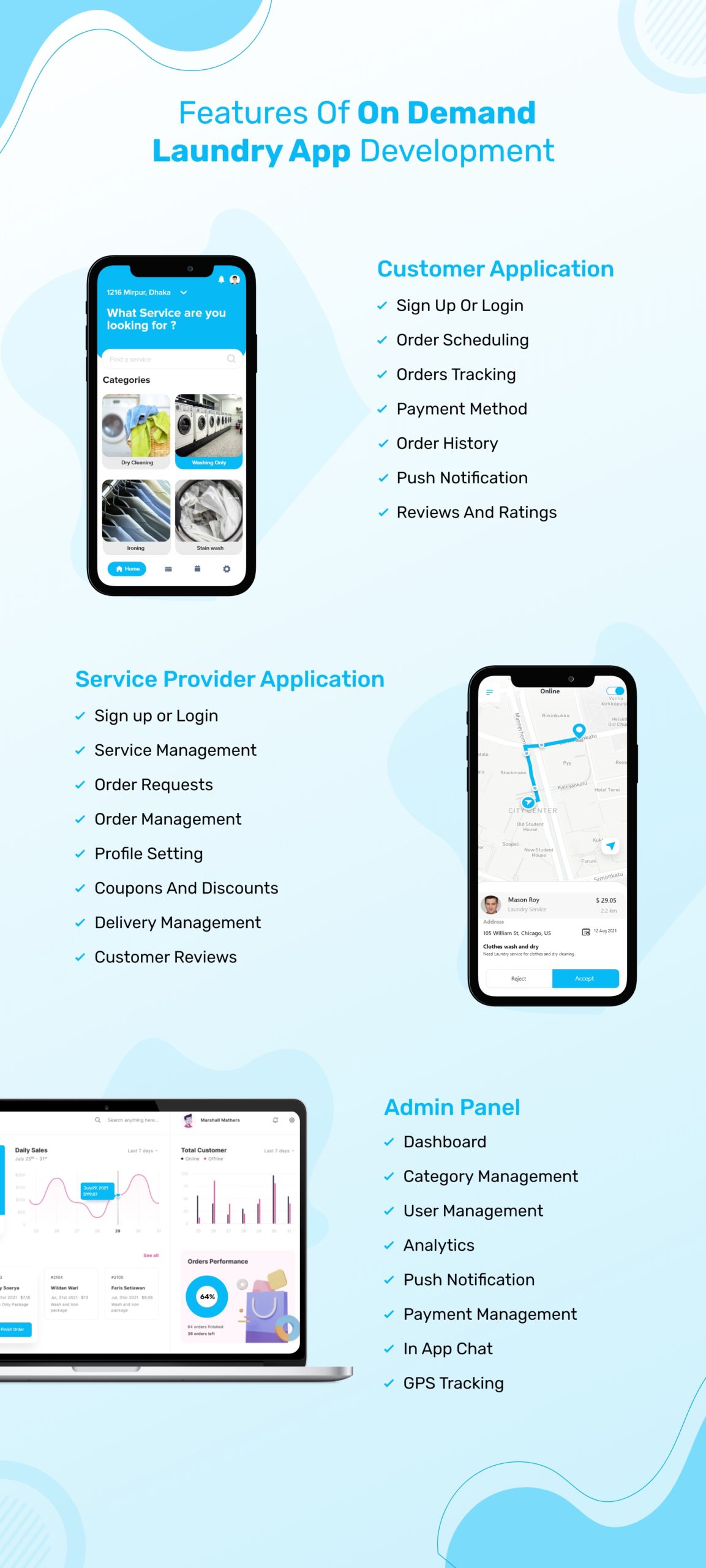 4. Marketing and Promotion Tool
Marketing and promotional tools are essential to promoting or showcasing your business. Marketing tools include mail marketing, push notifications, calling, messages, offers, discounts, and many more.
5. Setting Up of Reminders
Customers usually book their time and date schedules based on their comfort. Therefore, the feature of an app developed by taking help from a laundry app development solution that allows them to set up automatic reminders would be very helpful. This automatic reminder will help them to remember to schedule their time slots and the clothes will be delivered according to their pre-scheduling.
6. Mention Every Service Available
It is important to mention each service in detail to make it easier for the customer. If one wants to apply for washing services, there are many options such as washing, ironing and folding. Mention each service.
7. In-App Chatting and Calling
Often, the clothing required special instructions to be cleaned without damaging the product. The easiest and most efficient way for the customer to communicate with the Laundry Agency is through Messaging or In-App Chat. It will help customers trust the different stores and laundry agencies.
8. Push Notification
This feature will help your laundry pickup and delivery software to be more visible among users. It is also a good way to update the users. You can ping users without disturbing them and pass on the message when needed.
9. Payment Method
Integration of the payment method in your application is the best way to encourage customers to use the platform. It is important that your app supports all payment methods if you want to promote the development of an on-demand mobile dry cleaning application. Customers can select from cash on delivery or internet banking options, as well as online payment.

Conclusion
Developing a Laundry On-Demand App can be a lucrative venture, offering convenience to users and potential profitability. While the laundry app development cost can vary significantly based on features, complexity, and platform choice, it's often advisable to hire a laundry app development company experienced in app development.
This approach not only ensures a high-quality product but also minimizes development risks, ultimately leading to a successful and competitive laundry app in the market.
Frequently Asked Questions
1. How to Develop an On Demand Laundry App?
To develop an laundry on demand app, you need to follow the below app development process steps:
Research the market and target audience.
Define features like user registration, service request, payment, and scheduling.
Choose a development approach .
Hire developers or an ewallet app development
Build a user-friendly UI/UX.
Integrate payment gateways.
Test the app thoroughly.
Launch and promote the app.
2. How to Reduce the Laundry App Development Cost?
To reduce laundry app development costs:
Plan your app features carefully, prioritizing essential ones.
Use open-source libraries and frameworks.
Consider outsourcing development to countries with lower labor costs.
Opt for a minimum viable product (MVP) approach.
Test and iterate to avoid costly rework.
Use cloud services for scalable, cost-effective hosting.
Streamline the development process for efficiency.
3. How Much Time Does it Take to Develop a Laundry App?
The time required to develop a laundry app can vary significantly depending on its complexity and features. A simple laundry app may take 2-3 months, while a more advanced one with features like scheduling, payment integration, and GPS tracking could take 6-12 months or more for development and testing.
4. What Are the Benefits of Creating a Laundry App?
Creating a laundry app offers several benefits, including convenience for users who can schedule and track laundry services, time savings, reduced operational costs for laundry businesses through automation, and improved customer engagement. It also allows for easy payment processing and data analytics for business optimization, ultimately enhancing the overall laundry experience.