Introduction
In the current market place, consumer preferences are the most valuable factor for every business enterprise. Much of the growth comes from changing consumer preferences. Additionally, Digital technology has harbored their expectations which are shaped by the sophisticated world of consumer sovereignty. The people have come to expect a series of conveniences while they handle their finances, shop, travel —such as personalization, loyalty tracking, mobile access, etc.
Today, most restaurants have embraced multiple ways to oblige. They handle digital ordering and delivery in different ways. Which approach wins out depends on how much of the process the restaurant cares to own. Here, Starbucks sets out as a perfect example. From its total transactions, 20% done via mobile app, with approximate 17 million users signed up. It allows the people to order drinks, by paying ahead and picking it up from a store without waiting in a long queue. It limns that  Mobile app development services are betting big on digital food ordering and delivery.
How Does Starbucks App Work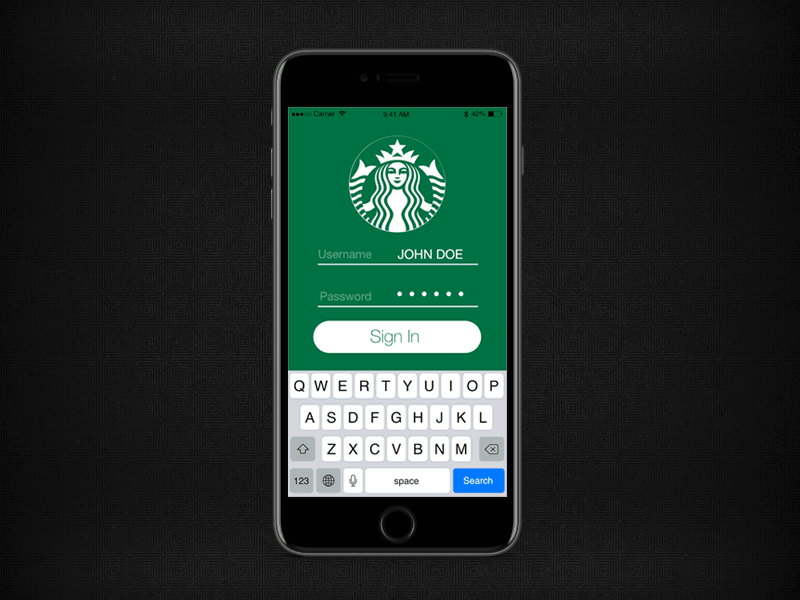 Choosing a digital delivery platform is one thing. Getting it off the ground can be something else altogether. But Starbucks app successfully witnessed a paradigm shift in their coffee chain services. The Starbucks application is developed as order and pays mobile application. The main objective of developing this is to make a faster and convenient coffee purchasing process. It enables the user to order their favorite coffee while working or driving and then just collect their order in from the nearest Starbucks store. It wouldn't be exaggerating to say that their mobile application has been highly paying off.
Apart from this, it's also been argued that it went ahead of other digital payment systems i.e. Apple and Samsung. Its acceptability has embroidered with many reasons other than being just a mobile ordering app. Consumers can use the Starbucks app to order their drinks in advance and pick up in-store without standing in a queue. Their system is called Mobile order and pay and becoming the easiest option for payment through users' smartphones. Apart from, a dedicated mobile payment services customer loyalty program also motivates them to make an order. The best example for every iOS and android app development services to develop and integrate the Starbucks app's loyalty program.

Salient Features of Starbucks
What is the common thread that can make sense of digital technology and put it to strategic use? The customer. Hence it's imperative to meet the next-generation customer: someone who is experiencing these technologies in other parts of life. Starbucks app caters to the expectation of the customers. Apart from basic functions, the reward programs, personalized push notifications, personal Spotify playlist, etc engage customers in a highly personalized way. Even competitive giants like Apple and Samsung have between experiencing serious issues. Therefore, it's better to explore How does Starbucks garner the expectations of their customers.
1. Mobile Order and Payment – The way Starbucks mobile app transformed the experience of ordering coffee, has been exemplary. The customer can order their loved coffee in advance. They don't need to stand in queue for long hours or not for more than a single minute. It makes the entire order process so convenient and easy. On the other hand, the payment can also be done through the customer's smartphone. Starbucks payments are known as a closed-loop system, that is used to order and pay at their stores. It may be either through Android and iPhone payment system.
2. Managing cards – The most important aspect of paying for the order through mobile money requires card management. The Starbucks mobile app offers its users to check their account balance, upload money, collect stars to grab reward later, etc. Furthermore, the users can transfer money between their cards, view their mobile payment history, and leave tips. It tremendously impacts in driving increased customer conversion and loyalty.
3. Loyalty programs – In today's competitive world, enterprises need to incorporate everything that takes them ahead. Similar to the Starbucks app. it encapsulates loyalty programs for the customers. The customers gather stars at every purchase of the coffee drinks. They are allowed to redeem these rewards on a later order. Its loyalty programs patronize a loyal customer base, and that is unveiled to the market.
4. Store locator – The feature of the app, Geolocation, helps the customer to explore the nearest stores. In a broader sense, it is convenient for the customer to find the nearby store of Starbucks to pick their order. It guides them to step in the store and collect their order. It promisingly simplifies the entire process from ordering to collecting in-store. Undoubtedly most of the android app development services are heading towards integrating a similar feature.
5. Music Playlist – In a series of bringing responsive integrated digital experiences Spotify's music playlist plays a wondrous role. It beautifully builds a deeper relationship with the customer. Starbucks offers the customers, the music playing in the store. It means it highlights music that is being played in their store which the users enter in Starbucks mobile app. They can m also add it upon their personalized Spotify playlist.

Technology to Make an App Like Starbucks
The digital revolutionary process encompasses many specific technical and operational steps. Furthermore, it also depends on a series of critical decisions, a focused approach, and a clear vision for the future state of customer experience. Hence, android or iOS app development services need to embrace current methodologies and technology to make an app like Starbucks.
It is mandatory to explore and construct a technical stack before planning to hire app developer for developing an app. As it's known that Starbucks mobile payment application supports Android, iOS, and Windows 10 devices. Additionally, They efficiently work with numerous programming languages and models like Microsoft.NET and HTML5 along with more additional tools. It makes the app development progressive and advanced. Furthermore, Development would require Modernizr- JavaScript library for HTML5 and, Polyfill for existing web-browsers.
Starbucks technology stack encompasses a lot more for mobile development services i.e.iPhone app development services. In this series, a JavaScript library, jQuery is used for easier scripting while developing a mobile, payment app. The developers can use these languages and frameworks for developing the Starbucks app like backend.
Similar to Starbucks developers as they use Laravel, the developer needs to use the PHP application framework. Every phase of the entire development process ensures the streamlined and enriched user experience. Additionally what bogged down the customer's expectation is insecurity to the payment channel. Therefore, for security and customer confidentiality, its best to integrate Symantec SSL certificates. Yet these are not called as a detrimental factor for the mobile payment app development. What requires to be considered is the contemporary advancements and continuous adaptability.
All these technological integrations also enrich the core development process apart from assisting major functionalities. It is noteworthy that these major functions include, shop locator, store billing, notifications payments, and user management.
Related Blog: Cost to Develop a Food Ordering App like Doordash
Cost to Develop An App Like Starbucks
Before deciding the app development, you need to consider the complexity of the application. In the current market place, its suggestive to develop an MVP( minimum viable product) in the first instance to collect users' feedback. But here the question pops up, about the developing cost of a mobile payment application. The prime factor that influences the entire development cost is the cost of the developer. Every Mobile app development services need to consider either it's an hourly engagement rate or a project basis. Usually, the basic hourly rate in South American, European and Asian countries is $50-80 hourly rate. On the other hand, it swells up to $120-150 hourly if it comes to app development in North America, USA, and the UK.
The next influential aspect of the entire development phase is the complexity of your app. The more it goes complex, the more you bear the cost. In the case of an app like Starbucks with all basic functionalities, it requires near to 600 hours. While on the other hand, a highly featured app development would be requiring 1000+ dedicated hours.
Usually, the back-end development and application native development is proved to be the most time-consuming segment of the development. So, the quality app development lightens up a need to hire app developer. Finally, when you need to add it all up, it would figure out an overall cost of development. It would cost you around $20,000 to $30,000 for the basic version and $30,000 to $50,000 highly featured mobile payment app like Starbucks.
Conclusion
Current market opportunities have deepened customer relationships, improved customer retention through the use of technology i.e. mobile payment app. The prominent name Starbucks is known as a leader in adopting digital wallets and mobile payments. It promisingly paved a successful business opportunity for it. With the strong brand name and dedicated loyal customer base, Starbucks got success in mobile payments implementation.
No doubt, Starbucks has been vocal about the innovative pattern of merchant success. Many retailers have failed to render the same experience to their customers. It is duly expected that development services i.e. iPhone app development services will accelerate mobile payment app development quickly in a short time.