The digital age transforms every passing day, impacting multiple business sectors, and the real estate industry is no exception. Technological advancements are reshaping the way the real estate sector works. Real estate exhibits substantial potential for mobile app development like any other sector. Read this blog to know more about real estate app maintenance services.
But, even after developing a secure and successful real estate application, businesses fail to earn the desired profit. There could be multiple reasons behind it, but poor real estate app performance plays a huge role. All this happens due to a lack of mobile app support and maintenance. This is where real estate app maintenance comes into the picture. Besides development, its maintenance also matters.
So, if you have a real estate app but don't focus on its maintenance, it is high time to be aware. Also, this blog will act as a complete guide for real estate mobile app maintenance. Don't miss reading it.
Why Does Real Estate App Maintenance Matter?
Like real estate mobile apps and website development, its maintenance also matters. For instance, if you have been running a real estate app for a long time and want to improve the existing features or add new ones to improve users' expectations, performing timely maintenance is crucial.
Businesses won't be able to know the cons of real estate mobile app development without working on mobile app maintenance. As per a recent survey, around seven billion people use online mobile services worldwide. So, you cannot afford to risk your business with an application full of errors and glitches. Right?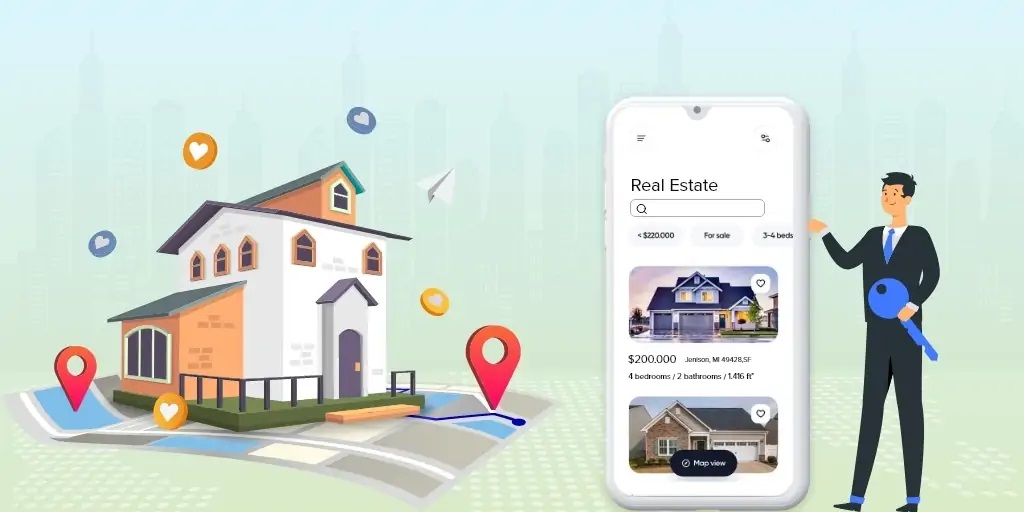 Businesses can use the real estate mobile app as an asset to generate more sales with chatbot development while scheduling its maintenance. In this ever-changing world, things will keep changing every day, and businesses need to update their applications promptly to stay in the competition. An upgraded mobile app is what every user wants.
Also, there are multiple benefits of real estate mobile app maintenance, as highlighted below.
Benefits of Real Estate Mobile App Maintenance Services
Most businesses only avail real estate mobile app development services and think that their job is done. But, this isn't right! Seeking real estate app maintenance services is also essential to reap the benefits of a mobile application.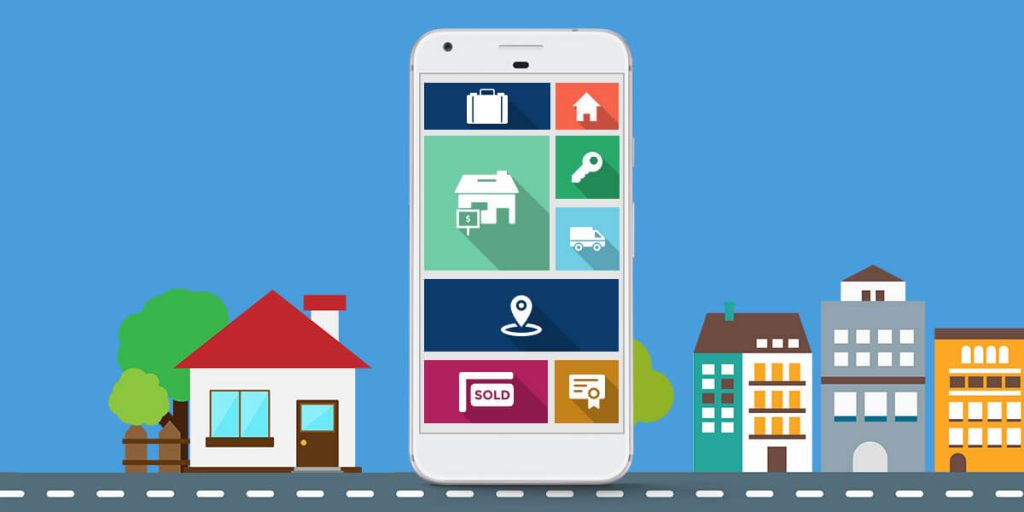 1. Improved User Experience
Application maintenance is crucial to keep the users satisfied and happy. As per the real estate app development company professionals, it makes no sense when users download an application and uninstall it due to poor app experience.
So, to create a long-term relationship with your real estate app users, consider mobile app maintenance. Also, to keep up with the latest market trends, keep an eye on mobile app engagement and performance.
2. Maximize ROI
There is nothing better than mobile applications, especially when you look forward to getting more business traffic and sales. While updating & maintaining your real estate app, you can think of maximizing your business ROI in the long run and reducing the cost of acquiring new users.
Once the mobile application is developed and launched, businesses will probably face bugs that can only be resolved with proper app monitoring and optimization.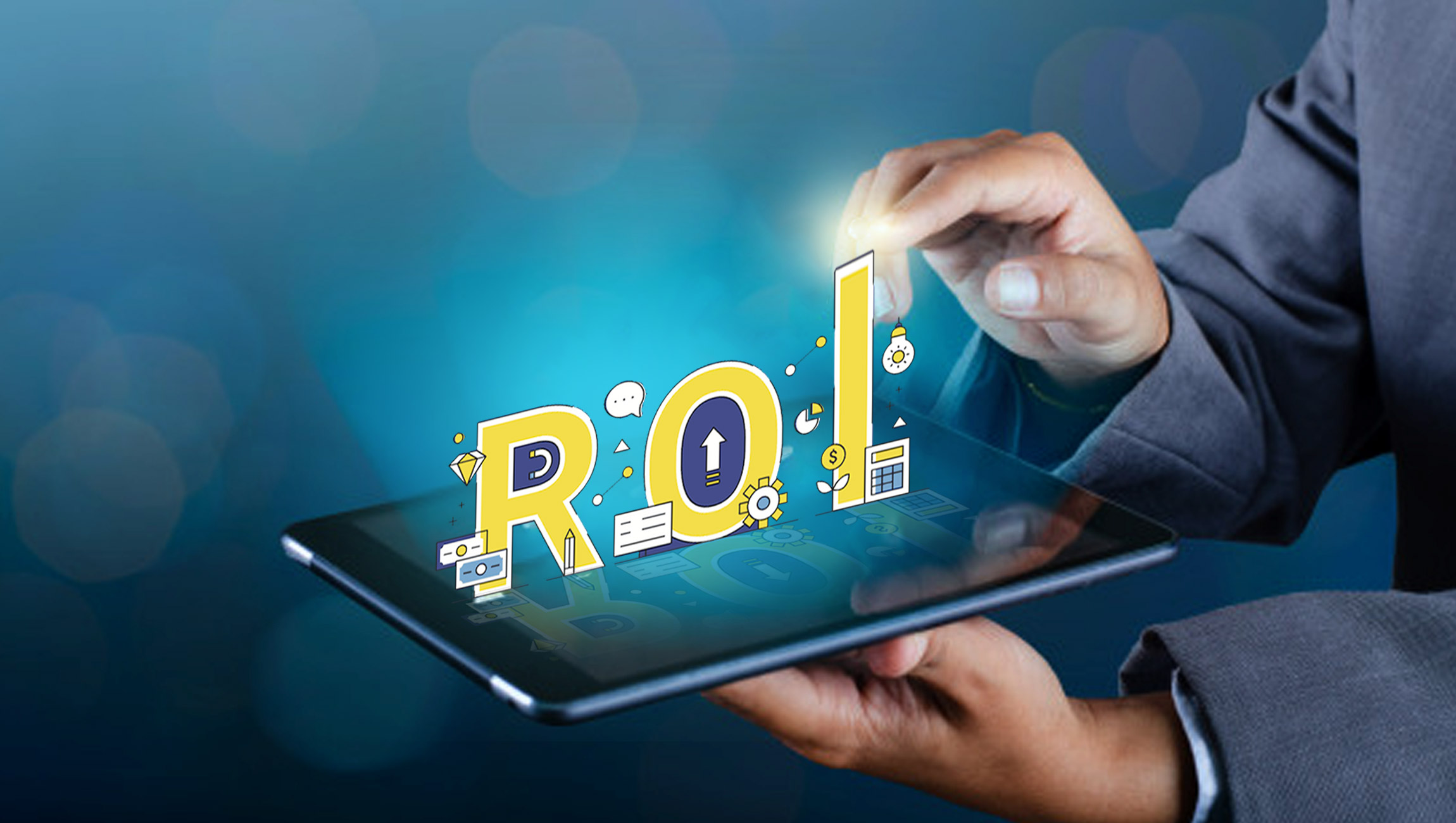 Not every mobile application offers an opportunity to update & maintain a real estate app, but if your app does, take advantage of it & experience an increased ROI. But, for that, you need to focus on regular app maintenance like development.
3. Minimize Uninstalls
An application with an annoying bug or error can never grab the users' attention. Also, when your real estate application stops offering the desired features and functionalities that a user looks for in an application, it will automatically drive the users away.
This further results in app uninstallation. Statista states that around 70% of users uninstall mobile applications instantly after 90 days of installing a mobile app.

As several real estate applications are available in the market, you need to do something out of the box to make your application stand out. This can only be possible when you focus on maintenance and consider new features to make your real estate app unique.
The same is applicable when you avail of real estate website development services. So, the more mobile app support and maintenance you follow, the lower will be the chances of app uninstallation. These three are the major benefits businesses can experience while availing of real estate app maintenance services.
Now that you are well-versed with the advantages of app maintenance, it is time to get an insight into the step-by-step process of maintaining an app.
Read More: What Features An Ideal Real Estate Search Mobile App Have?
How To Maintain A Real Estate Application? Simple Steps for App Maintenance
Besides android app development for your real estate business, maintenance strategies can also help to encourage the users and, in turn, increase user engagement. So, to help you grab users' attention, the following are some of the simple real estate app maintenance steps that you can follow.
Step 1 – Focus on App Development From The Beginning
Whether your app development real estate, always understands that an application can never be perfect and needs changes and updates with time. So, focus on app development, and invest in mobile app maintenance, testing, and support for seamless app performance. Focusing on the development process from the beginning saves you from spending huge maintenance costs in the future.
Step 2 – Keep An Eye on App's Scalability
The success of your real estate mobile application will depend on its architecture and performance. You can easily develop and launch an application in no time, but if it lacks the features that users are looking for, it will never earn you the desired profit. Even the real estate app maintenance services experts suggest focusing on the app's scalability while working on mobile app support and maintenance.
Step 3 – Choose The Right Development & Maintenance Partner
Ensure you are availing services from the right real estate app development company provider. Only an experienced and well-known service provider can offer you the best development and maintenance services.
So, be wise while choosing a mobile app development company partner as they will take no time to understand your project requirements and keep your app well-maintained and updated.
Step 4 – Implement Smart Analytic Tools
Analytics help businesses analyze the users' behavior after an app launch. It will help businesses estimate the features that users like the most and the least used ones. After that, it becomes easier to add new features and functionalities to an application so that businesses can retain existing users while attracting new ones. For that, smart analytic tools come in handy. So, start your real estate mobile app maintenance right after its development.
Step 5 – Remove Bugs Timely
Many times businesses simply develop mobile applications while avoiding their maintenance. As a result, they fail to resolve app bugs and errors timely which further affects their application and business work productivity.
Removing bugs timely is crucial for businesses to ensure seamless app working and keep the users engaged with the application. All this wouldn't have been possible without app support and maintenance.

Step 6 – Schedule Timely App Maintenance
Some businesses opt for manual mobile app maintenance whenever required, but dealing with it becomes hectic sometimes. This is why scheduling timely app maintenance is a perfect solution to such problems, as it helps businesses in automatic app up-gradation and maintenance.
Besides this, one of the added advantages of automating app scheduling is fewer chances of missing out on errors and bugs. It further ensures smooth app functioning and helps businesses run an application smoothly.
So, these are some of the simple steps that businesses should follow to maintain a real estate app to the fullest. Now that the step-by-step procedure is revealed to you, it is time to get started. If you lack experience, hire real estate developers for app development and maintenance. The cost will vary depending on multiple factors, as discussed below.
Read More:Cost of Real Estate App Development
How Much Does Real Estate App Maintenance Cost?
The real estate app maintenance cost cannot be the same for all the applications. On average, application maintenance costs around 15-20% of the total app development cost. For instance, if you have developed an application that costs around $8,000, in the beginning, you will have to pay around $6,000 on its maintenance, and the cost will decrease with time.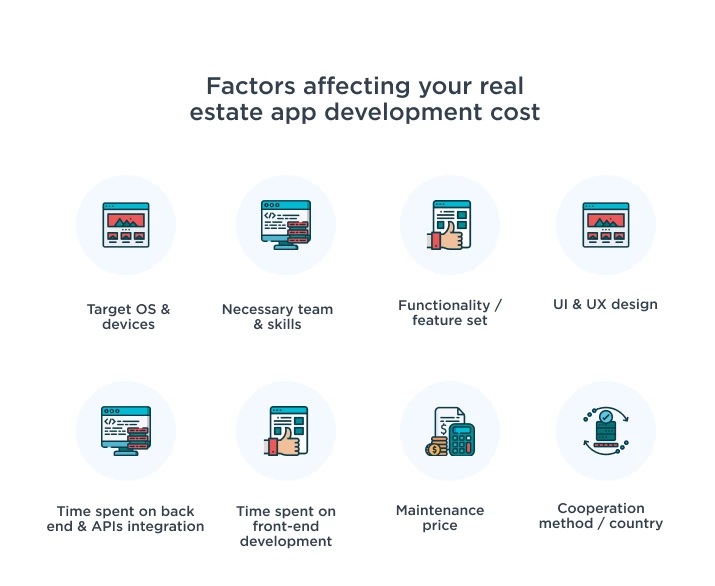 Some other factors influencing real estate app maintenance costs are-
1. Hosting
The hosting prices completely depend on the type of mobile application. For instance, a real estate mobile application can be hosted on a dedicated server and requires less app maintenance cost than a marketing automation app developed to host customers' data. So, your app's hosting maintenance price will completely vary depending on the application you create.
2. Customer Support
An app is of no use if it isn't offering support and assistance to the customers. This is exactly where the mobile app development cost starts getting incurred. So, while calculating your real estate app maintenance cost, you should also consider the customer support factor. So, don't forget to include this factor while calculating real estate app maintenance costs.
3. Bug Fixing & Updates
Updating a mobile app timely is one of the best strategies for better app growth & success. Overall, there are two major factors affecting the mobile app development cost that is app's complexity and functionality.
So, if you want to save some app maintenance costs, focus on bug fixing and updates from the beginning of app maintenance. As per the real estate app development company experts, the more you delay, the more bugs will be, and the higher the app maintenance cost.
4. Analytics
Businesses will require a good analytics tool to know and analyze the app development journey. It is not possible to measure the app's performance during real estate app development.
It can only be possible when you monitor your application timely. Nowadays, plenty of modern-age analytics tools is available in the market that helps businesses keep track of customers' activity.
5. Third-Party Integrations
If you want a better and seamless performance of your real estate mobile app, you will need third-party integrations for your mobile application. When using other service provider integrations, you will also have to pay for its maintenance. Also, when you hire mobile app developers, make sure they carefully integrate the information from different sources used by the real estate application.
6. App Marketing
To develop and run a successful real estate mobile app, you need to focus on mobile app maintenance and marketing, as it will help you take your app to the heights of success. As per the mobile app development professionals, communication and marketing tools are the best assets to market an application and keep it updated as per the latest market trends.
7. Licenses
Almost every application is developed using licensed technologies. Some businesses take lifetime license for applications, while some applications' license needs to be renewed yearly. So, this is another factor that adds to app maintenance costs. Businesses should focus on regular app maintenance after mobile app development to keep everything in place.
So, these are some of the factors deciding the cost to maintain a real estate application development. Now that you are well-versed with every factor affecting the cost, it is time to start your app maintenance. The more you delay, the higher will be the cost. Do not delay any further; instead, get started right away.

Need Real Estate App Maintenance Services? We Can Help!
Real estate app maintenance is essential for mobile app development to ensure the app's scalability, adaptability, and security. Most businesses simply go for android or iOS app development and leave it as it is.
As a result, their real estate app fails to bring in the desired business profit and sales. But, now that you know everything about mobile app maintenance, seek real estate app maintenance services from professionals and begin the process without any delay. The professionals will help you with timely app maintenance while ensuring seamless app performance.
As the market is becoming competitive every passing day, maintaining an app is essential to beat the competitors. So, tighten your belt, hire android app developers, and iOS app developers who can focus on app maintenance, and watch how your real estate app will bring business success in the coming time.