Have your e-commerce website conversion rates gone down all of a sudden? Is your website not generating the profit and revenue you have expected this year? Maybe, you are missing something really important. Yes, we are talking about e-commerce website maintenance services! It plays a crucial role in keeping your website updated while eliminating all the errors. If you don't do so, your website will become outdated, poorly impacting your e-commerce business performance.
Research predicts that by the end of 2022, there will be over 270 million digital shoppers in the US. These stats come as no surprise as digital services are booming every passing day. This is why it has become crucial for businesses to focus on e-commerce website maintenance and development. Well, this blog talks about the same as it highlights everything about e-commerce website maintenance.
What is E-commerce Website Maintenance?
E-commerce website maintenance is a service that enables online store owners to make changes to their website and keep it updated and error-free. Website maintenance is a process of checking and examining whether the website is performing well or not.
As per the experts, there is no sense in developing a shopping app for your e-commerce business if it isn't maintained properly. E-commerce website maintenance and support are crucial assets to ensure business success. It also helps to increase the visibility of your website, which is beneficial for your business.

The process of e-commerce website maintenance includes – 
Graphic Design, Image Optimizations
Product Description
Onsite SEO
E-commerce Security Management
Product Listing Additions & Deletions
Updating Features
Increasing Conversion Rates
Website Traffic Analytics & Reporting
Online Store Updates & Installations
Why Are E-commerce Website Maintenance Services Crucial for Businesses?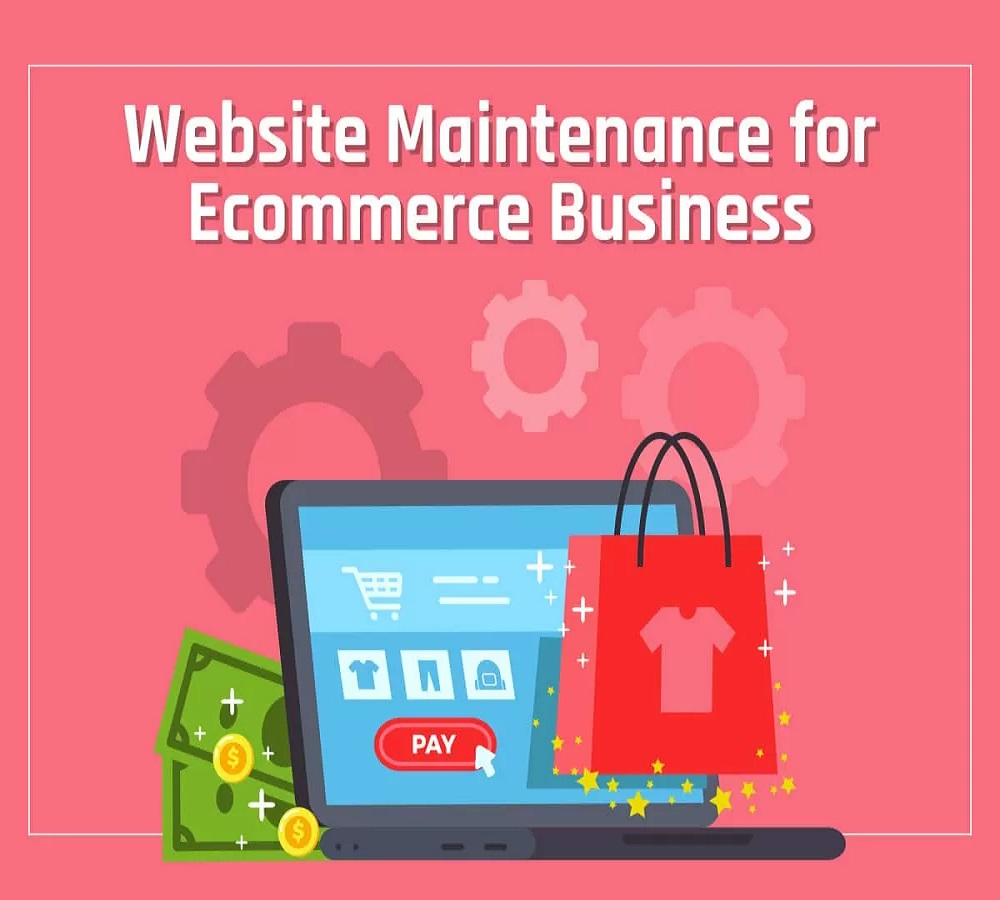 Like eCommerce website development, its support and maintenance hold immense importance for all types of businesses to avoid errors while offering adequate provision against revenue loss. Not only this, but maintenance comes with several perks for your e-commerce website/ marketplace app development, as highlighted below.
1. Reduce Cart Abandonment
Abandonment in e-commerce is used to describe a website user's behavior that abandons a webpage without finishing the desired task. For instance, a user visits your online e-commerce store, adds products to the cart, and leaves the page without purchasing anything. This type of user behavior is termed shopping cart abandonment which happens due to a lack of website maintenance.

So, proper website maintenance will help you reduce the frequency of shopping cart abandonment while fixing technical glitches.
2. Enhance User Experience
Businesses can never achieve success if their customers aren't happy with the services. Agree or not? Well, this might happen when your business app or website isn't maintained properly and demands high maintenance and support. Even the eCommerce website development company professionals believe that focusing on maintenance results in enhanced user experience and, in turn, increases business revenue and profit.
3. Improve Online Search Presence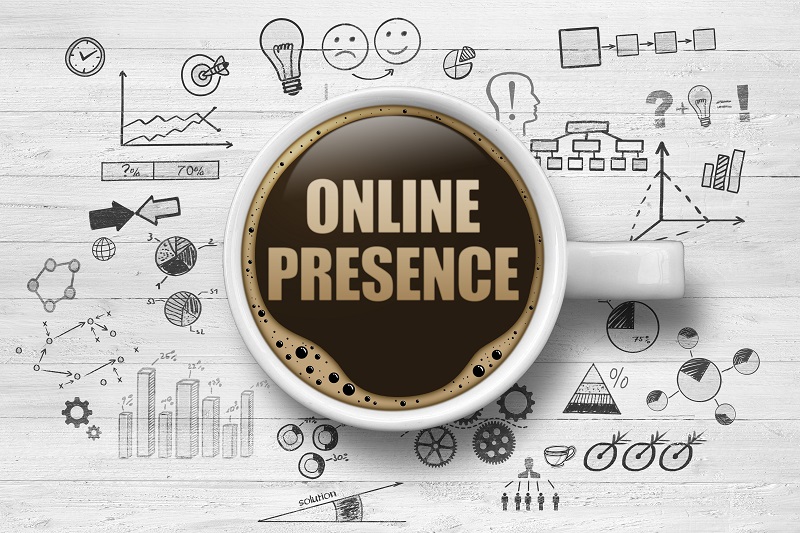 Google search engine ranking depends on multiple factors, including Meta tags, page titles, keywords, and more. To keep all these factors in place, regular up-gradation and maintenance are required, which will keep your online e-commerce website in the top search results. That's why focusing on website maintenance is as important as e-commerce website development.
4. Saves Cost In The Future
A minor fault or error can become a disaster for your e-commerce business website if the errors remain unaddressed. The same applies to your e-commerce website. If you simply develop an e-commerce website but do not pay attention to its support and maintenance, be ready to spend bucks in the future.
To avoid such a situation, it is advisable to avail of e-commerce maintenance services from the beginning right after e-commerce website development. It is a cost-effective process that will get your work done within budget.
How COVID-19 Has Changed "The Future of eCommerce"- Dev Technosys
5. Increased Business Reputation
In today's time, customers prefer to shop from well-known brands the majority time. This is where a professionally developed and maintained website acts as a magnet to attract customers. However, an e-commerce website with broken links, outdated features & functionalities becomes a customer repellent. You can only avoid this while focusing on maintenance.
So, consult on-demand app development company professionals and get a well-developed and maintained e-commerce app or website in hand.
Proper website maintenance can add more worth to your e-commerce business. We hope, by knowing the benefits of e-commerce website maintenance, you must have understood how crucial is it to maintain a website on a timely basis. Now, let's look at the different ways to perform e-commerce website maintenance to drive business growth and success.

Different Ways To Perform E-commerce Website Maintenance
Have you decided to go for e-commerce website maintenance services and are wondering about the different ways? Here, we have shed light on the three best ways to maintain an e-commerce website.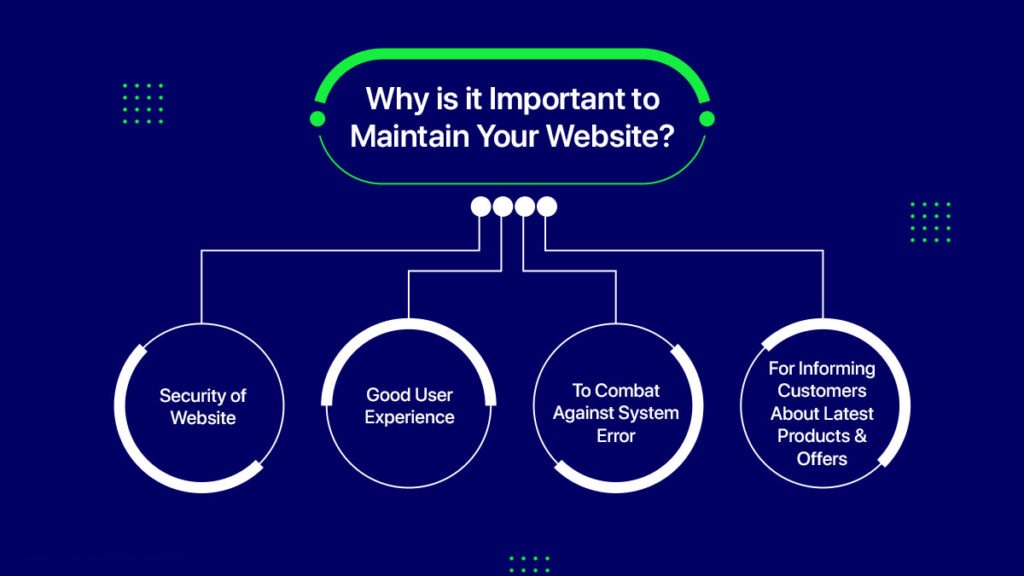 1. Security Maintenance
Website security is one of the major reasons why regular maintenance and support are required. Nowadays, cybercriminals always look for opportunities to attack websites with poor security, and as per the best mobile app development company experts, e-commerce websites have higher chances of such attacks.
This is where security maintenance comes into the picture. It will protect your website or act as a strong tool to prevent hackers from accessing confidential information.
So, it doesn't matter how well you have maintained your e-commerce website; maintaining it regularly will keep your website secure while making it more growth-driven. For instance, you have used payment gateway integration into your e-commerce website, but it will require maintenance and up-gradation to keep it secure with time.
2. Storefront Maintenance
This e-commerce maintenance service is similar to designing and painting an offline e-commerce store. When users visit an online e-commerce store, the design and layout is the foremost thing that attracts them. The products are the second thing they will look for while visiting your e-commerce website. So, if it fails to meet the expectation of the users, they will surely leave your website.
You can avoid all of this while focusing on storefront maintenance timely. Also, you can ask the eCommerce development company  professionals for the same. This e-commerce maintenance service will include enhancing the structure, layout, graphics, colors, and more. Overall, the website's appearance will get enhanced while performing this type of maintenance.
3. Marketing Maintenance
Finally, coming to the last yet the most crucial type of maintenance services, i.e., marketing. Like a website's development and design, marketing also holds crucial importance in making a business successful. Without proper marketing, your website won't be able to rank on Google, and hence only a few users will get to know about your e-commerce business. So, to make your business visible to thousands of users worldwide, strong website marketing is crucial, along with maintenance.
It doesn't matter whether you have progressive web apps for eCommerce or any other; marketing is a crucial asset to let your business reach the heights of success in the coming time.
So, these are the three different types of e-commerce website maintenance services that businesses can implement to keep their website working for years to come. Still, there are a lot of business owners who aren't sure of their e-commerce website maintenance even after knowing the type of maintenance to perform. If you also belong to the same category, you must be well-versed with the conditions when maintenance becomes a must.

When Does E-commerce Website Needs Professional Maintenance Services?
Are you running an e-commerce website but aren't sure whether it needs maintenance or not? You've reached the right place. Here, we have discussed the major scenarios when e-commerce website maintenance becomes a must. Let's get started.
1. E-commerce Website Isn't User Friendly
Today, the majority of the population prefers to shop online via smartphones. That's why businesses must have user-friendly or, we can say, mobile-friendly websites. For instance, if your e-commerce marketplace like Amazon isn't compatible with mobile devices, it needs maintenance right away. Get in touch with the experts to avail mobile app maintenance and support services right away.
2. E-commerce Website Speed is Slow
If your e-commerce website's speed is too slow or taking more than the expected time to load, it needs maintenance. You can check this issue with the Google Page Speed Test feature. If the score is above 90, your website is good to go, but you need to work on maintenance as soon as possible if the score is below 90.
For instance, if you are working on e-commerce product customization software, but it is running too slow, then only the website maintenance services can fix it.
3. E-commerce Website Isn't Ranking
Has your e-commerce website's ranking dropped all of a sudden? Lack of maintenance is the major reason behind it. There might be some errors or faults that are affecting your website's ranking to a great extent. It doesn't matter how unique your products and services are; they will never be able to generate revenue and sales if it isn't maintained properly. So, do not neglect it; instead, go for e-commerce website maintenance services and see how it will generate more profit for your site.
4. E-commerce Website Has Broken Links 
With regular website support and maintenance, fixing the broken links on time is much easier. But, when you keep the website as it is for a long and do not focus on its maintenance, the broken links starts accumulating and spread everywhere. It becomes risky for business success. So, this is a major RED flag that indicates that you should go for e-c0mmerce web maintenance.
To avoid this from the beginning, the eCommerce application development company professionals always suggest checking on web & app support and maintenance.
5. E-commerce Website Becomes Outdated
Apart from the website's technicalities, appearance also matters behind business success. So, it is crucial to check whether your e-commerce website's features and functionalities have become outdated or not. In case you do not have a desired team for the same, it is better to consult Magento eCommerce developers or the professionals offering e-commerce website development services.
None of the users will prefer to access a website with outdated features. Right? So, be aware of it and maintain your e-commerce website on a timely basis.
These are some solid reasons that indicate the need for e-commerce website maintenance. Now that you are well-versed with the factors, start the website maintenance process right away the next time you see such RED flags. The more you delay, the higher will be the cost.

How Much Does E-commerce Website Maintenance Cost?
An e-commerce website with around 1000 products costs $55000, including design and development. The cost of maintaining an e-commerce website varies depending on multiple factors, as highlighted in the table below.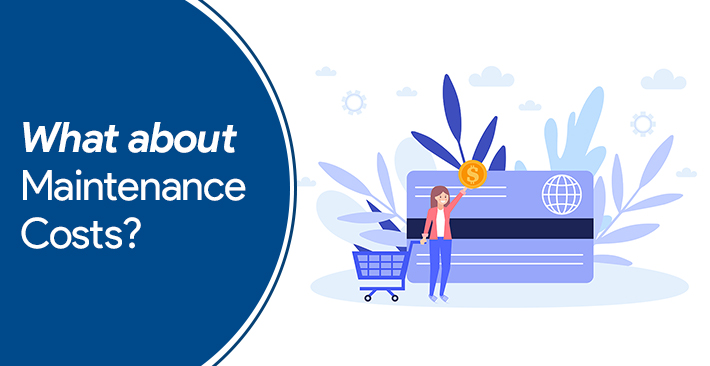 E-COMMERCE COST FACTOR AVERAGE
AVERAGE PRICE

 

Number of pages (10)
$1000-$2,000
Website builder
$0-$300
Responsive design
$3000-$25,000
Ecommerce functionality
$2000-$25,000
Database integration
$2000-$25,000
Content management system
$2000-$25,000
Domain name
$0.95-$12 per year
Hosting
$80-$10,000 per year
Website maintenance
$14,000-$30,000 per year
These major factors might greatly increase or decrease your e-commerce maintenance cost. Now that you are well-versed with each of the factors keep them considered while looking for website maintenance. Besides this, there are other factors too that decide the e-commerce website maintenance cost, such as –
1. Hosting
Different applications and websites have different hosting platforms. So, the type of platform you choose for your e-commerce website will affect the cost of maintenance.
2. Updates
With time, every website requires updates. Right? But, when you do not update your website timely, e-commerce maintenance costs might go higher than expected.
3. Analytics
If you are using some tools to check the analytics of your e-commerce business website, you will have to spend on its maintenance in the coming time.
Conclusion!
Website maintenance may seem to be a tedious task, but with regular maintenance and up-gradation, it is not daunting as it seems to be. A well-maintained website brings more sales and profit than one could have never thought of. So, do not neglect to work on your e-commerce website's maintenance, especially when you have spent time developing it.
All you can do is avail e-commerce website maintenance services from professionals as soon as you are done with the development. Doing maintenance from the beginning will keep your website updated and working for years to come.