Online shopping has been very popular for the last many years. People are finding it comfortable to order anything from their home, regardless of the place of manufacturing and the distance of the vendor from your city.
Even global transactions are also possible, using reliable third-party payment integration and a perfect delivery partner. Businesses are either registering on the existing marketplace like Amazon or trying to set up their own eCommerce industry solution. Physical stores are no more a profitable deal for bringing huge profits to businesses.
If you have been doing business for several years or have enough financial backup for setting up your own marketplace, then it is worth investing to look for an eCommerce app development solution like Etsy, eBay, or Amazon.
Customers love to search for their choice of items from the marketplace; therefore there is a great shift in the buying tendency of the customer. Grocery stores are looking for grocery delivery app development for reaching out to customers.
Here in this article, we will understand the process of an eCommerce app development like Amazon, its features, monetization model, and the cost of eCommerce app development or the cost to hire eCommerce developers. Before moving to the process of development, let's understand the important statistics supporting the growth of eCommerce and pushing you to build a powerful eCommerce store.
Supporting Statistics
The rapidly increasing trend and the revolutionized business techniques are the most prominent transformer of the customer tendency and uprise for on-demand app development companies.
Now people don't like to stand in a queue. Earlier, customers used to visit the stores for purchasing any item. This delimits the range of products and the cost variation. With the increase in the use of smartphones and the interference of web development companies in common lives, it becomes too simple to scroll for the product you desired and find the competitive pricing.
Around 63 percent of business sales are now done online. Alongside, the conversion rates of smartphones are higher than those of desktop eCommerce websites. This has increased the inclination for mobile-based eCommerce website development.
Let's take a look at some statistics of eCommerce website development: 
Mobile commerce sales make up 54% of all eCommerce sales.
The latest figures tell the rising number of eCommerce industry solution users, which are expected to reach 4636 million.
Data says, that online grocery delivery has taken over more than 48 percent of the market and is likely to rise more with grocery delivery app development.
On average 46.6 percent of the users ensure the purchase, which is expected to reach 60 percent by 2024.
By 2021, the mobile-based eCommerce market is expected to reach $3.56 trillion, which is 22.3 percent higher than in 2020.
The global mobile commerce market adds up to 72.9 percent of all the eCommerce markets by the year 2021.
In the year 2024, mobile shoppers in the USA are likely to cross 187 million, and the role of android app development companies is prominent with the numbers of apps rolling down every week.
The mobile-based eCommerce market is taking a higher pace and according to figures, around 87 percent of shoppers engage in online searches before actually buying.
In 2020, the Amazon app is the most highly downloaded app in the Google play store, which is downloaded 3.82 million times globally.
Amazon is widely used in the South East Asian market, while available worldwide.
What is a marketplace?
The marketplace is an eCommerce industry solution where products are sold by multiple vendors. Amazon, Etsy, or eBay is the marketplace where sellers and buyers meet.
There are multiple marketplaces around us, and the vendors are finding it good to increase their sales over multiple platforms. An online marketplace is a term coined from the meeting point or common point of meeting for multiple sellers and buyers.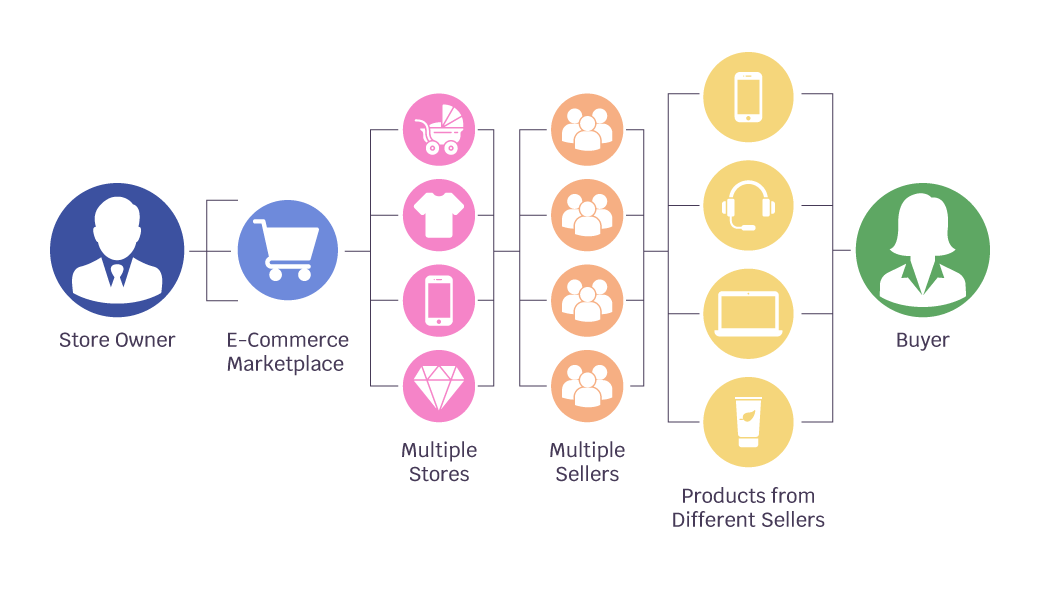 Here sellers can sell the goods of any brand without any intervention from the manufacturer company. Your eCommerce development solution can be B2B or B2C.
Also, the marketplace does not make interference with the relationship between vendors and buyers. Marketplace like Amazon meets the following objectives:
Connect sellers and buyers
Find Build relation between users
Partners can be found
Offering buying and selling opportunities
Business development
Transaction facilitating
Marketplace by mobile app development companies can offer different opportunities and time-saving solutions.
Types of the marketplace:
Ecommerce app development is all for selling, buying, and consuming services, offered by merchants and resellers.
Buyer oriented
Supplier-oriented
Vertical and Horizontal
Independent
eCommerce Target Audience
Business to Business
Business to Customer
Customer to Customer
How Amazon Gained popularity?
For businesses, willing to develop eCommerce industry solutions like Amazon, it is important to understand the business strategy and the principle which make Amazon a huge brand.
Winning the customer's trust is a big but perpetual strategy for success. Let's understand four principles associated with: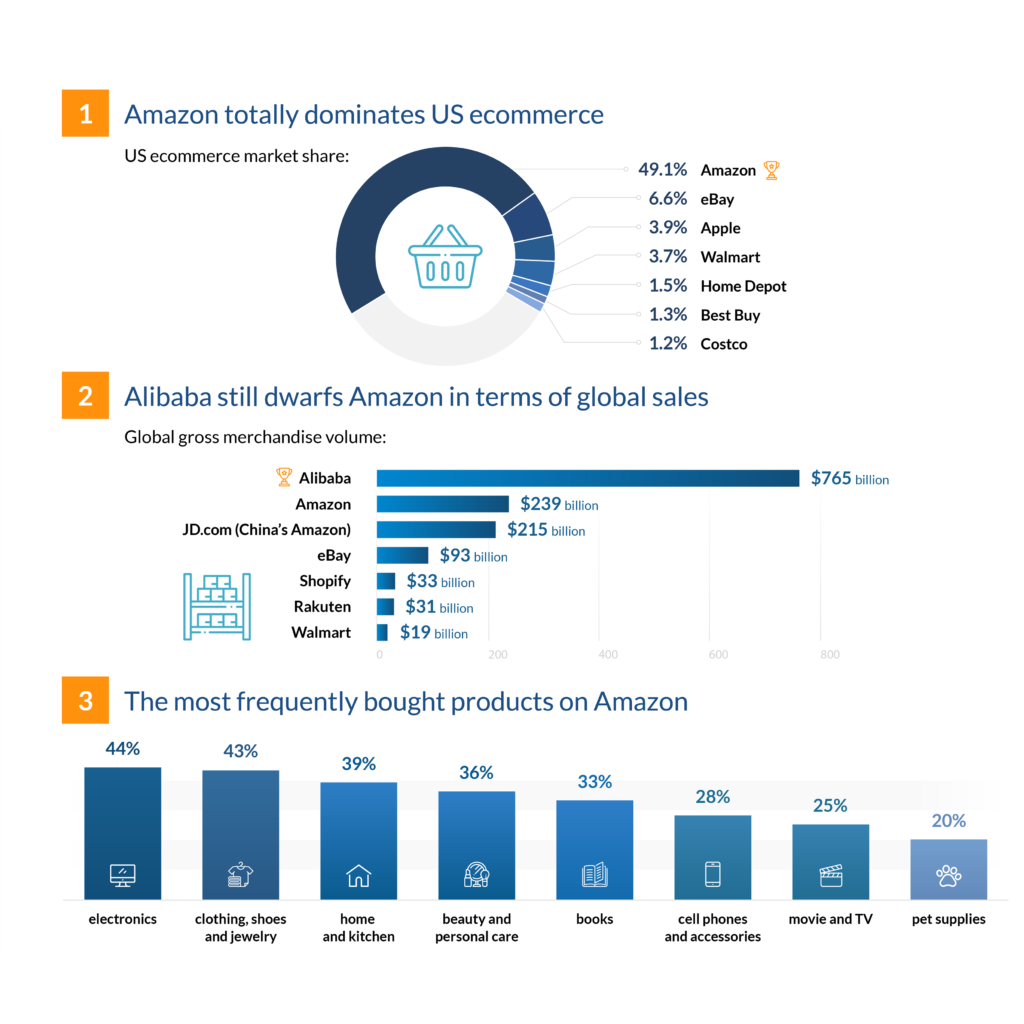 Focus more on making the customer happy, rather than giving defeat to competitors in short-term goals.
Put innovation on priority
Higher the operational quality
Long term vision
If you are wondering, how to make a perfect marketplace or hesitating in finding an android app development company, or hiring an iOS developer for an esteemed project, studying a little detail can solve your mind.
Such marketplaces take the benefits of local stores and bring them online. This gives a wide variety of items for customers along with competitive pricing.
Users can buy the desired products by filtering the lowest price available with a discount. Like larger on-demand app development companies, sellers get the powerful backup and the elegant environment to sell the goods.
All marketplaces let the vendor know the details of users in a super smooth manner. Let's understand how such eCommerce website solutions work.
1. Smooth UI
Amazon follows the simple design and the comprehensible placement of things. The motive is to let the user scroll through the website smoothly.
A business gets success if it focuses on providing the effort for customers and not distracting them from searching for the goods. Here are some recommendations according to top-class marketplace designs for eCommerce website development:
High-quality video and Photos: The high-quality photos make an impression of more trust and clarity. Customers can view any product from different angles, which gives a sense of trust.
Description: Detailed descriptions are necessary to let the user feel comfortable with the product before purchasing. Product specs, and features, if well-defined, give an extra push to sales.
Mobile-Responsive Design: Mobile responsive design of the eCommerce industry solution lets the user make a purchase of an open website through an app. While scrolling through social media they can reach your website and make purchases.
2. Payment Gateway
For building the global marketplace, you need to take care of payment methods. There are various payment methods used in eCommerce app development.
You need to provide all prominent options to facilitate the payment. Amazon offers Debit and credit card payments, online banking, and Amazon wallet options. Users can also make purchases with gifts in various denominations, where these can be used for certain items.

Amazon also offers the chance to purchase through Amazon Store card and Amazon prime cards are used for certain items, where sellers have included the items.
Amazon ensures the secrecy of your transaction details, and make all payment secure. You can make this possible using third-party integration. You can find some best deals with the help of a web development company.
Next, let's understand, how such an eCommerce website solution can benefit you.
Business benefits from a marketplace like Amazon
Building a marketplace enables businesses to communicate with customers located around the globe. The digitally proven strategy when implemented with Amazon-like eCommerce websites, efficiently bring out a huge profit amount.
Hire dedicated developers for reaping out profitable business deals. Here few benefits listed out here from the eCommerce websites:
1. Efficient option
Releasing the marketplace app is the same as building the commerce website by a mobile app development company. The logic behind the eCommerce marketplace is complex and the functions of the eCommerce websites can assist vendors in building a stable business.
2. Revenue: 
Your eCommerce website development can offer a different method to earn revenue. Owners of the marketplace earn revenue streams, which fit best the niche and business goals.
The revenue stream decides the success of the platform. The most popular revenue stream or monetization models in eCommerce apps are commission, lead generation, listing, and offering additional services.
You can use several revenue-building streams such as OLX and Craigslist, which charge the premium listing. Commission models are prevalent in popular e-commerce marketplaces such as eBay, Uber, Booking.com, and Etsy.
3. Automation: 
The primary source of earning in the marketplace is commission. The commission received from the sales of the product is directly cut from the amount received by the vendor.
It requires a high level of automation for the business process. You as a marketplace owner need not do any paperwork and everything happens as per the automation.
4. Great Value Proposition:
Marketplaces are fantastic to give businesses an opportunity for handling the supply and completing the goods delivery to customers' locations. Website development services for eCommerce apps preferably give such earning options. Vendors are free from physical store maintenance.
Supplies or vendors build a business card with a rating, which helps customers in making informed decisions. For attracting the services providers, product owners, and customers, marketplaces usually offer a low fee, superior UX, a safe dealing environment, and appealing brand recognition over the platform.
5. Scalability: 
When you build an eCommerce store, you need to have a physical store or inventory house to fulfilling the sudden demand for any product.
Whereas marketplaces are more expansive and do not require you to store the item. You need to invest in inventory. Marketplaces grow quickly and as the traffic grows, you need to invite more vendors.
The only challenge is when the balance between supply and demand spoils. High-quality photos and good vendors attract customers.
6. Customer Preference:
Customers always love to scroll through the website, which provides different options to choose from. Marketplace comprises different vendors and a broad range of product options.
Customers can search for the desired options and choose from the different vendor products instead of limiting their choice to nearby shops.
7. Analysis options:
Being a marketplace owner, you can track sales and get accurate metrics. Owners of the portal can see and check the demography of the majority of customers, most in-demand items, and other relevant details to bring revenue and engage customers. Android app development companies get the majority of such projects.
How to build a marketplace like Amazon
A marketplace unravels a huge market for mobile app development company. Till now, we have understood the benefits of a marketplace like Amazon for companies. Let's understand the process of building the marketplace regardless of the scale and size of your company.
Research for marketing and understand the competition.
Integrate the essential features for enhancing the functions.
Select the best and most suitable platform for development.
Hire eCommerce developers
Tech Stack For eCommerce Development
For building such a huge and complex eCommerce portal, you need to choose the updated tech stack or consult a reliable IT Company, which can deliver you the timeless project.
There are various programming tools and the advanced tech stack, where you must consult your project manager for the perfect and stable release, in fact before you hire dedicated developers.
Choice of programming language, web page response, website stability, and the smooth experience all are interconnected aspects of the technology you choose. You want your customers to stay longer on your website and it is only possible with the proper understanding of its demands.

Choosing the right tech stack for the eCommerce industry solution may seem difficult, but it plays a strong role in the success of any app later and takes less time. Let's understand, what tech stack could be there for a multi-vendor marketplace:
Client-Side/ Front End Tech Stack
HTML5
CSS3
JavaScript/ JS or JS enabled framework such as React.js
Server-Side technologies
The p/l which builds up the logic of the marketplace should be fast, secure, and robust. Ruby in rails is a popular option among on-demand app development companies for building such apps.
Programming language: Ruby on Rails
Testing: RSpec or Capybara testing
Database: Postgre SQL, Amazon Web Service
Server: Nginx or Puma
The above tech stack is a standard for a decent eCommerce website by IT companies. Ruby and Rails perfectly work with Ruby n Rails.
Marketplace, we use Nginx and Puma because they are perfectly combined with Ruby on Rails and are also recommended by top web development service providers.
Monetization oF eCommerce App
According to the data collected over the world from different companies, the above stack is scalable and faster, while giving revenue to your brand. In 2007, the revenue for the first quarter of Amazon was lying around 3.2 billion US dollars which increased to 72.38 crores in 2019.
How Can You Generate Huge Revenue Through Amazon or Any Marketplace of Your Choice?
The key to gaining revenue lies in a silent but effective market strategy. Here are a few options which can give the return of every buck you spend, similarly available in other eCommerce stores such as grocery delivery app development.
1. Selling Fee
The marketplace is a multivendor platform; therefore vendors are the key partner of the eCommerce platform. Sales over the platform make up the major part of revenue. There is the following variety of selling fees:
Per-Item Fee: This fee is received over the sales of each item. It may vary as per different platforms.
Referral Fee: This type of fee is charged for the products sold. It is charged over vendors.
Shipping Fee: This kind of fee is charged over the shipping of any item. It is applied to products sold by vendors and individual sellers.
Closing Fee: This fee is applied over the sold media item.
2. High-Volume Listing Fee
For vendors with a high volume of products uploaded on the website, the listing fee is charged at different rates. Sellers need to pay a particular amount every month. The peer-to-peer marketplace charges suppliers whose number of items is above one lakh.
3. Advertising:
Owners can earn revenue by placing advertisements on the website. As a user clicks over the product and makes a purchase, a different commission is charged, depending upon the decided terms.
4. Subscription Fee:
Buyers are given the prime option for earning the advantage. Buyers get faster delivery options, unlimited movie streaming, and a number of special offers. The eCommerce platform also gives students discounts for purchasing Amazon prime membership.
Amazon Exclusive Revenue Generation Model
1. Amazon Kindle:
Amazon kindle is a fantastic source of two-way income, which is not exactly possible with web development service providers. Amazon kindle is purchased for products and content.
Also, the device comes with a 30-day free trial of Amazon Prime. Which user has to purchase once expired.
2. Web Services:
This is a bit unique model of earning. Amazon has a stronghold in the IT industry. The company is a pioneering cloud service provider. Year on Year this revenue is increasing due to the mass shift towards the cloud.
How Much Does it Cost For eCommerce Website Development Like Amazon?
Amazon is one of the most complex eCommerce platforms. It has evolved in so many years. We can get an approximate cost of a multivendor marketplace with somewhat similar but limited features. While estimating the cost, we must take the location of the developers or development company into account.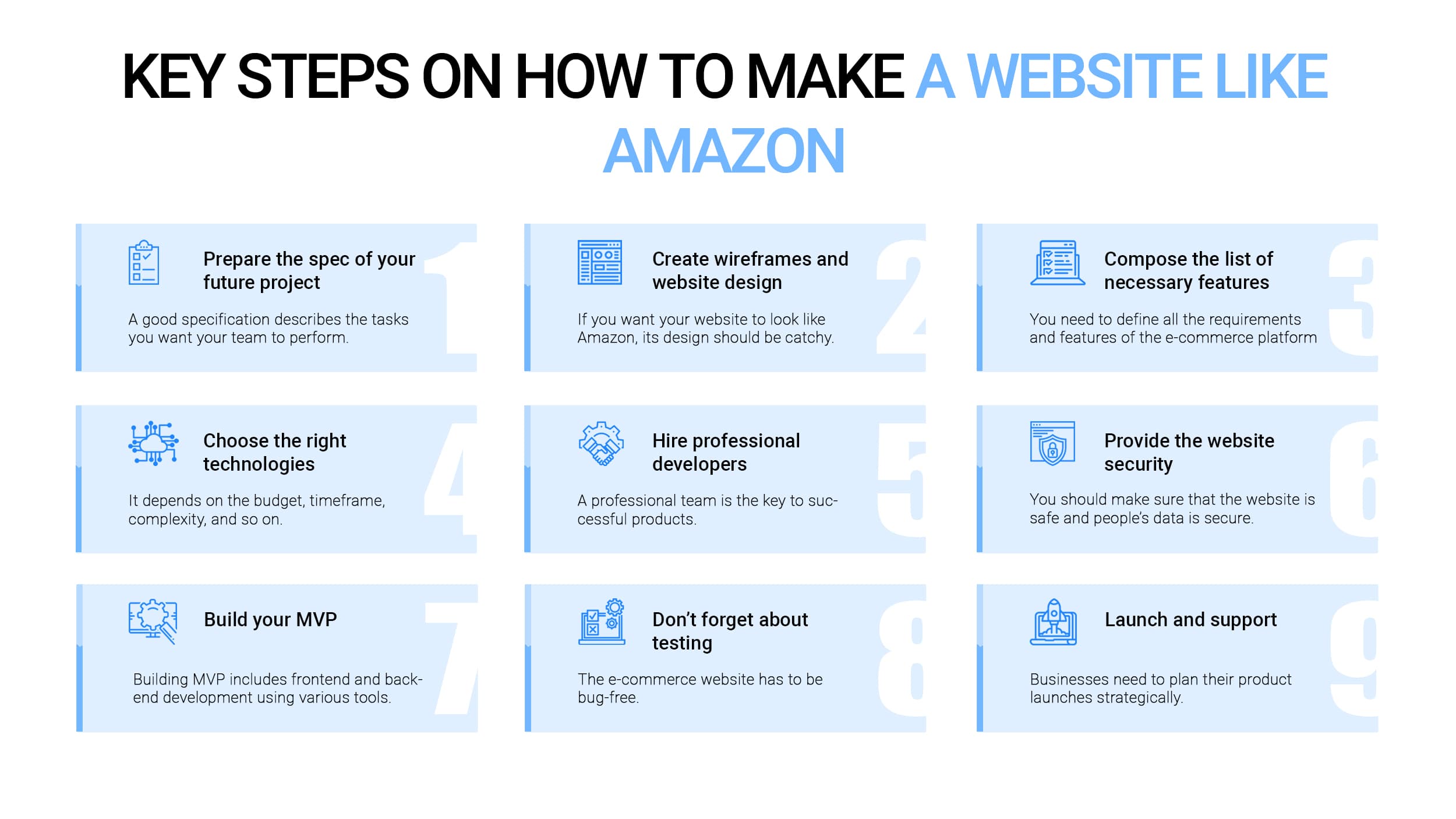 Here is a list of all components, which decides the cost of the product. We will consider that we hire an eCommerce developer at a $20 per hour rate. If you hire iOS developer, it can cost you more.
| | | |
| --- | --- | --- |
|  Platforms | Hours of development | Cost per hour considering $20 per hour as the base rate |
| UI/UX | 42 | 840 |
| User profile | 42 | 840 |
| Search | 96 | 1920 |
| Product page | 42 | 840 |
| Shopping cart | 64 | 1280 |
| Payment | 42 | 840 |
| Authorization | 72 | 1440 |
| Home page | 84 | 1680 |
| Notification | 36 | 720 |
| Buyer | 120 | 240 |
| Vendor | 230 | 460 |
| Admin | 160 | 320 |
| Reviews | 48 | 960 |
| Wish list | 32 | 640 |
|   | | |
| Total | 1110 | 13020 |
Above is a simple aspect-based calculation, which can give you an estimation of cost. A typical e-commerce marketplace like Amazon takes between 1000 and 1200 hours and may cost between $13000 and $20000.
Conclusion:
Developing a website like Amazon is a great business idea in 2021. The choice between a marketplace and an eCommerce website must be a well-thought choice. This way, the business gets a number of opportunities and an unlimited number of deals, which are not possible to handle through the store.
However, building a store like Amazon is a tough task, which requires a huge set of features, complexities, and customer support. For saving yourself from messed-up features and unstable development costs, it is better to hire an eCommerce developer. An experienced developer can handle a team for transforming your idea into a suitable product. It is a great task to go, but take a step with research.