Customers love convenience and companies that can add ease to their lives get unexpected benefits. Shopping is one of the most happening things and online shopping has completely changed the way of purchasing things lately. An online marketplace is like a supermarket filled with a variety and options for users to choose from. The trend of online shopping is increasing continuously with the increasing craze for fashion, beauty, and lifestyle.
Additionally, easy access to smartphones, the internet, and payment options have also ignited the will to shop online for better opportunities. More and more people are accepting digital shopping as their go-to method of shopping.
An online marketplace application such as Etsy, Amazon, and Flipkart allows multiple sellers to display their products for sale as a vendor, or say an online vendor. Sellers and customers are able to connect through a virtual platform combined with several technical aspects such as eCommerce website development.
To develop a modern online marketplace, it is important to be technically advanced and creative to attract users from different parts of the world. The use of the latest technologies and tools can also help in establishing a promising future for the website.
What Are Online Marketplace Apps Like ETSY?
Online marketplaces are applications mainly used by small and micro sellers for getting a global reach for their business. They simply set up their online store on a marketplace.
As the numbers grow in terms of mobile users, business opportunities, and products, the number of buyers also expand significantly. An online marketplace development is also called an electronic or digital marketplace as it is available in both application or eCommerce forms.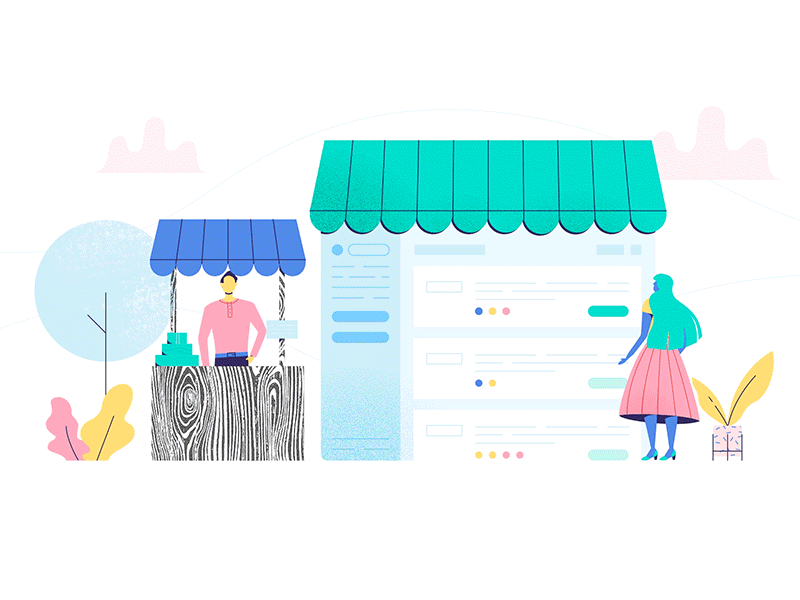 The first online marketplace website came up back in the 1990s, and we say marketplace app development such as eBay and Craigslist. From merely being like a listing website, today's online marketplace has various models, including inventory, aggregator, and more.
From the year 2020, the strict government rules of social distancing fueled up this business and gave incredible results. Millions of people turned to online shopping as social distancing was mandatory. In the future too, the opportunities of online marketplaces are endless and going to go higher.
Why Do Businesses Want Marketplace Apps Like ETSY, Amazon, and Flipkart?
The success stories of marketplaces such as Etsy, Amazon, and Flipkart have encouraged everybody. But thinking of them as an entrepreneur has also given me a place to look out for new opportunities in times of crisis.
This helps in adding revenue to the company and making a reputation in the market. eCommerce Magento developers are in demand throughout the world because of online marketplaces. Almost every business in the world now wants to develop a marketplace for the same; a few of the reasons are listed below:
1. Putting Power in Customers' hands
The idea of putting power in the hands of the customers to buy, sell or view things on a single platform is interesting as well as alluring at the same time. With proper market research and evaluation, this motive can be achieved and will be beneficial to both sides of the market.
2. Needs are Increasing
With the increasing needs of consumers and the development and launching of online marketplaces development companies are coming up with innovative ideas. Customers need something fast, easy to use, and secure solutions for their problems, and shopping has always been one of the topics where they have been confused.
With increasing needs, the demand is increasing as well and this is what makes eCommerce platforms more popular. Marketplace applications have a lot of products from different vendors and because of that, there is no shortage of a particular type of product.
3. Increase in Market Valuation
It is challenging for any business to enter the most enduring market club with a market valuation of more than 1 billion dollars. Investors are already present to take up the idea and provide capital investment in multiple rounds of business. There has been a tremendous increase in investors' interest, which makes it the best time to spend money on online marketplaces.
4. Profitable Numbers
According to the latest research, the ECommerce market will be experiencing sales of over $800 billion by 2023. A multi-seller market, such as Etsy, Flipkart, and Amazon, holds the largest possibility of making huge profits as it covers each and every industry. Marketplaces like this are surely a win-win because it gives the opportunity to enter into newer markets, domains, and geographical locations.

Benefits of Online Marketplace Apps Like ETSY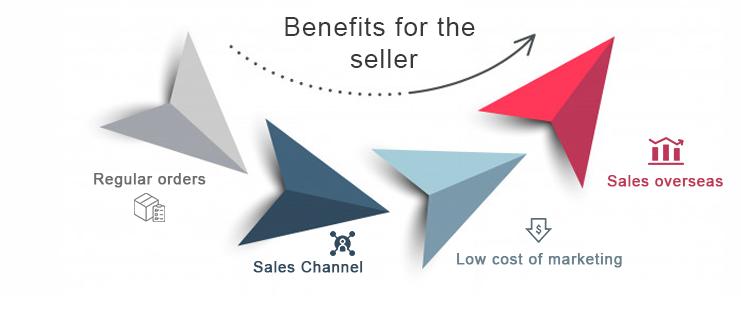 Some of the apparent benefits of launching an online marketplace application are as follows:
A great business idea to start to connect and work with Magento eCommerce development.
Source of significant revenue in less time
Reduction in marketing costs
Global reach to the business without any extra investment
Management of inventories with real-time data
Information about stocks and prices in the current scenario
Easy access to customers to compare prices
24X7 availability of the store
Generating brand recognition and trust among the potential audience
Providing customers with brand deals, best prices, and extensive options to choose from.
Steps To Develop Online Marketplace Apps Like ETSY
Marketplace app development is not a task that can be done just like that. There are steps involved, and the team involved in the project needs to follow these steps. The project might suffer if there is any inconsistency. The plan should be made according to the steps that are defined below: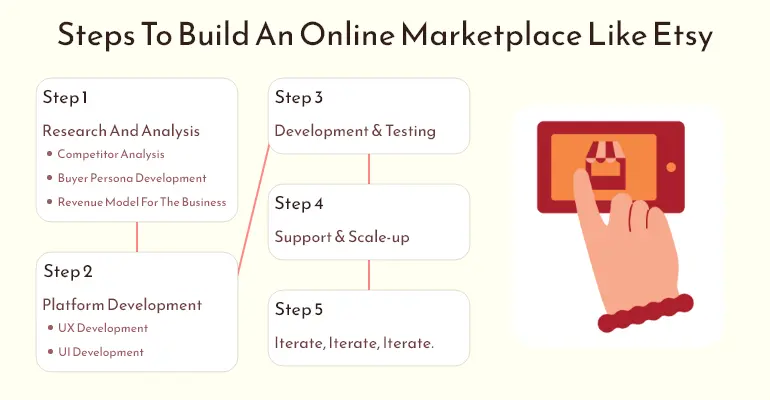 Step 1: Research And Analysis
The first thing before you start anything is to research it. When you are developing a marketplace application, you need to research your potential audience, the scope of the app and business, and much more. If you are not clear about these things in your mind, you might never make a plan that works the best for your business. You must analyze your competitors.
What they are doing, what things are giving them more reach and sales, and holding them back. Work on the problems and follow the legacy. It is always a great idea to follow the best practices in the market. Customers want the best things, and if things are not running in the same way as people wish to, you might have to face problems.
Step 2: Developing The Prototype Of The Platform
Before starting the eCommerce website development or website development, the team needs to make a plan, and according to that, they have to develop a prototype. A prototype is like a model for the final project. It shows how the app might look and behave when it is ready for the end-users. Prototype development is a crucial task if that is not done correctly, the team will have to face problems, and the application might not become what they want.
There are not too many chances of some issues in marketplace applications because the basic features and layout stay the same. It is mainly on the UI/UX team to give the application a different look.
Step 3: Development And Testing
Finally, when there is a prototype, and you know what you want, the team can start with the development process. It takes a lot of time and effort to hire dedicated developers, develop an application that suits your goals, and create a different brand image.
Trying to make an application like the big marketplace can be a great idea, but it is essential to have something of your own. Amazon and ETSY can inspire your application, but it should not look like your application is a replica of those websites.
Customers are savvy, and they will understand by just looking for some second that you have taken inspiration from Amazon or ETSY. This is why you need to be careful and creative while creating the prototype.
After development, it is time to test the application. There are errors and bugs in every application after the development phase. The errors might not be visible when you just look at the app from the outside, but it shows the problems when you start using it.
Because of that, the applications need to be tested till their unit level. It reassures the marketplace developers that everything is working fine and if something is not, the report is submitted to the developers so that they can fix the problem at the earliest and make the app smooth.
Step 4: Creating A Support Team And Scaling Up
Finally, once the marketplace app development is done and tested for any errors, it is time that the application to be deployed for final use. The next important task that you need to do is create a support team. This support team will handle all the queries that the users of the application will have. Ensure that these people don't just know about the application development and technical issues but are also aware of your business.
They represent your brand, and if they say anything wrong, it might go against your public image. Train the support staff if you want them to provide you with value. They are the people who can improve or damage your business. If they tackle the people who call them properly, they can convert a person who was just interested into buying something, or else they might make them go far away and never return to the application.
Your application must also be made so that there is still scope for scaling it up. When the business goes strong, the next step is always scaling up. When you are developing your eCommerce marketplace, you already have started scaling up. Now, it all depends on you how much you want to scale it up.
Step 5: Improve, Improve, Improve
After all the above things, you must keep an eye on the app, various eCommerce industry solutions, and the market simultaneously. The world is changing very fastly, which is why you also need to change your business and the application according to the world.
When you understand your customers, it is easy to serve them. The key to keeping the business growing is improvement. Make sure you are taking feedback from not just the team but the customers as well.
Also, because you will be acting as an aggregator, you need to take care of retailers as well. If the retailers are happy, then only you can keep the customers happy. Retailers are the ones who bring products on the app, and if they are not there, no matter how much you try, you will just face some problems.
To keep growing, improve your relationship with both customers and retailers. You need to keep updating the application. Replace old features with new ones, add more features, and just keep adapting to the trends.

How Much You Need To Spend To Develop A Marketplace Application
Yes, developing a marketplace application can help you earn a lot of money, but you need to spend too much before that. Every part of app development demands investment, from UI/UX development to backend development, services from any mobile app development company, and more; everything has a cost.
These costs add up together and give the total final cost of development. There are miscellaneous costs too that can't be categorized, and nothing of this is fixed.
It depends upon the development company or the developers who are hired and the scope of the project. The answer to this is, "It all depends on the requirements of your project." To give you a brief idea of how much it may cost, the estimation of some parts is given below:
Cost of the structure of an application
Design
Hosting of the website/app
Functionalities
Location
Time is taken to develop the app
Promotions
Extra resources
These things are important because if you are not investing while the application is in the development phase, it might not give you the money you expect from it. There are a lot more things that add up to the final cost, and all of them are also different according to the projects.
Features That Your Marketplace Must Have
A marketplace application needs to cater to its retailers as well as the customers. It is the responsibility of the mobile app development company to take care of it.
The retailers should be able to list their products and add details and change the prices as per their wish. The customers should be able to purchase and shortlist and get the product delivered to them within the timeframe. There are some features that every marketplace application must-have.
Below are the features that your application must have:
Catalog
Wishlist/Shortlist
Reviews And Ratings
Account Dashboard
Cart
Payment Options
Stock Management
Digital and Social Media Sharing Option
Cash-on-Delivery
Invoice Generation:
Newsletter, Offers, Promotions
Tax Management
Filers and Sort Options
Shipping to multiple addresses
Easy and Quick Checkout path
Support for multiple languages
Above mentioned features are important; if the website or application doesn't have these features, then you might have to struggle a lot. And, these are the features that give your application a complete structure.
Advanced Features For Your Marketplace Apps Like ETSY

It is important that your application looks different from the pool of many other marketplace applications you put some advanced features. A good web development company will always try to make a difference through the final product.
There are so many features that you can choose from, but some of the most popular ones in the eCommerce industry are mentioned below:
AI Analytics
Instant Messenger Integration
Loyalty Features
Search By Image
Augmented Reality
The features mentioned above will let your customers do things that are not typically available on most marketplace applications. These features can help increase conversion and keep the retailers on the platform happy.
Happy retailers are always a good sign for a marketplace application like Amazon. They are the ones who provide you with the commission on the sale of each product. Many of them also advertise on the platform giving you monetary benefits.

Who Are The People You Need To Make A Marketplace Application
Though a whole team in a mobile application development company works on developing and maintaining an app, the following are the lead roles that shape any marketplace application/website.
App Developer
Project Manager
App Tester
App Designer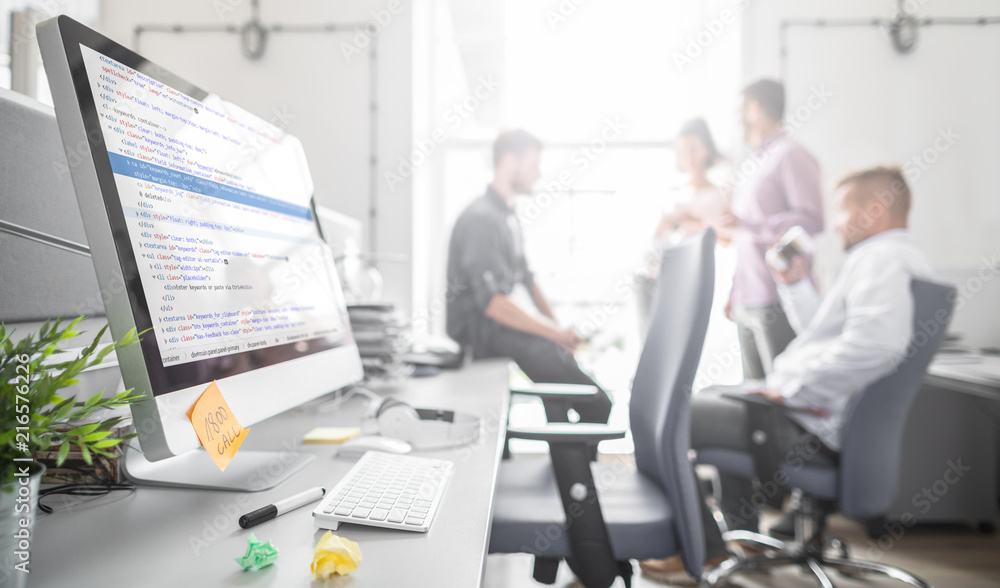 Things You Should Keep In Mind While Developing Marketplace Apps Like ETSY
1. Work With A Plan
Working without a plan in a marketplace can be dangerous. The application adds up a lot of work and if that is not done according to a plan, it might go out of hand. The cost might also go overboard. To control everything it is important that you make a strict plan and make sure it is followed the way it is meant.
2. Make Sure You Choose The Right Business Model
You have to understand who your customers can be. You can either be a B2B marketplace or a B2C marketplace. You need to decide this before the development of the application starts. There is a difference between the structure of a B2B and a B2C marketplace application.
3. Understand Your Target Audience Before You Start Rolling
When you know which market you want to sell in, you need to understand what the customers of that market want. Discuss with your web application development company regarding the same.
If you are selling into the B2C marketplace, then understand how they behave when they buy something through an application. They might just scroll too many things but buy some or scroll limited but buy most of the things they check.
If you know your audience, you will be able to decide on a strategy to market the products. You can also then go to the retailers accordingly and share the plan that you think will take your application to the people relevant to their brand.
4. Build The Store With Care
It is important that you build the marketplace with care. You can't leave anything without looking at it properly. You need to think about all the aspects of the marketplace in general.
What are the things that the customers want, and what are the things that the retailers might wish to? Keep yourself in the place of these people and try to think about what you will enjoy when you think of yourself like them.
5. Payment Gateway Integration
You need to integrate payment gateway options accordion to the market you sell in. Choose the most popular payment gateways and make sure that all of them are working at all times.
The more payment options you provide to the customers, the more is the probability of them buying something from your marketplace. Also, this will also be in favor of the retailers.
6. Onboard Retailers
It is important to understand that the retailers you have onboard will directly impact your reputation. If the retailers are selling good quality products and are not too big, it will work, but the ones who are selling bad quality products might harm your reputation.
Get the retailers who have manufacturing power as well as good quality. It is also essential to get some of the big names so that people get attracted to the platform.
7. Focus On Providing Good Customer Support
Most customers face problems with the customer support part of most applications. It is something where you can create a change. Make sure that your support team is attentive and well trained.
Teach them how to listen to the problem before giving out the solution. They need to be patient, and they also need to hear the customer say it all out before they speak. Good customer support can be the key to more sales.

Conclusion
Marketplace app/website is going to be in the limelight for the long run as people are getting more and more inclined towards it. Every IT development company is eyeing ideas and is ready to provide all the services with the latest technologies because of the high probability of these applications' success.