The new smartphone age has arrived to make our lives easier through smartphones. The hybrid app development service is all about new technology and smart solutions. We receive something new every day, something larger and more innovative. But we rarely consider the individuals who are behind the technology and tools we use daily.  Here to know more about how much does it cost to hire hybrid app developers in 2022.
Aside from being cutting-edge technology, mobile applications are an effective instrument for business development and brand visibility in the digital world. A simple and user-friendly mobile app must replace hundreds of marketing techniques and efforts, such as consumer engagement and retention. An app that is constantly in your customer's pocket will provide you with the following benefits:
Improved client service
Potential clients from a broader geographic area
Constant connectivity and availability
Current Market Stats of Hybrid App Development
Generally, cross-platform/hybrid mobile frameworks are used to develop an app accessible through multiple end devices. While opting for hybrid app development, one can expect maximum exposure to the market audience. As per Statista, in 2020, there were 24.5 million software developers with an annual salary of 4, 16,000 U.S. dollars, which increased to 38% this year, and the demand will rise in the coming time.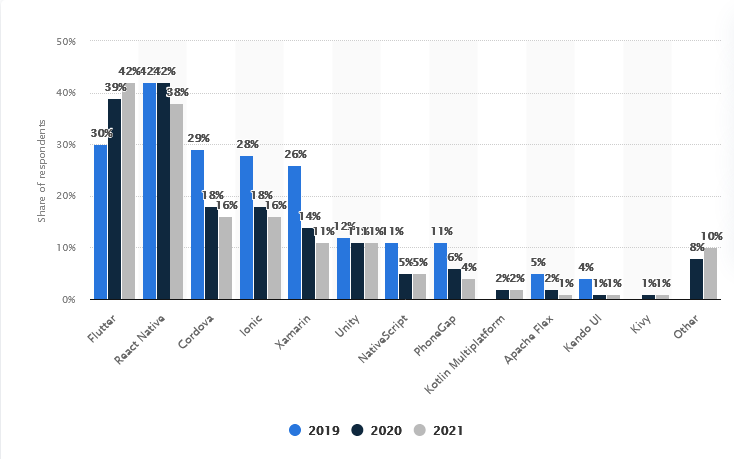 So, there is no such fixed cost to hire dedicated mobile app developers. Still, to help you get an estimate idea of the same, the following section talks about the hybrid app development cost in the coming year.
Cost To Hire Hybrid App Developers In 2022
The cost of developing a hybrid app can range from $10,000 to $25,000, or even up to $1 million or more, depending on the app's nature, features, and complexity. There is no specific amount for mobile app development costs, but isn't that a huge range? The wide disparity is due to the numerous factors that influence app development.
To make things easier, let's restrict the field by classifying your mobile app concept based on its complexity, which is the most influential element. A good beginning point is determining whether your software is simple, somewhat sophisticated, or very advanced.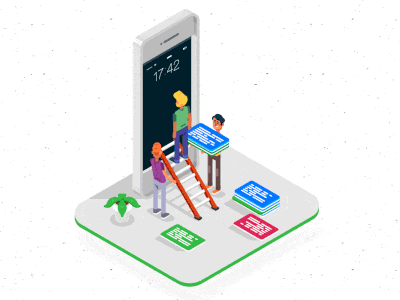 Looking at the 2021 graph, you will notice that investors received applications based on their expenditure. It may even be $5,000, $10,000, or $25,000. These were determined by the necessity and the complexity of the app. The cost of app development is determined by your needs and the app's complexity.
However, if you search online through certain independent sources, you will discover nearly identical results with a few exceptions.
Also, some major factors greatly impact the cost of hybrid app development, as highlighted below.
Factors Influencing Hybrid App Development Cost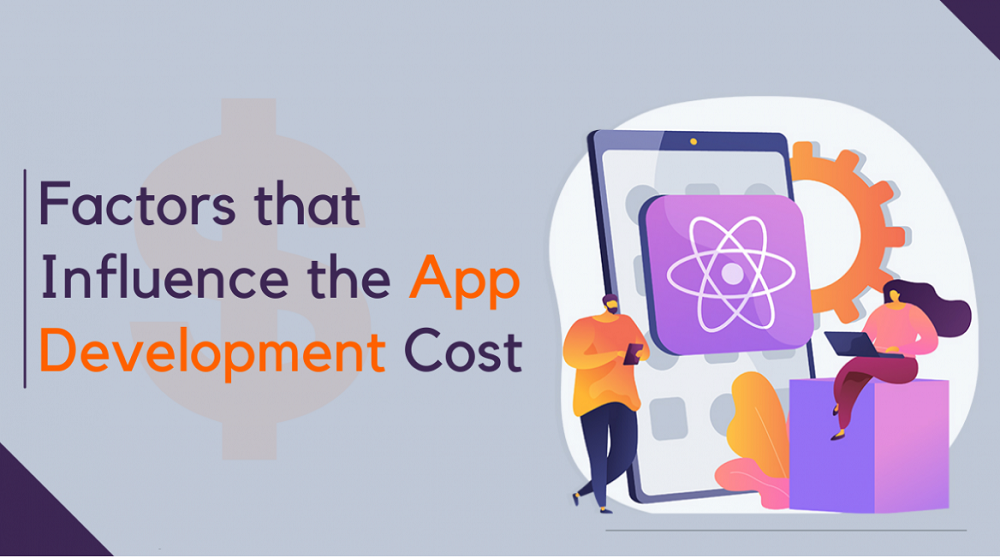 Every project or concept requires its own mobile app development procedure. As a result, the app development cost that a hybrid app development company may provide will be determined by a number of criteria. It is determined by factors such as viability, technical requirements, development time, modifications, and so on.  As a result, it is critical to thoroughly understand the elements that influence development costs.
The following are the primary determinants:
1. Project Complexity
The complex the project is, the more will be the development time, and the higher will be the development cost.
2. Platform
The type of platform that you choose for app development will affect the project's cost directly as different platform developers charge differently.
3. Characteristics
Every developers possess unique characteristics like some are good with the back-end, some with the front-end, and more. So, if you are looking for a developer with all the characteristics, the cost will vary as compared to the developer with a basic development characteristic.
4. Hiring Model
Basically, there are hiring models followed in every organization, i.e., Part-time, full-time, or hourly. So, your app development cost will vary according to the hiring model you choose.
5. Additional Maintenance
Sometimes, people demand additional application maintenance such as advanced features, post-development service, and more. So, there will be an extra charge for additional maintenance service.
These major factors can mark a huge impact on your hybrid app development process. Along with keeping the cost factor into consideration, you should also check out some major points before hiring a hybrid app developer, as mentioned in the succeeding section.
Major Points To Consider Before Hiring Dedicated App Developers
Cross-checking the following points before availing assistance from hybrid app developers or any other developer will benefit your business. So, don't miss cross-checking these points.  
1. Experience
With the increased demand for IT solutions, hundreds of mobile app development companies and hybrid app developers are there. This is where considering an individual's experience will help you reach the right person. The more experience the developer or organization holds, the better will be the results.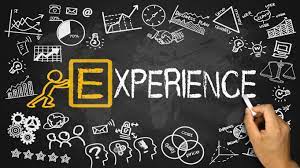 So, always avail services from the skilled and experienced organization. For that, you can visit the website, know about the company, or read the existing client's testimonials.
2. End-to-End Development
Some organizations only help you with development, but some developers offer you overall project development assistance. From helping you bring unique application ideas to developing your project and offering maintenance & marketing services, developers can help your business grow. To assure this, you need to ask the professionals whether they offer end-to-end app development assistance or not.
3. Technical Expertise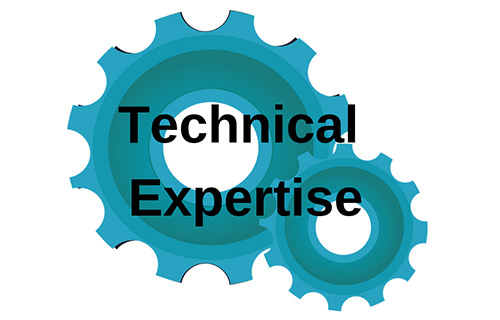 An experienced professional with zero technical knowledge can never offer you the right development assistance. This is why considering the technical expertise of a developer is crucial, along with counting the experience. To ensure the same, it is suggested to seek assistance from the organizations that are ISO certified, and the team utilized the latest tools and technologies during the development process.
4. Transparent Communication
When it comes to taking professional business assistance, transparent communication holds vital importance. Improper communication leads to misconceptions which further affects the project's quality and result in poor output. The best way to ensure this is by asking the company about the communication medium before taking their app development service.
However, renowned organizations have their own set of rules to keep their clients updated about the work and project status. However, you should ask about the communication medium for a safer side.
5. Post-Development Services
Your work doesn't get end after availing mobile app development services. Sometimes, a client need post-development service to make some minor changes or even ask for maintenance services. So, it is advisable to confirm from the hybrid app developers regarding the after-service and the charges for the same.
This will help you understand the estimated cost required for mobile app development, and you can make the arrangements accordingly. If you want to know the cost to hire hybrid app developers, you will get full details here.
These are some important points you must check before taking service from any of the hybrid app developers.
Why Hire Developers From An App Development Agency?
Always hire hybrid app developers of a development company to produce an app because it is more beneficial, dependable, and simple. It is more expensive, but it produces speedier and higher-quality results. These teams operate with a high level of commitment, discipline, and effective communication.
The agencies guarantee that projects are completed on schedule, with the anticipated results, and with sufficient security to justify the expense.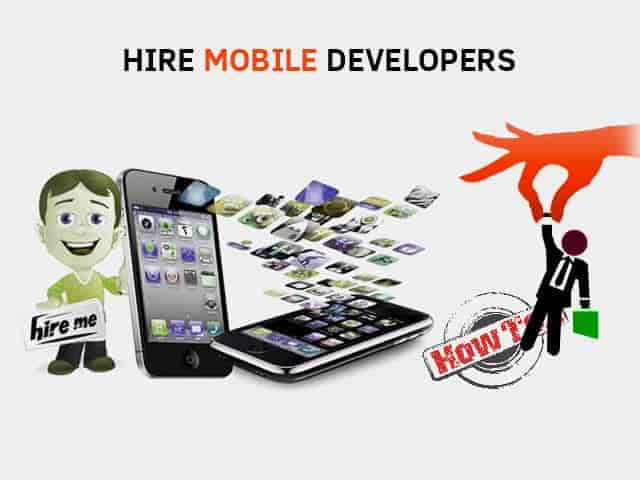 App development firms have all of the infrastructure and resources needed to create and deploy apps. Their team of highly skilled and experienced specialists will lead you through the whole process of developing strong, feature-rich apps, from planning to implementation, with the greatest alternatives.
Their devoted team of professionals comprises of the following individuals:
Designers of UI/UX
Business Analysts
iOS/Android Programmers
Project Manager for Quality Assurance Engineers
The size and structure of the team will directly impact the development cost, and it should tailor the requirement of your project. For example, complicated apps may necessitate more effort from the designer; hence two or more developers may be required compared to simple apps.
The fees paid by the agencies will be determined by all of the parameters discussed above and their location. The cost may also be determined by the engagement model you select. While US-based firms charge $100-$250 per hour, Indian agencies with the same quality and skill might charge $10-$25 per hour.

Why Invest In Dedicated App Developers?
You may hire dedicated developers and increase development capacity as needed. The distinction between employing freelance developers and committed developers is that a freelancer may be working on many projects simultaneously, which might impair job quality. On the other hand, a dedicated developer is just working on your project, which increases productivity and job quality.
Furthermore, when you hire specialized engineers from a software development business, you avoid handling the hiring labor such as evaluating prospects, payroll, and so on. Not only can you hire dedicated project managers and other needed experts to supplement your existing in-house team, but you can also employ dedicated project managers and other essential professionals.
An expanded team is preferable when you already have established management, procedures, and workflow. A specialized development team provides greater security, knowledge, and continuous productivity.
Web vs. Native vs. Hybrid Applications
Additional Information Relevant To Hybrid App Developer Cost
After you've designed and released a fantastic app, the time of maintenance and support begins. Keeping your users satisfied and retaining them by constantly upgrading the app to meet their shifting expectations is critical. It comprises carrying out essential updates, adding new features, repairing bugs, and performing emergency maintenance. It also considers the cost of app infrastructure services such as servers, databases, and third-party services.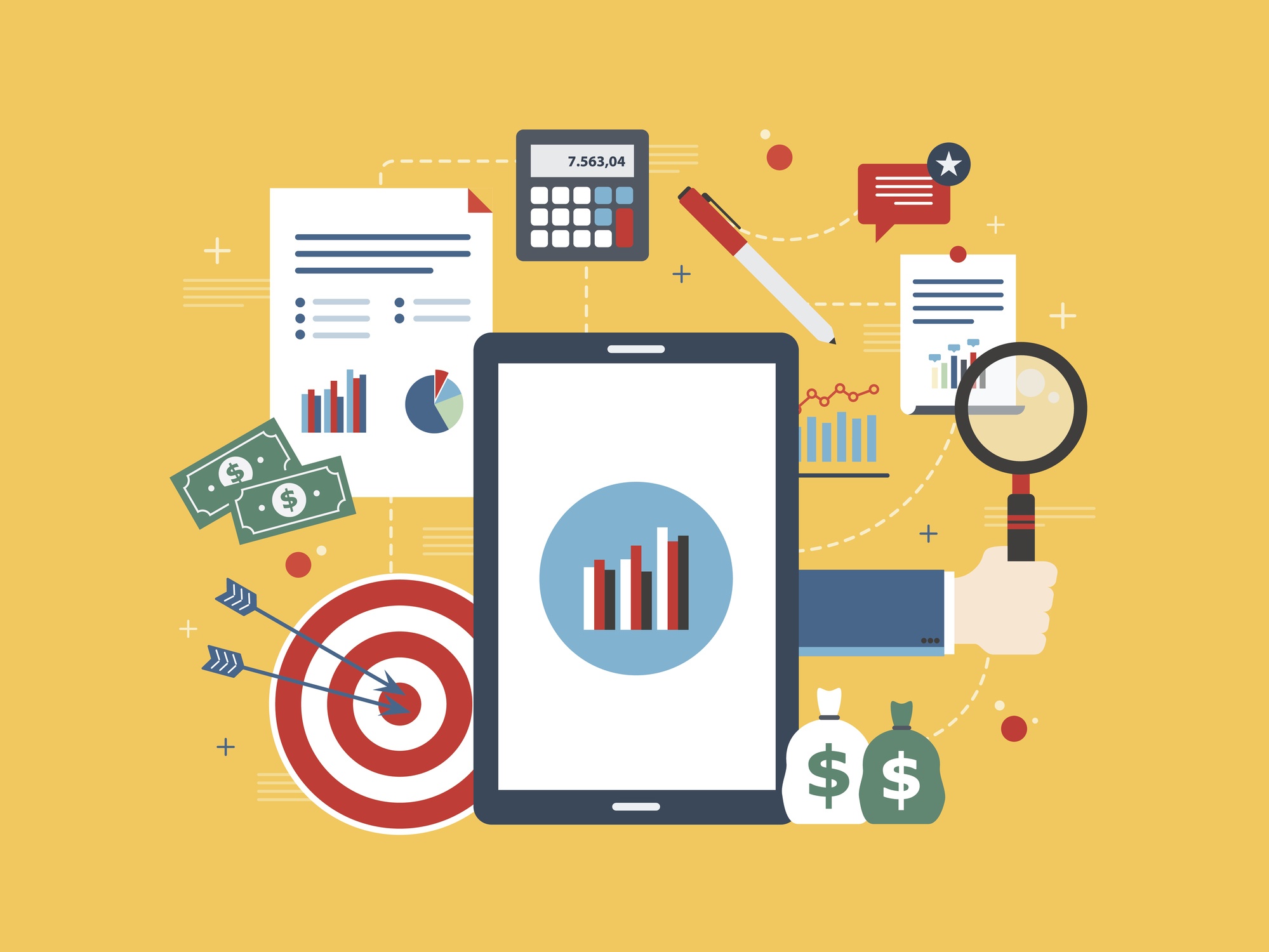 Some hybrid app development services provider firms additionally provide free maintenance for a few months after the app is out or at regular intervals. It is preferable to use such services while still leaving room in your budget for any hidden expenditures that you may have neglected.
The following is a summary of maintenance charges, as well as any additional unanticipated cost to hire hybrid app developer,  you may incur throughout the app development, launch, and post-launch phases.
1. Cost of App Release
The Google Play Store charges a one-time cost of $25, whereas the iOS App Store charges $99 each year.
2. Updates
They vary in time and cost based on the nature and amount of the update. For example, changing a functional component might take days and cost around $1000-$2000 per hour.
3. Bug Fixes
The cost of bug repairing is determined by the size of the app as well as the type of the changes. A fast problem repair in one line of code would not be expensive. However, if too many flaws are to be corrected, the overall cost might skyrocket.
4. Hosting
Depending on the type of data, the volume, and the solution you pick, hosting app data on a server can range from $20 to $300 per month. If you want to host in the cloud, their pay-per-use strategy may be less expensive. In addition, if there is potential for user growth, you will need to consider scaling up the servers in the future.

5. Third-party Services
Some third-party tools or services, such as mapping APIs, payment APIs, SDKs, push alerts, and so on, will need a monthly fee. You may also be charged additional costs if you use licensed technologies or frameworks.
6. Monitoring and Analysis
App monitoring and analysis provide insights into user behavior and performance, allowing you to make smarter decisions. The use of analytical tools or platforms will increase the cost of your app development project.
7. Cost of Project Management
A Project Manager manages and controls the app development process from start to end. They may charge hourly rates or a flat fee for a set length of time, and the cost to hire hybrid app developers varies based on the project kind and timetable.
8. Cost of App Marketing 
With millions of apps accessible on app stores, promotion is essential for getting your app recognized and installed by customers. Although non-technical, marketing charges should be factored into the overall budget because your app's market reach may suffer if it is not. Prices will vary depending on the marketing techniques employed.
9. Cost of App Patenting
If you opt to protect your ideas with copyrights and trademarks to avoid infringement, the costs will increase, including legal fees and submitting paperwork. Some projects opt to add required permissions to their app while building in order to avoid future duplication difficulties.
Conclusion
Undoubtedly, there is no simple solution to app development. It is determined by various elements related to your app idea and the development process. Taking into account all of the contributing factors should help you arrive at a fairly realistic cost for making your brilliant app concept a reality.
Assume you have a wonderful start-up concept or desire a mobile app for your current firm. However, determine the whole app development cost that a hybrid app development company will charge.
To secure your information, developers should be prepared to sign a confidentiality and non-disclosure agreement with you. Furthermore, it is preferable to negotiate proprietary information in preparation. Before beginning work on a project, the factors mentioned above should be considered.