Most of the time, people search this question- What is the cost to hire dedicated software developer? When they need professional software for their business. The way of businesses has changed, and technology has replaced many processes. There are several benefits of having software for business, such as better customer engagement, customer retention, improved productivity, and customer experience.
Finding a perfect developer and cost-effective software development services is tedious. If you are looking for the same or want software for your business, you will find this blog much interesting.
Here you will get some exciting information about the Software developers' costs. However average hourly rate taken by software developers varies between $15-$25/hour, and It may be more based on the requirement.
There is tough competition in the market, and businesses invest in customized software solutions to increase productivity and create the best user experience. It does not matter whether you want web software or mobile software; initially, it is difficult to analyze the software development cost.
Software Development Statistics & Facts 
As a business owner, it is okay that you need custom software development, but you need first to analyze the cost will be? Can you afford it or not?
And other questions. Suppose you have decided to take the services from a high-ranked software development company, but- Is it possible to handle the sky hour rates if you are a start-up or medium scale business?
In addition, you should also note that software development includes website development, mobile app development, web app development, and PWA development. All these solutions have separate development costs. Before we proceed to the further points, let's check out some statistics-
Enterprise software global spending is 6tr USD
The CAGR for software development is 4%
68% of software is built using JavaScript
In 2020, global IT outsourcing was estimated at $342.9 billion, which is expected to reach $410.2 billion by 2027.
For diving deep to find out the cost to hire a software developer, the following section represents the different types of software development companies in the market that you can consider hiring for your next enterprise software development.
Types of Custom Software Development Companies & Hourly Cost Comparison
Similar to the other service providers, a variety of custom software development companies also exist. They charge as per their experience and specialty of services.
Although there is variety, these can be categorized into the following-
1. Enterprise-Class
There are known as the largest player in the market and have thousands of employees. The enterprise software product development companies usually work for the governments and major players of this world, such as fortune 500 businesses that can afford high rates.
Their project size usually varies in-between $500,000 -$100+ million. However, there is no sense to mention their hourly rates because they handle the long-term project, but you can take it as $400-$900/ hour if you need to know.
Their working model solely depends on the waterfall model which takes a long time and works until the project finishes. The disadvantage is that feedback can't be taken from the user till the official launch of the app.
2. Big Business or Megacorp Class
The Megacorp class software development company is a level below in working than enterprise-class. It is the best option for organizations, businesses, or enterprises that can't afford the high rate and have a big budget. They also work at several locations. Their working cost is less than enterprise-class, but it does not mean that any business can handle it.
The business class software development firms focus on the size of the project from $1, 20,000- $5+ million, and the hourly rate varies in-between $250-$350. If any business can afford the high budget but can't afford more than the available, then Megacorp class is the perfect option.
3. Mid-Tier Class
The mid-tier class software development company is the best to choose when you need cost-effective software development services with quality. They usually have offices located at 3-5 locations globally, or they work from a single location. Their employee size varies between 10 to 100 employees and works for midsized businesses. Occasionally they also work for some fortune 500 companies.
These companies maintain a good track record in providing budget-friendly services and high-quality products. The only risk is their credibility, so it would be best to check their work history as a business owner before hiring.
Their project size remains between $50,000 to $3 million. In addition, they can hire developers at the hourly rates of $15-$25/ hour.

4. Small Class
The companies handle small-size projects and have employees up to a max of 10, including the owner of the company, who fall under the category of small class software development companies.
Their project cost remains low, from $10,000 to $30,000, and the hourly rate varies between $10-$15 per hour; they serve local small businesses, start-ups, and other small businesses.
5. Freelancers
Suppose your project size is small and does not need a team to finish it, then hiring a freelancer is great. Their cost depends on their experience, such as $20-$150, which may be more than this.
Although they can develop the software for you, you should consider them as the last choice or if you want only a small chunk of additions to your existing software.   
Global Software Development Cost- The Details You Do Not Want To Miss 
Before we know about software development cost region-wise, you would need to understand two terms, i.e., On Shore, and Off Shore. Onshore development implies hiring developers from inside the country.
For example, suppose you have headquartered in the United States of America, so if you are going to hire software developers in the USA, it is onshore software development.
On the other hand, if you are going to hire dedicated developers from outside the business location, it is called software development outsourcing.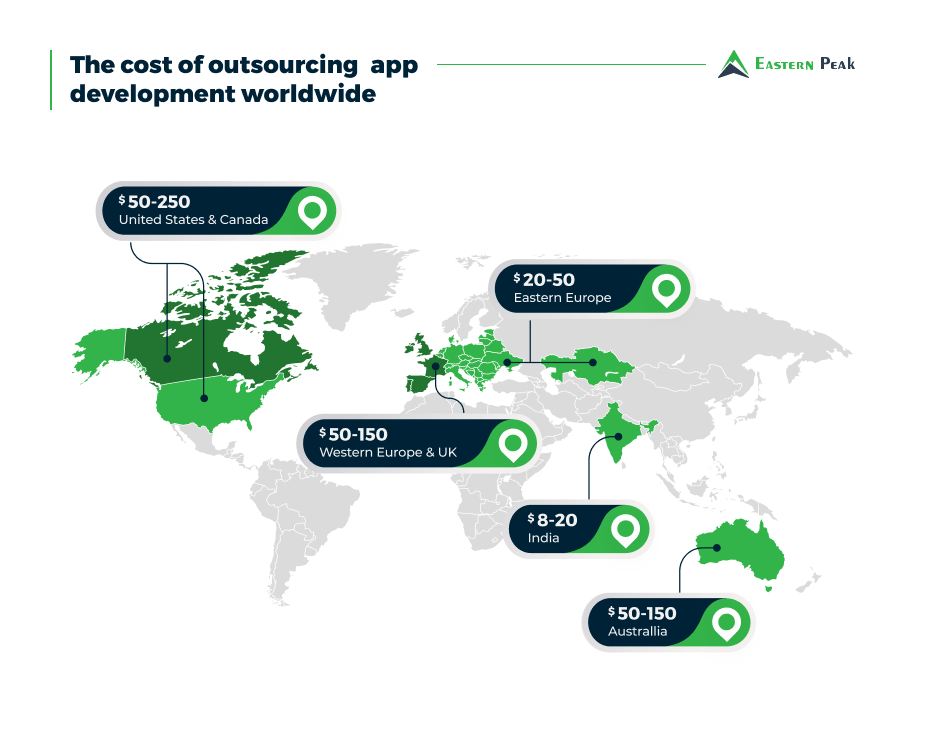 If you are also searching for the average cost of onshore and off-shore development, then you would like to read the following information –
Onshore Software Development Average Cost: $10-$20
Off-shore Software Development Average Cost: $20-$40
Let's have a dive into the average software development cost region-wise!
1. The USA
There is no need to mention that the USA is a top-notch player in the software development industry. Its major destinations involved in software development are Vancouver, Washington, California, Texas, North Carolina, and New York, Massachusetts.
Another country in the North American region is Canada, and its key locations are Toronto, Ottawa, and Montreal. There are many software product development companies headquartered that also hold world players such as Microsoft and Google.
The average cost to hire dedicated  software developer in the USA varies between $250- and $500/per hour.
2. Europe
The European region is divided into two, i.e., Western Europe, and Eastern Europe. The major players of Western Europe are Ireland, the UK, Netherlands, Belgium, Germany, France, and Ireland.
On the other hand, major players of Eastern Europe are Poland, the Czech Republic, Slovakia, Hungary, Bulgaria, Romania, Ukraine, and Belarus.
The average cost to hire dedicated software developer in Europe varies between $150- and $300/per hour.
3. Asia
There are three key regions in Asia: Central Asia, East Asia, and South Asia. The important Central Asian countries involved in software development are Kazakhstan, Uzbekistan, and Tajikistan.
In addition, major east and south Asian countries are India, Japan, Vietnam, the Philippines, Malaysia, and Indonesia.
India is now playing a crucial role in the worldwide software industry among these countries. There are several advantages of hiring a software engineer from India, such as here you can find comprehensively experienced developers from the custom software development company.
Another advantage is cost-effective mobile software development. From here, you can hire a developer at the average cost of $20-$40/ hour.
The average cost to hire dedicated software developer in Asia varies between $15- $30/per hour.
4. Australia
The key players in the software industry in Australia are Sydney and Melbourne. Here you can also find the software developers having experience.
The companies and developers work according to the different time zones. However, the cost of hiring a software developer remains high.
The average cost to hire dedicated software developer in Australia varies between $200- and $300/per hour.
Key Factors Influencing The Cost To Hire Dedicated Software Developer
Hiring a software developer is a crucial activity, but you also need to focus on the factors or challenges that affect software development costs. Although it also applies the mobile app development. So let's explore the list of factors one by one.
| | |
| --- | --- |
| Country | Cost |
|   USA |   $70 / hour |
|   UK |   $80 / hour |
|   France |   $60 / hour |
|   UAE |   $40 / hour |
|   Australia |   $50 / hour |
|   Canada |   $60 / hour |
|   India |   $15 / hour |
1. Complexity
It is one of the biggest factors that decide the cost of a software application. It works like more complex projects require more cost as they can only be handled by an experienced team of developers who have done the project before.
The complexity directly refers to implementing the top-level security mechanism, additional features & functionalities, and integrating the APIs and other components to develop high-quality products.
2. Human Resources
The top-notch factor that you can't ignore while searching the challenges involved in software development. Suppose you are searching for SaaS application development, then it is such a challenge to find out the appropriate human resources having practical experience in developing the SaaS applications.
The point is that hiring proficient developers always remains expensive for junior-level developers, and it works as the universal truth. On the other hand, small businesses or start-ups can't handle the more cost, so finding cost-effectiveness is such a tussle task.
3. API Integrations
For improving or equipping the software with some additional functionalities, API integration is the best option, but only a few APIs remain free.
You need to purchase the others and pay the integration cost to the developers. It increases the overall cost of hiring a software developer.
The other integrations that can be costly are third-party business applications, CRM, HR applications, business intelligence tools, payment methods, and many more.
4. Time
Time is one factor that remains a challenge for any business, including software development. Although basic application development can happen in less time, large & structured applications require more time.
If you have hired developers on an hourly basis, the cost will be higher as the development work can't be on halt.
| | |
| --- | --- |
| Country | Average Software Developer Salary (Annual) |
| USA | $106,816 |
| UK | $45,000 |
| France | $50,000 |
| UAE | $40,000 |
| Australia | $50,000 |
| Canada | $70,000 |
| India | $10,000 |
5. Location
Another constraint affecting the cost of hiring a software developer is location. You have gone through all crucial details of region-wise cost in the upper section to this.
As a business owner, you can easily understand why it is also counted as a challenge.
6. Type
The cost of hiring also depends on the type of application like website development, mobile app development, hybrid app development, or others. Usually, website development has less cost initially than mobile app development, and in some cases, the cost remains the same. At last, the cost is that you can't ignore because the need of the business always remains on the top.
7. Team of Developers
The software development cost is also affected by the persons involved. Directly you can understand it as Overall cost is directly proportional to the team size.
Usually, a development team involves junior-level developers, senior-level developers, project managers, team leaders, and QA professionals. Suppose if the project is large, then there will be more persons involved so that the cost will be more.

Wrapping It Up!
Multiple industries are rapidly progressing, and software development works as a savior for a cutting edge in the ongoing competition. In 2020, the global enterprise software spending was 529 billion USD, expected to reach USD 670 billion.
Although the COVID-19 affected the industry, it is again moving upward, which is a good indication. If you are one of the businesses and want to hire dedicated developers, you might also have a question about how much it costs to hire a software developer.
We have tried to explain things most simplistically in this blog.
Still, if you want to know more about the cost, it is recommended to consult with some experienced software development company.
While consulting with them, it would be better to ask about clear cost estimation to have great insight into adding value to your project.