Are you searching for a dating app? Or Do you want to develop a dating app and want to generate revenue from it?
Then you are one of the progressive minds who is thinking in the right direction. It is one of the topmost segments on which mobile app development companies are focusing. There is a considerable demand for online dating apps in the market, which is most popular among youngsters.
If you want to monetize your dating app idea and transform it into a reality, it will be beneficial for you to hire dedicated developers. It is the right time for entrepreneurs to launch their dating apps. Here we have published a dedicated article that will take you to all the aspects that you can follow to develop apps like Tinder.
Introduction
Technology has taken our life to the next level where we can do any task at any time. Even it influences our personal life as we can stay well connected with our loved ones. Due to the evolution in app development technology, several apps are available in the market, where dating app development is one of the hottest trends.

You can't believe that there is a huge transaction of data every day related to dating apps. There are predictions that online dating revenue will touch the US 3,853 million dollars in 2021, indicating the online dating website and app market is rising.
You will find the following statistics so much interesting-
The online dating revenue is projected to reach US $5,328 by 2025, with a growth rate of 8.44% (CAGR 200021-2025), and the number of users is predicted to reach 489.9 million.
Top users of dating apps belong to the age group of 30-44 in the USA, and the interesting fact is that 6% of users are from the age group of 55-64.
The respective share of male and female users are 72% and 28%.
Tinder is one of the top-notch dating apps with 7.86 million users.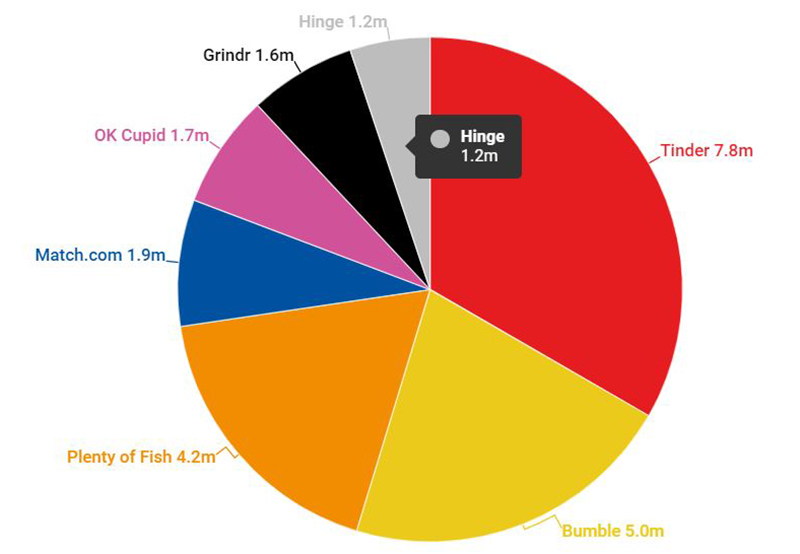 In terms of monthly downloads, you will be shocked to know that as per statistics, Tinder is on the top with 6,515, and it is recorded in May 2021. It is exciting to think that till December 2021, the data will be more.  It indicates many opportunities in the online dating app and web development segment that you can grab with positive sentiments.
Before proceeding with the further points, you need to know about that how dating apps work. So, let's check the following section to go through it.
How do Dating Apps Works?
There is still confusion about how online dating works and whether it is a website or an app among some users. First, you need to understand that it can be a website or a mobile application. Now, most users have smartphones and are used to downloading apps for a specific purpose. For individuals searching for a relationship, dating apps like Tinder work as a great platform where likely-minded persons can meet and have a long last relationship.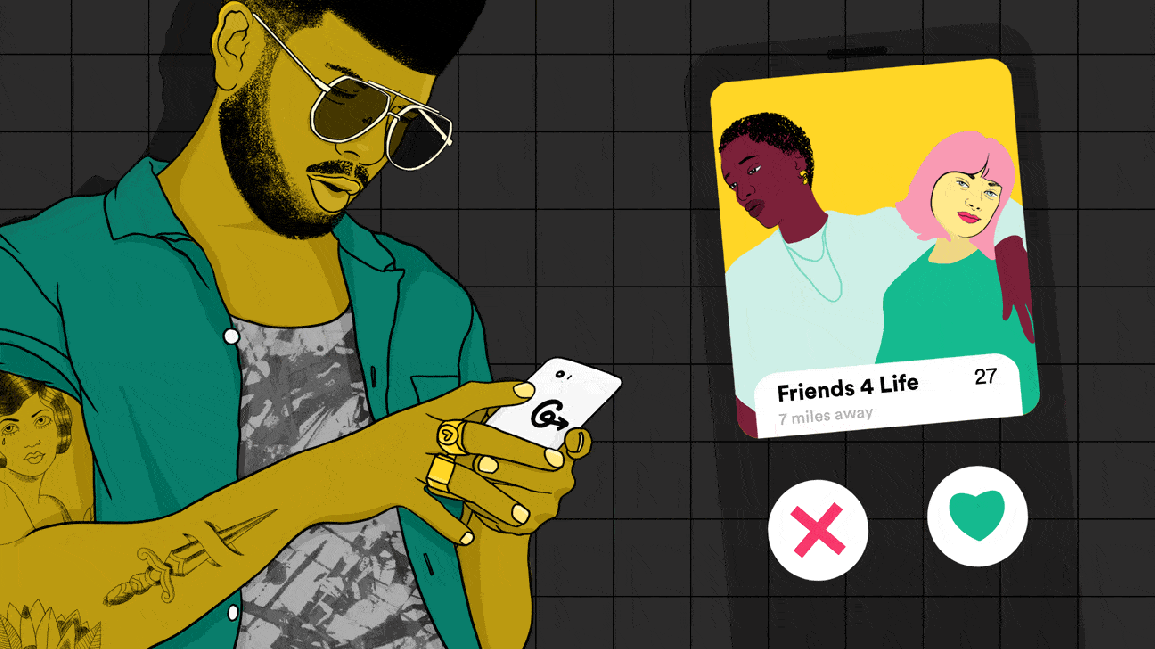 The dating app working is based on the preference of matching two profiles where profile owners have to input their interests while making their account on this app. Although certain algorithms power up these apps, the focused criteria for profile matchmaking are gender, age, location, interests, and specific goals. Now, there are more experiments on apps like Tinder by implementing AI and machine learning techniques. A variety of matching techniques or algorithms work behind the backend to provide the best experience to the respective users.
Location-Based Match – As its name implies, it matches the profiles on location basis criteria. Usually, a person does not want to handle the hurdles of a long-distance relationship, so they always tend to search for a partner in their proximity. So, based on location preference, the dating apps like Tinder match the profile and provide a platform for users who want to meet someone with the same interests. For this algorithm, GPS-oriented data works as the input.
Mathematical Approach – Another widely used algorithm for matching the profiles that you can also consider as one of the finest approaches to implement in your dating app idea. The apps designed based on this concept works on the data fetched from the questionnaire filled by the users. This questionnaire contains fields in which user has to fill the details related to them and their interests. Then data is being matched to the other profile based on finding a high matching score; both users get the notification.
Behavior Matching – The question-based approach works fine, but there is always an issue of authenticity because some users may fill incorrect or false information. Here behavioral matching works fine where data is being fetched from different sources, including social media accounts, their profile, and online interests. However, it is less preferred due to the chances of incompatible matches.
Advanced Matching Algorithm – We can't deny that if we need a smart mobile application, we have to use new-age technologies such as Artificial Intelligence, Machine Learning, and Big Data. It is also applied to develop dating app clones where you can refer to the top dating apps such as Tinder, Cupid, Bumble, etc. for developing your app different from others, you have to include the machine learning technology that will facilitate your users to find their perfect match more than 95% accurate.
Why do Most The People Are Tending Towards Dating Apps Like Tinder?
In 2020, the global dating app users were 270 million, and more than 91% percent of users are from the young age group. It becomes too tough to find out the person with whom we can share our feelings in a busy life, especially if we are alone. Dating apps arise as a promising option for the persons who need to spend quality time with other persons who have the same preferences.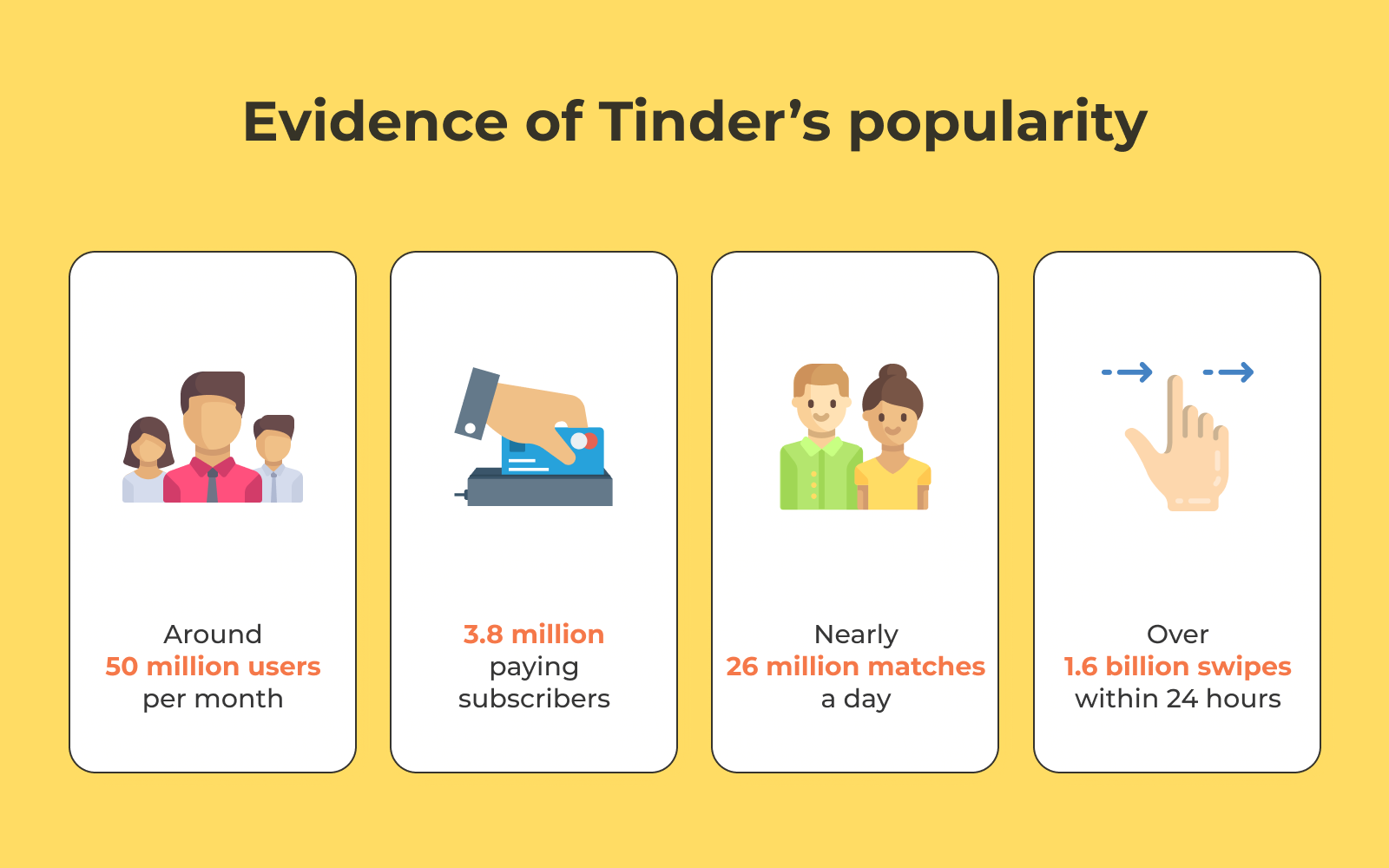 Sometimes, people may be shy to contact others, so they can search for their desired match and contact them while swiping the profiles. In this fast-paced world, searching for a person offline is much more time-consuming, and in –case if you found someone, then there are fewer chances to know about their interests in the first meeting. On dating apps, you first have to mention your interests, then the app will showcase to you multiple profiles matching your interest. Another interesting factor is that there is a common motive of all users at online dating platforms that you can't find on social media sites.
The Tinder & Its Feature 
Tinder is the topmost dating app, and it has millions of users across the globe. Only in the USA, there are 7.86 million users who use Tinder as their favorite dating app.
The second most favorite app is Bumble, with 5.03 million users. The Corona Virus outbreak and global lockdown also become reasons for the rise of online dating platforms.
Based on a survey conducted in April 2020, 31% of millennials in the USA admitted that during COVID-19, they used dating apps like Tinder more than the pre-COVID times. If you want to look at more data, you can refer to the following graph prepared by the top statistics site- Statista.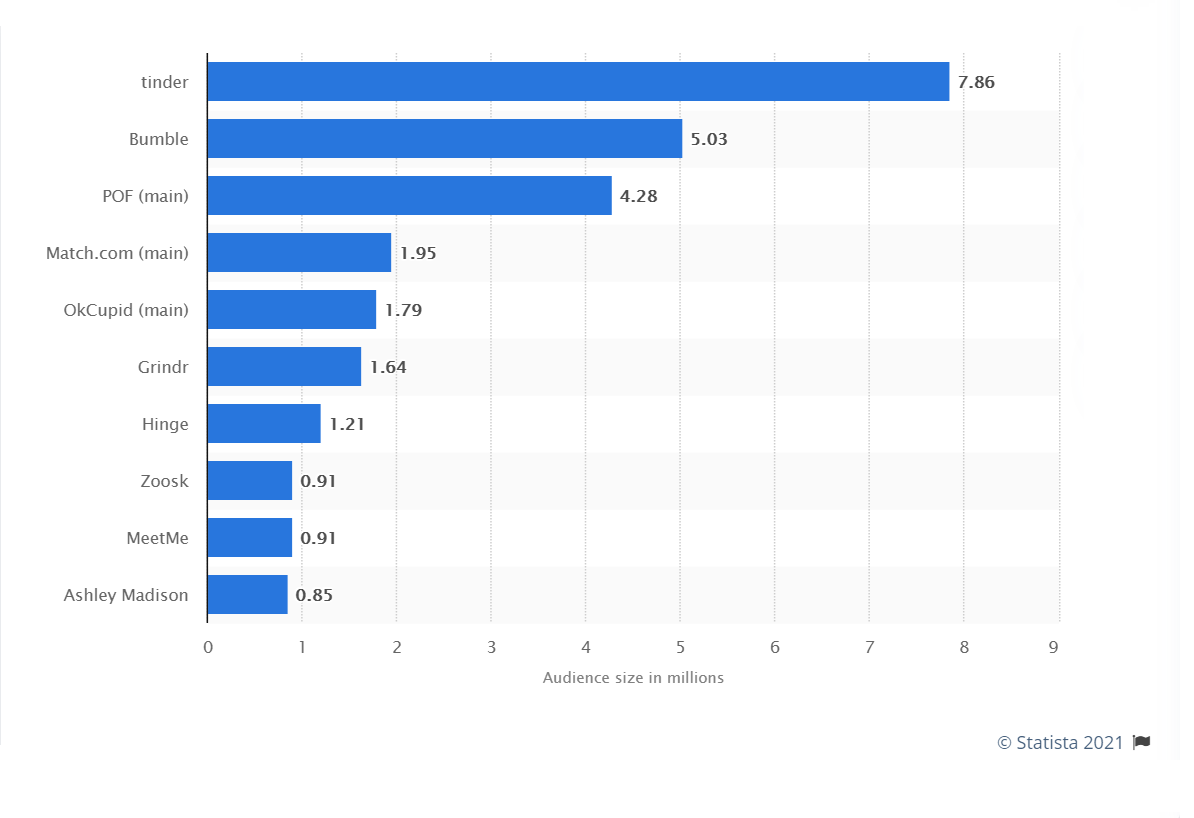 Developing an app is okay, but from where you are taking references and what features you will include in your online dating application, it would be nice to look at the features of the Tinder app. For example, if you want to know how it works in a single line, then it is like this – if you like a personal profile, you have to swipe it right, and if you don't then, you have to swipe it left.
So, let's have a look at Tinder's features one by one that you can also consider while developing your dating application.
Login: Tinder allows users to onboard with their Facebook and Instagram Id. With their respective ids of social media accounts, individuals quickly log in and set up their profiles. Even they can also connect their Facebook, and Insta accounts with Tinder. The user can also log in with their respective G-mail id or with phone numbers. Furthermore, if any user wants to read the terms, privacy policy, and cookies policy, then they can also read it by clicking on the links
Location: This app fetches the data from smartphone location sensors to find out what social spots users like to visit often that includes the Geolocation of bars, clubs, coffee shops, restaurants, and public spots.
Matching Algorithm: It is one of the top features of this app that matches the profile of a user with other user existing in the database and suggest the matched profiles. It shows the profile with similar interests. Based on attractiveness, the app scores the user profile, and the highly liked profile gets a high score as well.
Swipe: This feature makes Tinder most interesting; to like a profile, you have to swipe right, and if you do not like then you have to swipe left. It is much easy to use it instead of any other app. You can consider this feature must include in your app.
Profile Setting: individuals can set their profile with ease without any additional help where they have to feed the data such as age, gender, interests, hobbies, etc. Because this app uses profile data to match it with others' profiles.
Push Notification: As upon finding the suitable match user gets notified via push notifications.
Private Chat: if both users agree, they can chat privately via unscripted messenger.
The above features you can also consider implementing it in your customized dating app. Because having easy-to-use features is one of the top-notch reasons that make Tinder the best choice for dating applications.
How to Create A Dating App Like Tinder?
Further, we proceed to know how to create a dating app like Tinder, or Bumble; it would be best if you note that more than 25% of people uninstall dating apps if they find them boring.

An app user spends an average of 90 minutes on a dating platform. So, you have to design and develop the app in such a way that the users must enjoy it while using it.
Regarding dating app development you will find the following outline/steps much interesting-
#1. Market Research
The dating app design & development may be a new field for you, so it is advised to do some research before putting a step into it. It would be great to extensively read about the business models and techniques used to build the apps like OkCupid, Tinder, Bumble, Match.com, etc.
#2. Monetization Model
Nobody develops an app for personal use especially for dating so here clear and cut objective is monetization or earning from the app.
Premium – freemium: By following this approach, initially, the user can use the app free with some limited functionality, and if they need advanced features, then they have to pay for a premium version of the app. The premium features include profile boosting, advanced swipe, unlimited likes, gift purchasing, sending, etc.
Subscription-Based Model: Users have to pay a subscription fee as per their desired plan based on the subscription model. Here you can introduce various subscription plans so the user can choose accordingly. It would be best to allow the user to have a customized subscription plan; definitely, they will love it.
 In-App Purchase:  love and affection are incomplete without gifts, so you can introduce the new concept such as gift ordering and delivering it to the other person. It is such an innovative idea to implement it in your dating app.
#3. Tech Stack
For developing a dating app clone, the tech stack is important to consider when you have to choose which technology will be used for front-end and back-end development. The following are the details about the tech stack-
Programming Language: Java, Kotlin, Swift, Objective C#
Database: MySQL, MongoDB, PostgreSQL, Redis
Frameworks: Node.js, Express.js, Next.js, React Router
Utilities: Optimizelt, Google Analytics, Twilio, Google Maps
Cloud Storage: Microsoft Azure, Amazon S3
Payment Gateway: PayPal, Stripe, Braintree
#4. Features
You should prepare a list of features that you want to implement in your own app. Then, you can compare the apps like OkCupid, and Bumble and shortlist the best features, including common ones.
#5. Wireframing
Before developing the app, it would be fine to prepare the wireframe of an app that will give you a glimpse of how your app will look and function after development.
#6.  App Development
Once you have done the above steps, it is the right time for initiating the process. But the thing is, do you have any knowledge to develop the app? If yes, then okay; if no, then it would be excellent to hire an on-demand dating app development company for the work. The experts will craft an impactful application for you. Then, later you can use it for revenue generation.
#7. Testing
Testing is a must for eliminating flaws and bugs to ensure an enriched experience. In this phase, you have to put your dating app under a rigorous testing process. Then, after finding out the errors, bugs, and malfunctioned components and eliminating these, you can easily launch your app without any doubt.
#8. Launching MVP
MVP stands for minimal viable product works as an initial version that comes with essential features. The feedback received you can use for the improvement in the final version of the dating app.
Cost To Develop A Dating App
The cost to develop a dating app varies on several factors. Although the basic version costs 30k- 50K US dollars to develop. If there is a requirement for advanced features, then it may take more cost.

The dating app developers in the USA, also work hourly, and they charge min US $50/per hour. So the decision is up to you whether you want to with a project-based approach or hire developers on an hourly basis.
The following are the factors that affect the cost of dating app development-
Types of Dating Apps: several types of dating apps take different prices for development. So, it is also one of the factors that affect the cost of an app. The type includes matching the Algo-based app. Location-based app, niche-based, standard app, online dating platform with Gamification.
Complexity & Features–  It is one of the top factors that affect the development cost. More complexity and features, more price. It applies to all types of mobile app development.
Platform: Only two mobile platforms rule this world, one is Android, and another is iOS. There is a difference between the cost of Android and iOS app development. iPhone app development takes more cost than Android apps. However, the cost-effective option is cross-platform dating app development, where your single app works for both platforms the same.
Team Size and Location: for developing an app with advanced features, a large team is required, so the cost will be high compared to the basic version of an app. Another factor is location; for example, the app development experts in the USA charge $50-$150/Per Hour, and for a dating app with basic features, you need to spend USD30,000-USD 50,000.
Miscellaneous:  miscellaneous factors are app submission cost, maintenance cost, and after publishing the app, the addition of features.
Benefits of Dating Apps
There are several advantages of dating apps in terms of business and also in terms of use. Before initiating the development work, you have to do market and competitor research; it is like 50% of the work done, and the rest of the work is wireframing, app development, testing, and deployment.
The reason to mention the above line is that without ensuring the quality of an app, you can utilize the benefits, and also, users will not enjoy it if the app does not have quality. So, here are the following benefits of dating apps-
Best Experience of Dating: it is tough to search for the right partner or someone special to find out offline. So, a dating app can help the users find the person they are searching for for a long time to spend some quality moments of life.
Best Option for Introverts: It is tough or complex for introverted persons to express their feelings in front of a person they like, so these dating apps work like a boon for them; via it, they can express their feelings and find their soulmate.
Safety & Privacy: For the privacy and safety of female users, dating apps always work fine because they keep them safe and away from unwanted messages from strangers. Only those can message them, to whom they have sent a connection request.
Variety: users are free to choose from the variety of dating apps available on the app repository of iOS and Android platforms. These apps are location-based, matching algorithm-based, niche-based, and standard dating applications.
Revenue Generation: from the business point of view, developing a dating app is a promising option. Via going with it, you can earn great because dating app users are increasing exponentially. In 2020, the global dating app revenue was $3.08 billion, projected to reach $5.71 billion in 2025. So, there are ample opportunities to be grabbed only you have to put in your efforts.
The Conclusion!
Investing in a dating app is an excellent idea because it is one of the hottest segments of mobile app development. In terms of users, it is gaining popularity exponentially. The dating apps such as Tinder, Bumble, Badoo, Hinge, etc., have users million.

In addition, the number of online dating app user penetration in 2021 is 5.2% where it is projected to reach 6.3% by 2025, and the expected number of users will be 490 million.
So, if you are focusing on it, you are on the right path that can take you to the heights of success. For the same, it would be best if you hire an experienced mobile app development company who must have an excellent track record in delivering and developing a dating app.
FAQ's
How Much does it Cost to Build a Dating App?
The cost of the development of a dating app depends on various factors. For instance, app complexity, location, application size, features and functionalities, app platform, tech stack and so on. However, the cost estimation would be around $22,000 to $50,000, depending on the features and functionalities. 
What are The 3 Most Important Things in a Dating App?
There are many factors that can contribute to the success of a dating app. Still, some of the essential things to consider when developing a dating app include User experience, safety and security, and matching algorithms.  
What Features Should a Dating App Have?
There are many potential features that a dating app could include, depending on its target audience and the needs of its users. Common features often included in dating apps include push notifications, direct communication, swipe and matching, geolocation, profile recommendation and many more.