Educational apps are one of the most dominant in the application industry. Here you will find the exact answer for the cost to develop educational apps for preschoolers.  We had lots of educational apps before the pandemic. But due to the pandemic, education is shifting from conventional mode to online mode.
The transition has brought a storm in the educational industry. The new wave of digitalization is hugely impacting the educational industry.
There are different types of educational apps like academic content, online tests, group discussions, competitive exam preparation app, kids learning apps, skills learning apps, and so on. A Web development company helps to develop such apps.
Let us have a look at the statistics of educational apps:
Statistics of Educational Apps For Kids
" A study says 38 percent of children under the age of 2 are using mobile devices to play games, and watch videos" So, why not encourage the kid to spend those hours on educational apps and know their surroundings? " The study also says toddlers and preschoolers spend more than twice as much time with screen media as with books".
" 32 percent of parents believe that mobile devices should be required in the classroom. 59 percent agree on devices help to engage students"
"72 percent of iTunes top-selling apps are for preschoolers and elementary students".
Education Industry Solutions have made the kid's world highly interactive and immersive. A lot of playschools are wishing to develop educational apps for toddlers and preschoolers. Knowledge is crucial to being a better human and finding a way of living.
Toddlers at this age are very delicately exposed to education. Since preschoolers are not encouraged to spend much time on screen, the app needs to be smartly designed.
The aim is to not only expand the knowledge in kids but also to develop kids in all dimensions. The app should develop thinking ability in kids. The basis of using educational apps are of two types, (i) for students and (ii) for teachers.
Toddler's Educational Apps
Parents and educators are looking forward to giving a virtually better environment for kids. The popular saying " Toddlers and preschoolers are like clay, you can mold them however we want" emphasizes providing a virtually better environment in this era.
The personal, and social lessons and habits that are taught at this age stay with the kid forever. Education industry solutions usually focus on teaching kids in a fun and interactive way.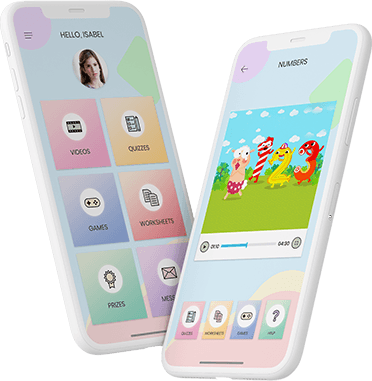 These apps challenge kids to learn something new and know more about the environment around them. As a parent, you neither want to shield your kid from the latest technology nor want to let them be in front of the screen for unfruitful growth. You always want to make sure that the delicate little brain of your child keeps growing intellectually ever.
Types of Educational Apps For Preschoolers And Toddlers
1. Basic Playful Learning App
Playful learning apps are usually the parents' favorite. It teaches kids subjects and surroundings in a fun and game way. Toddlers can just paint and know the color, put pencils together, learn to count and so much more. The vibrancy of the application attracts and immerses kids. The conventional model could be boring at a time and children could just not be interested enough to learn along with you. Applications are a great medium otherwise. A mobile application development company can help you with accomplishing your vision.
2. Educational Games
Educational games are super engaging and keep the toddlers engrossed in them. Kids can learn a lot of new things via these apps.  These educational game apps are designed in a way that kids learn and play simultaneously. Kids get to know a lot of things without even them, actually knowing that they are learning.
3. Puzzles App
Puzzle apps help to increase the brain capacity of kids. It is a great way to exercise the brain. Puzzles are beneficial for all age groups. Are you thinking of developing an education application development for toddlers? Well, it is a great idea! If you need any help you can contact a mobile application development company.

4. Workbook Or Worksheet App
Workbooks and worksheet apps help kids memorize and revise their learning. The worksheet contains sheets on a topic that kids learn like the alphabet, counting, colors, animal names, etc. Kids need to fill it and revert. Workbook apps are developed keeping the creative learning of kids in mind.
5. Interactive Encyclopedias
An interactive encyclopedia app takes kids through different elements present in the world via the application. Advanced technologies are used to make the virtual object look real and enrich the experience of kids. Just, getting in touch with a mobile app development company is not enough, you need to have your vision.
6. Build Your Content (BYOC) For Kids
This type of app encourages kids to create their world using the alphabet and numbers. Just showing educational content is not effective enough. Developing the habit of recalling is the key to increasing memory capacity. Kids can create a virtual model, or develop a strategic game with BYOC for kids. If you want to develop an app, you can hire dedicated developers.

7. Reading Apps
Toddlers at such a tender age are about to spell words correctly and form complete sentences. Reading apps are built to make reading engaging as well as exciting. It smartly takes your kid on a journey from a non-reader to a thorough reader. The app guides kids at each step. Reading apps have fun characters that toddlers could connect with.
A study says " 68 percent of parents agree that mobile devices and apps help their kids learn to read".  Recent research boost they need as they found out ' educational apps have increased the vocabulary of kids aged 3 and 5 by 17 percent and 27 percent respectively.  Well, are you thinking of developing an educational app? You can contact a mobile app development company.
Features of Educational Apps For Preschoolers And Toddlers
Building an education app for kids requires you to be highly creative and soft. You need to focus on how to be effortlessly interactive in expressing yourself. You need to put more graphics and soft animations and very little text.
You can hire dedicated developers to get your task done.  Some of the top features that are a must in educational apps for preschoolers and toddlers are:
How to Develop Mobile Apps for Schools, Universities & Colleges?
Bright and vibrant user interface: Toddlers are attracted to colors and vibrancy. Since you are going to develop an app for kids, you need to add features from the kids' perspective. On-Demand app development company is high in demand due to its effective app developing ability.
1. Interactive
The app should be highly interactive to engage toddlers. It is recommended minimum use of texts and more use of graphics, animations, and vibrancy. Kids will not connect to text but can easily stay with those colorful characters. At such an age, toddlers are not in a reading stage but hear well. So, a good, catchy, and soft narration is important in educational apps for toddlers.
2. Immersive and Simulating
We have lots of technologies like virtual reality and augmented reality that plays a crucial role in making applications immersive and stimulating. Such apps take preschoolers to a whole new world, introducing them to many important environmental elements. On-Demand app development company has been helping to develop educational apps for preschoolers.
3. Creative Input
Creative input is the most important feature when building an educational app for toddlers. You need to hold your user, and since your user here is little toddlers you need to be creatively rich to build such apps. It should amuse preschoolers as well as parents. Along with feeding educational content, the aim of the app should be to develop thinking ability and problem-solving skills. Real-world applications empower kids to better learning.
4. No Social Media Links
An educational app for preschoolers and toddlers who do not need a social media link. Kids do not use these platforms, and neither does it So, a parent would be more comfortable letting their kid spend time on an app that does not have ads and links to social accounts. eLearning app solutions are heavily influencing conventional learning. It emphasizes helping children understand the concept rather than mugging up.
5. Child-Lock Feature
Kids might be distracted by the pop-up, ads, or any other visual components. The app should have a setting where parents switch on the child lock. This feature will lock everything that is not necessary for the child.  It will also be effective to limit the screen hours of children.
6. Easy Navigations
Easy navigation is a must-have feature in a toddler's app. The apps should have all important icons placed accurately. It should be easy and smooth to use. Pages should be arranged effectively so that preschoolers do not have to jump around.
Factors Affecting The Cost To Develop Educational Apps For Preschoolers And Toddlers
The cost to develop an educational app for preschoolers and toddlers depends on many factors. Here, we will assume the rough estimate.  eLearning app solutions are taking the educational sector to a whole new level.
So here are  the factors and accordingly  the cost:
1. Integration of Advanced Technologies
Advanced technologies like Augmented Reality, Virtual Reality, and cloud technology play a crucial role in making the app highly interactive, engaging, and immersive. These technologies have the potential to take your app to the top in its genre.  But, all these features are quite pricey.  If you are willing to add these features, the price will spike up.
2. Platform
One of the main factors that decide the cost to develop an educational app, is the platform that you choose. If you want to develop for the iOS platform with all advanced technologies and complex features intact, it will be expensive. If you are certain of your vision you can get in touch with an e-Learning mobile app development company to get help.
3. Complexity of The App
The cost highly depends on the complexity of the app, if you want to add customized features,  high-end designs, implement the most advanced animations, and excellent graphics, the cost of development will arise. Since the addition of these features requires a lot of effort and time, so is one of the most influential factors.
4. Location
Where the developer or company is located plays a crucial role in deciding the cost of the development. The currency influences the rate. Do you want to develop an app? You can take the help of an eLearning app development company.

5. Company/ Developer
Though the basic price of the market is the same. if you are selecting a top-notch developer or company, the price will vary. Educational app developers and companies based on their portfolio and credibility have their charges.
Here, it is important to mention that two models of pricing are usually followed. One is hourly based, the other is a fixed charge. Go, for the model that satisfies both parties. You can get in touch with an education app development company to develop a dynamic app.
So, considering all the above-mentioned factors if you want to develop an app with basic features it will cost between $8,000 to $15,000. If you are wishing to build an advanced app, with great features and design the price will rise from $15000 to $25000.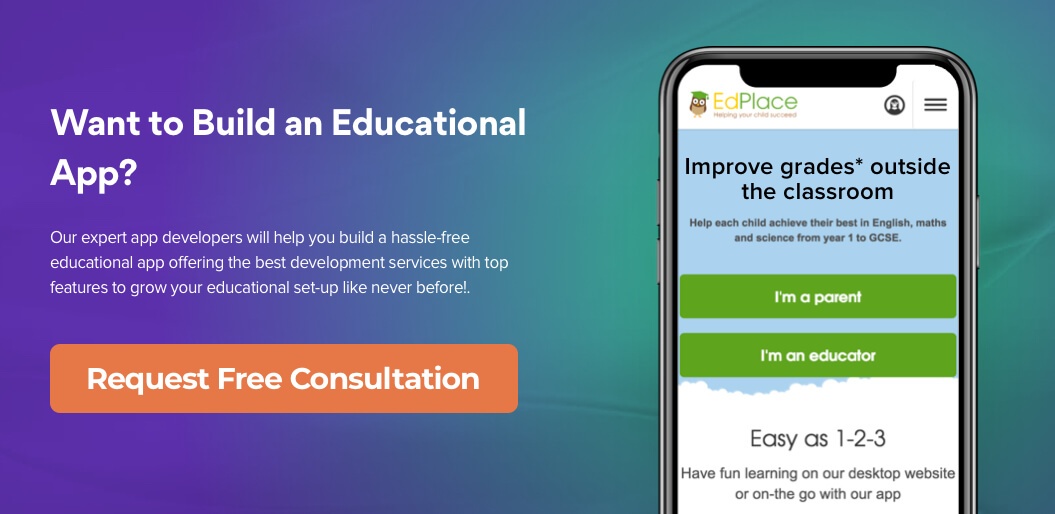 And, if you want to build an iOS platform with all features intact, it will cost $5000 more. The development of an educational app for toddlers and preschoolers heavily depends on the skill of the developer and web development company.
Wrapping Up
Digitalization is at its peak. Surveys reveal a significant percentage of toddlers spend time on screen. Parents are looking for an app that could help develop better.
The demand is high and will keep increasing seeing the wave of transition. Here, we have mentioned different types of educational apps, features, and costs to develop an educational app for preschoolers and toddlers.