Do And Dont's You Need To Keep In Mind Before Starting An E-commerce Portal 
Like everything, businesses are also conducted online. The traditional ways of doing business are losing the charm, and the next generation is more inclined towards online assistance and business. Not just the entrepreneurs, but the new way of conducting business also leaves a positive impression on the consumers.
Despite the competition in other business domains, the e-commerce space is thriving. It is a reason that most businesses are focusing on eCommerce app development or online shopping website development with advantages.
Current Market Scenario of E-Commerce Development
Here are some interesting facts about e-commerce development that you would love to read. These facts are based on a variety of surveys and recommendations from industry experts. So, let's check what these are-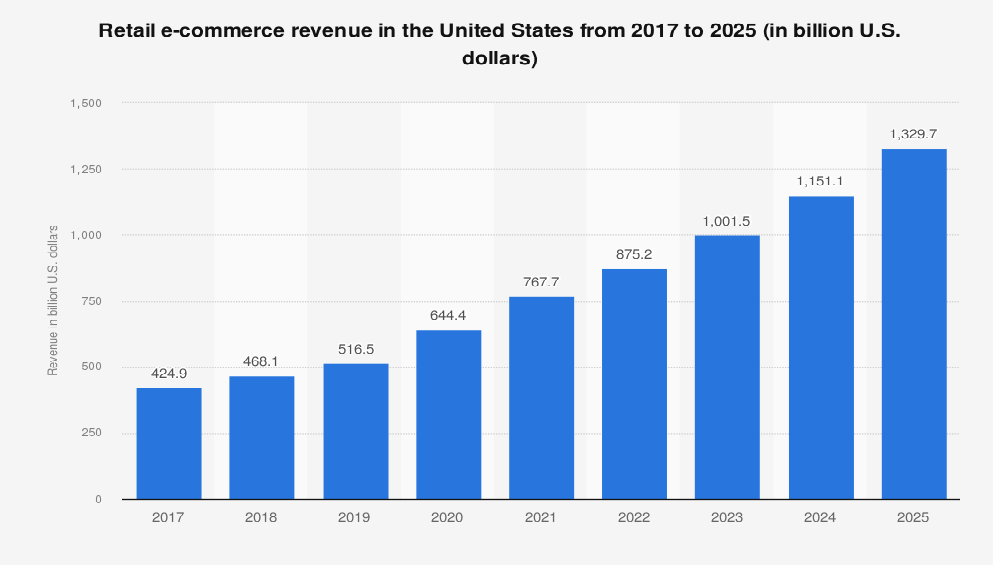 Consumers worldwide spent nearly $4.29 trillion online to experience digital commerce assistance.
By 2023, e-commerce sales are expected to reach around $6.5 billion.
Approximately 80% of the population prefers online shopping rather than visiting stores.
By the end of 2040, more than 95% of shopping will likely be from the online eCommerce store.
A significant percentage of eCommerce-related advertisements go through social media.
40% of total sales happen from eCommerce websites and especially from eCommerce mobile apps.
Amazon is a top-notch eCommerce portal in the USA, having 2.5 billion visitors every month.
94% of internet users prefer online shopping.
Among eCommerce shopping websites, using a real-time product recommendation engine is the latest trend.
Before we proceed to the upcoming section of this blog, it is much needed that what you mean by a good eCommerce portal.
What Makes A Good E-Commerce Portal?
First of all, make sure you have the right product. For that, in-depth research must decide which product goes into the list. Besides this, if you have already established your products, then analyze who you are and what you want to achieve as an organization. After this, only you can develop a good e-commerce portal for your business. Along with this, focus on the following do's and don'ts for successful eCommerce application development.
First of all, make sure you have the right product. For that, in-depth research must decide which product goes into the list. Besides this, if you have already established your products, then analyze who you are and what you want to achieve as an organization. After this, only you can develop a good e-commerce portal for your business. Along with this, focus on the following do's and don'ts for successful eCommerce application software development.
In simple terms, before developing an eCommerce portal, you need to be clear with the-
Idea– What do you want to implement in the form of an eCommerce website or mobile application.
Products– What products do you want to sell from your online shopping portal?
Target Audience– Who will be your target audience? Or to Whom do you want to sell your goods?
Features– What features do you want to implement to make your eCommerce portal unique?
Based on the above points, you can create your eCommerce portal with the help of an eCommerce development services provider.
Top Seven Do's & Don'ts about Starting Ecommerce Portal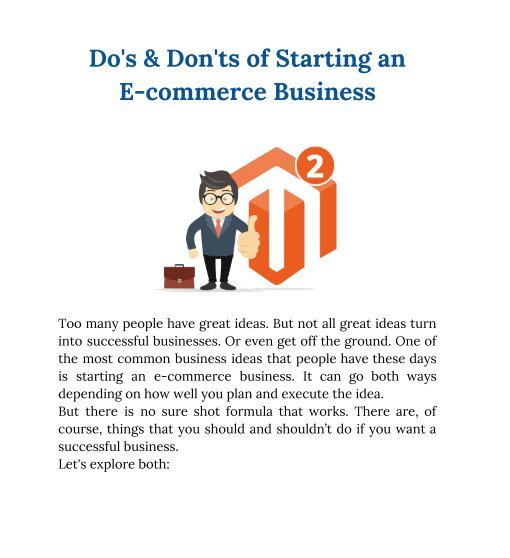 Ecommerce revolutionized various market segments as people find it relatively easy it purchases their desired stuff online. On the other hand, it provides a seamless way for the sellers to showcase and sell their products online. It is beneficial to start an eCommerce portal but have you thought about- What can you do to make your eCommerce portal unique? What are some do and don'ts that you need to keep in your mind before starting an eCommerce portal? The necessity of do's & don'ts is that you can avoid mistakes that other eCommerce portal owners make while opting for eCommerce portal development.
Here are the dos and Don'ts for you to keep in mind.
Do
Extensive Research
Extensive research is the top activity that can give you an extra edge over existing market competition. Moreover, it will also help you to understand your product in a significant way. Here you need to find out your target audience and market. Additionally, the most crucial point is to research the demand for the product that you want to sell from your ecommerce portal. It would be best to find out if a similar product already exists and what uniqueness you can include in your product for differentiation. It is one of the main reasons for the success of Amazon, Know more to develop a marketplace like Amazon.
Don't

Go With Similar Idea.
The customers' demands are shifting, and due to the rapid technological progress, they prefer intelligent choices. Hence, similar product ideas won't work. You need to create your concept and unique product that can solve customers' existing problems. Although you can refer to implemented ideas, copying or developing similar products is not the right idea for growth.
Do

Fail-Proof Planning
Planning, planning, and planning! Most people or startup owner wastes their time preparing multiple plans, but it is not the proper practice because things will be different at runtime. What you can do is – prepare a unique plan covering all the aspects related to your eCommerce business and also covers the points that include the conditional cases that –
If X happens after launching your eCommerce platform, what will be the Y or Z solution you will apply?
Don't

Fall Into the Trap of Overnight Success 
One of the biggest mistakes businesses or startups make falling into the trap of overnight success, or that expect overnight success just after the launch of their eCommerce portal. Suppose you have developed a B2B e-commerce portal with the help of an eCommerce development company, then give it time to grow. Till the launch, you have to invest money into it; then now it is time to invest the time to promote it and think about how to target the audience.
Do

Work On Order Delivery Mechanism
Order or package delivery is one of the most important activities related to the eCommerce portal as most customers choose eCommerce portals to deliver at the doorstep of their desired stuff. If you have your delivery team, then it will be fine, but if not, then it would be best to search for service providers and onboard them legally for the delivery services. the progressive web apps can seamlessly manage your e-commerce portal, know more about the progressive web apps for eCommerce.
Don't

Fall Into False Assumptions
There are 12 million companies that exist in the world, while 4.2 million companies belong to North America only. So, how can you assume that customers will find you independently? If someone also claims that customers will find you automatically, then it can't be possible without implementing any marketing strategy. You need to define, design, and develop a unique strategy and promotional plan to make the reach of your eCommerce portal to the customers.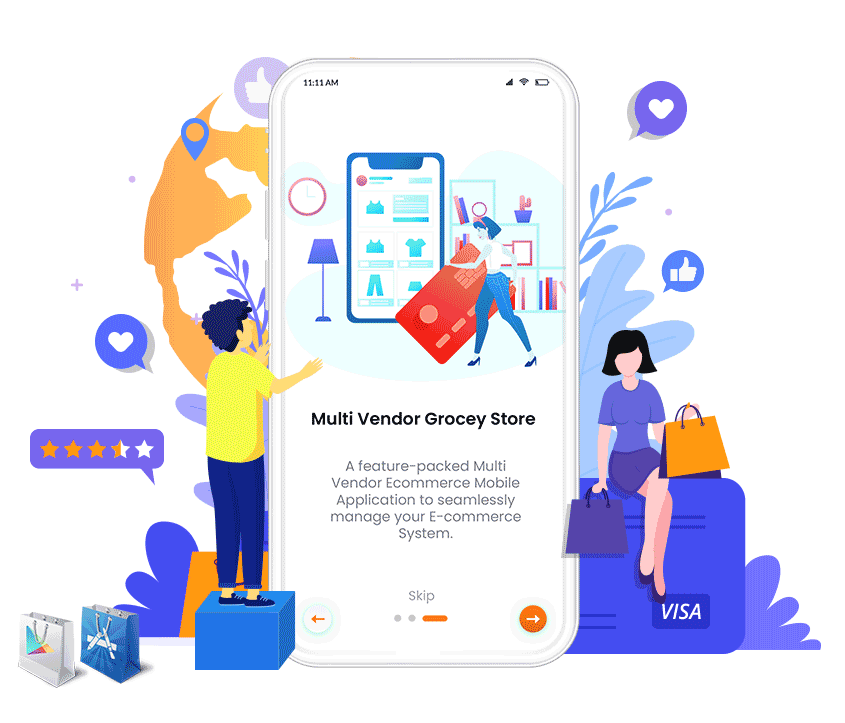 Do

Marketing and Promotion In An Innovative Way
A good marketing strategy can help you to connect with potential customers with whom you can carry a long business relationship. Every brand in this world promotes its product using methods accordingly. Some of them do it on their own or some hire a marketing agency for the same. For the best results, it would be good to do marketing and promotion innovatively.
Don't

Ignore the Call to Action.
A call to action is one of the things that you can't ignore. If you ignore it, then visitors will not reach it. In simpler words, you can understand it as CTA is much required as it prompts visitors to perform some actions. Suppose you want to share information, then CTA will be like- "Read More ! ". From the eCommerce point of view, it is crucial. You must use it innovatively and try to avoid the following-
Similar color with background
Casual showcasing
Wordy CTA
Small fonts
Forceful calling
The CTA must be like a customer or user who would love to click on it without any issue.
Do

Smart Investment
These only advertisements say – Start your business without budget or less budget. No such business exists that you can start without any funding, budget, or investment. It would help if you made a smart investment in your e-commerce portal business so you can get a high ROI. It can be done via smart budget planning while developing the portal. If things seem to be going out of your hands, you can opt for a consultation from an experienced eCommerce solution company. While considering a smart investment, undergoing Magento development for your e-commerce portal will turn out to be a huge help
Don't

fall into the trap of Cheap Offers.
The internet is full of advertisements claiming cheap eCommerce development services. Do you think that will it work? If not, then you are on the right path. But if you somehow find it interesting, then wait and think twice before taking any decision. The consequences may be worst more than you think. So, while hiring an eCommerce development company, know about it as much as possible and choose accordingly. Although, selecting affordable services is your right.
Do

Listen To Your Customers
These are the customers who decide the fate of any business or an eCommerce platform. So, reserve a space always for communicating with the clients. Listen to them always what they say. It will help you make the strategic decision on what you can do to engage them more. Focusing on customers' feedback is always fruitful. You will be surprised that customer retention is more challenging than onboarding new customers.

Don't

Ignore Customer Service.
Customer service is an essential part of any business. Fast and efficient customer support works as a strong bond between a brand and the customer. In most successful brands, we see one of the success factors is highly responsive and responsible customer support. Here's a complete guide on Amazon, Etsy, and other portals.
Do

Write Catchy Product Description
Before arriving on the eCommerce platform, customers know what they want to purchase. But a poorly written product description can distract the users. When users see a product description, they must get the desired and crucial details within seconds. They must catch the product details within 5-10 seconds.
Don't

Ignore The Images & Its Qualities
Images speak louder than words- Most eCommerce platform owners made this mistake at the start. Including the product description, it would be best to upload multiple high-quality product images to create interest among the visitors.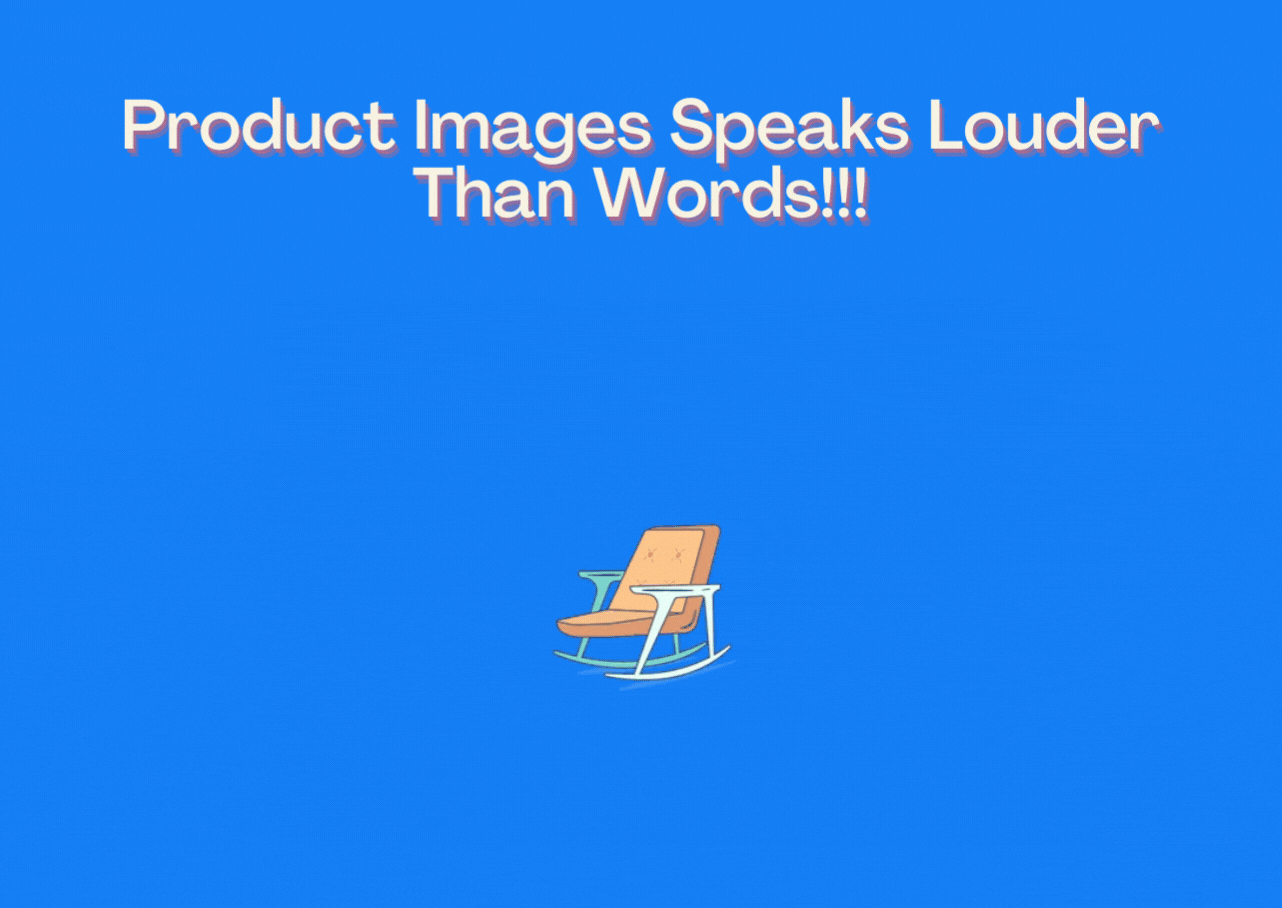 Pros and Cons of Starting An E-commerce Portal For Business
Are you looking to develop an eCommerce platform and want to launch it for business? You might be aware of its advantages or disadvantages. But if not, this section will take you through the pros and cons of an e-commerce portal.
| | | |
| --- | --- | --- |
| S.No. | Pro's | Con's |
| 1 |  A finely developed eCommerce portal can connect you with global customers and enhance your brand image. | If you don't have a good customer handling mechanism, then your brand image will have an adverse effect on it. |
| 2 | You can easily connect the customer's data via your e-commerce portal for research. As people usually do not provide their details to traditional businesses. | If your e-commerce portal does not have an appropriate security mechanism, then data may be theft by hackers for illegal use. |
| 3 | You can easily showcase your bestsellers in front of customers, increasing the chance of high sales. On your portal, customers will find this effortlessly. | Poorly showcased items like uncategorized, incomplete product descriptions and others can produce a disturbing experience for the visitors. |
| 4 | E-commerce portals offer ample opportunities for brand promotion and marketing. From a small online shop, you can become a big brand with the help of eCommerce | Poor branding and promotion are always disastrous for any eCommerce business. How good you are with products but if customers are unable to reach you then all things are wasted. |
| 5 | One of the biggest success factors of businesses is communication with customers. Via the eCommerce portal, you can easily communicate with your customers. | Every customer wants a prompt response in case of any issue that happens while purchasing the goods from an online store. If customer service is poor, then a user distracts from the e-commerce portal. |
| 6 | An Online eCommerce store is always best to provide a personalized experience to the customers. It helps the brands or businesses to have a strong relationship. | Due to the absence of providing a personalized experience, the majority of eCommerce apps fail. The users visit the online shopping portals to purchase the desired stuff, but if they find it difficult, then they used to move to another. |
| 7 | An eCommerce site is always best to follow the trends or to sell trending stuff such as designer clothes, watches, fashion accessories, and others. It attracts customers to purchase. The best examples are Klarna, Shien, and others. | Most of the old-fashioned eCommerce portals shut down very soon. That is a significant loss to the business. Selling outdated goods is like wasting efforts. |
| 8 | There is tough competition among businesses where you can have an extra edge with your innovative eCommerce portal. | It is okay that you have put too much effort into launching your eCommerce portal. But, if it does not offers any uniqueness then very soon customers stop visiting. |
| 9 | The eCommerce store offers a variety of goods to the customers where they can choose the best one from its variants. Visitors can easily search for the desired product instead of searching from corner to corner. | One of the biggest advantages of online shopping is that customers can't try the stuff before purchasing. First, they need to wait for the delivery and if found the item unsuitable, then return it, and a refund takes time. |
| 10 | From the scalability point of view eCommerce portal is the best. Whenever you require, you can scale your business with ease. | Although business expansion with eCommerce is easy, on the other hand, there must be efficient customer handling. In the absence of it, brand image will be poor. Due to it, you may lose customers. |
A Success Story- Fashion Porters
Dev Technosys is a leading eCommerce website development company. Since its incorporation, it has helped multiple brands have a robust market presence. Among several success stories, one of the stories is about- Fashion Porters.
The Fashion Porters is an e-commerce app with a presence on Android and iOS platforms. It is a revolutionary app that facilitates the customers for 3D trials with the desired dress. Majorly customers use this app for purchasing wedding dresses.
Its features are:
3D Avatar with dress
Body measurements
Face scanner
360 video simulation
Product review
And more.
Five most experienced developers developed this project from Dev Technosys and have completed it within the time as per agreement with the client. The app is available on Google Play Store and Apple's App Store.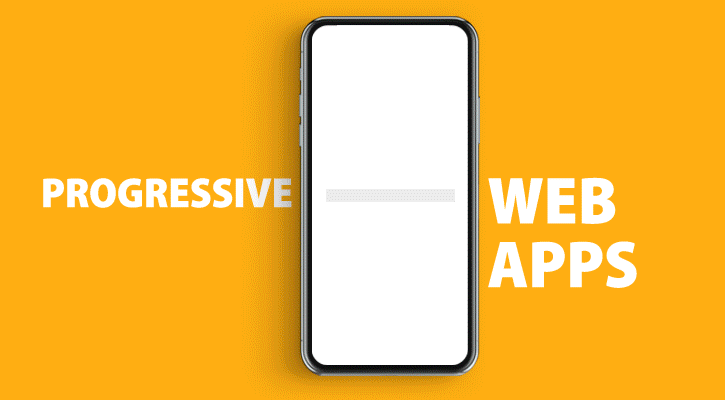 E-commerce Portal From Dev Technosys
Having experience of more than a decade in the mobile app development and website development industry, it can work as a perfect choice for you to develop an eCommerce portal. To date, we have developed several successful eCommerce portals for our clients. Dev Technosys has a team of experienced eCommerce developers who can help you to transform your mobile app development idea into a reality. As a brief project history, we have developed and delivered more than 950+ projects, and other projects are in the queue for launch.

The Conclusion
By developing a successful e-commerce portal, you can increase your business boundaries and improve performance. The E-commerce development process is quite challenging and requires expertise, so it is impossible to do everything yourself. In such a situation, only dedicated app and web developers can help you craft a feature-rich and successful e-commerce portal.
So, if you are new to the business world and want to maintain a strong online presence, go for online e-commerce solutions and take assistance from experienced professionals. Along with this, keep the above-mentioned do's and don'ts in mind so that you can come up with a perfect e-commerce portal that brings in more sales and profit.