The debate for the best platform for eCommerce has started at the end of the year 2020. Many eCommerce websites are gaining momentum. Because of the pandemic, people are fearing to leave their homes and shop outside.
However, there is still time left for the eCommerce business to flourish. There are no stones unturned for big eCommerce businesses like OpenCart, WooCommerce, Magneto, Shopify, BigCommerce, and many others. These businesses are expanding their businesses at a rapid rate and are also making a good amount of express in the realm of eCommerce.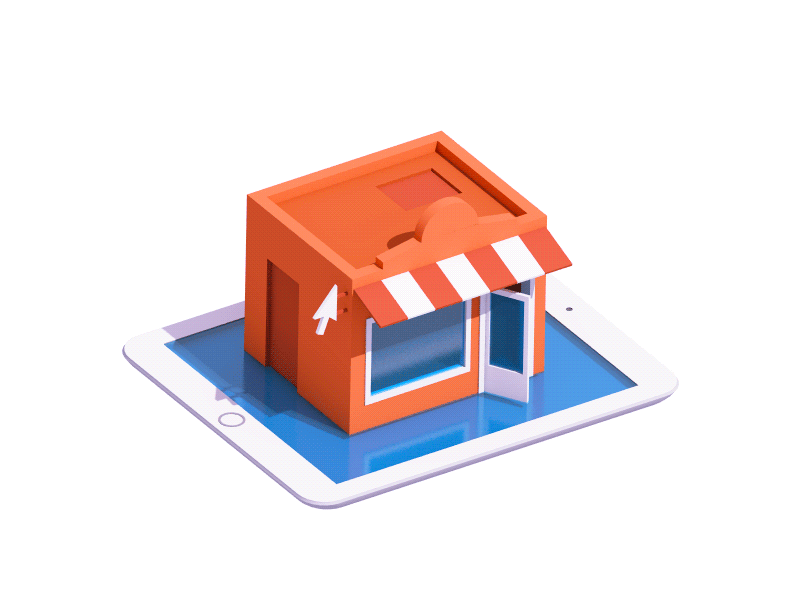 Many questions are rising regarding which is known to be the best eCommerce platform. The opinion may vary from person to person. However, review, performance, security, and other features regarding these eCommerce sites can clear the doubts in the mind of the people.
However, the top-rated eCommerce platform is OpenCart, WooMagnet, Shopify, and Magneto. They are having a great share in the market. eCommerce app development may be easy but to develop a perfect app for the customers that will be meeting their expectations of the customers is very hard and so the process of choosing the best developer is also not easy.
Guide to the online store: OpenCart vs Magento vs Shopify vs WooCommerce
Magento
Magento is known to be one of the most renowned platforms for eCommerce among merchants around the whole world. There are basically two editions offered by Magento according to the merchant's business needs. Moreover, it is also dependent on the commerce edition of Magento.
According to certain research and data, it can be said that Magento is responsible for selling services and goods worth $155 billion and this figure is a staggering one.

Magento eCommerce platform is known to be having the trust of millions because of its stability, performance, and security. Magento 2 development company can be hard to find but still, there are many available in the market. One of the major benefits of the Magento platform is that it keeps on releasing new versions after certain intervals.  These are basically for upgrading functionalities and fixing the loopholes that are present in the security.
1. Platform functionalities
It is possible for the merchants in integrating various channels and selling both to consumers as well as businesses from a single platform.
It also helps in allowing the merchants for integrating ERP, shipping, order management, business intelligence, inventory management, web application studio, and many more.
The platform of Magento is basically open as well as customizable. It is possible to scale up the performance of the platform, deploy clouds, and integrate APIs.
2. SEO
The average SEO score for the Magento platform is around 90 to 95 and the credit goes to Magento development companies. According to certain data and research, it can be said that the score is highest after Shopify and WooCommerce. The main reason the score of the Magento platform is high is because of the advanced optimization of SEO. There are many SEO settings offered by Magento like canonical tags for products, meta tags optimization, edit robots.txt file, image optimization, etc.
3. User-friendliness
Shopify is very user-friendly and the earlier versions of Magento like 2.2x and 1.x are not so much user-friendly. However, the 2.3.3 version of Magento is very much user-friendly and can be comprehended easily. It can be used seamlessly by those people who are having less technical knowledge.
4. Pricing and Additional costs
When we talk about the pricing aspects of Magento, then mention must be made that there are two options available for merchants and they are the enterprise edition and the community edition. People can download and use the community edition for free which is known to be an open-source edition. This edition is mostly preferred by businesses of small size.
Another edition is basically preferred for businesses that are large in size. The pricing of this edition is not independent as it changes according to the size of the business. Hosting charges and plugin charges are there apart from the costs of the platform. This can be integrated later for amplifying the performance of eCommerce. However, running an eCommerce platform in the instance of Magento is budget-friendly.
5. Customer service and support
The degree of support for customers varies from one edition to another. The customer support for the free edition is very much low and fully-fledged official support is not received by the Magento community edition users. The developer's forum is there which can help them in finding relevant information.
But when a business owner is using the enterprise edition then they will be receiving excellent customer support and services.
6. Performance and security
Commendable security along with performance rendering ability is there in the 2.3 version of Magento. There are significant changes in security in the new version of Magento which is the 2.3.3 version.
In the case of the 2.3 version, new security features are improvement in the encryption of passwords, enhancement in scripting for cross-site, checking out Recaptcha, and improvement in library support. But in case of the version 2.3.3, there is better retention of shipping and billing data, the address system is improved and optimization in loading pages has been improved. Hire Magento developers who are having proper knowledge in this field.
WooCommerce
According to various data and research, it can be said that this WooCommerce is known to be one of the most efficient platforms for eCommerce.
This platform is very convenient in nature and is also affordable. Utter simplicity is the main reason why this platform is preferred by merchants all around the world.

Any layman is having the ability to build a website on the platform of WooCommerce. Moreover, they can start from scratch and will be able to produce an eCommerce store that is alluring. According to surveys that were done in the year 2018, WooCommerce is responsible for covering around 30 percent of the market in eCommerce.
1. Platform functionalities
There are more than 1000 plugins in WooCommmerce along with 300 extensions that can help in running an eCommerce business successfully.
WooCommerce is absolutely free. However, payment is essential for SSL certificates and hosting.
WooCommerce helps in allowing the users in performing shipping courier integration, listing management, reporting and analytics, marketplace integration, and order management.
Other benefits of WooCommerce are delivery settings, tax control, payment gateway, coupon system, and many templates.
2. SEO
WooCommerce is said to be having the highest SEO just after the Shopify platform. This is built in the WordPress platform and it offers SEO optimization to around 97 percent.
3. User-friendliness
eCommerce industry solutions are not easy when it is mentioned user-friendliness it can be said that it ranks second in this case. The challenge in this platform is configuring the store settings. It can be used easily when compared to Shopify and Magento. Seamless as the powerful interface is there in WooCommerce that helps in providing good quality user experience.
4. Pricing and additional costs
The official price of WooCommerce is around $29 apart from the WooCommerce plugin and certificate charges for SSL.
How COVID-19 Has Changed "The Future of eCommerce"- Dev Technosys
5. Customer service and support
All the merchants, as well as eCommerce developers, are having access to source code and striving issues are possible from there and then they can easily raise a concern to WooCommerce support. A support ticket can also be submitted by merchants of WooCommerce that helps them in receiving official support for major issues.
6. Performance and security
Security is a very important aspect in the case of any platform and no merchants will like to compromise for that. Commendable security features are offered by WooCommerceto protect the data and other information of merchants. Human errors and severe vulnerabilities can be faced sometimes which can be rectified easily.
Shopify
Shopify is known to be one of the most popular and also the leading platforms for eCommerce. eCommerce solution providers are increasing daily and they are also acknowledging this platform over other platforms. More than 1000,000 business owners are utilizing the services of the Shopify eCommerce platform.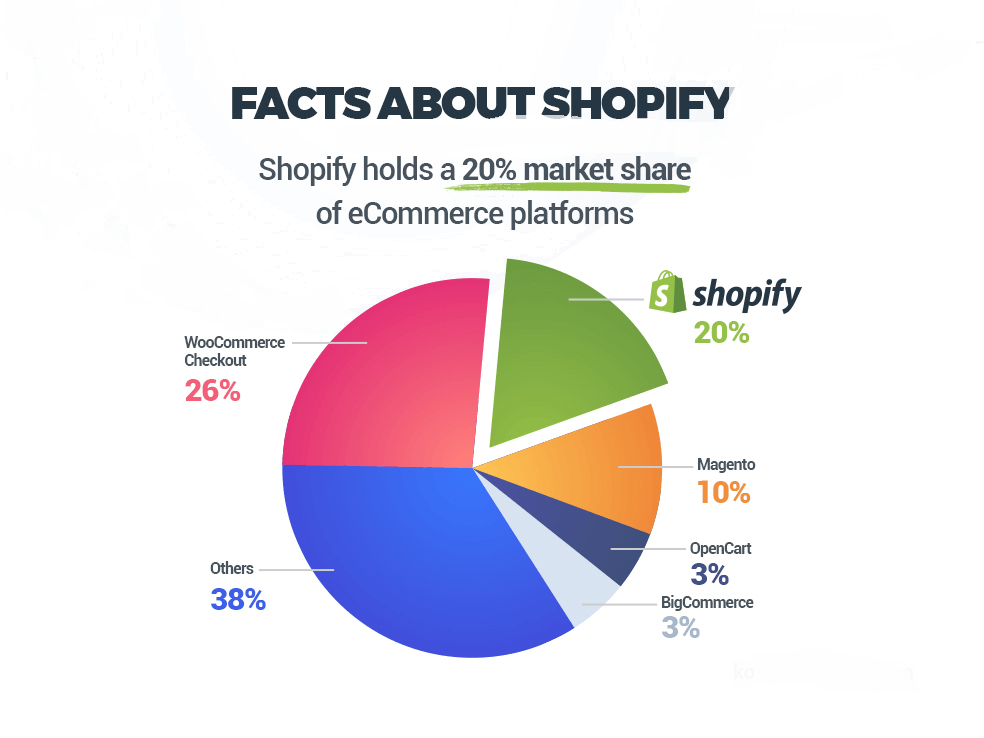 Shopify plays a versatile role in rendering control over the coding of websites for CSS and HTML. It is having unique functionalities and so it is preferred by many business owners.
The recent integration of Shopify with Amazon helps the merchants in selling products on the platform of Amazon via the admin panel of Shopify.
1. Platform functionalities
Shipping prices of each and every customer are calculated automatically by Shopify.
Integrating Shopify with social media platforms like Facebook is possible that can help in setting up the entire shop on the page Facebook.
Drop-shipping is possible in Shopify and helps in running an online store without managing the whole inventory.
Shopify also helps in selecting expert patterns in design, marketing, and programming so that you can amplify the performance of your Shopify store.
2. SEO
Shopify holds the best SEO score among all the eCommerce platforms and the average score is around 98 to 100. It is having all features of SEO like meta tags, page URL optimization, ALT tags, title tags, image optimization, and many more.
3. User-friendliness
Shopify is known to be one of the most user-friendly platforms of eCommerce is having a seamless user experience, easy to edit a theme, and drag, and drop option. This easy-to-edit theme helps the merchants in creating an excellent user experience for the target audience.
4. Pricing
A free trial for 14 days is offered by the Shopify platform. One of the major benefits of this trial period is that there is no need of providing any payment information for utilizing the free trial version. the normal plan for the Shopify platform starts at $29 and ranges to $299 for a version that is more advanced.
5. Customer service and support
24/7 support is provided to the customer and they are able to connect with the support team of Shopify via email, chat, phone, or social media channels. It also provides the merchants with guidelines for ensuring that the store f eCommerce is not having any glitches. eCommerce website development is hard to maintain and this job is done perfectly by Shopify.
6. performance and security
Shopify is known to be the most secured platform for eCommerce according to various research.
OpenCart
OpenCart experts are very famous as they help in running small and medium-sized businesses in the OpenCart platform and for this size of business, this is the best platform.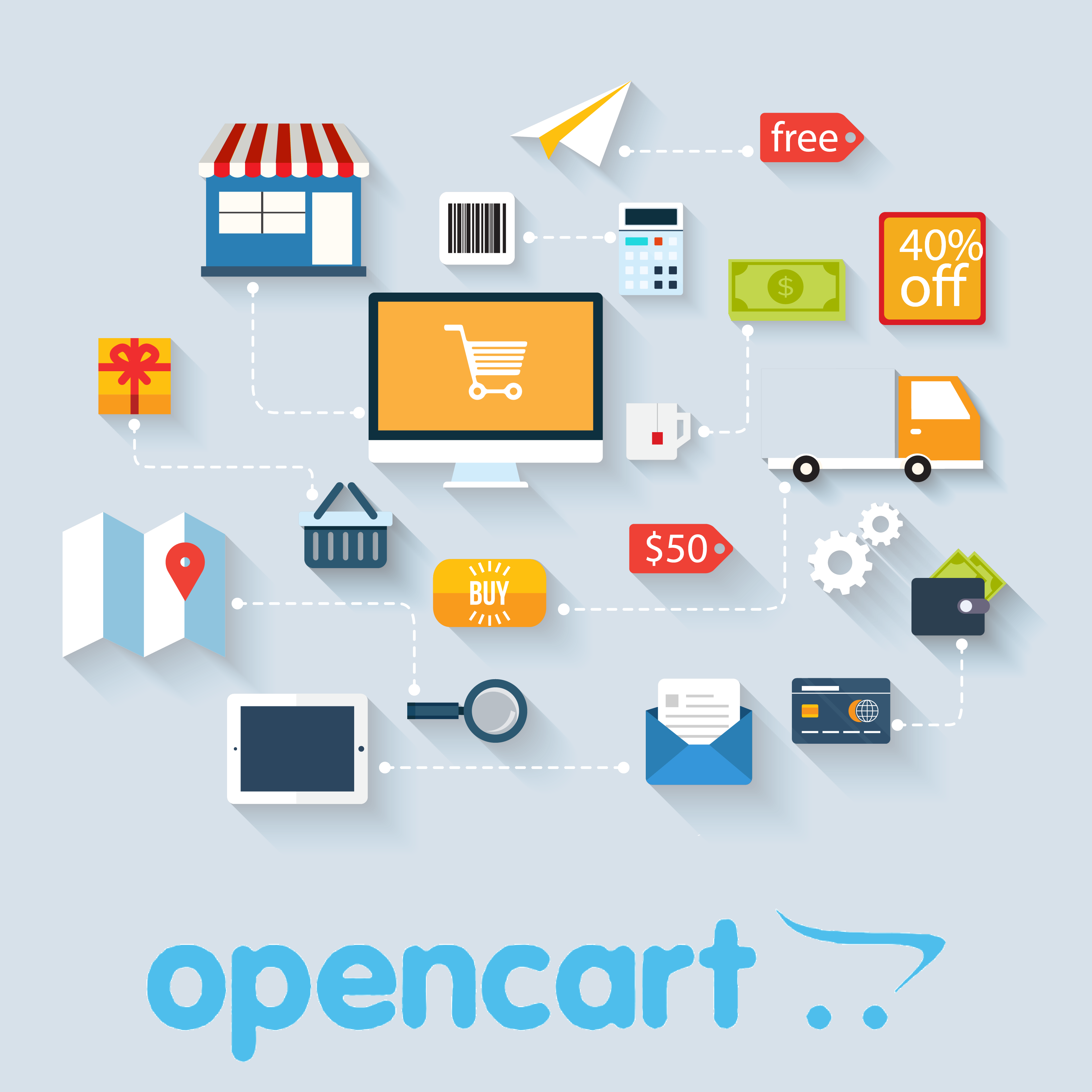 The highest number of options for customization is offered by OpenCart. There are no addons for basic installation but for amplifying the growth of business purchasing the paid version is essential.
The 2.0 version of OpenCart helps the merchants in accessing the admin panel and this platform is used by approximately 1 million websites.
1. Platform functionalities
More than 8 methods of shipping are offered
More than 20 payment gateways are there
Adding unlimited products in the store of eCommerce is possible
2. SEO
SEO score is low but can be optimized by adjusting keywords, alt tags, and descriptions.
3. User-friendliness
It ranks higher than other platforms of eCommerce in case of user-friendliness. Hire dedicated developers who can develop a highly responsive interface and user experience. Even if there is little knowledge of coding, significant changes can be made for configuring the store.
4. Pricing
It is free as mentioned on the homepage but all functionalities are not free. A significant amount must be spent on SSL certificates, hosting, plugins, busying hosting domain names, and responsive themes.
5. Customer service and support
Two types of support are provided and they are dedicated support and community support. But payment is required for dedicated support when using the advanced one. However, 24/7 support is not provided.
6. Performance and security
The performance is similar to other platforms of eCommerce. And in the case of security, the platform is having satisfactory results. OpenCart extensions are mostly developed by third-party CMS.
Other Things to keep in mind While Entering Online
A lot of guides only talk about the hosting platforms although there are other crucial and important things as well to keep in check while building an online store. We believe that you have already come up with a business model and that you are ready to take your real first step in entering online.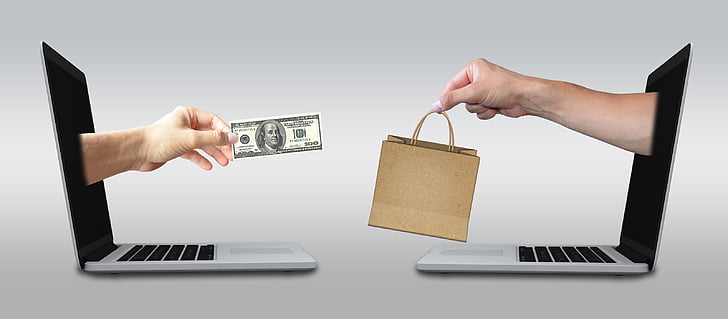 Here are the things you should be done before choosing a hosting provider-
Legal Formalities
Buy your domain name, Register, and Incorporate your business with government offices. Although the process of it varies from country to country. 

Open a Business Bank Account to carry out all business transactions through a separate bank account. 

If required by your country, create a sales tax ID and other online seller certificates. Complete other legal formalities by the book so that you do not get any trouble at the time of paying taxes. 
Online Store- Hosted, Licensed, or DIY
The Takeaway from the different platforms explained above is that every resource is different and only you can decide which one meets your demand and will help you achieve your business goals. 
The hosting platform is an easy way to build a website as the hosting is managed by the hosting company itself while you just have to work on how you want your website to look. Shopify, Squarespace, Wix stores, and BigCartel are some of the platforms that do just that.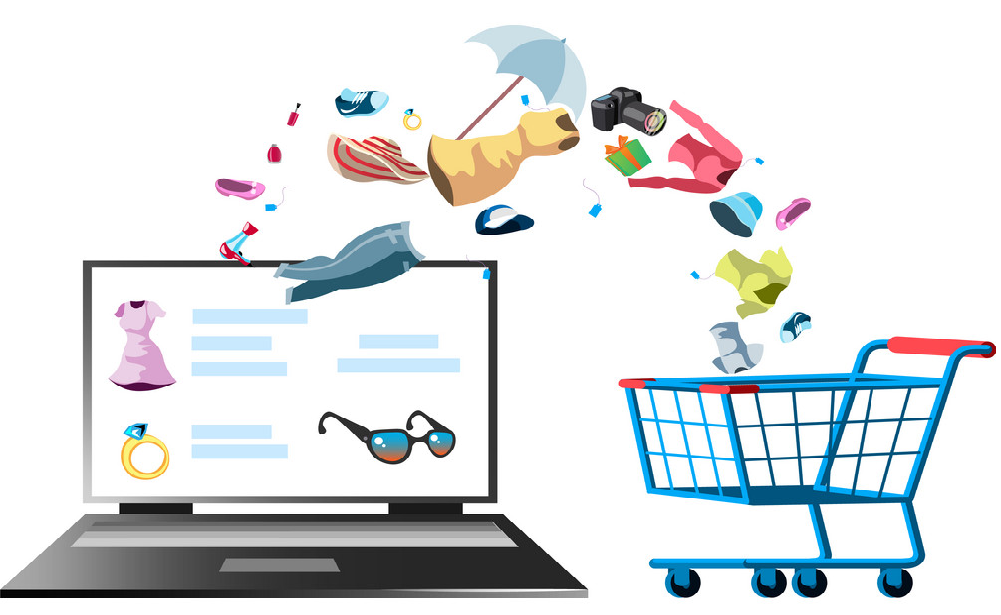 If you want a little more freedom in your eCommerce or retail online store. Then you can also download a licensed eCommerce platform like CS-Cart or Magento. Although with more control, there would be additional work related to hostings, templates, site security, and coding, etc. The big companies with hundreds of platforms employed catering to millions of audiences require a Licensed store.
DIY is the third option for entrepreneurs who wish to start an online store via setting up their own hosting website. Websites like WordPress or Woocommerce provide eCommerce plugins which make setting up an eCommerce platform rather easy.
Dropship or self-storage?
Building an eCommerce platform and selling online is not much different from selling offline. Just like you have to manage inventory and keep the products you wish to sell in stock. In eCommerce platforms, you have to keep the product in stock, so that you could provide delivery on time.
Online store or retail website also provides an opportunity for Drop-shipping. Which turned out to be a game-changer for retail businesses online. Drop-shipping is highly advantageous for sellers who do not want to bear the burden of keeping and maintaining an inventory as the retail products are fragile and also take space. So for many eCommerce business owners, dropshipping can be a necessity. 
Although, if one is looking forward to scaling the business then dropshipping might not be able to provide flexibility with increasing demand or customized orders. 
Reach Your Buyers
You should build your marketing strategy even before making your online store live. Search Engine Optimization is a necessity for every online business otherwise neither will your products or services come under the customer's search queries nor will there be any sales. Hence, while building a customized website you should also start working on your marketing and sales strategies. 
Social Media has now become one of the major platforms to generate an audience or customer base. You should lock the social media handles via your business official name and start posting about how helpful your products are and what problems are they solving.
Conclusion
Web development companies are in high demand and the above guide will help you to choose the best eCommerce platform suitable for you so that you hire a company for developing your eCommerce store.