E-commerce has become one of the most defining business models of our lifetime. Shopping online has become one of the most common everyday activities for more and more people all over the world.
Especially now during the pandemic, people have started relying on online shopping and most people start their online business with the help of eCommerce solution provider companies even more than before. The pandemic has expedited the process of more and more purchases being made online. However, the world has already been going in that direction for some time.
Mcfayden digital completed some in-depth research last year, before the pandemic became a factor, showing that online sales have been outpacing retail sales quite substantially: It's very clear that online shopping is a massive worldwide phenomenon. How can you take advantage of it?
You might be surprised to learn that much of what is being sold online is being sold by medium and small businesses or just everyday people. These groups are colloquially called "third-party sellers". On Amazon, the world's largest eCommerce platform, third-party sellers have taken higher and higher percentages of total sales for a while now:
This means that not only is eCommerce a bountiful place for profit, but it's also actually a place where a lot of everyday people are starting their businesses and thriving. On a personal level, there are many advantages to starting your own eCommerce business:
Advantages To Starting Your Own E-commerce Business
1. It's Easy
There are many different platforms and business models when it comes to selling products online. What these options all have in common is the fact that it's not that difficult to get started.
Because the systems most sellers use are meant to be easy to use and intuitive, even if you get lost along the way it's easy to find the right information. There are even communities to help you to become informed and even find people to help you out.
2. It Can Be Really Inexpensive
There are stories of successful online sellers that basically started their business with some extra money that was just laying around. In fact, no matter which business model or platform you try, the odds are that you can get started with only a couple hundred dollars.
3. You Can Work From Home, or Anywhere
The beauty of running an online business is the fact that all you really need to run it is your internet connection. Many sellers either work from home or have mobile applications that are developed by mobile app development company adopt the digital nomad lifestyle and spend their time moving from one country to another. There are sales models where you don't even have to hold any inventory and you can use a service to handle it for you.
With all of this in mind, we will explain the actual steps from going from 0 to having an actual online store stocked with things that people are willing to spend money on.

Seven Steps To Follow That Ecommerce Sellers Have To Follow For Revenue
Step 1 – Choose A Business Model
When it comes to eCommerce the options are plentiful. The first choice you have to make is whether or not you intend to sell your products on your own website or one of the eCommerce platforms. There are pros and cons to both. In general, setting up your own website is more challenging, however, you get to have better profit margins.
On the other hand, if you choose to sell on a major platform like Amazon, eBay, or Walmart, you don't have to worry about traffic as much since these are some of the most visited websites in the world.
After you choose your platform, you need to figure out if you want to sell your own products or someone else's. You can either take the private label route where you find a product to source and put your own brand and design on it, or you can select things that are already being made and resell them, earning a profit on the price difference.
There are also several options when it comes to selling someone else's products, such as:
Retail Arbitrage – This business model means that you look for products that are being sold in clearance aisles or at major discounts in physical stores and then proceed to sell them either on a web platform or your own website at normal retail price.
Wholesale – This is a model where you select already existing products that you buy directly from the manufacturer and sell them online if that company is not already doing it or not doing it on that particular platform, or simply not doing it well.
Drop Shipping – This is where you don't actually hold any inventory. You advertise and sell products that are being made overseas on a single unit basis. You order the item from the manufacturer and simply forward that order to whoever ordered it from you.
Finally, there is the matter of how you want to handle inventory. More precisely, do you want to handle it yourself or do you want someone else to do it for you?
One of the major contributors to the phenomenon of everyday people selling online and creating businesses was the start of Fulfillment by Amazon or FBA. Ever since then many people have wanted to become an Amazon seller and have done so, simply because Amazon has offered to take care of their inventory.
This made possible the option to sell things that you don't hold in your hands. There are other fulfillment services, as well as the old-fashioned option of shipping your orders yourself.
There are pros and cons to either of those options. To summarize, step one is all about doing research and figuring out which model works for you, or rather which one of these options would be best suited for your plans.
Step 2 – Funding
Generally, you don't want to spend too much money. Depending on the platform you want to sell on and the business model you have planned, you should be able to "dip your toes" into the eCommerce ocean for no more than $1000 – $1500.
You don't want to spend too much for risk management. This is another great aspect of eCommerce. When you have an idea for a product you want to sell, you only need to order a small batch and see if it sells, and then, later on, you can scale it according to the sales volume. The same concept applies to someone that already has a ton of products. You can try selling only a handful of them and then later adding the rest incrementality.
The only instance where you might need a substantial sum of money is if you start selling so well that you have trouble generating the upfront income to manufacture the quantities that you are expected to sell.
Now, this would be a problem, but certainly, a really good problem to have. The point is that the number of funds you need should be the minimal amount that is necessary in order for you to test out your idea using the business model of your choice.
Step 3 – Business Plan
Once you figure out the business model you want to apply to your new online business and set up a budget, the business plan can basically write itself.
What you need to actually figure out are the actionable steps that will get you to a working business that is able to perpetually generate revenue. That largely depends on our next point.
Step 4 – Finding What You Want To Sell
Needless to say, choosing the right thing to sell is what makes or breaks your business. You need to be selling a quality product that people are both actually looking to buy at a price that they are willing to pay.
Figuring this out is not a puzzle that is specific to eCommerce. It's the oldest problem in the book. You cannot really afford to rely on your intuition for this entirely. Even though figuring this out is a problem as old as a business, the eCommerce sphere offers product selection solutions that were not available before, such as advanced market intelligence software.
When it comes to selling platforms like Amazon, there are tools that will help you to extract data about what is happening on the platform, and how well the products that are already there are doing.
Below, we see an example of one tool called the AMZScout Pro Extension. It displays everything that is going on beneath the surface of any Amazon page: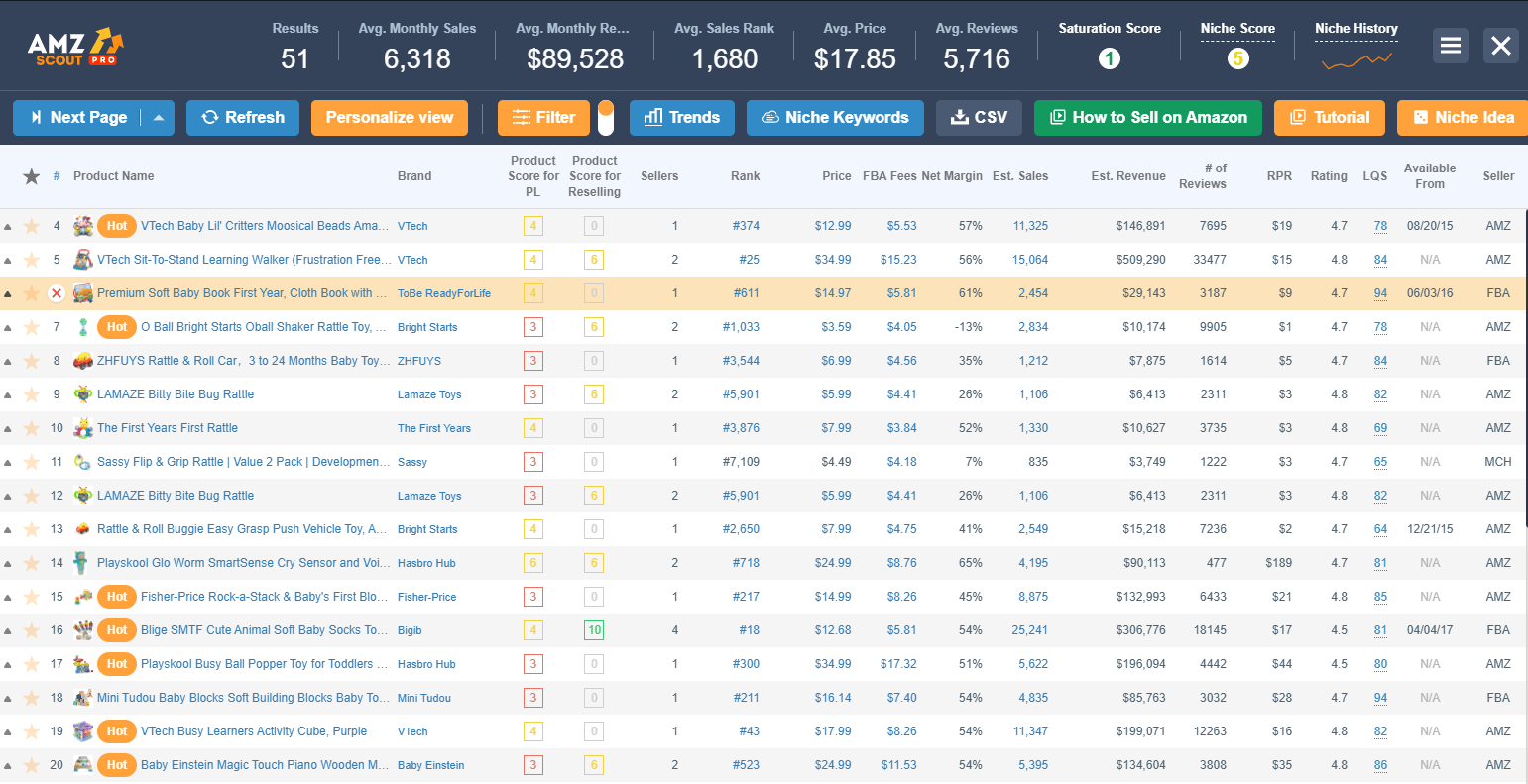 There are also other tools and sources of information for other platforms as well as about trends in general. Sometimes they might be behind a paywall, sometimes they are free.
You can also use things like google trends or even join online communities of sellers to gather information. Because we are living in the age of information, and eCommerce is so popular, you can be confident in the fact that you will be able to secure a lot of useful information.
Step 5 – Setting Up An Entity
When it comes to most eCommerce platforms and models, you can probably get things started as an individual without any need to incorporate, at least at first.
However, for some platforms like Walmart, you actually need to be an incorporated US-based business with a certified letter from the US treasury in order to apply as a seller.
There is also the issue of sales taxes and VAT as well as customs to consider. This area requires some research based on your unique circumstances.
Many others have successfully navigated this situation before, and you can learn from their experiences to also complete this stage relatively easily.
Step 6 – The Logistics and Manufacturing
It is much easier to locate a manufacturer for your product these days. You can easily find suppliers on platforms like Alibaba.com if you want to do something like private label, or AliExpress when it comes to dropshipping.
Of course, these are the most popular options, but there are also others. The point is that you can easily get in touch with people across the world from the comfort of your computer that can make whatever you need, as well as negotiate prices and product details.
You can even take it a step further and visit a trade show and meet suppliers on the spot. The biggest show is the Canton Fair which takes place every year in Guangdong, China.
Steep 7  – Advertising and Promotion
The final step that you need to take is to promote your product so that people have a chance to buy it. Just as eCommerce has evolved in the last decade so has digital marketing.
You have plenty of options using the most popular advertising methods like Google Adwords or Social media advertising. Marketing is a separate skill by itself and it's a continuous learning process.
Many platforms also have their own internal advertising systems, like the Pay per Click advertising on Amazon and Walmart. Advertising is an integral component of any online business and managing it will be one of your regular duties. Advertising is what contributes most to your growth and success and should be taken very seriously.

Conclusion
In conclusion, an eCommerce business is just like any other business. However, modern technology and the global economy have made it easier than ever before to do things that used to cost obscene amounts of money and time.
So many obstacles to success have been moved out of the way because of modern developments. This means that people with some creativity and a willingness to learn can completely change their lives and start a truly international business with the help of Magento development company. If you are an entrepreneurial-minded person, in spite of everything that's been going on this year, it's still a very good time to be alive. Good luck sellers!