In this modern age, the internet is the most preferred medium for promoting a business. Marketing strategies that are carried out using internet technology are reaching out to large communities across the world in exchange for the limited cost involved. Read this blog to know more about the cost to build an online marketplace website or mobile app.
This somehow generates an ideal frame for website development services providers to create an online marketplace application or website. Globally, the sharing economy is rising exponentially and it is encouraging people to consider launching their marketplace websites or mobile applications.
Also, web-based marketplace products are helping users to share goods and services and are facilitating online sellers to increase their revenue and market value. Developing a functional e-commerce marketplace website or mobile application is a trending business idea worldwide.
If you want to develop a marketplace website but are not sure about its model, cost, and features then you can hire the best marketplace app development company to get it done. In this article, we will help you to get an estimate to build an online marketplace product for your business along with its variations and features.
How Does An Online Marketplace Solution Work?
The concept of online marketplaces is appealing to entrepreneurs or business communities but most of them are unaware of the cost that is required to develop one such solution. As the mobile application and website development industry is booming, you can easily consider getting mobile app developers for hire or investing in e-Commerce marketplace development companies.
Marketplace websites or applications serve as a platform for various businesses that allow them to review, purchase, or compare the items that are sold by vendors on the same forum.
In simple words, marketplace websites and applications act as a mediator between buyers and sellers. Before we get to the cost required to develop a marketplace website application solution let us explore the features and the different types of marketplaces.
The Major Features of An Online Marketplace Website Or Mobile Application
Integrating suitable features into any marketplace solution is extremely beneficial for business owners. Some of these features are mentioned below-
1. Easy Registration
From a business point of view, it is extremely important to integrate an easy registration feature in the marketplace product. An online marketplace development company can prioritize this feature to give exposure to a web application in the e-commerce marketplace space.
2. Social Media Integration
This is certainly the most important feature that allows business owners to come up in the front line of the e-commerce marketplace industry. Here you have to facilitate users to get into your website or application within a few single clicks through any social media platform.
3. Multiple Payment Gateways
E-commerce marketplace solutions have higher chances to encounter customers with different approaches and mindsets to initiate payment. Hence it is always suitable to offer multiple payment gateways to customers so that they can proceed with their choice.
Other than this there are various advanced features that you can include in your marketplace business solution such as multi-currency support, multilingual support, product tracking, predictive research, subscription, etc.
Marketplace Website And Application Variants
There are various types of online marketplaces solutions such as-
Buyer-oriented e-commerce marketplace website or mobile applications
Supplier-oriented e-commerce marketplace website or mobile application
Vertical e-marketplaces
Horizontal marketplaces
Independent e-marketplaces
Business-to-business, business-to-customer, and customer-to-customer e-marketplaces
E-commerce target audience
In the digital age, three major types of marketplace solutions exist in the industry. These are mentioned below-
1. Vertical E-Commerce Marketplace
This type of marketplace solution is developed to emphasize a particular niche. This type of application or website provides similar types of services from different vendors.
Vertical marketplace websites represent the exclusive club that offers in-depth products to customers from top sellers. For example, marketplace applications like Zillow provide buying, selling, or renting house services that save time, labor, and money for the customers.

2. Horizontal E-Commerce Marketplace
The marketplace development company building horizontal marketplace applications offers different products from a few categories having a secondary character in the resemblance.
In other words, these marketplace applications provide goods and services across different categories having similar characteristics. For example, Etsy allows sellers to sell handmade products across various categories.
3. Global E-Commerce Marketplace
Global marketplace applications or websites are specially crafted for the delivery of services or products from a vast range of categories. These types of websites have almost every product under one roof such as furniture, apparel, food, grocery, software, gadgets, toys, etc.
This feature makes global marketplace solutions unique and much preferred over the other online e-marketplaces. These websites are focused on customers who are striving for the minimum price but maximum efficiency so that customer efforts can remain minimal
How Much Does It Cost To Build Marketplace Websites Or Mobile Applications?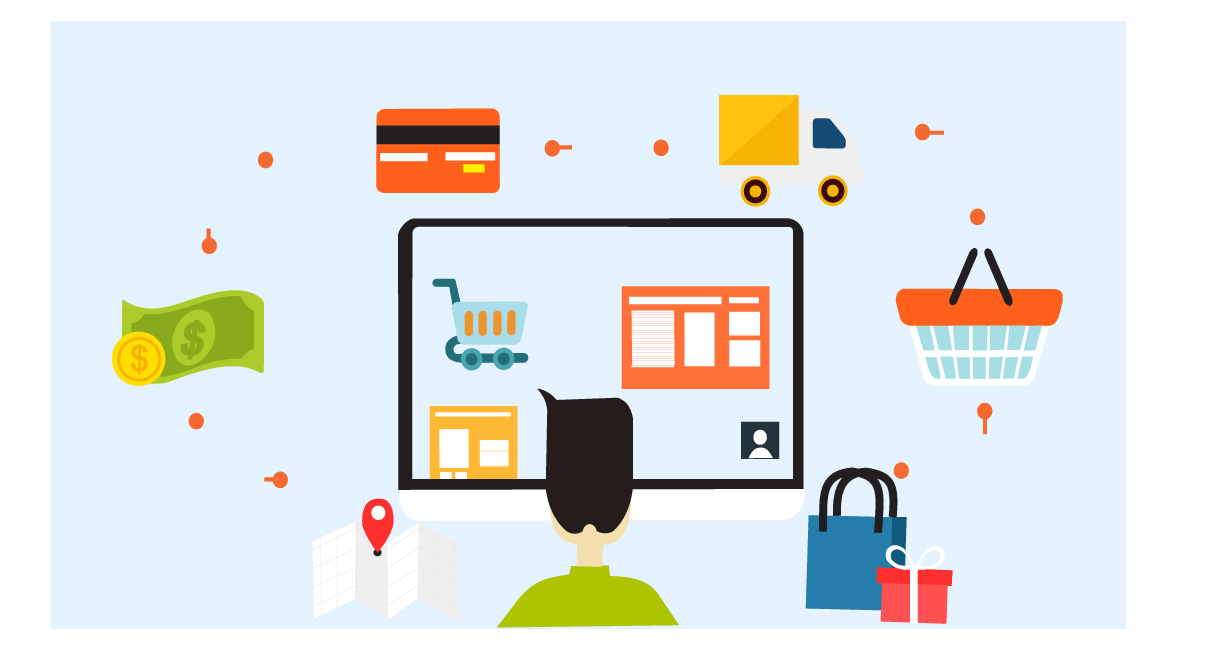 Amazon and Etsy are ruling the eCommerce world with more than 600 million active users on the internet. Hence you might be intrigued about how to hire a web or mobile app development company to build a marketplace solution for your business.
In this article, we will walk you through the cost required to develop a marketplace website or mobile application. The average cost required to develop any marketplace solution entirely depends upon its range of features and application requirements.
Before proceeding further it is important to have an understanding of e-commerce marketplace selling. Having an e-commerce application and a marketplace application have different dynamics-
The e-commerce application offered by a mobile application development company refers to an individual or single-seller shopping store.
Marketplace applications for websites on the other hand are known for the multi-seller vendors or retailers
Even the cost required to develop an e-commerce application and an eCommerce website development vary as per the features or functions required by the client.

According to the statistics of the 2017 e-commerce marketplace business, the global online shopping business was around $2.2 trillion. Based on the same reports, the market is expected to cross the mark of $4.5 trillion by the year 2021.
Calculating the estimated cost provided by a web development company to build a marketplace website for an application is a typical task. It is because the cost entirely depends upon the client requirements, integration of advanced features, and application complexity.
However based upon all of these factors it is possible to calculate the estimated cost across three domains- wireframing, application or website designing, and development.
1. Wireframing
This is the first phase of building marketplace websites or application solutions where you have to hire dedicated developers or marketplace development companies.
In this process, a rough application prototype or template model is built that gives a fundamental idea about the application's functioning to clients as well as developers. This may cost you somewhere between $600 to $1200.
2. Designing
The marketplace website application design is responsible for luring customers and gaining attention to your marketplace solution. The flexibility and graphical user interface of the application that you are offering to users can become a big reason for its acceptance in the marketplace.
To develop an eye-catching and interesting website or mobile application you have to contact marketplace developers for hire. Developing this state of the marketplace website or mobile app solution will cost you $6000 to $10,000.
A Complete Guide To Develop Marketplace Apps Like ETSY, Amazon, And Flipkart
3. Mobile Application Or Web Development
This is the final stage of the implementation of wireframing and application design ideas with coding. In this stage, the application developers or development team integrate the essential features that are required to run a successful marketplace website or mobile application.
The development cost depends on two major factors- the essential resources that are required to be added to the solution and the number of features. Considering all of these factors the cost required to develop an e-commerce marketplace website or mobile application will cost you somewhere between $8000 to $15000.
Based on all of these factors, if you are required to develop a customized marketplace solution then you have to hire the best on-demand app development company and spend more to get the most out of these benefits.
On the other hand, it is not possible to easily run an e-commerce marketplace solution on an individual platform. So, the perfect solution to this is to develop this type of website and application with multi-platform compatibility, especially for platforms like Android, iOS, Windows, and the web.
You can choose any of these platforms as per your budget. The initial cost of developing an e-commerce marketplace website for mobile applications will be around $7000 to $15000. And for an individual platform, the development cost would range from $15000 to $25000.
How To Estimate The Cost of An E-Commerce Marketplace Project?
Implementing any website or mobile application regardless of whether the marketplace is made from scratch or is based on customer preferences is similar to implementing a web application solution.
According to a mobile application development company's agile principles, it is convenient for business owners to estimate the marketplace project development task in different phases instead of hours. It indicates-
Understanding the user interface and user experience design of the marketplace website or mobile application. It helps to understand the look and feel of the solution in the industry.
Understanding the responsiveness of the application i.e. HTML or CSS script
Streamlining frontend programming which refers to user interactions with the browser
Streamlining backend programming which refers to the server-side logic of the website or mobile application
Automating tests to remove bugs from the website or application and accepting manual testing
Once the marketplace website or mobile application is launched, the website development company can collect feedback from potential users and modify the solution if required.
Developing a Minimum Viable Product for the marketplace website or mobile application with the basic functions is the most fundamental step. It will also help you to launch your solution in the market as soon as possible.
It is because the faster your website or application is launched the faster you will figure out the ways to improvise your solution. Hence it is extremely important to have an estimate of the essential features of your marketplace project. Some of the major features are listed below along with their estimated development time:

1. User Experience And User Interface Design
In this stage, the designers of your project will describe its user experience attributes and you have to choose the style guide, color scheme, and layout of the website or application. Once this is done you can proceed with designing the logo of your marketplace solution. This development phase will take 50 to 60 hours.
2. Database Designing
Now the web application development company will conduct the design and deployment of the scripts.  At this stage, the web development company or team will configure the frontend and backend tools of the solution along with designing its database and writing scripts for its effective deployment. It might take 30 to 40 hours.
3. Implementing Actual Functions
Once the designs and the database of the project are implemented successfully now is the time to integrate the actual features into the solution. The features of marketplace solutions are typically associated with user requirements.
Some of them are based upon the interest of site visitors, customers, authorized users, or publishers. Based upon the above-mentioned criteria it is possible to predict the cost of the development of your marketplace application or website.
The Bottom Line
Online shopping these days is at its peak so you can launch your o-commerce marketplace website or application that can in turn increase your brand ROI. You can always build an online marketplace solution with the must-have features and hire Magento developers to help you to accomplish the task.
Some big marketplace names in the industry are Amazon, Etsy, and eBay which are also the giants of the online shopping industry. Undoubtedly the range of customers and cash flow of these websites make them superior in the available marketplace. As per business statistics, customers are drawn toward online marketplaces that can offer them their desired products within their budget.