Progressive Web App Development Cost– In the digitized era, Progressive Web Apps have become one of the most demanding platforms which have the potential to reach any user, anytime, anywhere, on any device.
The application industry has exploded in the past few years where the average mobile usage has exponentially increased by 75%. Year after year, users are spending their valuable time on their smartphone applications to access the services available on the internet.
In fact, users have started consuming double the amount of content on their mobiles as compared to desktops. Progressive Web Applications have taken a direct approach or a midway between mobile applications and mobile websites. It means that just like mobile applications they provide a full-screen experience to the users but they are still websites that can be accessed from mobile devices.
With the evolution of a PWA development, Progressive Web Applications have got additional benefits as compared to native applications.
In this article, we will explore how the cost of developing a progressive web application any such application can be three to four times lesser depending upon the requirements of your project.
What Are Progressive Web Applications?
As the name suggests, Progressive Web Applications or PWA development refers to the modern-day web application solutions which are equipped with the capability of delivering exceptional user experiences.
To be specific this application is specially designed to address the errors associated with conventional web application development solutions. Considering the challenges, we have listed some of the points below to give you a clear understanding-
Active internet connection is consistently required to access the websites
Limitations to send the push notifications
Slow internet speed, less reliability, and security
These challenges have given rise to the formulation of modern-day web solutions which are Progressive Web Applications.
As compared to the traditional web apps, PWAs refer to seamless integration and deliver excellent performance to the users across multiple devices.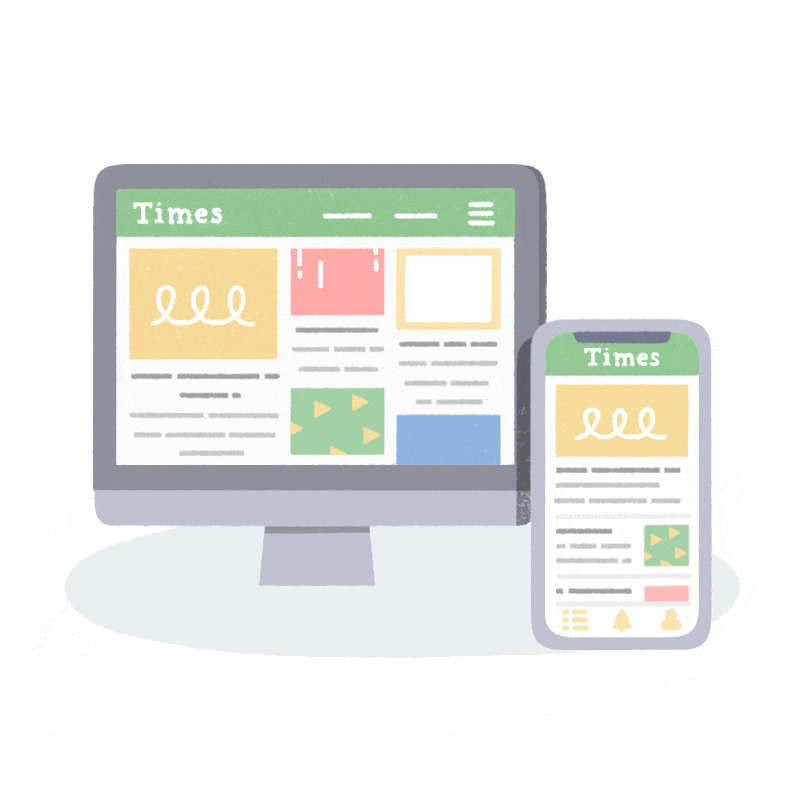 In fact, they have swiftly secured a place between native applications and traditional web application solutions. Not only have the Progressive Web Applications incorporated the functions and capabilities of native applications but they also have the ability to get shared and accessed across multiple platforms.
The competitively lesser cost of developing a progressive web application is a major advantage from the developers as well as the company's point of view. All that is required is to develop an application that can function as an application as well as a website across multiple platforms. Even the makeup of Progressive Web Applications is highly advantageous for users as well as application owners.
At the same time, they offer serious competition to the conventional and native applications offering adequate possibilities of running the network functions on devices.
In average cases, the cost for developing a Progressive Web Application might be 3 to 4 times less than the usual but it can also reach up to 15 to 20 times if considered properly.
Developing a regular Progressive Web Application from scratch is often amalgamated with high-end development costs, especially if the solution is complex and requires the integration of the latest features.
Moreover the fact that each operating system and application store requires an individual development base that can add to the whole cost. In the same comparison, PWAs are much more affordable than the other available solutions.

What Makes Progressive Web Applications A Must-Have?
PWAs as a responsive web application development solution has transformed the general perception of native applications. This facilitates the application to easily access the native features on the device like microphone, GPS, camera, push notifications, and many more. Additionally, the application can also determine the browser and device compatibility to look and feel similar to the native app.
Opening up the world of Progressive Web Applications has multiple advantages that allow businesses to offer direct versions of their solutions and help users to remain updated with them.
Another significant advantage of Progressive Web Application solutions over conventional or native apps is the total amount of work that is required in the process of development because a PWA certainly requires lesser work.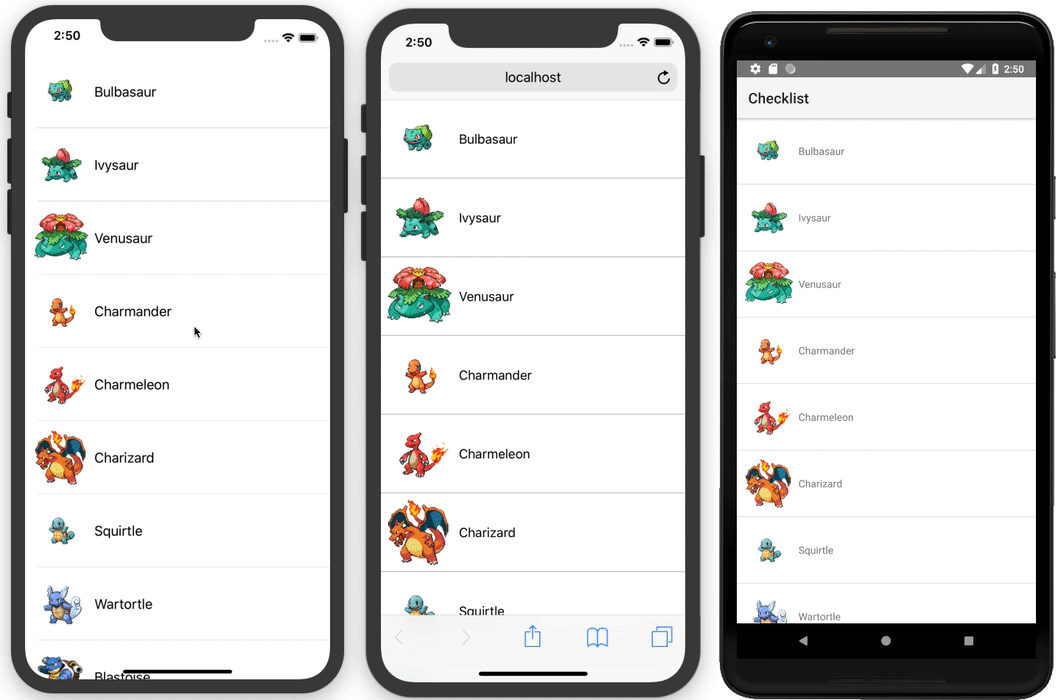 It is because of the platform access and application as well as a website that can easily operate across multiple systems simultaneously. It also means that the cost involved in app development is also less. On top of this, Progressive Web Applications hardly require any storage space for their functioning.
There is a multitude of reasons for which you should consider developing Progressive Web Applications. Some of them have been mentioned below:
1. Quick Response To Customers
Progressive Web Applications are extremely responsive and are compatible with most devices since they can adjust the layout as per the device credentials. PWAs also offer easy and smooth scrolling and provide prompt responses to users every time they interact with these applications.
2. Reliability Despite Network Flaws
Statistics have said that more than 63% of global users make use of 2G internet connections even today. So even if the network across any region is shoddy then they can absolutely rely on Progressive Web Applications as they have offline functionality as well.
This is certainly possible due to the services offered by any PWA developer or web worker. PWA can instantly load the data and information from the cache and can run the same seamlessly on 2G or 3G network connections.
3. Security
PWAs are much safer and more secure than traditional web applications as they are always served through HTTPS. This fact implies that PWAs are tamper-proof and cannot be vandalized by users.
Progressive Web Applications are way more secure than conventional solutions and this is because they do not allow content tempering for precluding snooping. This application also takes assistance from the web Bluetooth technology which is blessed with multiple securing capabilities.

4. Engagement Like That of Native Applications
Usually, it is hard to distinguish between active and Progressive Web Applications, as a PWA exactly appears and feels like native applications and they even offer the same functions like push notification, system integration, icon display on the home screen, etc. All these features enable users to engage at a higher rate just like native apps.
5. Easy Installation And Updates
Getting your users to download your app solutions can become a real pain and many mobile app development companies struggle with the same condition most often.
It is also seen that users, in general, install an application right after downloading it on their devices but with Progressive Web Applications it is possible for users to install an application with a single click. This frictionless installation and updates allowed them to use the services with greater comfort.
When Is The Right Time To Migrate Any Progressive Web App? 
It is seen that businesses having multi-platform or omnichannel strategies are apparently developing, promoting, or maintaining major systems which are- their responsive website, Android app, iOS apps, and in a few cases Windows 10 native applications.
Conducting all these operations follows a resource-intensive process where further development of the applications can quadruple the whole investment.
Having a Progressive Web Application solution entirely eliminates the requirement for developing, maintaining, or marketing the app solution to any platform other than the very PWA website.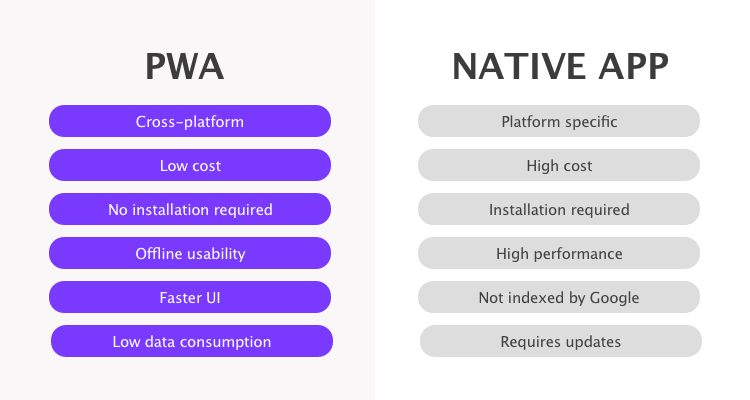 It also offers a unique opportunity to a business to serve all of their channels through any one platform that can be easily developed and maintained by anyone from the service team.
If being a small business owner or an entrepreneur you are not sure whether to opt for the Progressive Web Application services then you can go through the below-mentioned factors to clear all your doubts within a few minutes. To help you understand what is the right time to migrate to any PWA solution, here we have listed the possible reasons that support switching to PWA solutions:
1. Targeting A Developing Region
There are multiple geographies across the world that do not have continuous access to 3G or 4G networks. This means that if you have conducted a heavy web application development then most users would not be able to access the application.
You can consider migrating to Progressive Web Application solutions in this case because it is definitely a huge advantage while targeting particular regions or countries.
2. Targeting Customers From Their Devices
Let us proceed by assuming that your organization already has a well-established web application where most of the users are coming directly from mobile devices.
In this special case with the help of line functions, push notifications, and other features like native applications you can ease the burden of your users without any complications.
3. High User Engagement
Almost every top mobile app development company or renowned platform like Pinterest, Flipkart, Twitter, etc. has seen a huge increase in its user engagement with the help of Progressive Web Applications.
Hence, if your native application is not performing well for your business then you can consider migrating to a reliable Progressive Web Application.
If you have succeeded in relating to any of the aforementioned reasons then you can consider developing a Progressive Web Application for your organization.

Progressive Web App Development Cost
For any organization, the budget for developing a solution is and will always remain a prime object while proceeding with enhancing their digital presence. The cost of conducting progressive Web App development is inexpensive and the businesses that require native application solutions can develop accepted platforms for Android, web, or iOS.
To be specific, building native applications for all these platforms can cost you around $10K to $25K. However, the cost of developing a Progressive Web App Development cost is 3 to 4 times lesser, i.e. $5K to $20K depending upon the requirements of your platform.
Moreover, they also provide advantages to businesses to reach out to their potential customers by offering them compatible solutions across multiple platforms. It also eradicates the time to market and costs to develop drastically along with enhancing the user experience and the full potential of customers. It also keeps the multi-channel strategy on top along with promoting faster innovations and uninterrupted delivery.
A lot of businesses usually ignore the maintenance cost of their platform-specific solutions but before developing any application it is extremely important to consider the development and maintenance cost.
For any application, i.e. mobile or web the maintenance cost is approximately 20 to 25% of the whole development cost. By adopting PWA development strategies, businesses can easily take care of their application maintenance cost as with a PWA, they tend to get lesser than the native applications.
The Future of The Progressive Web Application Technology
Basically, the succession of web app browser technology along with their corresponding services credentials has been crucial as it allows the development of a new style of web app solution. With reduced Progressive Web App Development Costs, the demand for the solutions will accelerate.
Even now the Progressive Web Application technology has facilitated the emergence of multiple impressive applications as they have the potential to realize browser compatibility in contrast to devices.
At this moment Progressive Web Applications are not entirely in a position to superimpose in native applications but this will not be the same in the coming days. The fact that a Progressive Web Application does not require an in-depth integration of the hardware or software makes them perfect for various applications.
The advantages associated with these applications are functional and obvious as they facilitate app providers as well as customers and give them great scope for the future with their format.
Conclusion
The bottom line of Progressive Web Applications is that they are much less time-consuming and expensive as compared to native applications. Additionally, they can also be put into practice both as an application-independent solution and as a traditional web presence solution.
Progressive Web Applications are also instantly accessible to users across any browser and are not required to be downloaded or installed subsequently. Progressive Web Application development is facilitating developers to evolve in the landscape of emerging technologies as they can swiftly adjust to the app's environmental functions.