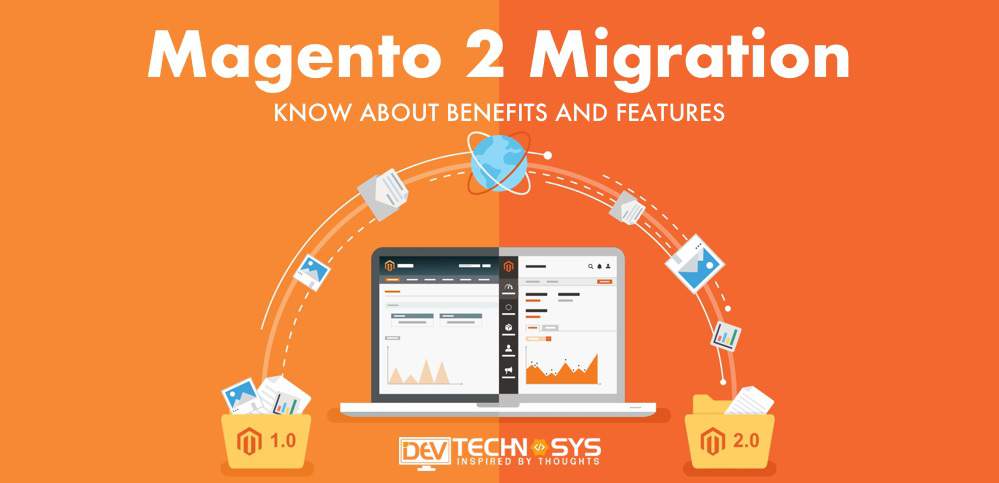 It has been two years since the first release of Magento 2 and there are many businesses that are still unknown to the magnificence of the latest version Magento development. Many of the online business owners have concerns about migrating to the latest version of the platform while some worry about the inconvenience and complication it would bring about in there already set-ways of operating their business.
What's stopping the business to adapt to Magento 2 can have many reasons, namely; it is enviably going to change the already established workflow. To avoid which online store owners are still running their business on Magento1. As Magento has extended the support for Magento1 and has promised to announce the end-of-life date 18 months before, it is for a while a relief to many companies. However, the primary focus will be Magento 2, which means better updates, bug resolves, extension to features etc.
Established businesses have already migrated to Magento 2 and so has the companies that are visionary and forward-looking. There are many reasons why not-migrating to Magento 2 can be a big mistake. You might fallback while your competitors keep up their progression. Not for dreading you rather, making you more informed here is a little discussion which will help you explore the new Magento 2 and to migrate to.
New Effective Changes in Magento 2 Features
Magento is one of the most competent eCommerce platforms and most reliable too. There are many reasons why SME have laid their high trust in it. Foremost Magento understands a business growing need with respect to expansion of an enterprise while it is meeting the rising expectations of online store owners. Following the same policy, it has brought some tremendous yet effective changes in its features, here are some of them:
Checkout Process: Now with Magento 2 you are able to highly customize your online store checkout point. It requires lesser customer information and only in few steps helps your customers to place an order. With this small yet powerful step it is helping your business reduce the cart abandonment rate. Also, it is featuring a one-page checkout point.
Mobile Traffic: If you have a business that does not has a mobile version, this is feature is a savior. Magento 2 with improved search capabilities is making the checkout process more seamless, making shopping more convenient for your users on their mobile phones. Furthermore, you can also hire a Magento development company for a reliable mobile app development that will help you tap the mobile users.
Speed: Amongst so many improvements, customer experience is further improved as Magento 2 is now offering faster loading time, upto 50% faster than before.
Scalability: Magento is a magnificent platform, from startups to growing to matured businesses it has something unique to offer to cater their needs. Holding the same to its core Magento 2 is extending its support up to 2 Million Page views and 2,50, 000 orders per hour. Making it so much better for big businesses.
Improvements from the Magento 2 Feature Changes for Expert Magento Developers
Admin experience: Admin panel is much more user friendly, Magento 2 is adorned with the admin panel that is optimized for non-technical users. In this latest change you are now able to easily navigate and manage your store on your end. Coming with it is a range of other improvements which includes optimization for different screen sizes, modern design, new product creation workflow, better data grids, easy column reordering, improved usability, etc.
Extensions: A must now feature for every expert Magento developer, Magento 2 is introducing the coding standard for better quality Magento 2 extension development. Also, it ensures better online store functionality with smoother working.
Search: For saving funds for relevant extensions, Magento development company or expert magento developers can now configure and customize the elastic search to simpler and faster. Making a significant change in budget.
Testing: Customer experience is the key to your successful online business journey. Magento 2 now, offers a built-in framework. The speciality of it is, it identifies the bugs and provides testing facility that helps you improve customer experience on your online stores.
Database: Unlike in Magento1, Magento 2 has three separate databases which are product data, checkout and orders. What it does is, it shares the load between them which eliminates the possibility of database overload.
Wrapping up
While we understand how much satisfied you must be in your cocoon protected with Magento 1, it is inevitable that one day you have to migrate to Magento 2. Not for very long Magento 1 is going to enjoy support from the Magento team and thus, better than later you must evolve. Furthermore, consider the case where you are stuck in your old ways while your competitors adopt to this new, faster and better technology, are you ready to compete that.
Thus, consider Magento Migration process as a phase of business life, you can lay your trust in a better technology where it has a lot of new features that will help you tap better business opportunities.