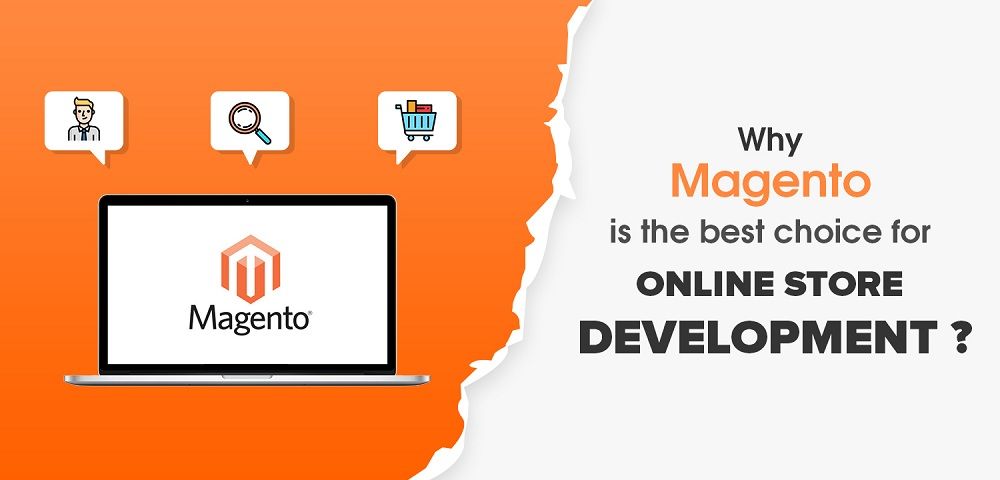 Magento is the most trusted CMS known today, designed for eCommerce and online store development it has qualities and features that are built to make life much easier for online store owners. It helps immensely in coping up with modern eCommerce challenges, the best thing about Magento is it has the solution for each business type. Irrespective of size the eCommerce development platform comes with comprehensive and relevant solutions for small to big and retail to enterprise-level companies.
To make you more acquainted with the CMS platform its web development services, lets investigate some exciting features it has to offer.
What Magento Development Services makes it a better choice for online store development
If you are a company that is budding out and thinking to hire Magento developer, it is important that you learn this: according to research users and customers trusted an online store and spent more time on the eCommerce websites that offered them exceptional buying experience. Features such as advanced search option, website and mobile apps compatibility, faster guest checkouts, product description and better image quality, seamless navigation are some features that are most desired by users to trust an online store, to shop on it and to be a part of the loyal customer base.
Now let's see how Magento helps us in rendering these features and give out high-end user experience to our shoppers.
1. Magento Admin Dashboard and Multi-store management
It is very likely that you did like to set-up multiple stores for your various business but is it necessary to have a unified theme for all. Thus, Magento provides you with amazing tools that help you give personalized themes to your online stores. It has embedded SEO tools in mobile applications, that help you reach the wider audience, while it also helps you develop the user-friendly application to enhance a user's shopping experience.
It allows users to manage their multiple stores from a single admin panel, making it easy to keep track on various stores at the same time. It has advanced analytic tools, and inventory management system that enables you to check on your competitors and manage your shipping, taxation, stocks, orders efficiently.
2. Customized Search engine URL and Meta Tags
It helps you retreat strongly to the contemporary challenges you are facing in the current cut-throat competition. It is a difficult task to create and change URL and Meta Data for every store and product, thus, by leveraging Magento development services you can customize your Search engine URL and set meta tags for every product easily.
3. Multi-lingual Support
The foremost reason why you switch to online business it to capture bigger and global market and let's say not everyone is English speaking. So, while thinking to expand your online territories, it is important that you evaluate global challenges too, of which linguistic is one. Thus, you can hire Magento developer to get the support of multiple languages on your online store, which helps you incubate a very friendly shopping environment for your buyers. This feature is also used in managing the content of your landing pages and inner pages of your online store-front simplifying your task immensely.
4. Catalog Management & Browsing
Managing your catalog was never easier, Magento lets you have control of your product catalog completely. Now you can make your own catalog, draw categories for the same and assign rates to them in a jiffy.
It has layered filtering options that give you users seamless navigation with options such as criteria, categories, features, price and much more. Also, you can assign diverse prices for an organic buyer, wholesaler, and a retailer differently.
5. Customer Checkouts made easier
Now you can set multiple payment options for your users to give them the ease of shopping on your online stores, Magento has a plethora of features that help you set your payment and shipping process in a customized way. You can hire Magento developer to lavish website development services to set shipping cost, taxes, base price, vendor costs all in all in designing a perfect checkout page. It also helps you set a very friendly environment for a user or buyer who has no login account on your online storefront. It gives your users power to shop without rushing into registrations, a user can always register later.
6. Order Order!!!
As an admin, you are endowed with multiple tasks and guess what Magento understands them all.
Magento helps you view, create, edit and complete your orders, now you can create multiple invoices, shipping labels, packaging slips in one go. You can create re-orders and track your orders manage your shipping and much more.
7. Analytics
Magento development can help you get a good insight on your business progress, with Magento you are able to handle your tax reports, tags reports, coupon usage, total sales, sort out products which have higher sales and much more. With Magento's analytics feature you can work wonders in managing your store and strategies better for further competition.
8. Magento 2 native Apps
Website development services and mCommerce, now you can have best of both worlds with Magento development services. You can get HTML5 designed native mobile applications with Magento 2 that work seamlessly on top mobile app development platforms such as iPhone, Android, Opera and others. Magento 2 Native apps allow your users to use features such as quick zoom, shopping carts, easy adding and removal of items form shopping carts etc.