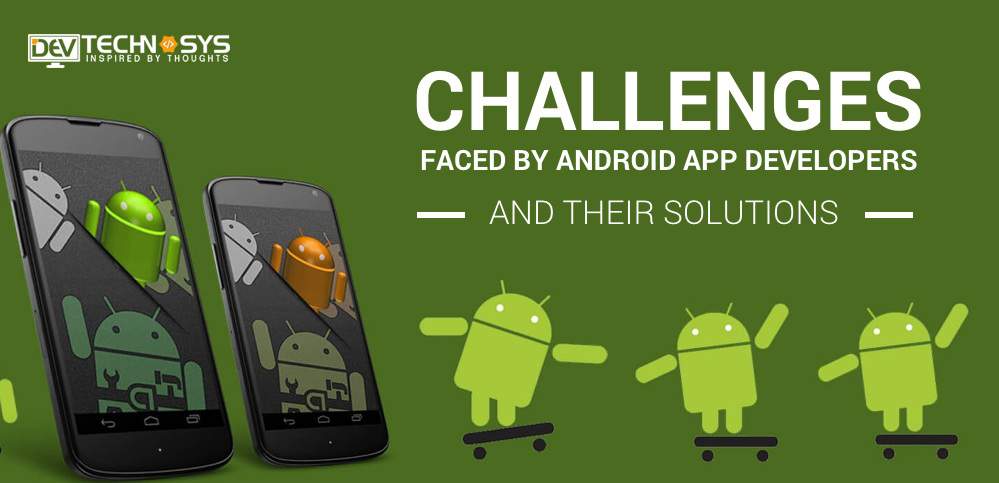 Technology has dramatically changed human life. From social networking sites to complex industrial operations, technology sits at the core of almost everything. However, with the increasing competency of these devices, the size of the gadgets has drastically reduced, we no longer sit in front of analog computers and waste hours to merely send an e-Mail or browse internet. Mobile technology has completely changed the equation.
We are highly depended for our everyday affairs on the applications installed on our mobile phones. But on the developers end, are things that easy, do they just have to code and get their way? Well no, things aren't that easy. For every start-up, SME, established business; mobile technology is a boon. But to do it right is a challenge, a mystery.So, in this article we will focus on such challenges that faced by developrs at the time of mobile app development.
Challenges Faced By Android App Developers in Different Phases of App Development
Developing the App for Right Cause
Figuring out the right application to develop can be very difficult. Everyday hundreds and thousands of app ideas are entering and exiting the market, some failing while some emerging as the epitome of success in the industry. So, what is the difference, is it the technology, the features or something else.

Technically it's the eye to see the need of the time. For making the right choice you must find answers to the questions like, what would be the purpose of the app, its functions, is it any different from the apps already in the market, if not what is that missing in the other apps, what are the benefits of these app? Etc.
Market Competency and overcrowded market
While you are developing an app too, you must never forget about the fierce competition out in the market and your aim behind developing the app. You must figure out what is that would appeal your users and create a strong user base.
Most importantly you should aim for CLV, which are the potential influencers in the market and recommend your app to others. Also, you can hire android developer that will help you understand the trend of the market and important and viable features that can help you take down this challenge successfully.
Technology for Development
Technology has evolved to far, there are a number of suitable application development technologies available to make native, hybrid or cross-platform mobile applications. A good research helps you in comparing the efficiency of a development technology while comparing your budget and revenue as compared with the other platforms.
Also, with so many options available on plate you might feel confused and lost, thus it is recommended to keep an open mind and go for options that offer the best strategies and can fulfill development standards.
Also Read: Native and Hybrid Mobile App Development - Which one is better for Your Business
Device, screen size, adaptively issues
While you are developing an app or you hire android app developer, one of the most important discussions is of considering the devices with diverse screen sizes and operating systems. Android is one of the biggest platforms and various devices with diverse screen sizes, OS have emerged. While you are looking for android app development, you must always consider the possibilities of screen constraint, adaptability, and fluidity of app on mobile phones with various OS.
Application Promotion and Marketing
Digital marketing is a necessity, as an aftermath you must be prepared for the promoting your app on various app stores while using tools and tactics of ASO that is Application Store Optimization. Marketing your app efficiently helps you gain better visibility for your apps in app stores and also, ensure successful customer retention. Not only this, it helps you study the market in various ways like, knowing the practicality of your app idea, whether the users are connecting with your idea or not and is the revenue model successful for you.
App Security
You can hire android developer with knowledge and expertise in maintaining your app. Malware acts are too common now days, in fact recently Google play store announced the Malware threat it is facing from third party applications and the security threat it is.
Also, there is a certain security code of conduct many app stores follow without which your app with not be able to make it in popular app stores. Also, technology gives you various options to choose the development technology that offers great encryption and allows you to provide your users a secured payment gateway.
Also Read: Choose The Best Programming Language For Your Mobile App Development
Standard for applications
Developing app is an endless process where timely maintenance and iterations are demanded. A certain set of codes or standards should be maintained to fulfill the app development process. Thus, maintaining those standards is in itself a challenge and an hindrance. You must prepare for improving and evolving standards and be dynamic to leverage better business benefits.