Global entertainment websites are expected to reach $222.2 billion in value by 2028. This market will grow at a 9.2% CAGR from 2021-2028.

In 2021, the United States will be the biggest market for entertainment sites. It will account for 38%.

The Entertainment industry is expected to generate US$31.23bn by 2022.

The total revenue is projected to grow at 11.44 % per year (CAGR from 2022-2027), resulting in an estimated market volume of US$53.13bn.

The Entertainment market's revenue from In-App Purchases (IAPs) is expected to reach US$13.95bn by 2022.

The Entertainment market is expected to generate US$0.05bn (US dollars) in revenue from paid apps by 2022.

The projected advertising revenue for the Entertainment industry is US$17.22bn by 2022.

In 2022, the number of downloads on the Entertainment market will reach 12,21bn.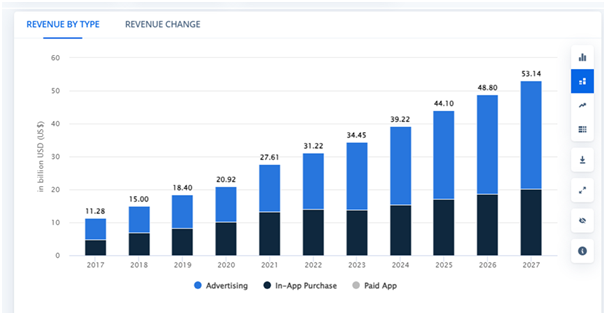 Source: Statista
The average revenue per downloaded file is currently expected to be US$2.56.

Comparing global revenue, the largest share is generated by China (12,140.00m US dollars in 2022).

Asia-Pacific is the fastest-growing region for entertainment websites, with a CAGR between 2021 and 2028 of 12.1%.

Video streaming is the most popular entertainment website type, accounting for 52% in 2021.

Music streaming, gaming websites, and news websites are also popular entertainment websites.

Mobile devices are increasingly used to access entertainment websites. In 2021, mobile devices will account for 72% of all global internet traffic.