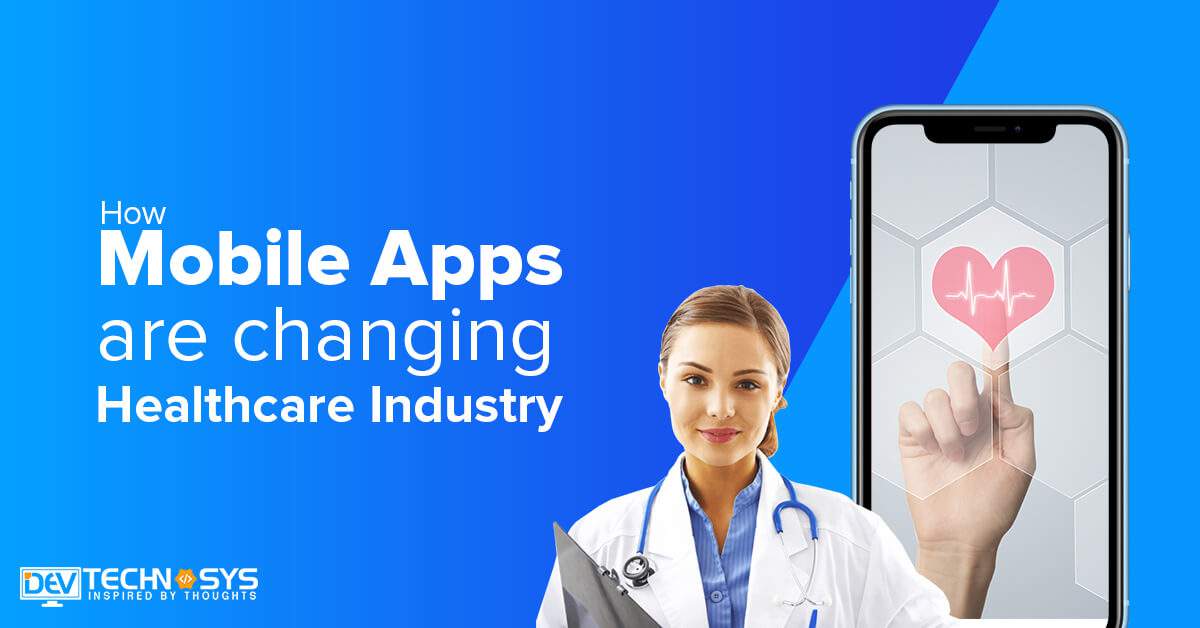 Today mobile applications are regulating every part of your daily life. Whether you plan a hang out with friends or paying bills for your family, whether the financial management or the paying the bills at the grocery store, the use of these applications makes the tasks so simple. It has expanded to every sector even in healthcare. Now a day's lots of mobile application are available.
The introduction of mobile apps in healthcare sector not only gave it an upstart but also benefits doctor as well as the patient. From online consultation to the home delivery of medicine, your smartphone has taken the responsibility of your health.
Now it is important to have a look at how mobile app development services have contributed to connecting people in the health care industry:

Online Appointments:

The communication between doctors and patient is so easy now that taking an appointment and getting a consultation is easier than ever, at one touch away on your mobile. People used to wait over the queue or spend hours to get appointments but now it has become super easy to register appointments with the customized apps, which not only gives he medicine home delivery services but also ease of appointments. A person can filter his search and find hospitals or clinics nearby.
The success of medicine app made an impact over investors in the healthcare sector with a number of medicine home delivery app development taking place. It introduced a different and innovative system where time consumption is so limited due to the pre-allotted time slot for appointments.
It replaced the need for physical availability for receiving regular calls and answering them for scheduling or rescheduling appointments on different dates. This mobile app makes people able to utilize their time.
The relation between patient and doctors has become healthy and sound due to their connectivity. Now it is not possible that any of them misses an appointment because app also sends the push notification or reminder to the respective person about a specific appointment with time date, place and name of the doctor.

Better Patient Engagement And Improved Safety:

There are some famous apps available, where the user can register for schedule a telephonic appointment with the doctor. Alongside, now doctors are able to make healthy relationships with their patients by giving them time apart from giving consultation. In addition, the apps are available, where a patient can seek immediate response or answer about his inquiry. The facility is available to the patient where they will be answered by a specialist and now doctors serve them at any time. Making the time management easier, the mobile apps also make a reminder for the patient to take a pill, which is prescribed and notify them when it has finished.

It tracks every progress of patient once they use it. Now, these apps make your medicine deliver at your door. If someone makes a fitness goal and wants to follow it, there is no need to worry all they have is fitness apps and trackers. If one wants to follow a diet chart with a specific goal, so again the solution is available in way of dietary apps.

Better Decision-Making

Some years ago, people did not have any source of verification or get knowledge about the service of hospitals or clinics. They used to rely on friends, relatives and their results to know the feedbacks. The non-availability of communication means like Smartphone was one of the problems of that time. However, modernization introduced with new technologies makes it so simple. Now people can find information about the services, customer satisfaction, consulting charges and read reviews. Apart from this, a patient can also upload the prescription over the website and order the medicines.

Business Models

The best part of health care mobile apps is the way to serve and communicate patients. It proved as a successful mean in establishing a healthy relationship far better than just a professional relation establishes. The apps are meant to load the all relevant information about the patient including the name, address of patients, biological details such as blood group, weight, height, existing medical ailment, the history of treatments, their appointments, expenses, hospital rooms etc. In the case of insurance, it also helps in guiding payment and other procedure.
The importance of these mobile apps is viable with the fact that now there are many companies working over medicine home delivery app development as their prospective business model while several apps are luring new consumers through free registration and consulting services or heavy offs over the medicine home delivery.
Read the blog- Cost and Features to Develop Doctor on Demand App like Lybrate

Electronic Medical Records

Today, cloud-based apps are the need of the time. Persons who register their information like name, age, address, disease, location and biological details etc. can find it any time over multiple devices at the time. Every time it is not possible to carry file or your medical reports. An app makes this better with the use of cloud-based services. The registered patient can find a new doctor with the same details and prescription as it was earlier entered by him, there is no need to worry. All saved information also helps the new doctor in understanding the medical history of the patient.

Due to the digital assistants in the healthcare industry, the loss of confidential information is prevented. The information available on these apps may also be used for the academic purpose by students. It gives them the stuff to read, analyze and to report.

Health monitoring through smartphones

Along with medicine app development, there are several health monitoring apps also available on Google Play store and app store, such as iCare Health Monitor, which can record the blood pressure, heartbeat, and other vital signs through a smartphone with the help of photoelectric pulse wave signal.

Conclusion:

The mobile apps have altered the health industry practices in a positive manner. Looking at the more advanced, the systems in hospitals are also integrated with mobile apps, so that making the access easier to the data and services. The inclusion of IOT is another big innovation on the way of improving the healthcare. Robotics has also stepped into the healthcare, where the typical tasks like surgical treatments are also being tried through robots. A lot has more to come, whichever way it goes, the customer is going to be benefitted either way.