Hello There!
You are an aspiring digital entrepreneur who wants to build a digital business, but you don't know where to start. Are you an experienced business owner who wants to take your offline venture online? Digital is now a buzzword, and it's a necessity.
Today, you can't do without a digital presence, whether it is a website or social media account, an eCommerce app, etc. It's understandable that you don't know where to begin, as the digital world is so vast and confusing. Do you start with a website or a mobile application? YouTube or Twitter is better for contacting customers. There are many questions.
This blog will discuss how to build a digital business. We offer resources that will help you plan your digital strategy and also mention what to avoid when "going digital."
What is Digital Business?
Digital business is the use of online and digital channels to run business, deliver products and services, interact with clients, and optimize internal business processes. It is a way to leverage technology to transform business models and processes.
Digital business examples include ecommerce platforms, online markets, mobile apps, and digital payments. Social media marketing, cloud computing data analytics, artificial intelligence, and social media marketing are also digital businesses. These technologies allow businesses to reach more people, provide personalized experiences, increase efficiency, lower costs, and create new revenue streams.
Market Stats of Digital Business
In 2021, retail mobile commerce revenue in the United States exceeded 360 billion. In 2022 this figure grew to 431.4 billion. This amount is expected to rise even further, reaching 511.8 in 2023, then 604.5 in 2024, and then 710.42 in 2025.
As of 2022, online marketplaces will become the main source for purchases made on the Internet globally. Amazon ranks first in terms of traffic among websites that sell online goods.
Smartphones will be used to access 70% of retail websites worldwide by the end of 2022.
In 71% of small firms, there is a website.
Before making a purchase, consumers prefer to research a company's website.
At least 70% of small and medium-sized businesses are increasing their spending on their online presence.
What are the Benefits of Digital Business?
What is digital business, and what are the benefits of it? There are many benefits to transforming your business into the best online business. It increases the efficiency and effectiveness of organizations. It also increases productivity. Here are some benefits to build a digital businesses:
1. Enhances Productivity
Automation of manual processes can have a significant impact. Imagine automating an assembly line in your industry. In this sector, robots will do all the work. There will be very few mistakes. The process is also quicker.
2. Reduced Operational Costs
Saving time and money is the main objective of any business. Manual processes and tasks are extremely time-consuming and take longer than automated methods. You will also have to pay laborers hourly or monthly, which is a significant amount.
Inefficient processes can cost businesses up to 25% of their revenue. Manually performed processes have a higher chance of error. Digitizing an organization in such cases will be less costly and more efficient. Digitalization can reduce operational costs by up to 90%.
3. Consistency and High Quality
The main advantage of a digital company is that you can ensure that your operations are done consistently. It produces high-quality results. Automating the customer service industry, for example, will provide consumers with information and support of high quality.
4. Governance and Reliability
They are consistent and allow the user to depend on them. This will be helpful in the following ways:
Run your business
This helps clients to get reliable methods and procedures
5. Better Decision Making
Information Project Management and digitalization are closely related. Analysis is the process by which information becomes knowledge. Advanced knowledge helps in making better decisions.
How to Build a Digital Business?
Now that you know the benefits of digital business, it is time to build a digital business.   However, it is vital that you must hire dedicated developers who are well-versed in their field for better results. Now let's begin.
1. Define What You're Going to Offer
You need to define first what you are going to offer the world. Richard Branson said that "a business is an idea for improving the world". It's now time to put his words into action. You can use the following tips to help you decide what you want to sell:
What is my specialization?
Do I have a good sense of craftsmanship?
What is my favorite thing to do?
Can I make my career a profession or a business?
You ought to concentrate on something that you are deeply interested in. It's rewarding to devote yourself to your passion, even more so if you run your own business.
Check out what you enjoy and see if it is a marketable product. You can monetize the knowledge you have by using the Internet.
2. Market Research is Important
The next step to build a digital business is conducting market research. You already know what your business can offer the world. Now it's time for you to decide if this industry will be profitable.
You may achieve this by carrying out market research and examining user behavior. Here, you may find out who is interested in what you've got to provide and where they reside.
The position of the current competitors in the market will be revealed. You will need to target niches that haven't been serviced by the consolidated companies if you find out they exist.
3. Analyze your Target Audience
You already know the product you'll sell and which market you wish to participate in. It's now time to research your target market in depth. It's crucial to understand both the concept of your business and the people you wish to target. So, it's now time to look at this. What questions should you ask? You can use the following items to help you identify your target audience:
The age range of the user
Demographic characteristics: What city or town do they live in?
Profession, occupation, or main activities.
Unmet needs and interests.
Favorite social networks
You will have built a profile for the perfect customer once you have responded to the preceding questions. You can then start to think about a marketing strategy for your project based on the websites and digital channels your users use.
4. Prioritize Your Brand
Once you analyze the target audience, the next step to build a digital business is to concentrate on your brand. You know the product and who will be buying it. You need to be able to identify yourself with a phrase or color that represents your business. All of this can be achieved with a good branding project that develops the visual aspects of the project.
You wouldn't go to an interview in your pajamas if you wore a shirt or pants that fit the occasion. The same is true for your brand letter, as it will serve as a way to introduce yourself to others.
You can define your business name, logo, color palettes, typography, tone of voice, and more. If you don't want to fail, spend as much time as is necessary. You must emulate the brands of successful companies.

5. Create a Website
Can you imagine a renowned digital company without a website? It is essential to have a website if you wish to be able to communicate with your users and let them know where they can purchase the products or services that you provide. You need specialized knowledge, but it is not as hard as people think. You can hire mobile app developers for this task, depending on your budget.
6. Appropriate Social Networks
Social media is a great way to find the right digital channels for your audience. But wait! But wait. Social media allows you to create communities around a specific theme. This helps users connect with your brand and builds loyalty. You can then create content for your visitors that is strategic and provides value. You will soon see the return on your investment.
7. Digital Marketing Strategy
The next step to build a digital business is to make a digital marketing strategy. Digital marketing is closely related to the point above. You must market your business. Otherwise, no one will come to you. It happens in the real world and on the Internet, so now is the time to start thinking about marketing.
Concentrate on developing strategies that will allow you to identify your customer's needs and offer them solutions via your products. You don't have to sell directly to your customers, but you can create useful content for them.
You can do this by using your blog and social networks on your website. After they've gone through the funnel, you can then offer your product or service to them in a natural way.
Best Digital Business Model
Now that you know how to build a digital business, let's check out the digital business model that you must take into consideration. So let's start.
1. Free-Model (ad-supported)
Free business models are those that rely on and support ads from platforms such as Google and Facebook. This model offers a free service, with the user as the final product. The user's valuable information helps the company display targeted ads.
2. Freemium Model
This model is widely used and gives users free access to the basic version of a software product. The basic version of a product may be limited, but users can upgrade to a premium version if they desire additional features. Spotify is a great example. You can use the free version, but you must subscribe if you wish for higher quality or no ads.
3. On-Demand Model
This model is a virtual service or product, such as an online video store like Amazon Prime Video, Apple TV or Apple TV, that allows you to watch videos for a set period of time. Fiverr is another example of this type of model. You can book an individual on Fiverr and be charged according to the project.
4. Online Model
Amazon was the first company to successfully adopt this digital model for selling physical products on the web. One of the most well-liked business ideas on the internet nowadays is e-commerce.
5. Marketplace Model
This model is a marketplace that allows buyers and sellers to exchange goods and services through a third-party platform. Uber, which is a service-based business model, and eBay and Etsy which are product-based are examples of this type of business model.
6. Digital Ecosystem Model
Digital ecosystems are one of the most robust and complex digital business development structures. Alibaba, Amazon, Apple, Google, Tesla, and other ecosystem orchestrators take advantage of the customer by offering services on multiple platforms. They may be able to upsell and attract new clients with their data and knowledge due to "vendor locking-in".
Avoid These Pitfalls When Building Your Digital Businesses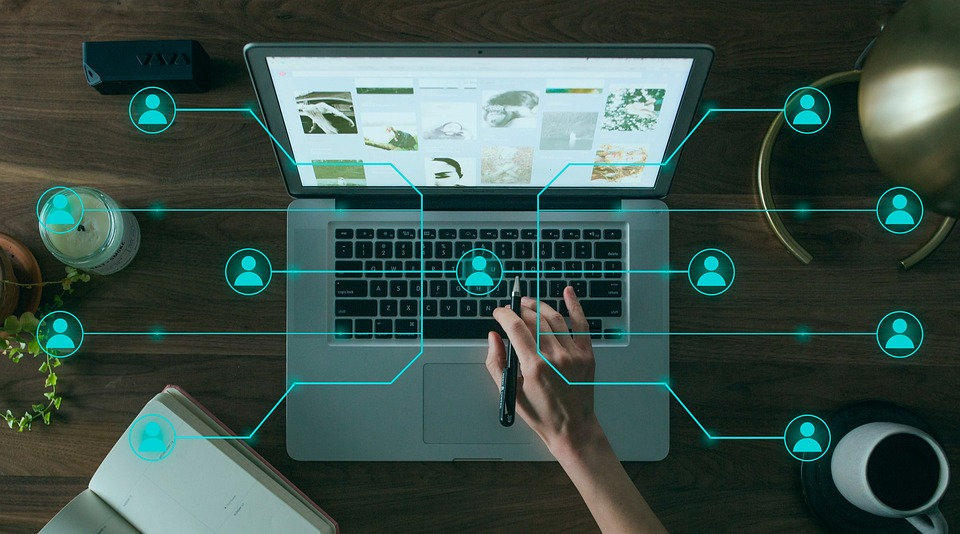 As you build a digital business, many things could go wrong. We'll discuss some common pitfalls and how to avoid these before you build a digital business.
1. Uncertain or Fuzzy Digital Business Plans or Strategies
If you have no clear goals for your digital transformation plan, your company can wind up moving in the incorrect direction. Your digital plan should include SMART goals (specific, measurable, and realistic) and SMART objectives that are specific, attainable, and achievable.
2. Business Leaders Who Aren't Digital-Savvy
Top-down visions for digital growth are essential. Your digital transformation efforts are unlikely to be successful if your management team is not up-to-date with the latest technology. Bring in leaders with experience in digital technology, change management, and business management.
3. The Wrong Technology and Tools Can be Costly
To build a digital company, you will need to invest in software and technology. The wrong tools can cost you money and time. They will also reduce any competitive edge you may have. To make an informed decision, read reviews and research the technology.
4. Non-Compliance with Data Privacy Regulations
Globally, governments are trying to regulate and protect consumers' privacy in the digital world. Ensure you comply with local and global privacy regulations such as the GDPR, CCPA, and PCI-DSS.
Conclusion
Now that you know how to build a digital business, it's time to start putting these tips into action. It's important to be yourself and concentrate on your strengths. You can then create a unique product or proposition to stand out amongst the competition with the help of a mobile app development company. 
Branding and positioning are also important for marketing your new company. Create a memorable brand name and logo to represent your business. Before launching social media campaigns, you should also identify your target market and create a segmentation strategy. Remember to be consistent across all platforms – this helps build trust among potential customers.
FAQ
Do You Need a Business Plan for Your Online Business?
Absolutely. It's like driving a car without a back-view mirror. You can still get to where you want to go, but you may miss some obstacles. You don't have to create a business plan in the traditional business school style for small online business ideas for your business. However, you should prepare a roadmap that outlines your key steps prior to launch.
What Can You Sell on the Internet?
You can sell almost any product online today, as long as the market is in demand. Analyze the size of the market — the number of people you think will buy your product — and the profit margins you could earn by selling the product at a price the market is willing to pay.
What Type of Online Business is the Most Profitable?
eCommerce has a limitless scope for growth. You can start with a niche store, and then grow it to a multi-country operation that serves customers around the world.
What Are the Best Types of Online Businesses to Start?
Your professional background and preferences will determine what you choose. Popular options include service-based online businesses, which are an evolution from side hustles and freelance work. Also, popular is a product-based business such as online shops. The two options that require the least capital are typically those for newbies and can be scaled effectively over time.