Today, developing an adult toy website is a thrilling venture, but navigating the cost to develop adult toy website can feel like uncharted territory. Wondering about the investment required to turn your adult toy shop website development vision into a user-friendly and enticing online platform? You're in the right place!
In this blog, we'll delve into everything about adult toy website development costs, exploring the factors influencing it and the key elements contributing to a seamless user experience.
So, whether you want to expand your online presence or planning to step into the adult toy industry, understanding the financial aspects of adult website development is crucial. Let's unlock insights to empower you to make informed decisions and bring your adult toy website development dreams to life!
An Overview of Adult Toy Industry
The adult toy industry also referred to as the sex toy industry, has experienced tremendous growth and transformation over the past few decades. Today, the adult industry is a rapidly growing sector encompassing a diverse range of products designed for sexual pleasure and intimacy.
From traditional adult toys like vibrators to innovative technologies, including app-controlled devices, the market has evolved to cater to a broad spectrum of preferences.
E-commerce platforms play a significant role in the industry's growth, providing convenient access to wide range of adult products. Hence, businesses also keep searching for the cost to develop an e-commerce website for similar business.
Despite occasional controversies, the adult toy industry continues to thrive, reflecting a changing cultural landscape. As a result, on demand adult toy website development evolved as a savior.
Current Market Statistics of Adult Industry
According to the research, the global adult entertainment market is a large and growing industry, with over $97 billion in 2022. This isn't it! There's a lot more, businesses should know before you launch your adult toy website.
1. User Demographics
The majority of adult website users are male, which is around 80%. The average age of an adult website user is 35. Therefore, businesses are planning to build an adult website like PornHub to raise more revenue while attracting users between the ages of 20 to 35 years.
2. Market Size
The global adult website market will be over $90 billion in 2023. It is expected to grow to $201 billion by 2032.
3. Mobile Usage
Mobile devices are increasingly being used to access adult websites. In 2023, over 60% of adult website traffic is estimated to come from mobile devices, which is clearly indicating the demand for interactive adult entertainment mobile app development in the coming time.
These are the latest market statistics for the adult website development market. By looking at the data mentioned above, it is clear that there is a huge demand for adult toy website development. Therefore, implementing the idea and knowing the cost to develop adult toy website is crucial to ensure success and growth in the coming time.

Key Factors Influencing the Cost to Develop Adult Toy Website
Are you planning to build an adult toy website and wondering, 'How much does web development cost?' If yes, then have a look at the following factors influencing the cost suggested by the adult website development company professionals. Still, you can consider an average cost to build adult toy website in between $8,000 to $25,000 and more, depending on the requirements. Here is a glimpse.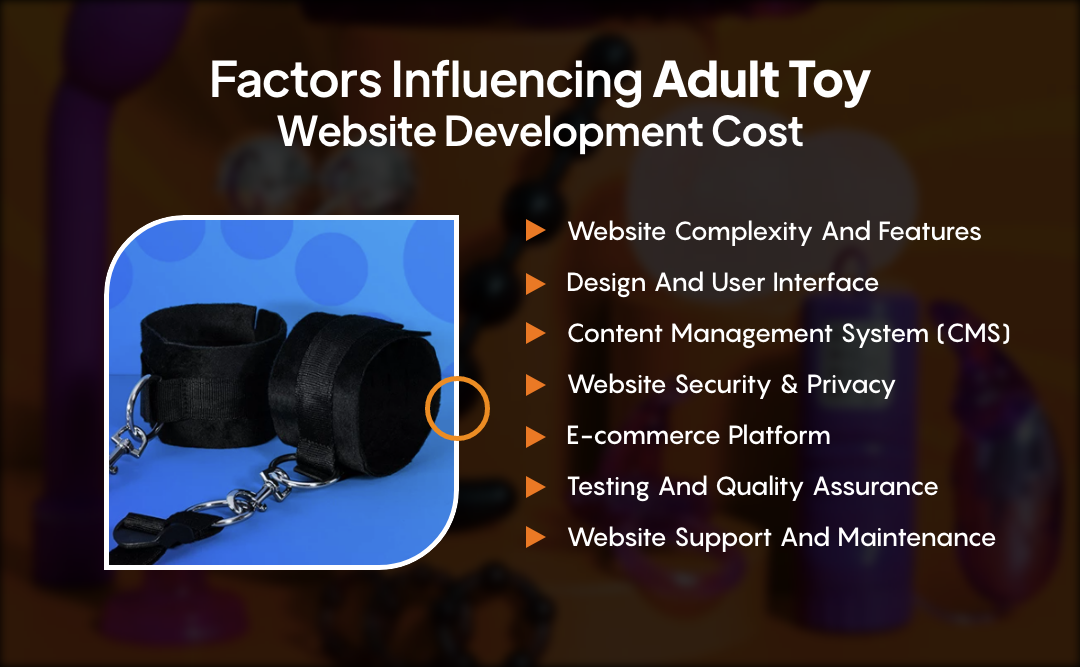 1. Website Complexity And Features
The features and complexity of the adult toy website will significantly impact the cost to develop adult toy website. Exclusive features like e-commerce functionality, product pages, search filters, and payment gateways contribute to the overall development effort and adult website development cost.
2. Design And User Interface
The design of the online adult toy shop, including the user interface and user experience, can affect the cost to make an e-commerce website. A well-designed and user-friendly interface may require more time and expertise, impacting the overall website development cost.
3. Content Management System (CMS)
The selection of a CMS or Content Management System can significantly impact the cost to develop the best adult apps or websites, especially if custom development is required. So, your choice of CMS platforms will greatly affect your project budget, so be careful while planning for your adult toy web development project.
4. Website Security & Privacy
Given the nature of the content, security and privacy features are crucial. Implementing secure payment gateways, SSL certificates, and other security measures may add to the overall adult toy website development cost. As you develop an adult website, focusing on website security and privacy matters the most.
5. E-commerce Platform
The choice of the e-commerce platform is another significant factor influencing the cost to develop adult toy website. Using an existing platform like Shopify or WooCommerce may be more cost-effective than developing a custom e-commerce solution. However, customization of these platforms to meet specific requirements can add to the cost.
6. Testing And Quality Assurance
As per website development company professionals, conducting thorough testing to ensure the functionality, security, and performance of the adult toy website is essential. Besides development, testing and quality assurance efforts contribute to the overall cost to develop adult toy website.
7. Website Support And Maintenance
Finally comes the last cost-affecting factor, which is often overlooked by businesses, i.e., website support and maintenance. Although it is not a mandatory part of the adult toy website development process, it could benefit greatly if considered timely. So, whenever you hire web developers to build an adult toy website, ask them about maintenance charges.
There you have it! So, these are some of the crucial factors impacting the cost to develop adult toy websites, as explained by the web portal development company professionals. Now that you are well-versed with every factor influencing the budget, it is high time to make a plan accordingly.
Best Ways to Generate Profit from Your Adult Toy Website
Building a profitable adult toy website involves strategic planning, marketing, and customer satisfaction. Here are some tips suggested by ecommerce web development company experts to help you balance the cost to develop adult toy website while generating more revenue and profit.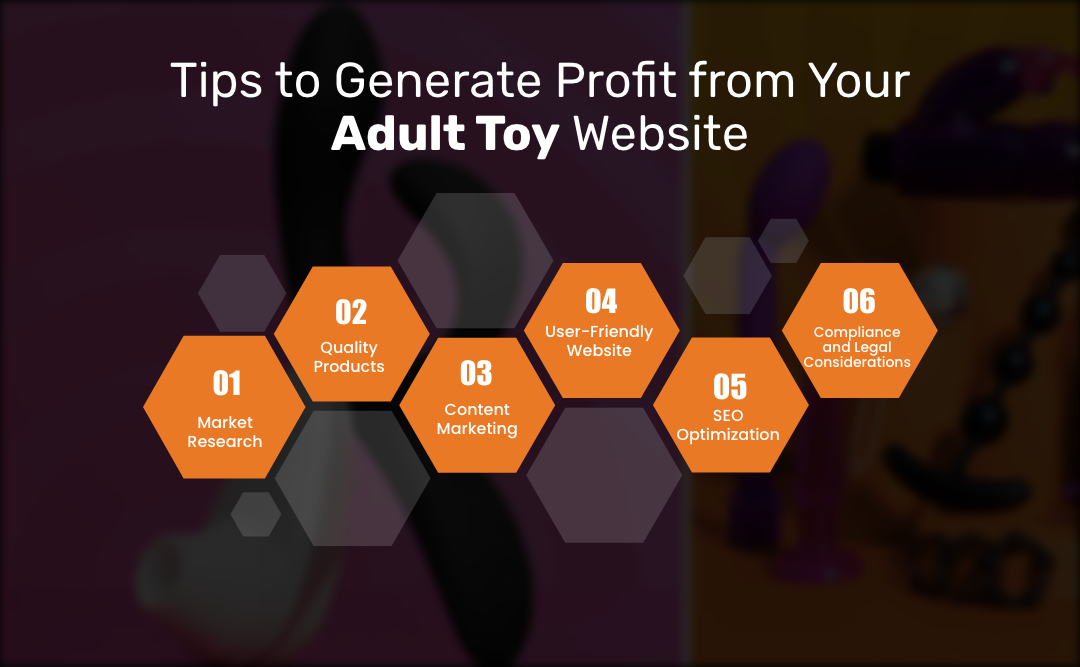 1. Market Research
Understand your target audience and identify preferences, needs, and shopping behaviors. Analyze your top competitors in the adult industry to find gaps in the market or opportunities for differentiation. The more market research you conduct, the better adult website you can develop, so spend enough time on research.
2. Quality Products
Offer a diverse range of high-quality adult toys to cater to different tastes and preferences. Providing quality products will increase the sales of your adult toy website and help you balance web development costs. Consider providing detailed product descriptions and reviews to build trust with your customers.
3. Content Marketing
Create engaging and informative content related to sexual wellness, product guides, and reviews. For more user engagement, you can utilize a blog or video content to attract and educate your audience. Creating an informative adult toy website will help the users gain more information before buying a product.
4. User-Friendly Website
Ensure your adult website is easy to navigate and visually appealing. Implement a secure and discreet payment system to enhance customer confidence. As per the web development company professionals, if your adult toy website is user-friendly, you can generate more traffic and profit simultaneously.
5. SEO Optimization
Optimize your website for search engines to increase visibility and attract organic traffic. Use relevant keywords, Meta tags, and descriptions for your product pages. Once you launch your adult toy website, optimize it for SEO to ensure better ranking on the search engine. If you aren't well-versed with the technicalities, feel free to connect with the adult toys website development professionals.
6. Compliance and Legal Considerations
Ensure your website complies with all the relevant laws and regulations regarding adult content and e-commerce. Implement age verification measures to restrict access to minors.
Adhering to legal considerations and compliance is essential during adult website development as it will also save the cost to develop adult toy website. Adhering to this tip will protect you from any legal penalties in the future while keeping your business website safe and secure.

What is the Accurate Cost to Develop Adult Toy Website?
A basic cost to develop adult toy website with simple features and functionalities costs somewhere around $8,000 to $25,000. The cost will fluctuate depending on the adult toy website type developed. Still, here is a tabular overview of 'How much does it cost to develop adult toy website?'
| | | |
| --- | --- | --- |
| Component | Description | Estimated Cost |
| Domain and Hosting | Purchase a domain name and secure hosting services | $10 – $50/yr |
| Website Design and Development | Adult toy website custom design and development | $3,000 – $6,000 |
| E-commerce Functionality | Implementing secure payment gateways, shopping cart, etc. | $2,000 – $4,000 |
| Content Management System | Integration of a CMS for easy content updates | $1,000 – $5,000 |
| User Accounts and Authentication | User registration, login, and account management | $1,500 – $4,000 |
| Mobile Responsiveness | Ensuring the website is optimized for mobile devices | $1,000 – $3,000 |
| SSL Certificate | Securing the website with an SSL certificate | $50 – $100/yr |
| Legal Compliance | Addressing legal requirements related to adult content | $500 – $2,000 |
| SEO Optimization | Enhancing the website for search engine visibility | $1,000 – $5,000 |
| Testing and Quality Assurance | Thorough testing of the website for functionality | $1,000 – $3,000 |
| Launch and Deployment | Deploying the website to a live server | $500 – $2,000 |
| Project Management | Coordination, communication, and project management | $1,000 – $5,000 |
Final Thoughts!
Developing an adult toy website is undoubtedly a huge financial investment; therefore, every business owner must know the cost to develop adult toy website. Analyzing all the cost-affecting factors and the profit-driven tips can help you balance the adult website development cost.
After reading this blog, we hope you will have a clear idea of the budget required for adult website development. Now it is high time to build adult toys website while considering all the factors and tips mentioned here.
Dev Technosys, a leading adult website development company, can be your one-stop destination for online adult toy store development. Feel free to share your requirements for on-demand adult toy website development, and let us offer you the best assistance within a reasonable cost to develop adult toy website. Let's connect!