"E-commerce has disrupted traditional retail, offering unparalleled convenience and accessibility. It's a testament to the power of innovation and adaptation." – Jeff Bezos.
In the fast-paced world of e-commerce, creating a thriving online marketplace has become a coveted endeavor. If you've ever marveled at the success of platforms like Mercado Libre and dreamed of building your own, you're not alone. The journey to build an app like Mercado Libre is an exciting venture marked by innovation, user-centric design, and strategic planning.
According to Statista, 10.5 billion dollars were made by MercadoLibre, Inc. in 2022. That is an almost 50% increase over the $7 billion sales recorded last year. These numbers must motivate entrepreneurs to enter the e-commerce market to boost their revenue share.
From conceptualization to deployment, we'll unravel the intricate layers to develop an app like Mercado Libre that echoes the user-friendly interface and dynamic features.
So, let's begin.
What is a Mercado Libre App?
Mercado Libre, a Latin American e-commerce platform, was founded in 1999. It is the biggest online marketplace in Latin America, with operations in 18 different countries. The Mercado Libre mobile app is the official app of the platform. It allows users to browse various products, such as electronics, clothing, household goods, etc.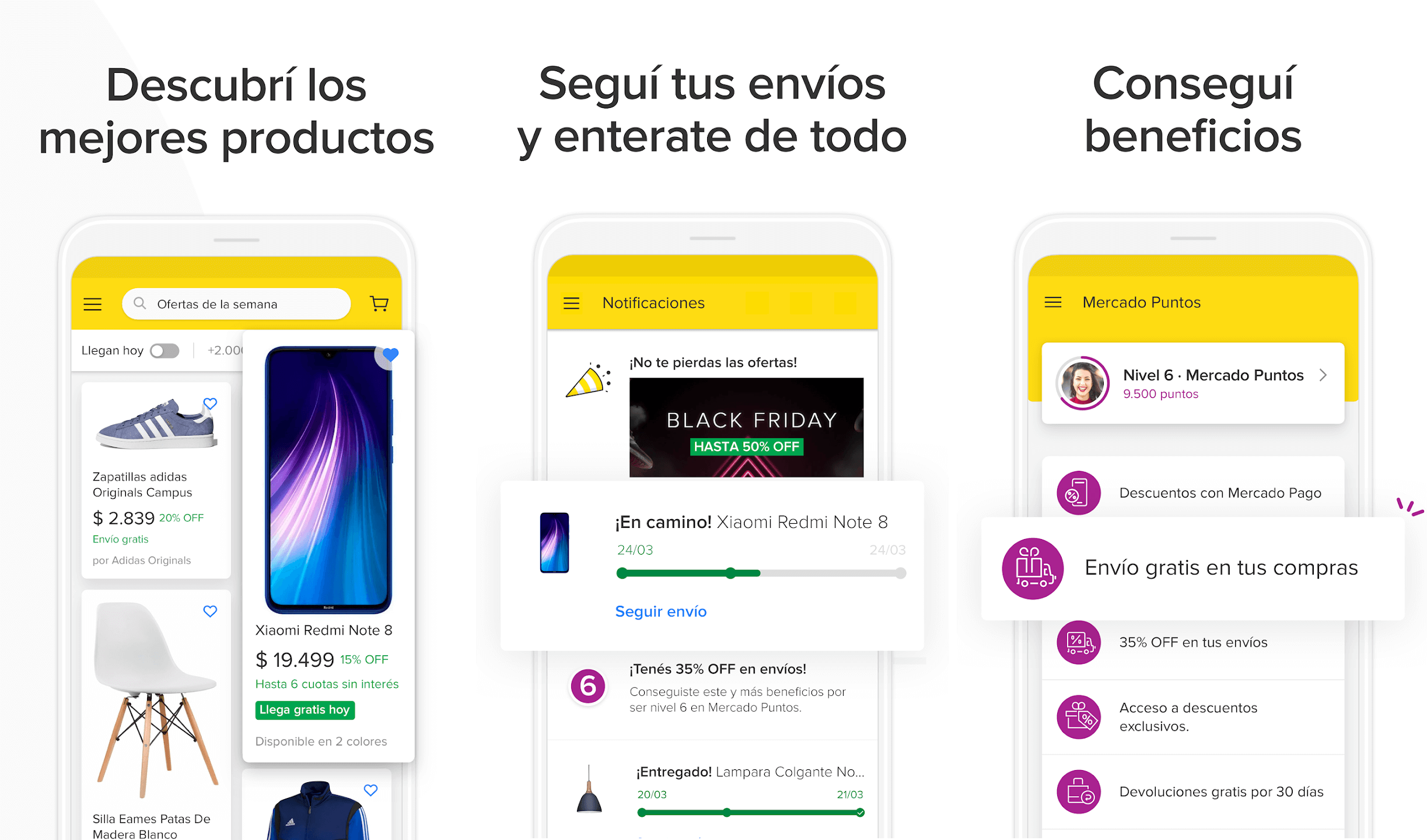 Users can also sell their products, track orders, and communicate with each other using the app. However, if you want to determine the cost to build an app like Mercado Libre, you should consult an on-demand app development company.
Current Market Statistics of Mercado Libre App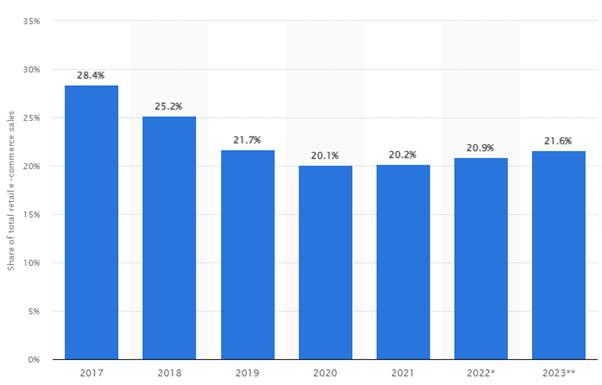 Mercado Libre, the largest ecommerce platform in Latin America with a valuation of $72,93 billion by November 2023, is the most popular e-commerce site.
In 2022, MercadoLibre, Inc. produced a net income of 10,5 billion U.S. Dollars, which is almost equal to the combined revenue of 2020 and 2021.
After the pandemic in 2010, the number of unique users on the marketplace grew dramatically, and reached 148 million by 2021. This is almost half of Latin America's e-commerce users.
Brazil is still the largest source of revenue for the company but its share in 2019 has decreased.
Mercado Libre, a Brazilian company that specializes in online shopping, has invested 17 billion Brazilian Reals (about 3.4 billion U.S. Dollars) to improve its logistics in Brazil. It also plans to invest 1.6 billion dollars in the Mexican market before 2023.
By 2023, it was predicted that the gross merchandise volume generated by MercadoLibre, Inc., Inc. would account for over a quarter (21,6 percent) of all ecommerce sales in Latin America.
In 2022, MercadoLibre, Inc. had approximately 148 million unique active users. This is a 5.7 percent increase over the 140 million unique users reported one year ago.
How to Build an App Like Mercado Libre? 
Building an app like Mercado Libre, a successful e-commerce and marketplace platform, requires careful planning, strategic decision-making, and proficient development skills. Below is a step-by-step Android app development process to help you navigate the key steps to build an app like Mercado Libre.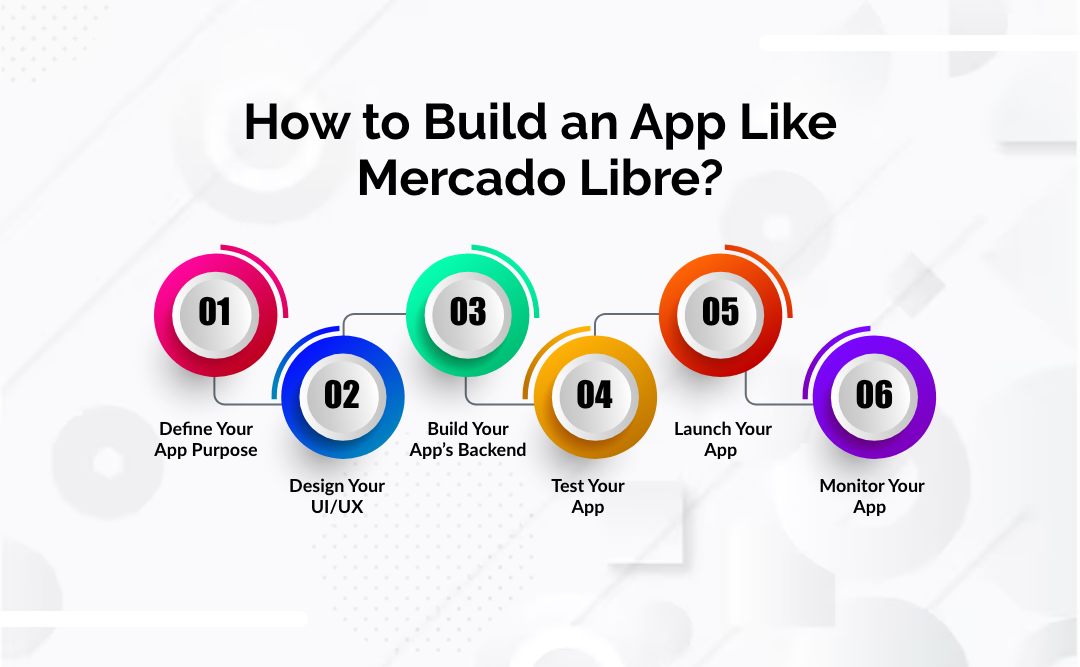 Step 1: Define Your App Purpose
It's crucial to know the purpose of your Mercado Libre app development and who it is intended for before you begin building it. What issue are you attempting to assist users with? Who do you want to reach with this? After that, you may decide on the features and functioning of the app with knowledge.
Your goal with an e-commerce app such as Mercado Libre is to create a platform where buyers and sellers can connect and transact. You want to reach anyone interested in buying or selling products online.
Step 2: Design Your UI/UX
The app should have an easy-to-use interface to build an app like Mercado Libre. It should be simple and quick for users to find what they want. Ensure your app's visual attractiveness and brand representation are both strong points. Users should be able to complete tasks quickly, efficiently, and without frustration. Your app should be responsive and work well on all devices.
Step 3: Build Your App's Backend
Your app's backend manages and stores data, processes transactions, and provides user services. With the help of dedicated developers, you should choose a scalable and reliable backend for your application. Your backend for an e-commerce app should include the following:
A database for storing product details.
A payment gateway to process transactions.
A management system for user data.
Your backend should be secure and able to handle large volumes of traffic.
Step 4: Test Your App
It's crucial to thoroughly test your app before launching it. You can then fix any bugs before your app is launched. Beta testers can also provide feedback to ensure your app meets users' requirements.
You should test the search function, product listings, and shopping cart of your e-commerce application. You should also ensure your app works on all devices and operating systems.
Step 5: Launch Your App
Launching your app to the public can now build an app like Mercado Libre. This can be done by either submitting your application to the app store or publishing it on your website.
You should launch a marketing campaign for your e-commerce application to attract users and promote it. Make sure you have a team of customer service representatives to help answer questions from users and solve any problems.
Step 6: Monitor Your App
It's crucial to track your app's performance after it has been launched and make any necessary improvements. Analytics tools can be used to monitor user engagement and identify improvement areas.
You should also listen to users' feedback and make any necessary changes. Also, you should track your app's conversion rates, sales, and customer satisfaction. Follow the behavior of users and find out if they are having any trouble or getting lost.
Key Features to Build an App Like Mercado Libre
You should choose the features you want to include in your marketplace application. It will determine its future scope. If you want to build an app like Mercado Libre that is successful, like Mercado Libre, then include these features with the assistance of an online shopping app development company.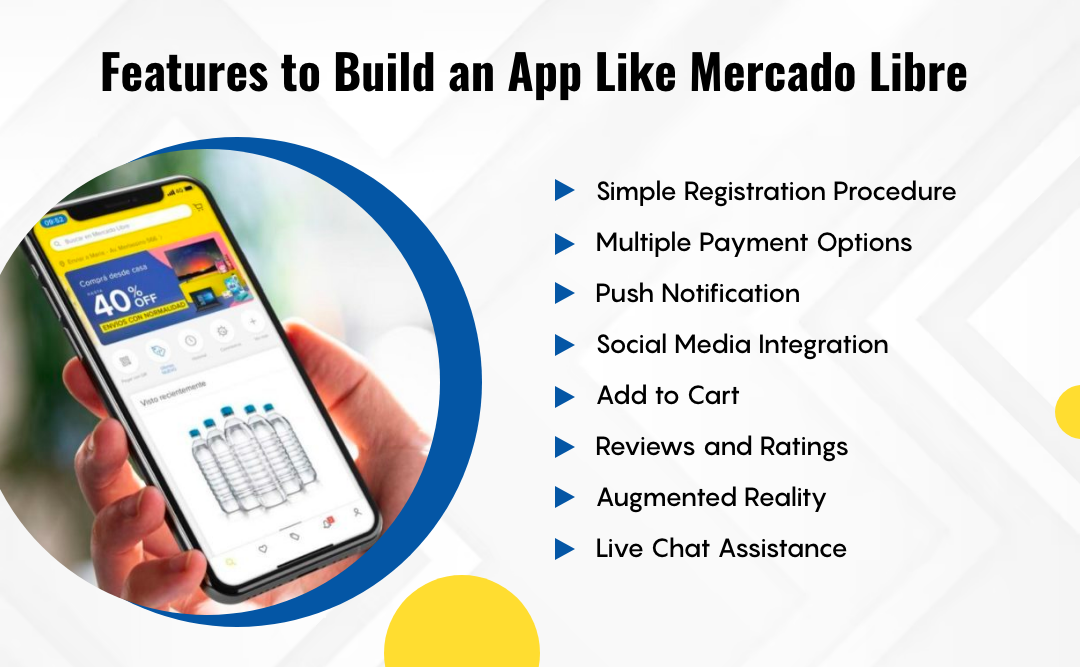 1. Simple Registration Procedure
Not all marketplace apps are adept at creating registration pages, even though it may seem simple. Social media integration makes it easy to register your app without requiring users to enter a lot of information. Signing up for an app is as simple as clicking a few times on Facebook, Twitter, or other social media sites.
2. Multiple Payment Options
There are different payment options available for other customers. It may be tempting to restrict your customers' options for payment to only debit or credit cards. However, it is essential to integrate different payment gateways in your app so that your users feel more free to choose.
3. Push Notification
Your iOS app development company may have told you that push notifications are the only way to keep users engaged in your application. The power to remind users what they're missing, when used strategically and with the proper push notification techniques, can determine the success of your app. Therefore, investing in a push notification system is essential to prevent users from uninstalling the app.
4. Social Media Integration
Social media and marketplace apps have coexisted for a long time. Social media integration is not just about a one-tap login but also about integrating social media into all your marketing processes. Customers can share referral coupons and discounts and promote their purchases with their networks, spreading it across a more comprehensive network and, ultimately, the entire social media realm.

5. Add to Cart
Customers often hesitate to purchase a product immediately and instead prefer to save the item for future purchases. In this situation, customers prefer to add the product to their cart, which allows for future purchases.
6. Reviews and Ratings
Even if you're starting, ratings and reviews are essential when developing a Mercado Libre app. This feature increases customer trust and helps them make informed decisions. It also gives you direct insight into any issues that need to be addressed.
7. Augmented Reality
The augmented reality feature will allow customers to test products before they make a purchasing decision virtually. AR allows buyers to see and test out their final product numbers. The customer experience is improved, and customer retention rates increase. Find out how augmented realities are transforming the retail sector.
8. Live Chat Assistance
This feature allows users to easily communicate with the customer service team in case of an issue. Live chat is essential for first-time users with problems with online payment or processing orders.
Most Popular Ecommerce Apps Like Mercado Libre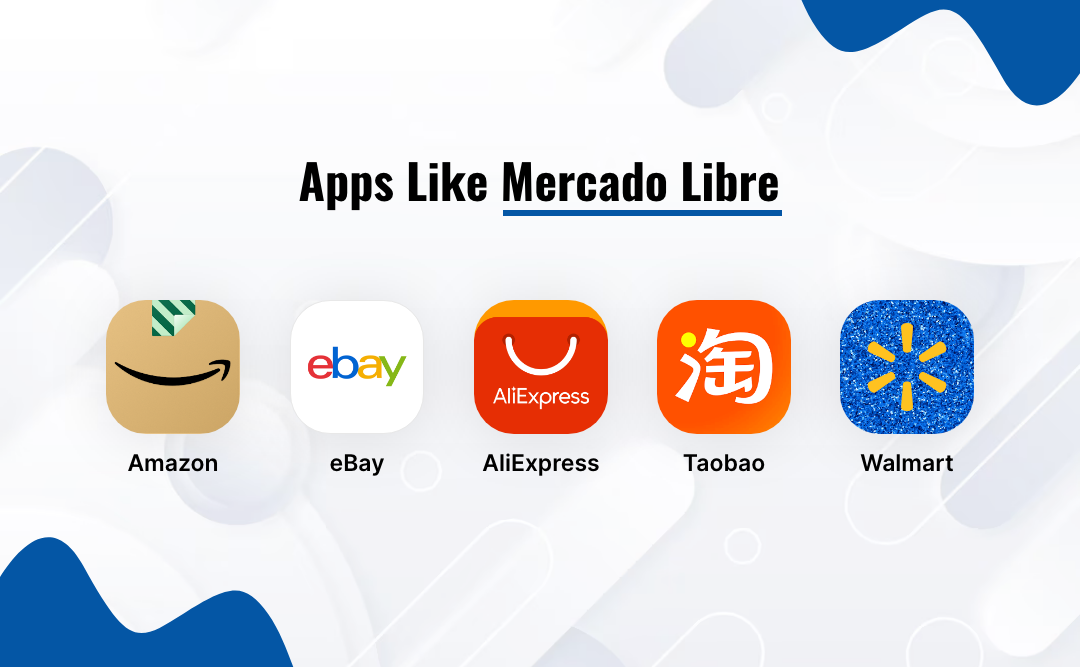 1. Amazon
Amazon is the world's largest online retailer, and its app is among the most popular. Amazon offers a wide range of products at competitive prices and fast shipping. Amazon's app has many features to make shopping on the move easy, including voice search, one-click ordering, and product reviews.
2. eBay
eBay is an online marketplace and auction site where you can sell and buy various items. You can browse, search, and bid on items using the app. You can also purchase items for a set price or at auction. eBay has many features to make online shopping safe, including buyer protection and seller rating. So, to build an app like Mercado Libre, you must hire an e-commerce app development company.
3. AliExpress
AliExpress, a Chinese online shopping platform owned by Alibaba Group, is an e-commerce site in China. AliExpress is one of the biggest online marketplaces, offering various products for competitive prices. AliExpress can be a good place to buy unique or hard-to-find products, but shipping from China may take a long time.
4. Taobao
Alibaba Group owns Taobao, a Chinese online marketplace. It is one of the most popular shopping sites in China. The site offers a variety of products and services at affordable prices. Taobao's user-friendly interface is renowned, as are its many sellers.
5. Walmart
One of the world's biggest and most well-known grocery stores is Walmart. Sam Walton established Walmart in the United States in 1962. Since then, it has become a significant worldwide retailer offering various goods, such as food, clothing, gadgets, and more. The firm offers clients different purchasing possibilities through its broad internet platform and physical storefronts.
Cost to Build an App Like Mercado Libre
The cost to build an app like Mercado Libre can vary from $10,000 to $25,000, depending on the app's complexity. How complex an app is determined by the number of features, UI/UX, time spent writing the code, location of the developer, etc. The table below shows the cost to build an app like Mercado Libre based on its complexity.
| | | |
| --- | --- | --- |
| App Complexity | Time Duration | Cost Estimation |
| Simple App | 2-3 months |  $10000-$15000 |
| Medium App | 4-6 Months | $15000-$20000 |
| Complex App | 9 months | $25000 |
You can estimate your mobile app development cost using the following formula based on how complex the project is and the number of hours required to develop and deploy it.
Overall Mercado Libre app development cost = Total development hours X Hourly rate of developers.
Total development hours include everything from designing an app to writing and maintaining code. If you're interested in knowing the e-commerce app development cost, then consult an app development firm.
Conclusion
Creating an app like Mercado Libre involves meticulous planning, robust development, and strategic monetization. From market research to user experience design, each step is crucial. To turn this vision into reality, hiring a mobile app development company with expertise in e-commerce and marketplace solutions is essential.
Their skills and experience will be the cornerstone of a successful venture. By selecting the right team, you can navigate the complexities and build an App Like Mercado Libre that rivals industry leaders.
FAQ
1. How Long Does it Take to Build an App like Mercado Libre?
The time to build an app like Mercado Libre varies based on complexity and features. A basic version may take 2-4 months, while a fully-featured app could require 5-7 months more. Factors include team size, ecommerce app development speed, and the need for custom features.
2. What Are the Benefits of Creating an App like Mercado Libre?
Creating an app like Mercado Libre offers benefits such as expanding market reach, facilitating seamless online transactions, enhancing user convenience, fostering economic growth through e-commerce, and providing a platform for sellers and buyers to connect, boosting overall business opportunities in the digital marketplace.
3. What Are the Advanced Features to Build an App like Mercado Libre?
To build an app like Mercado Libre, focus on advanced features such as a user-friendly interface, secure payment gateways, real-time messaging, AI-powered recommendation engines, robust search algorithms, multi-language support, integrated logistics, and a scalable infrastructure to handle high traffic.
4. How to Monetize An App Like Mercado Libre?
To monetize an app like Mercado Libre, implement strategies such as transaction fees, premium subscriptions for enhanced features, sponsored listings, and advertising. Additionally, explore partnerships, affiliate marketing, and data monetization.