After the pandemic, on-demand applications and every mobile app development company have found the space that they were looking for for a long time. The year 2022 turned out bad for most of us but not for the people at companies like Dunzo. Yes, Dunzo, the package delivery application that scaled up and added the features to deliver almost everything except liquor. Read this blog to know more about how much does it cost to create an app like Dunzo.
They started out as a package delivery application but soon added grocery stores, medical stores, restaurants, and other outlets to their services. Today, the demand for these on-demand applications is increasing every day.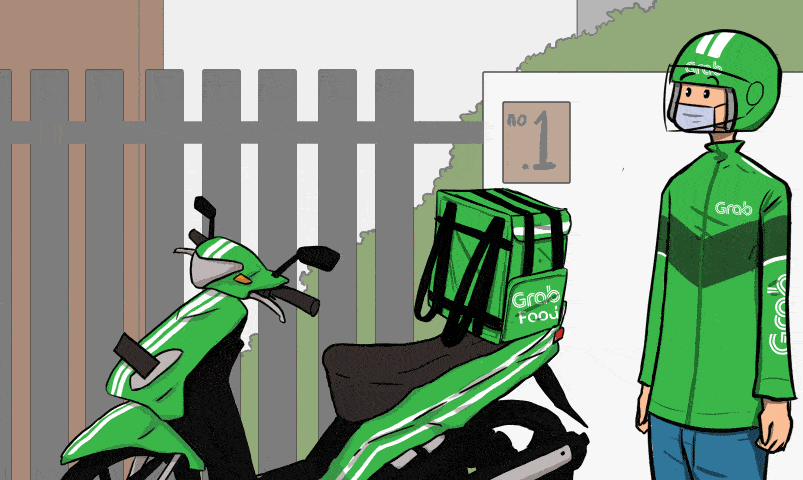 There are many things that people need to know before they start with their app that functions like Dunzo. Developing the application is not a hard task, it is to manage the expectations of the customers. There are many applications that were previously only into food delivery, but they are working app like Dunzo and are now delivering most things.
This has increased the competition and that has improved the quality. So, if you want to sustain in the market, you need to be quick and you need to provide just what the target audience wants.
What Dunzo Does?
Dunzo is basically a delivery application that now delivers mostly everything. This mobile app development firm started as an application that could take a package from a location and deliver it to another location at a nominal delivery fee. Households and offices used this to send things in between. The model was intended to save time and petrol money for people.
The application picked up its pace and started to get great reviews and word of mouth started spreading. Finally, the owners decided to scale up, and they began adding stores to the application.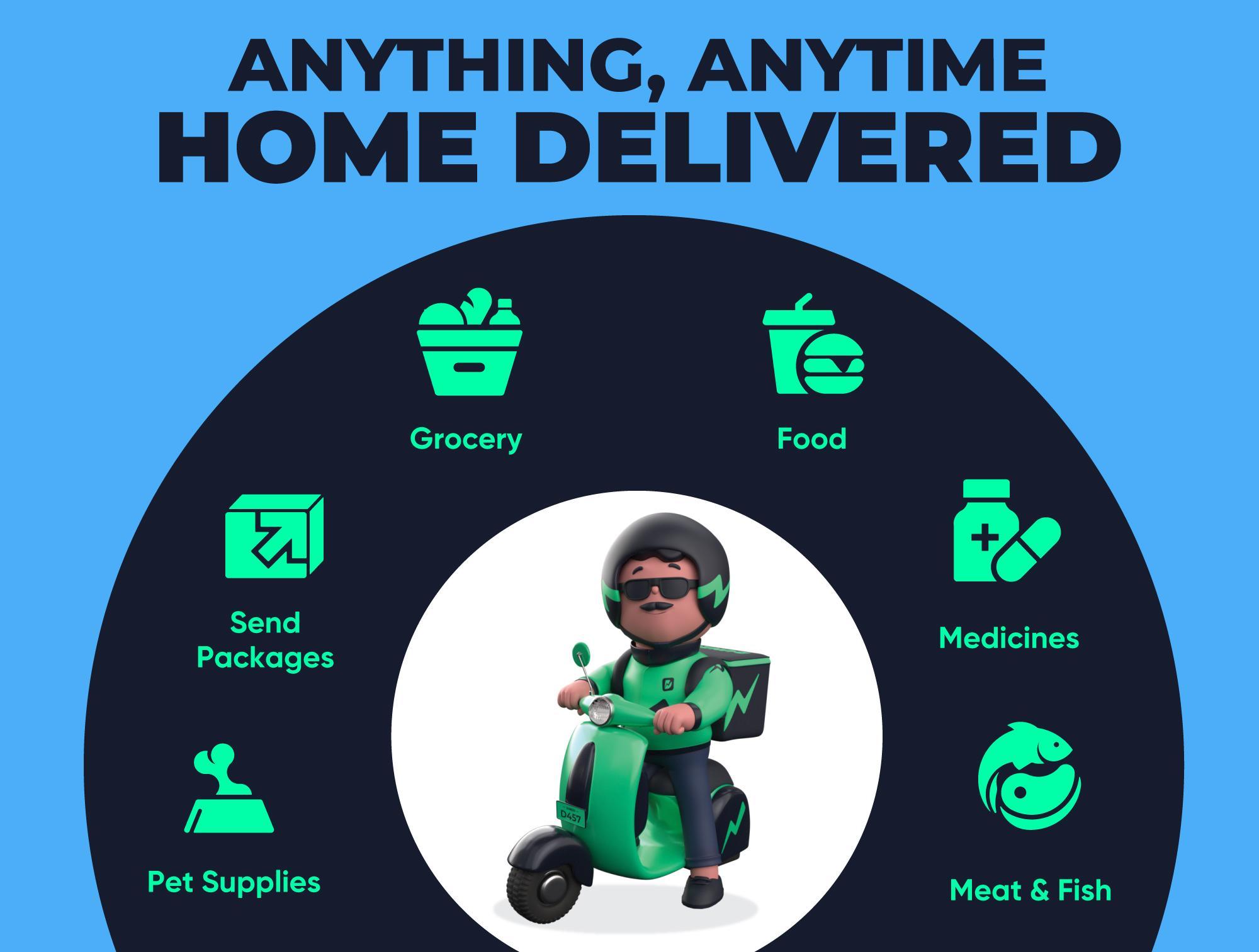 Now, just like Zomato, people could see their nearby grocery store on Dunzo and order things according to their needs. Other grocery delivery applications take 6-8 hours or even a day to deliver items, but Dunzo delivers them within minutes.
Things started getting even better for Dunzo when the lockdown began. People had to stay inside their houses, but they still needed things to live their lives; Dunzo helped in many ways. They also increased their business by a significant margin.

What Services Offered By Dunzo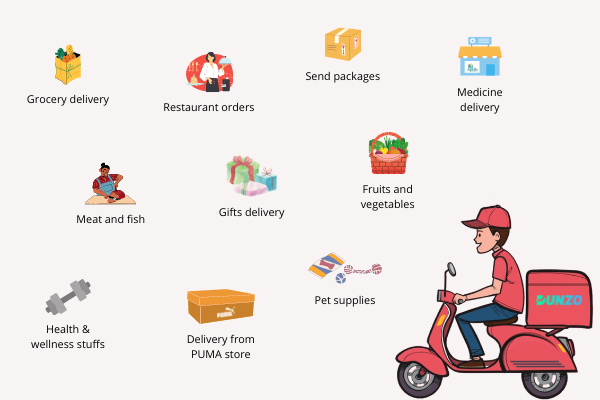 1. Restaurant Order
You can order food from your favorite restaurants in the city, and Dunzo will get the food to you in no time. They take all the precautions when they are delivering any kind of orders, including food. You can see a list of restaurants around you and choose from it.
Like on Zomato or Swiggy, you will see a list of food items available for ordering. Select your favorite dish, pay for the order and get it delivered to your doorstep. Dunzo also provides great offers when you are about to checkout. Food app developers in the USA are very optimistic about this kind of idea.
2. Order Grocery
There are times when you may run out of your kitchen or bathroom supplies, but you don't need to worry when Dunzo is there. Just open the application, find a store around you, look in their catalog and find the things you want to order. You get your favorite grocery supplies delivered to you in no time. This is the most popular service and is used daily by users.
3. Order Pharmacy Products And Medicines
In these times, people are scared of everything; even a small cold fills the whole household with fear. The things can't be stopped, and you will need some medicines and other pharmacy supplies to feel better. To fulfill your needs, you can search for a pharmacy app development company that is made for the same and choose what you want to order, and get it delivered to your home in the least possible time.
4. Send Package
This is what they started with. Yes, you can still send packages to your clients, colleagues, friends, family, or just to some acquaintances. This is the feature that made Dunzo what it is now. They have inspired so many other applications that are working on their model today.

5. Order Meat and Fish
Unlike other delivery applications, Dunzo gives you an option to order fish and meat. This is something that came as a delight to the non-vegetarian community. They make sure that they list the best meat stores from the city so that the quality of the meat and the customer satisfaction are not compromised.
6. Order Fruits and Vegetables
There are other applications where you can order fruits and vegetables, but you don't get their delivery before some hours or a day. Here, with Dunzo, you get them delivered within minutes. They make sure that they are only targeting the best vendors so that the quality is not deferred.
What Are The Special Features That You Need To Have In Your App Like Dunzo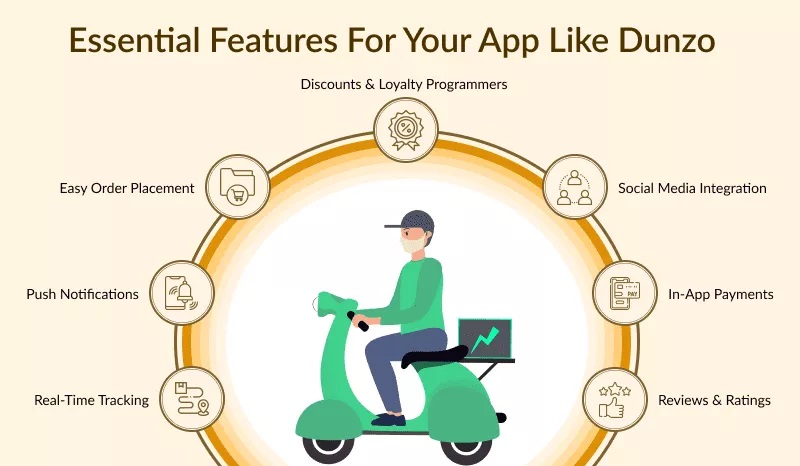 1. Push Notification
Dunzo sends excellent push notifications. They follow the trends, and they know what their customers like and dislike. They also make sure that even if the user is busy, they read the notification they sent. Dunzo uses Bollywood puns, everyday phrases, and much more and relates them to their services in a very entertaining manner. Especially app developers in the USA make sure that they maintain a decent frequency of their notifications due to the prominent use of this feature.
2. Discounts, Cashbacks, Loyalty/Referal
Dunzo provides great cashback deals for both new and existing users. They also refer to cashback, where if the user shares their code and asks one of their friends to download and use the app, they give credits to both the users. This credit can be used as a discount on all types of orders. This is something that most applications in the same category have not done as effectively.
Medicine Delivery App Development Cost and Features
3. Real-Time Tracking Of Orders Through GPS
You can check where the delivery partner is and the current status of the order in real-time. The rider can be tracked with the GPS-enabled map and custom iPhone application development. This helps Dunzo to maintain transparency between the delivery partner and the customers.
4. Simple Online Payment Methods
Dunzo has added a lot of payment methods into their application. They have always provided more and more latest payment options so that the users don't have to cancel their transactions because they couldn't find a suitable payment option.
5. Social Media Integration
Social media integration is vital for every IT development company if you want to promote the application organically. When the users share the product with their friends over other social media, they would refer them to the application.
This will increase downloads, registrations and if they like it, they will also make a transaction on the app. These things favor the application, and the company and Dunzo have understood it really well.
6. Reviews And Ratings
When a user buys something from Dunzo, they get an option to rate the delivery service as well as the store from where they buy. This helps other users and top app development companies in USA to choose wisely.
Features like these make the customer feel like they can share what they feel about the services, which makes them feel that they are contributing and improving some things for themselves and their fellows. Ratings also increase the trustworthiness of a store, and hence they also get benefitted because of the same.

7. Easy To Order Interface
The best part of the Dunzo application is the interface. It is so minimalistic and cool. Users can order something they really want in under 2 minutes if they have a decent phone and a good internet connection. The application is light and doesn't take too much time to load, and the navigation menu is simple as well. All this makes the users come back to the application a lot.
Steps You Need To Follow If You Want To Develop An App Like Dunzo
1. Gather All The Requirements
Firstly, it is important to gather the requirements for progressive web app development. You need to understand what you want in your app and how you want it to behave. The proper development can only start when there is a written plan, and that cannot be made without gathering all the requirements.
2. Find The Target Audience
Once you have gathered the requirement, do in-depth research about who can be your target audience. A mobile app development company in USA should focus on the needs and requirements of people of that region first. When you know the people you have to cater to, you can refine your requirements and make a proper prototype. The features and functionality have to be decided once your target audience is decided.
3. Create A Prototype
When you have the requirements and target audience with you, you can easily develop a prototype for the application. Once the prototype is developed, you just need to follow the plan and make sure that you keep on analyzing things. The prototype is just the first draft of the application and after that, you need to do things that are in favor of the application.
4. Remove Features That Are Not Essential
You need to remove all the features that are not essential for the application. This is something that will make the application light and also to the point. Most applications fail because they have so many extra features in them that the users feel distracted.
5. Start With The Design
After you have decided on the features and have the prototype, it is time to hire dedicated developers to work with the UI/UX.
6. Find A Developer Or A Development Company
When you have reached this stage, you finally need to involve a developer or a development company to start the actual development of the application. The backend of the application is important, and hence it should be developed by experts.
7. Deploy The Application
Once the application is developed, tested and fixed, it is time to release it for the end-users. There are many stores where it can be deployed, and it can also be released over the official website so that people can download it.
8. Keep Updating The App
The job of any android app development company is not done once you deploy it. It is just the start, and you need to keep updating the application with new features or improving the already existing features. This is something that will help you retain customers on the application.
An application that doesn't change will not be able to hold on to the users for too long. The competition in the market is too much, and to sustain in that environment, your application will have to adapt to the changes that people expect.

How Much Does It Cost To Develop App Like Dunzo?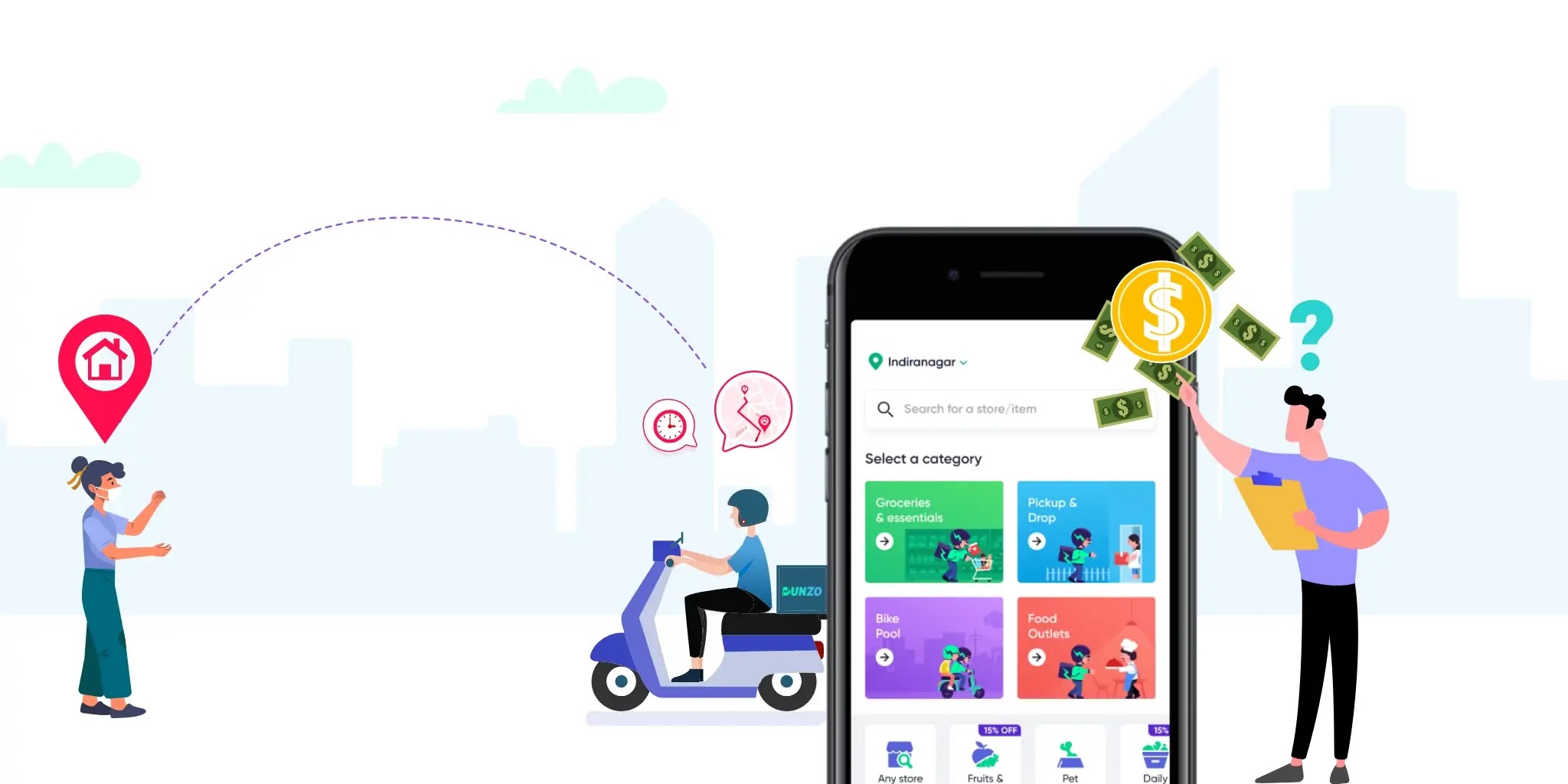 An application like Dunzo can cost anywhere between $25,000 – $50,000. The final cost depends on various factors and the scope of your project.
You Can Find The Final Cost Of The App By Evaluating These Factors
If you look at all the factors mentioned below, you will understand how the final cost of the development is calculated. These are mandatory costs, there can be more factors, and the cost can go much higher.
App Platform
Design
Content
Launch Screen Of The App
Developers Cost
Advanced Features
Conclusion
PWA development like Dunzo can be a great option, but it needs a lot of work and effort in the development phase and even after that. The application needs to be developed after deep research and analysis of the market. If you want to create the same effect as Dunzo, you will need a team that can stay on its feet at all times. Creativity is one of the things that you shouldn't miss as well.