The development of mobile applications has risen to prominence due to the growing number of annual installs of applications. But just a brilliant idea is not enough to reach a large audience.
Such ideas come to life through creation. And what are you going to do if you don't have a squad of mobile app development company on your back?
In the year 2019, app downloads from the App Store and Play Store were over 175 billion, and at this level, it has become fundamental for a corporation to have a mobile app. In reality, it's become as apparent as eating or even breathing.
According to a survey, mobile network traffic breached desktop traffic worldwide in 2016 alone, although various studies argue that mobile users currently account for 65 percent of the overall time spent on digital media. Another study has shown that 90% of this time is currently spent utilizing mobile apps.
Mobile Applications – The New Digital Era
According to recent estimates, the number of cell phone users is estimated to hit 5.10 billion by 2020. According to Statista, mobile apps will generate almost $581.9 billion in revenue by 2020 through app store purchases and in-app advertisements.
And in the wake of COVID-19 the cell phone users surpassed the estimate. As many advertisers say, mobile is already dominating the desktop, and its reach is spreading like wildfire across the globe.
If 5 billion is not persuasive enough for you, it is likely to hit. It's no wonder that developers are keen to find a mobile app development company in the world.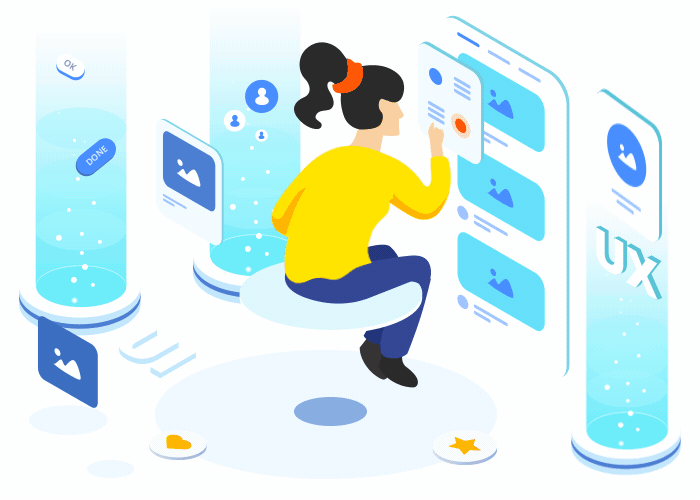 While most recognize the implications of mobile apps to their business, they don't want to gamble their cash and effort on something they're not sure is needed. It is, therefore, a no-brainer to infer what this means to do business through mobile; mobile is the new King of Commerce.
As the above figures show, the mobile Internet allows companies to be more competitive and productive. So, let's find out how to find a competent technology partner to build your app.
Where Do Mobile Application Development Companies Fit In This?
Today, many CEOs like to build apps to boost their sales. However, a stable app must fulfill user needs and specifications. App creation is not just about creating and uploading an app to the store.
A businessman has an idea of the type of application and the basic features he requires in it. However, incorporating the same in the way expected and practically, and attractively is a challenge for the app developer to take care of.
There are over a million mobile application developers across the globe, and choosing the best one out of them is the least likely job. Your mobile application development solution company will take you to the next level and you are looking forward to the rewards that a fully developed mobile application can deliver.
So, when you recruit a mobile application development company the process becomes much easier and enlightening. In reality, any business owner should consider several key factors before hiring mobile app development companies.
Not as simple as it sounds, the idea of recruiting the best mobile app developer may sound exciting, but it is no less than a daunting prospect and may annoy the business entrepreneur if they are not comfortable with the procedure associated.
Factors Considered While Hiring a Mobile Application Development Company
It takes a lot of studies to get a better experience for your company only when the result will meet your standards. Also, mobile apps have become a preservation unit for any online company.
It's the perfect way of reaching out to your target market and still achieving your value maximization and income generation goals. When looking for the right app development company for your project, several factors will help you make informed decisions. Begin by taking into account the following factors:
1. Clear Vision and Idea
You need to have a good idea about the results you can get from the app, most of the features and enhancements required, the level of contact with other applications, and how well the app needs to be incorporated with the business plan.
An outstanding mobile device team will be able to get your ideas. They're going to join you in the steps to create a suitable app for you. They will make the performance you can get from the app based on prior knowledge and imagination. Hire dedicated developers who have a clear vision and experience.
2. Customer feedback and experience
While there are several mobile app development companies in place, not all of them are trusted and genuine. It's a difficult choice to find the business you're searching for.
You can check the credibility of the current businesses for this. You may well conduct an online investigation for some time. Collect company information through published reviews on the production of software, the categories offered years of experience in the industry, where possible, details on clients and portfolios of services, the various range of facilities they offer, etc. This will help you get a great idea from the organization before you pick the right one.
3. Portfolio
We would like to remind you that we're talking about companies, and the profile here shows the job profile. Bear in mind that an accomplished mobile app developer would have commendable UI/UX capabilities.
He will still be ready to share his previously completed mobile applications. Once you have a list and a store on which they are eligible, you can easily judge whether or not they meet your requirements.
4. Know which platform the company develops an application for
Some mobile app companies only create software Applications for one operating system: Android or iOS. Other companies are offering both.
Make sure you talk to the company about their ability to work with these operating systems. Review to see if the team has any credentials or accreditation. You want to know that they follow the best coding procedures.
5. Ownership of codes
Your application development partner should be proficient at it no matter which framework you may choose to develop your app. The organization should be skilled in delivering the right product, whether it is an iOS or Android app development.
As they are going to get paid for this development, they should recognize that the code belongs to the customer. Ask the company to sign a licensing agreement stating that you are the sole owner of the mobile app, including source code, design, and all other curation, to ensure property rights of the mobile app and its coding.
6. ROI
You must provide your customers with more than just a site to help you become different from the competition. Getting a mobile app allows you to achieve that.
Companies can now enjoy a higher ROI with a transformation from computer to smartphone, reaching customers via their smartphones.
For your target market, a good app development company must be able to outline a plan to commercialize your application and introduce it as the right destination. The company should focus positively on adaptability, brand visibility, and user experience.
7. Budget and Quality
Whether it is an iOS development company or an Android app development company, you must check for the quality of their services.
We are not going to say in the same way that everything that falls into a minimal price is poor quality-wise, but not everything claimed at a higher price is the finest, either.
Never let your decision-making be driven by price. There are occasions when your pockets can be shelled off by a low-budget application in the future and therefore become much more costly than the capital expenditure you could have made at the outset.
Hereby, it is better to take precautions instead of getting things cured after that. You simply need to go through their previous works, read all the T&C, as a safety measure.
8. Firm popularity
It is crucial to look at the size of the app development company you are looking to hire, such as the number of developers, designers, testers, UX/UI experts, QA experts working in the organization.
Also, look for the company's global reach, as it is crucial to opt for a reputable and known worldwide company. An app development company not only creates and designs an app but also helps monetize your application after it is developed. This is where their reach will help you market the application.
9. Focus on Design
An application is chiefly a marketing technique and "Presentation and presence are a must" is said for advertising. Remember, the developer of mobile applications must not be selected simply because of how good he is with coding.
But you also need to recognize that it is of equal significance to the way your app looks. Your consumers will be significantly influenced by what they have in front of their eyes; that's how you design your mobile app.
Also, you need to realize that the mobile app you plan to have is not just a perception of your company, but it also defines you in front of your prospective customers. This is one of the main factors to check before hiring your mobile application development company.
10. Application delivery time
Many businesses complain that their Development Company has not kept them updated on the headway of the development cycle of the mobile app.
In many cases, the final mobile app was not relevant to customers because of the communications gap between customers and their development company.

Regular discussions on the progress of app development also ensure that the final product is delivered timely. That is why companies and companies must ensure they follow the effective guidelines on delivery management services in their development companies.
11. Data security
In the process of hiring the best app developers, data protection is essential. You ought to make sure that they retain the confidentiality of your app, no matter how reputable the development company is.
Also, they should include a multi-layered protection system to protect your data from various smartphone threats, such as insecure data storage, verification of devices and users, malware schemes, insufficient cryptography, SMS-based attacks, etc.
By signing the NDA document between you and the developers, you can accomplish this by not leaking any information regarding your app.
12. Testing Final Product
Definitely, with lots of crash issues, bugs, and damaged functions, you don't need to commercialize your application. Tell your app development team about the testing techniques they will use and how they might beta test your app to ensure that it will win the heart of consumers when it is uploaded without a major error to the mobile platforms.
13. project complete time
Ask the project schedule-timeline for your group. Check the number of projects they are currently working on. Ask when your project can be delivered.
To work on your project, you must verify that some devoted sources are available. This is how you can make sure that the app development agency can respond successfully to any unpredictable obstacle.
14. Think Long Term
Since it's a long-term process, you need to ensure that you hire mobile app developers for a long time. The timeframe may vary from a few months to a few years.
The process of development involves different stages, and release is not the end of it. It needs to be there for us to improve the existing so that you can get multiple user feedback. It is critical to adopt a strong partnership with the development group to improve the completion of all these mechanisms.
15.Legal Aspects
The NDA is a legal contract and the fraud agency would not be willing to sign it. Therefore, if a company gives you stupid and illogical reasons for ignoring the NDA requirement, do not choose this. Instead, select an NDA app development company at the beginning of the partnership.
Conclusion
The development of an app involves a wealth of expertise and technical resources. Thus, even though you have a business idea, you might be worried about where to locate or hire dedicated developers.
You can be further confused by a call to select a local app marker, an offshore software development partner, or a freelancer. So, here's when this blog comes to your aid.
It will prove useful in working through the general practices and careful consideration needed to hire the best-dedicated developers for your next project work.