The introduction of on-demand services has redefined customer experience & made it convenient for businesses to increase visibility.
Among all, on-demand courier delivery app development is gaining immense popularity nowadays. This app has great potential to serve customers worldwide, including hospitality, healthcare, e-commerce, and other industries. Check this infographic to know more about on demand courier services.
In this modern age of online shopping, courier holds vital importance to deliver products to customers on demand. This revolution started with Uber and now spreading to multiple industries.
The popularity of on-demand courier service apps recently increased after the pandemic when everyone stayed at their home to avoid social gatherings.
The demand for such applications has been continuously increasing since that time, and the number is expected to rise in the coming time. There are many more benefits of having an on-demand courier delivery app.
Right from placing an order, tracking, delivering, writing reviews, and controlling the delivery options, a courier delivery app has effectively addressed all the major challenges both businesses and users face.
So, if you are also a business owner planning to develop a courier delivery service app, don't think twice and go ahead. The following is a quick rundown of what on-demand courier service is and how it works.
Infographic Representation of What is On demand Courier Services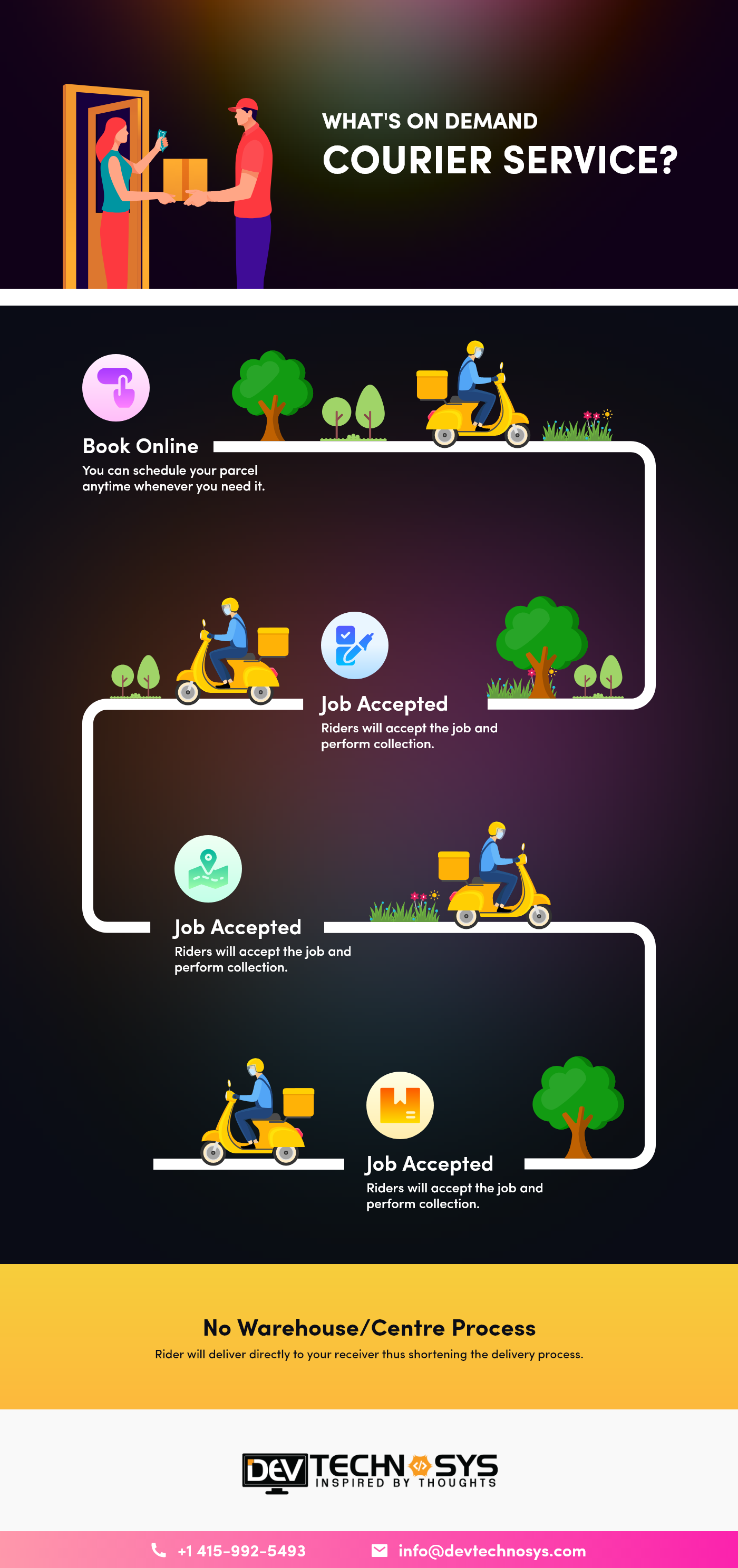 On-demand courier service app development has gained immense popularity especially, after the pandemic. Famous brands have seen a 20% increase in sales after bringing their business online and offering online delivery services. Overall, on-demand apps are becoming a huge trend.
So, if you too want to be a part of the competition, it is high time to get an amazing courier service app for your business. But, make sure to avail mobile app development assistance from a leading organization having a team of skilled developers and designers who can craft a unique app on demand adhering to your business needs.