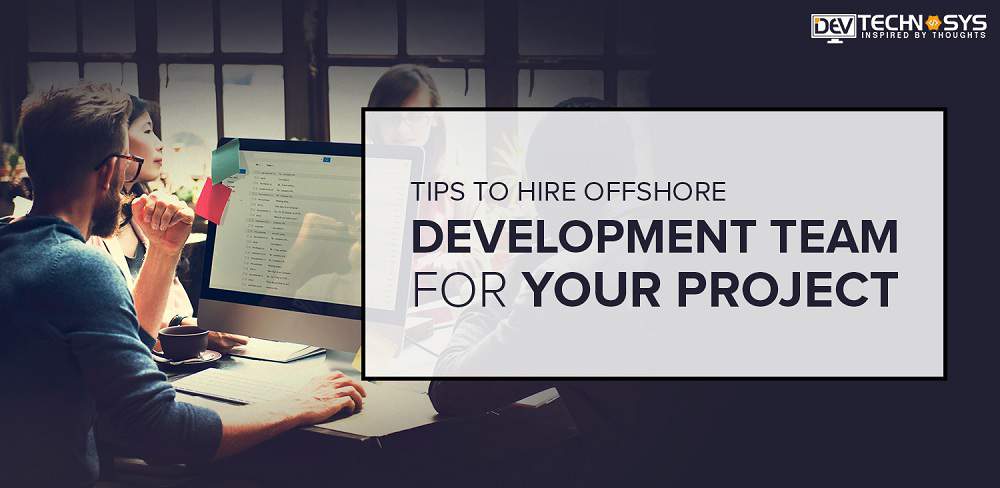 Software development can be quite tedious. Working with any offshore custom software development company has its own unique challenges. Here we will share various tips to hire offshore development for your team. This particular article with helping you in hiring the best team which can accentuate your project and also streamline the entire hiring process.
Key Things You Should Know Before Hiring Offshore Development Team for Your Project
1. Share the Product Vision With the Development Team
Most of the people often make the mistake of randomly assigning different tasks to offshore development team members. Never make this particular mistake of not providing them with the overall product vision. All of the developers in the offshore development team need to know what exactly the goal of your project is and where exactly it is going.
Paint them as the complete picture of your entire product vision such that they can easily make smart choices whenever they are working on your project. It is essential for them to know the importance of the project and also see the upcoming items that they need to do.
They wish to know that they have job security and where exactly the project will be going. Make sure that you share with them all the details regarding the release as well as sprint planning. Custom software services like to know about the product vision of their clients.
2. Communicate Effectively
Anytime you are actually working with any remote team, and it is quite easy for them to be essentially left in the dark regarding many things. Whenever you are roaming around in your office, it is easier to get the pulse of what is exactly going in the business. However, in the case of remote employees, the scenario is different.
If they see random GIFs or memes on Slack or any project management tool, they won't actually know what really is going on. Make it a vital point to over-communicate with your offshore team regarding what is actually going on with your business. You shouldn't just talk to them once in a week or once a day during various scrum meetings.
Make sure to engage with them in a comprehensive manner on a one-to-one basis to really ensure that they are actually getting their work done as well as helping out other team members. It is better to communicate effectively with the web development company to outline the various tasks that need to be accomplished.
Also Read: Tips to Cut Down Cost of Custom Software Development
3. Overlap all of Your Work Schedules
One of the major challenges with any offshore development team is essentially working on vastly varying time zones. Your company might be located in a one-time zone while the team can be in a different time zone. There can be essentially in the future or past from you.
However, most of the teams work late afternoon or evening shift, so it is better to either communicate with them in the morning or late in the night which corresponds to their working hours. It allows having a lot of time for daily meetings, Q&A as well as discussions.
You might also find that you only have to communicate with your team on their respective working team. After you have completed your daily task, you can spend some time with the offshore development team discussing with them and even checking in on them. You should do it on a daily basis.
The shifted hours can easily work as an advantage. While you are busy with all of your daily tasks in the afternoon, the offshore team will be on call support on the time when you are off to work. Offer extra money to your offshore development team members custom software development company in order to shift their work schedules according to your office hours.
4. Try to simplify the communication
Depending on the location of your company as well as the offshore team, odds are they might not be as fluent in your language as you are. The best thing to mitigate this is to simplify communication. You can do it by limiting your vocabulary, avoiding cultural references and metaphors that they won't understand. Try to remain on the obvious points. Be crystal clear with all of your directions. If you aren't fluent in the language, then get to the point and never assume anything.
5. Keep your team's work queue full
There will be multiple teams when your offshore team of web development company might get stuck and may require help from someone. The last thing that you wish to do is to have them actually get stuck and not accomplishing anything. There are countless various reasons which can get the developers stuck in the middle of their entire work. It is better to have multiple work items in your offshore development team's work queue so that if they get stuck when they have something else to work on. If they get stuck in one task, ensure that they have another priority task that they can easily work on in the meantime.
6. Avoid micromanagement them from afar
No developer likes to be micromanaged. Also, it is quite hard to scale the development team in case you can't empower them and actually trust them to do the work that is required to be done. It is vital that your team has a senior developer who can act as a team leader.
In case you are actually facing any problem in getting things done in a proper fashion, then consider that your offshore team is essentially lacking senior level leadership. Most of the companies often make a mistake by hiring cheap developers. It is better for both you as well as your offshore development team to ensure that the team can easily self-manage successfully. Have a right mix of project manager and senior developers.
Also Read: Know About the Top Software Development Trends Of 2018
Conclusion
Working with an offshore development team can be quite difficult. These above-mentioned things will help you in hiring an offshore development team that can accomplish the tasks on time, with greater efficiency and completes the project within the deadline.