Currently, more than 2,000 cryptocurrencies are available, and the process will not stop anytime soon. The introduction of blockchain technology and app like Coinbase has opened up amazing opportunities for all-scale businesses. Due to this, cryptocurrency exchange platforms are becoming popular these days as the entire digital currency culture has set the world on fire.
With the ever-growing demand for digital currency exchange platforms, more businesses are wondering – 'How to create a cryptocurrency exchange app like Coinbase?' Are you also looking forward to crypto wallet development? If yes, then we've got you covered! Here is a guide highlighting everything about cryptocurrency exchange development cost, features, tech stack, and more. So, let's start digging everything one by one.
What Is Cryptocurrency Exchange App Like Coinbase?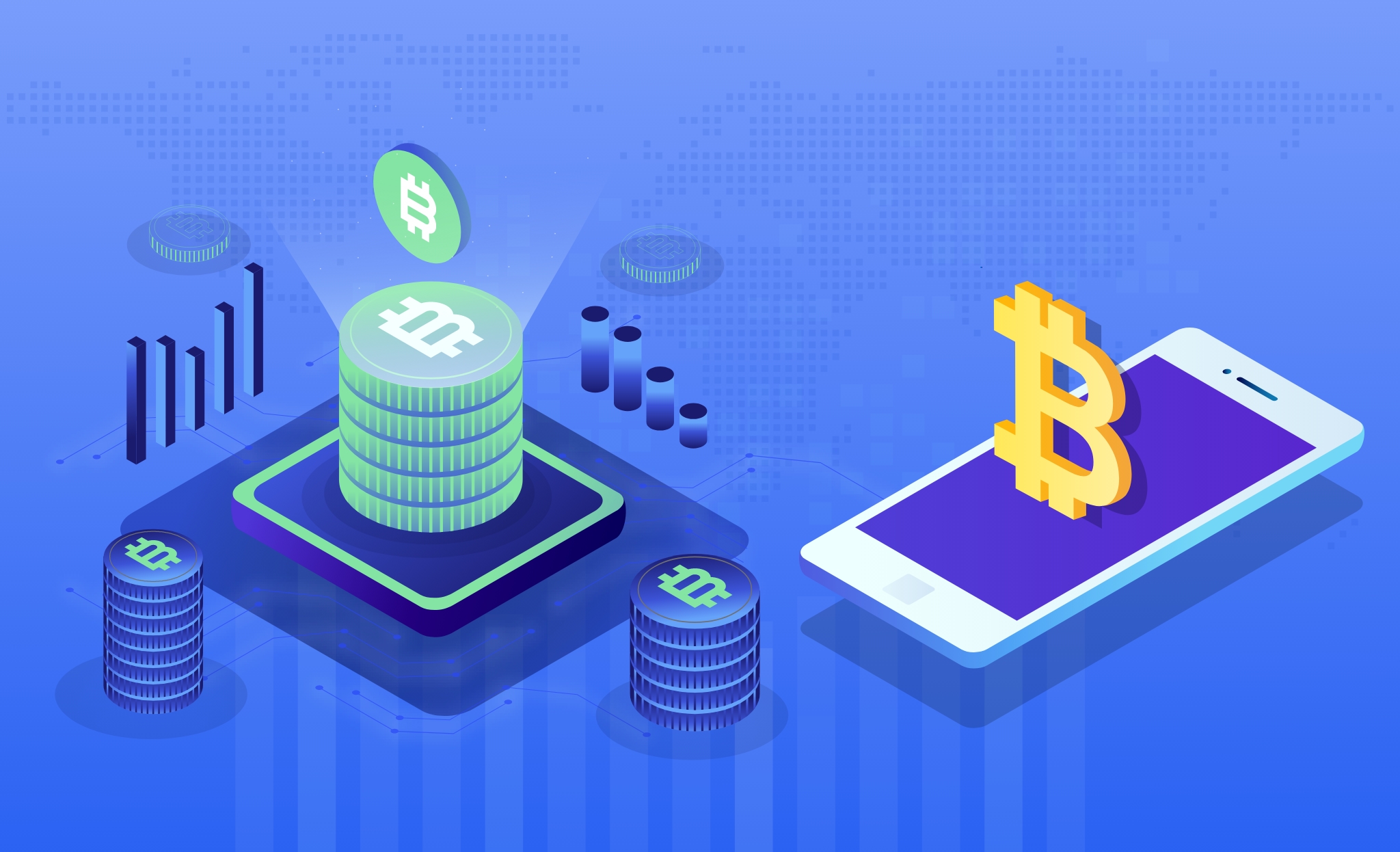 When it comes to cryptocurrency exchange app development, Coinbase is the foremost choice for digital cash traders. Launched in 2012 by Brian Armstrong & Fred Ehrsam, Coinbase is a secure online platform for buying, selling, and transferring digital currencies. This exchange platform offers a safer trading option to the users while creating an open financial system for traders worldwide.
How Does Bitcoin App Like Coinbase Work?
To build an app like Coinbase, businesses must develop a strong application with a user-friendly registration process. Firstly, the users will fill in detailed information from legal names to the last four digits of a social security number. After that, the bank account is linked to the app, and the user can start trading using any of their accounts. Coinbase levies a minimal transaction of 99% on a purchase of 5 USD.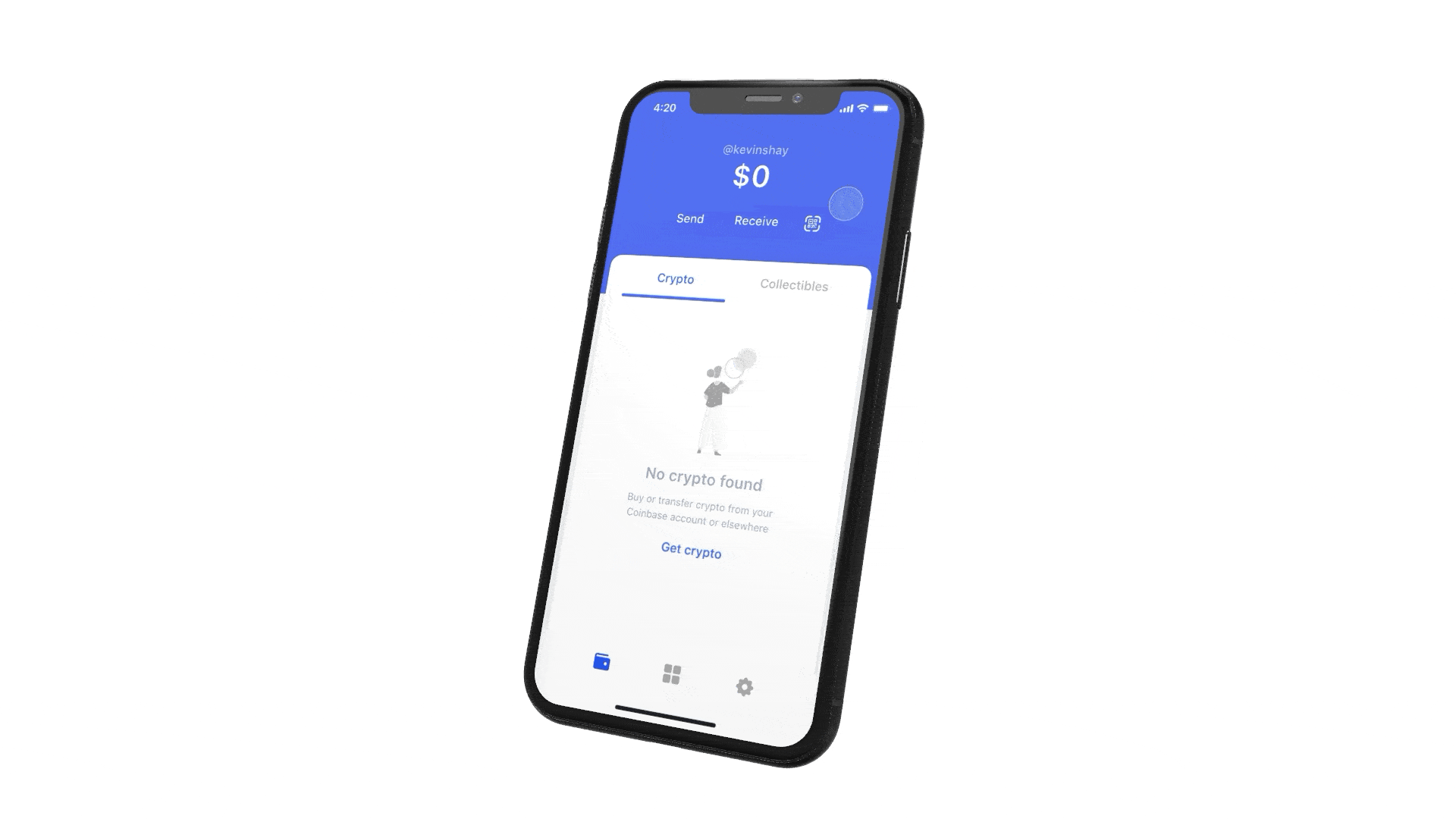 Since the exchange rate is quite high, businesses often search for alternatives to develop an app like Coinbase.
Essential Features Required to Create An App Like Coinbase
The cryptocurrency exchange market has proven highly profitable if approached the right way. The number of exchange platforms is unlimited, but the quality can still be questioned. So, to ensure that you develop a successful app like Coinbase, try inserting the following features during crypto mobile app development.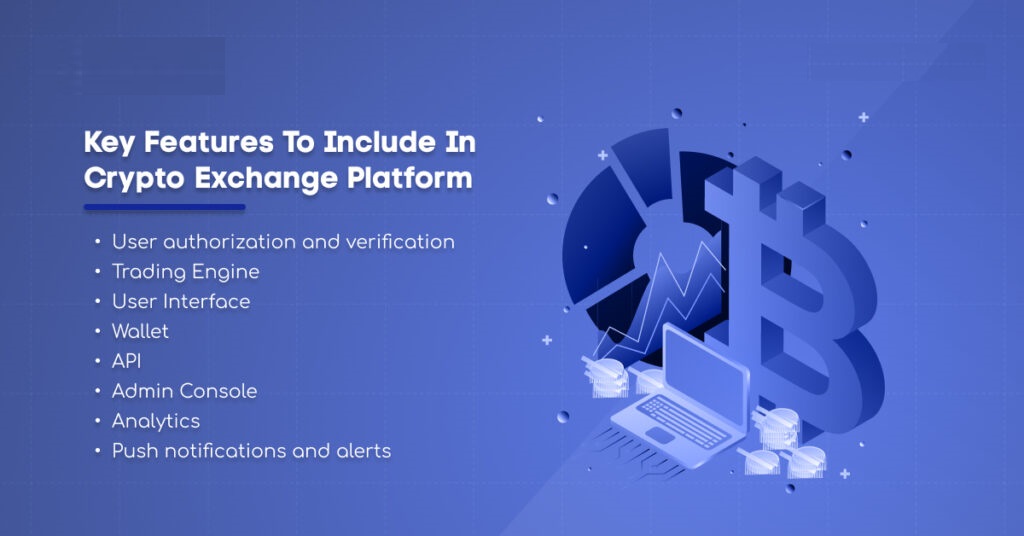 1. User-friendly Interface
The user interface of a Crypto exchange website should be designed so that users find it attractive and easy to use. The design functionality of the Whitelabel cryptocurrency exchange is quite complex compared to other apps, so look for renowned cryptocurrency development services providers. The experts will help you develop a perfect application for your business needs.
2. Hassle-Free Registration
Registration is the foremost thing users go through before using a Coinbase app. So, make sure to keep the registration process hassle-free and secure, as it will win the trust of thousands of users. Remember, the functionality should be well-developed and correspond to the highest industrial standards.
3. Security
Coinbase cryptocurrency exchange platforms are protected using two-step verification and email alerts which will be helpful for your business application. Use the latest security protocols and integrations into your cryptocurrency exchange app to ensure the application keeps the users' data safe and secure.
4. Restrict Repeated Payments
Although your Coinbase-like app will not act as a bank, ensure you deliver the same security features into your cryptocurrency exchange app to satisfy the customers. Restricting repeated payments and notifying users of the approval will win their trust and makes your app reliable. So, do not forget to insert this feature during crypto wallet development.

5. Push Notifications
Push notifications are one of the basic features of all business applications, so your cryptocurrency app should contain this feature too. As the exchange rates are fragile and change every hour, the application should notify the users about the same. It will increase the worth of your business application and help you generate more profit within less time.
6. Automated Logout 
While developing apps like Coinbase, inserting a timed logout feature is essential. It helps monitor the user activity on the app or website and log out if any inactivity is monitored or when the device is locked. It is one of the crucial features that will save your business app from unwanted activity and unauthorized usage. So, do not overlook this feature.
7. Smart QR Scanner
Nowadays, cryptocurrencies such as bitcoins are accepted at several outlets. This is where inserting a smart QR scanner is a must, as it helps the users to conduct transactions easily with just a snap of fingers. So, when you hire dedicated developers to develop a crypto exchange app, ask them to insert an advanced QR scanner feature into your app like Coinbase.
These are the seven most crucial features of a well-developed cryptocurrency exchange app like Coinbase that you shouldn't miss incorporating. Now that you are well-versed with the important features to include during cryptocurrency exchange app development, let's look at the app development process.
7-Step Process to Build Cryptocurrency Exchange App Like Coinbase
Are you searching for 'How to develop a cryptocurrency app like Coinbase?' If yes, then here is a step-by-step process for you.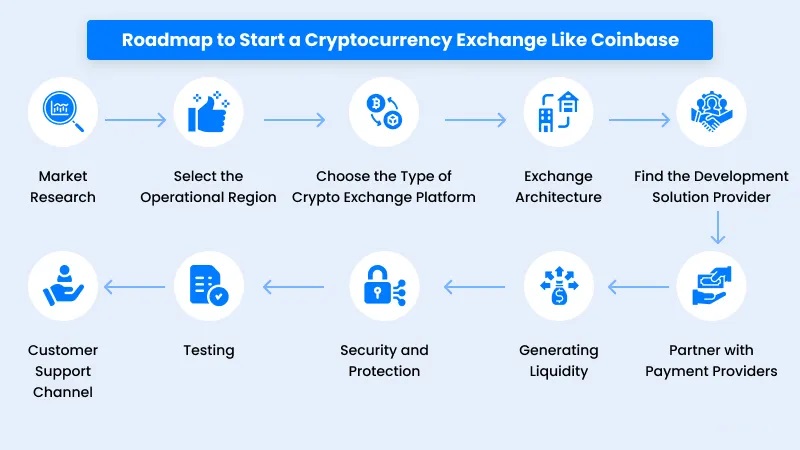 #Step 1 – Market Research
Before you begin the process of cryptocurrency exchange app development process, conduct enough market research. Consider your crypto focus and the current trends to develop an innovative business solution. Just think about how your business is relevant to the current trends in cryptocurrency technology. Gather all the essential data required for developing a cryptocurrency exchange app.
#Step 2 – Pick A Suitable Crypto Exchange Platform
Next, choose a suitable crypto exchange platform required to develop an app like Coinbase. You can choose either a centralized or decentralized platform. If you choose a former platform, it will enable you to trade crypto with other users. In addition, its centralized database will record all the transactions securely.
On the other hand, decentralized exchange platforms are another popular option that enables users to trade crypto directly using smart contracts. This platform develops a peer-to-peer network where all the data can be exchanged without the involvement of any third party.

#Step 3 – Decide the Exchange Architecture
Deciding on the exchange architecture is another crucial step in the cryptocurrency exchange app development process. The architecture will let you select the type of crypto platform you want to design and launch in the market. Also, you can choose between the centralized and decentralized modes as per your preferences.
As soon as you create a crypto exchange app like Coinbase, the first very thing you will need is the architecture. It will help the users quickly and easily trade coins and tokens. You will need the latest tools and technologies and a team of dedicated developers, designers, and engineers during crypto exchange app development.
#Step 4 – Search Crypto Development Solution Providers
Once you decide everything and complete all the steps mentioned above, start looking for developers who offer White label cryptocurrency exchange services and others. Make sure to choose a developer who can create traditional mobile applications for the backend and front end.
Always remember that the process of cryptocurrency exchange app development is quite different from e-wallet app development and other types of mobile apps. So, make sure to hire an experienced blockchain developer who can do the work for you. Also, conduct enough research to hire experts from well-known organizations.
#Step 5 – Partner with Payment Providers
While developing your platform, you will have to partner with a payment processor. It is one of the crucial decisions you will have to make while seeking cryptocurrency development services, so make your decision wisely.
The payment processor will allow the users to trade and deposit all types of cryptocurrencies and enable the integration of up to 300 different payment systems via the digital exchange platform. To accomplish this process, you will have to take the help of a third party which will add little cryptocurrency exchange development cost, so plan accordingly.
#Step 6 – Focus On Security & Protection
Besides focusing on the development platform, architecture, and more, businesses have to keep an eye on multiple features and functionalities. For example, the application must be able to exchange multiple cryptocurrencies, fiat currencies, e-wallet setup, accounts, buy and sell orders, etc.
Whatever feature your cryptocurrency app like Coinbase offers, make sure the application must have a high level of security. Undoubtedly, blockchain technology provides an effective way to offer security for your platform while storing sensitive data, but this isn't foolproof. So, it is crucial to add additional security features during cryptocurrency wallet development.
#Step 7 – Develop & Test Your Crypto Exchange App
Finally, test and secure your application properly when you are done with the cryptocurrency app development process. For that, you can hire dedicated developers and testers who can conduct in-depth testing and craft a completely error-free cryptocurrency exchange app like Coinbase.
It is the final yet very crucial step of the entire cryptocurrency development process that will earn you more success and profit if done the right way.
This simple seven-step process will help you craft a perfect cryptocurrency exchange app like Coinbase and let you earn profit within less time. Like development, choosing the appropriate tech stack also matters to crafting a successful app.
Tech Stacks to Include During Cryptocurrency Exchange App Development
To develop a successful Coinbase exchange app clone, businesses must incorporate a high-performing, secure, scalable, and reliable tech stack. In addition, it helps to offer users the best possible cryptocurrency experience while catering to their needs and requirements.
Here is the quick rundown of the latest tech stack we include while developing an app like Coinbase.
Tech Stack for Cryptocurrency Exchange App Development

 

Android

iOS

Tool

Android Studio 3.1.3(Latest Version)

Xcode 9.3

Language

Kotlin

Swift (4.2)

Web Service

REST API's

AFNetworking, Swifty JSON, Alamofire.

Web Service Format

JSON Format

JSON

Database

Back-end database (MySql)

SQLite local database Mysql

Mysql

Design

Material Design

MVC, MVVM
Every tech stack you include in your cryptocurrency exchange app will leave an impact on your development process while increasing or decreasing the cryptocurrency exchange app development cost. So, if you run short of budget, incorporate a limited technology stack, and rest you can go for some advanced features and functionalities.
How Much Does It Cost to Build Cryptocurrency Exchange App Like Coinbase?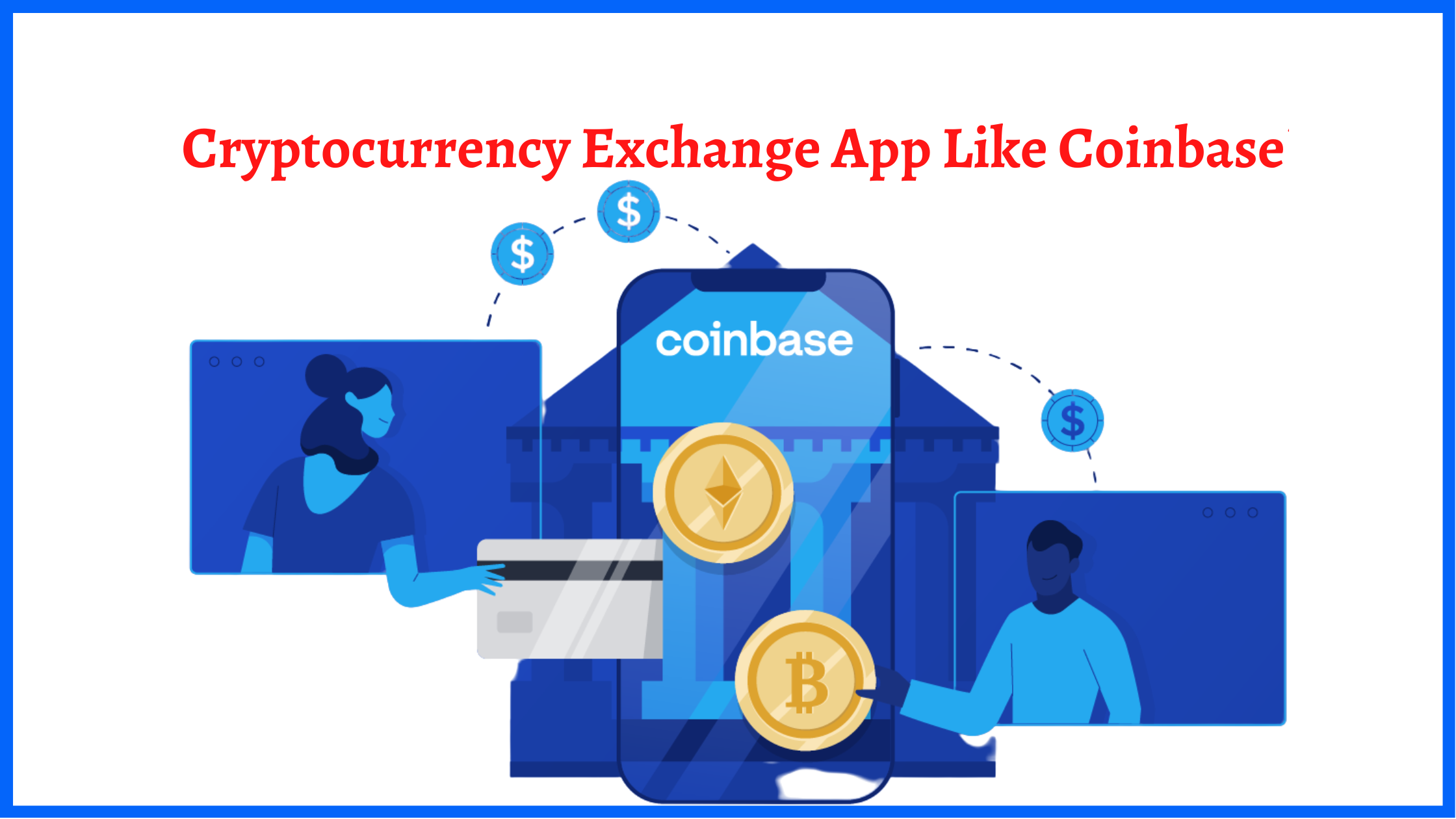 A perfect cryptocurrency exchange application with the basic features and functionalities will cost around $25,000 to $50,000. It is just an approximate cost of the app. If you wish to develop both a website and an app like Coinbase, be ready to spend around $50,000 to $90,000. So, this is all about the cost to create a crypto exchange app. We hope that you have decided about the development after knowing the cost.

Conclusion!
Cryptocurrencies have become the hottest trend of today's time, and one can never go wrong while following the trend. Agree or not? The field of crypto wallet development, exchange app development, and more is rising significantly. So, now is the right time to hire dedicated developers to create an app like Coinbase and let your business reach heights in no time.
Tighten your belt, search for the best NFT Marketplace development company, blockchain development company, or any other and get a perfect business application in hand.
Frequently Asked Questions
1. What is Coinbase & Coinbase Pro?
Coinbase and Coinbase Pro are well-known for providing cryptocurrency exchanges where fiat money is used to buy various currencies. Beginner investors use the Coinbase app, while seasoned users use the advanced Coinbase Pro version.
2. How Long Does It Take to Develop A Crypto Exchange App?
There is no fixed time to create a crypto exchange app as the time varies per the application type developed. So first, decide what you will have to create; share your cryptocurrency app development requirements with the developers, and they will let you know the time required.
3. What Will Be the Cost to Develop Crypto Exchange App?
An average cost to develop a crypto exchange app like Coinbase lies around $25,000 to $50,000, depending on the application. So, if you want to get an exact cost estimation, drop your app development requirements to the experts, and after analyzing the requirements, they will let you know the cost.