With offices in California, India, the UAE, Ireland, New Zealand, UK, and Kuwait, we are an extremely diverse company with a far-reaching global presence. Our clients are not only geographically diverse, they also come from startups to Fortune 500 companies! And we always deliver the same quality service, no matter the size of the client.
Our team of 100+ experts is available from start to finish with each project. We work in web development, mobile app development, e-commerce development, and wearable app development, making us a valuable partner to tackle any project.
We are proud to say that our clients have left us reviews on Clutch, a B2B ratings and review firm. With 79 reviews and counting, it is obvious that our clients are satisfied! Clutch has given us a 4.8-star overall rating and named one of the top web development companies in Jaipur thanks to our clients!
Read More About:- iOS 13 Developer Beta 3: What Should You Know All About
One of our recent clients was an ordering system app we helped design and develop. We built a mobile app according to existing requirements and incorporated features to enable users to place orders.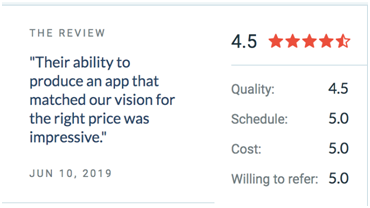 The account and IT development manager for the app said that we were communicative and always detail-oriented!
We also recently worked with a real estate platform to help with web and mobile app development. The website allowed users to search listings and book appointments; we are also developing apps for Android and iOS for the client!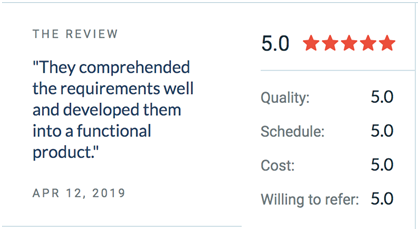 A manager of the real estate platform said that the site has helped their realtors increase profits by 40-50%! We love to see our designs working so well.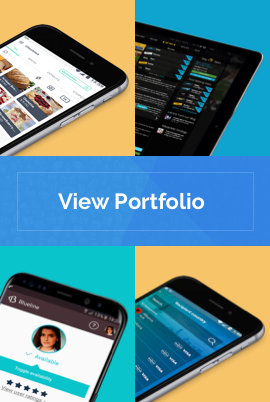 "They did an excellent job and delivered everything on time." – Manager, Real Estate Platform
Though these are just two of our projects, we love to brag on our recent successes!
In addition to Clutch, we have been featured on one of its sister sites, The Manifest, as a leader in app development in Jaipur!
You can also find us on Visual Objects, a portfolio-sharing site for creative design firms, which has listed us among the best web developers in the world!
Thank you once again to all of our clients who have left reviews and helped us be so successful.
We would love to work with you! Get in touch with any questions!