Imagine the bafflement of the shoppers who have to navigate a huge shopping mall or retail store with shopping bags in hand. It can be a challenging thing to experience. Going by the situation of the retail stores being overcrowded nowadays, shoppers often dread visiting these places. So, what can be the most probable solution for this particular solution? Well, as a retail store owner, it will be certainly great on your part if you can offer the visitors with a mobile app development solution like a navigation system that assists them in reaching their desired points and destinations in the retail store with safety.
Bigger the size of a retail store, bigger is the problem for the visitors in terms of navigation as well as wayfinding and even location tracking within the retail store. From the perspective of retail store management, the challenges can become even much more daunting as it has to identify as well as address in real-time.
Hence, state-of-the-art technology, like an indoor navigation app, is gaining massive acceptance steadily over the past few years among retail stores.
Indoor Navigation Solution
In current times, we have witnessed the emergence as well as the growth of large retail stores. They have evolved immensely both in terms of size as well as a scale which makes the navigation solution adoption an imperative decision. It's been predicted that there will be massive growth of indoor positioning and navigation system in the coming years. It leads to the massive demand for indoor navigation app development.
The most crucial aspect of Indoor Navigation is indoor positioning. Let's discuss this in detail.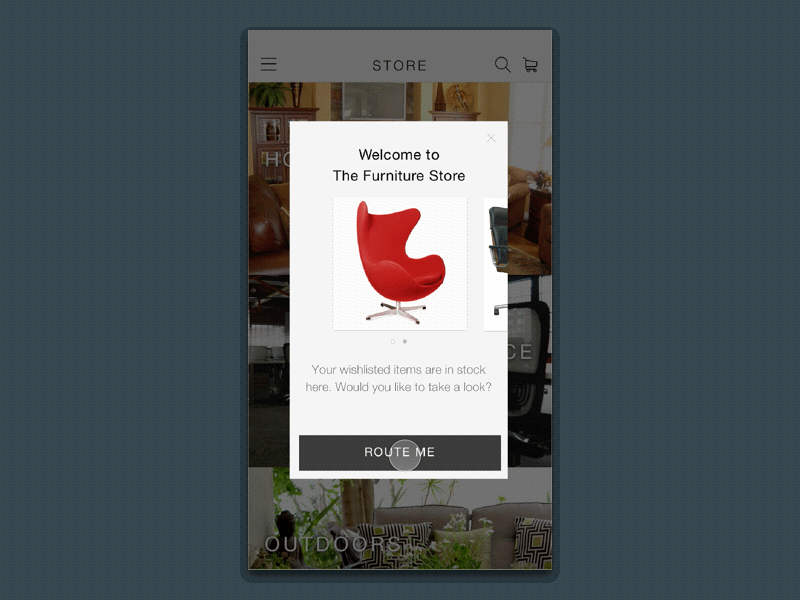 Indoor Positioning
It can easily be classified in broader terms as: Magnetic Positioning, Simultaneous Localization and Mapping, Mobile Sensors, Radio Waves, RFID. Also, it needs to be stated that there is no particular standard way to create an IPS. Retail stores may even use Bluetooth, Wi-Fi Triangulation, Beacons, NFC or Near Field Communication, Indoor Mapping, Infrared, Sensors etc., to determine the position of a person in the retail store. Let's look at these technologies in brief.
1) Magnetic Positioning
This technology is inspired by the methodology of the animals for finding ways in nature. As animals essentially rely on the magnetic fields of the earth to find their location of themselves in exact accordance to their intended destination, smartphones can also be utilized to detect as well as respond to variations in the magnetic field inside a retail store.
The data of the magnetic sensor from a given smartphone is utilized to locate certain objects or people wirelessly inside the retail store. It utilizes the geomagnetic field of the earth to pinpoint the corresponding location inside the retail store and is also used to provide positioning of location accuracy of a few meters in the indoor environments. It is being accepted as the most cost-effective and complete technology by far when it comes to indoor positioning as it provides accuracy in the absence of any requirements of the hardware and a relatively lower cost of ownership.
Also, Magnetic fingerprints can easily be crowdsourced. For example, retail store staff or common shoppers could generate their own magnetic fingerprints for retail stores by simply utilizing an app on their own smartphones. In the case of the iPhone app for this purpose, iPhone app development services can develop an app for iPhone users to leverage this technology.
2) Simultaneous Localization and Mapping or SLAM
Simultaneous Localization and Mapping or the acronym SLAM can easily be utilized to scale the entire technology without any actual requirement of explicit indoor fingerprinting at the retail store. SLAM is essentially a process of developing a map utilizing an unmanned vehicle or robot which navigate the retail store environment while utilizing the map it generates. It is a similar approach that is used to create baps when there is a lack or absence of knowledge of the place. SLAM also consists of several parts such as data association, landmark extraction, state update, state estimation and update of the landmark.
Also, the technology utilizes various types of various sensors. The limits and powers of these different sensors have been the main driver of various new algorithms that are used by Android app development services to generate SLAM based Android app.
3) RFID Chips or Tags
RFID is an abbreviation of Radio Frequency Identification which is actually a simple technology comprising of a reader and a tag. The reader utilizes the radio-frequency electromagnetic field (RFEF) in order to read the data stored in the tag and then get the corresponding identification of a particular objected which has that tag attached with it. The tag can have a power source like a battery or not, which makes it an active or a passive tag. Even though it is only suitable for certain identification of the selected object.
4) Bluetooth Low Energy Beacons
BLE or Bluetooth Low Energy signals from beacons running on battery, which are essentially small wireless devices, are among the recent technologies in the entire Indoor Positioning System toolkit and it is rapidly becoming an industry standard which is available on most of the devices today.
The particular device actually detects beacon's signal and can easily calculate the beacon's distance roughly and thus estimate the exact location. These Bluetooth beacons are swiftly emerging as a portable and agile solution to provide context for communication and tracking. Hire app developer who has knowledge of this technology so that it can be inculcated in the indoor navigation app.
Read the blog- How about "The evolving impact of ecommerce industry on web in 2020"
The major factor which is actually driving the growth of the industry is the ever-increasing number of apps powered by BLE tags and beacons. Beacons are experiencing tremendous growth in penetration across machine or equipment current status observation, asset tracking etc. Also, the markets for both currently existing as well as new apps are maturing, which leads to much higher roll-outs. Apart from applications in the retail industry, there are industrial applications of this technology as it can easily be used to develop a mobile app development solution for industrial purpose.
5) Mobile Sensors
Mobile sensors consist of accelerometers in order to create landscape or portrait views on the mobile display screens, along with ambient light sensors, gyroscopes, and magnetometers to assist with GPS.
The wider availability of mobile with are sensor-rich has actually boosted the entire possibility for actual accurate indoor localization or positioning services. Along with the sensors like Global Positioning System or GPS (which often doesn't work in indoors. However, if there is any satellite signal, then a smartphone can easily determine its accurate position) as well as Bluetooth, the latest smartphones are duly equipped with a wide range of sensors that provides the actual level of floor information of the smartphone, acceleration sensor, gyroscope, smartphone phone antenna as well as Near Field communication that enables contact-free payment and camera which can easily be utilized for Virtual Reality apps.
Even though none of these sensors provide an accurate location in isolation, but the combination of their data can easily be utilized for precise positioning in a retail store. These sensors allow indoor navigation app development of solutions which can be highly useful to the shoppers.
Benefits of Indoor Navigation Application for Retail Store to Enhance Profits
The entire digital world is at the cusp of massive transformation and continues to revolutionize various sectors through automated services. In the case of retail stores, it helps in facility management which includes indoor space management. Also, indoor navigation apps are becoming useful tools for these retail stores. Let's look at the benefits of indoor navigation application development for retail stores.
1) Smartphone Technology
Indoor navigation tech is built for smartphones as the majority of people using these devices are increasing steadily on a daily basis. Any particular thing which is mobile-based is easily adopted by the current generation into their daily lives. This is the major benefit of smartphone technology. In the context of the retail industry, smartphones have made shopping easier. Indoor navigation apps can allow shoppers to navigate through retail stores with their smartphones.
2) Real-time Mapping
Real-time mapping can easily make the shoppers reach any particular location inside the retail store within a particular stipulated time. Also, this feature even affects the overall productivity of the retail store in the longer run. Having real-time information about different aspects like whether a specific area of the retail store is crowded or not, can help store managers to direct employees there. All of this can be observed on the mobile application development solution present on the smartphone. It certainly saves a significant amount of time and this time saved can be invested in other store interactions.

3) Indoor Wayfinding
This allows shoppers to navigate through various sections of the retail store. They can easily go to their preferred section and find the way with the assistance of the indoor navigation app. This leads to better customer satisfaction which is essential for the success of a retail store.
4) Indoor Space Management
In retail stores, keeping track of various movable as well as an immovable asset is quite tough and requires real-time tracking updates. Utilizing Wi-Fi, Beacons or RFID, store owners can easily locate and even track itemized assets, which aids in optimal store management.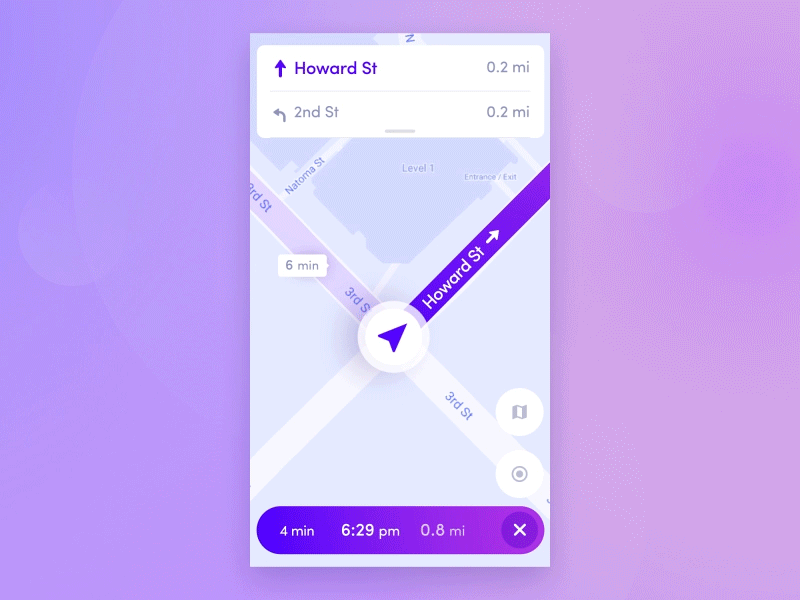 5) Asset Tracking
This particular system assists in locating assets like items, areas of interest as well as people inside the retail store by means of tapping indoor frequencies from acoustic signals, radio waves, magnetic fields and other types of sensory information which can easily be transferred as well as collected using a smartphone easily. Retail store owners can hire iPhone app development services to create an indoor navigation app for iPhones to allow asset tracking on them.
6) Indoor Location Tracking
This particular technology through beacon technology essentially results in the identification of the exact location of the store staff or an asset with the store. Beacon technology is only possible through BLE technology, for transmission of signals and identification of the information too. Hire app developer who can create an indoor location tracking app that can detect these signals and assists in tracking different assets too.
7) Location-Based Services
The rapid evolution, as well as the spread of smartphones, are certainly among the most remarkable development in the entire field of information and communication technologies in the past decade. Within the different apps of smartphone platforms, the location-based services are certainly quite predominant as they basically function through indoor space management along with indoor location tracking for different large retail stores assisting multiple apps connect with the shoppers on a real-time basis.
8) Analytics
With these apps within a retail store, all types of interactions which take place between the customers and the management can be digitally recorded and then further used for future visits of the customers and to have a relook at the present services as well as offers along with all of the associations which takes place between the shoppers and the retail store management.
9) Safety Alerts
Safety issues loom over most of the retail stores, and it is quite a sensitive topic too. Due to navigation systems that have additional benefits such as safety notifications and alerts, the safety of the shoppers is certain. The shoppers on a real-time basis receive notifications directly to their own smartphones, allow them to take necessary steps in order to successfully evade any sort of trouble. Android app development services enable push notifications in their indoor navigation Android apps.
Read the blog- Features and Cost to Develop Indoor Navigation Mobile Apps
10) Building Sales and Increasing Shopper Satisfaction
Indoor navigation apps reduce the number of shoppers who exist the retail store without actually making a purchase as they are frustrated, unable to find the product they wish to buy or even lack of time to find the retail stores and also the items they are looking for. With the increased number of shoppers staying longer at the retail store, the purchases of the products increases, which enhance the profits of the retail store.
11) Enhancing Store Loyalty
These apps provide a seamless and enhanced shopping experience in comparison to information desks, kiosks etc. These positive benefits lead to the enhanced brand equity of the retail store. It also increases store loyalty among shoppers.
12) Increasing Customer Volume
Owing to indoor navigation apps, an enhanced shopping experience leads to bringing in more shoppers. Additional shoppers often attract number of customers and allow the retail stores to achieve more sales and rake good profit.

13) Builds related sales
These apps make it quite easier to location different products in the store and hence decreases the shopping time of the customers. This extra time can easily be spent by shoppers in purchasing additional items.
14) Readies Store for Latest Advancements in Technology
Indoor navigation apps can bring shopping to a whole new level by pairing the mobile application development solution for indoor navigation with the latest technologies like augmented and virtual reality. Augmented reality essentially adds information to the real world. For instance, retailers can easily add information regarding promotions and sales to images captured by the customers through a smartphone.
Conclusion
The retail industry is certainly undergoing a massive transformation. With the application of the latest technologies in different aspects of this industry, there are huge opportunities for mobile app development companies. Navigation in the retail store remains to be one of the most complicated, time-consuming and sometimes, frustrating, tasks. In this regard, indoor navigation application development can provide a much-needed solution to aid the customers and help them in navigating through the retail stores. These apps employ various technologies like SLAM, Magnetic positioning, RFID, Beacon, etc. in order to make indoor navigation precise and accurate.
These apps help in indoor wayfinding which saves a lot of time for customers. With the help of location and asset tracking features, the retail owners can keep track of various assets. These apps help in recording all the interactions between customers and retail owners which can be further analyzed and provide useful information to the retail owners when the customer returns at some other time. In case of emergency, indoor navigation apps can send safety alerts via push notifications to the customers. It helps in avoiding any mishap or accident.
These apps increase the brand equity of the retail store and make it an attractive proposition for purchasing products among customers. Improved shopping experience offered by these apps lead to customers to bring other customers to the store, and hence it increases the volume of shoppers in the store, which leads to higher profit.

These apps also help in locating different products and hence allow the customers to shop for various products by finding them easily and not wasting time. As these apps help in avoiding frustration among the customers, the customers end up purchasing more products which results in more sales and higher profit.
With the advent of technologies like augmented and virtual reality, these apps are now inculcating them to provide high-end experience to their customers. A retail store owner should hire an application developer who can build such an indoor navigation app that leverages all the latest technologies and provide these benefits, which will certainly enhance the retail store's profits.