As the number of cars is growing on the road, finding a suitable parking spot has become tiring and time-consuming. All parking lots are full of cars that leave the car drivers frustrated. Drivers have to take several rounds of the parking lot to find a suitable place to park their cars.
To resolve this issue, developers have come up with the unique idea of car parking software development. These are car parking finder solutions that help the drivers to identify vacant spots. These spots can then be used to park vehicles easily.
Parking applications are so much in demand right now. It proves to be a great help to the drivers. Drivers save a lot of time and money with the help of parking apps. Additionally, apps like these contribute to the development of city infrastructure as they reduce traffic, improve space utilization and minimize the number of accidents.
What Is The Market Size For This Idea?
The market size for this idea may seem small, but on the contrary, the market for parking apps is unbelievably huge. These parking technology solutions are top-notch in terms of advancement and not limited only to applications. There are several tools available in the market that provides parking help, such as robotic space holders.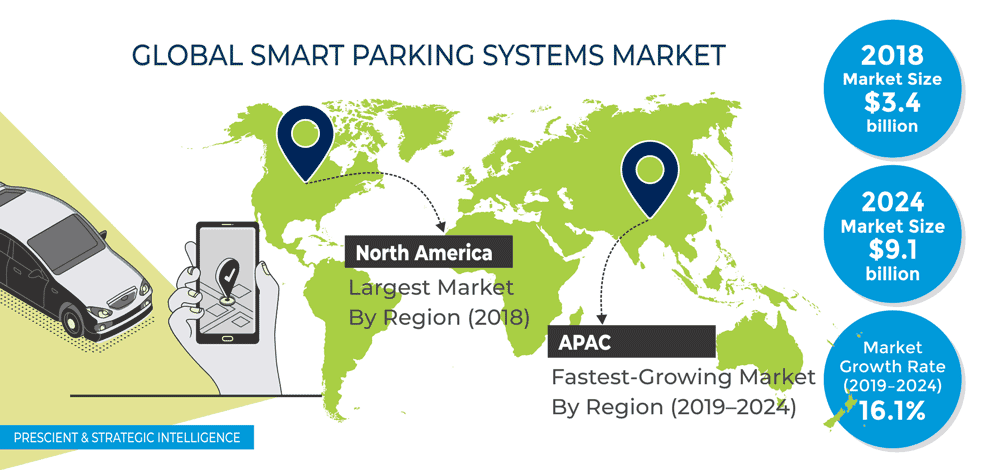 However, apps cannot be replaced as they are extremely accessible and easy to use. Car parking mobile app development can be rewarding to the company as well as the city. The profit increase is quite visible in the case of parking apps. The market size is about to increase from 7 billion US Dollars to an expected 43 billion US Dollars by 2025.
Parking Apps – Types
There are many types of Parking applications. Now, it depends on what is the basic idea. Just know your intent, and you will understand which of these types suits your app model. These are defined in brief, but it is enough to give you a gist of it.
1. On Geographical Coverage
You need to know what type of audience you want to cater to. You can either cater to a local audience or a car rental app development company, that is limited to a town, city, or region. It will be targeted to the people living in that area only and will have a smaller scope. The developers can easily scale it up and add more localities and regions as per the growth of the company. Otherwise, the scope can be global, and then the application will have no limits in terms of where it should be used and who can use it. But, that would need a lot of work as the app developers, and the strategist will have to make sure that they are connected to a global network. Without a global network, it won't be possible to provide service to every person who downloads the app and that will generate negative reviews. No app development company wants negative reviews. Hence, it is important to assess if you can manage the global scope.
2. Functionality Based
You need to define what type of functionality the application will provide to the users. Because this is what will decide how the app will go through during car parking web app development, what are features it will have? It will also be the part where you have to decide how the revenue model will work. If you want the application to work in your favor, you need to define the area and then the functionality with proper care and attention to the scope.
Apps For Parking Assistance – You can make an application that assists people and every car rental software development company with their parking problems. There are so many people in the world who are not aware of how they need to go about parking their cars. The app can educate people about how they can park safely, what are the locations around them, where they can pay and park.

There can be more ideas that can be generated towards this. Apps that assist people to work great, there are many apps in many categories that have worked really well and if you also are trying to make one such app, try to focus on the problems that have not been solved yet.
Apps For Parking Management – Parking management apps are the apps that allow the drivers to find a spot to park, to know about the prices that different parking spaces are charging, and to book a spot for parking. These things make it easy for them to park their vehicle as they already have a spot booked for their car. Some applications are used in the world, but the world still needs better ones. There are some subcategories that you can pick, or you can club them all and make one out of it.
Search Tools – It is something that will help users find places where they can park their cars. There are so many parking spaces in a city. If users can search the way they search for cinema halls, restaurants, and other services, they would easily know where they can park. They can know about their prices, they can know about the availability and more things just within the application. What they will get, is an app where they can search for various things related to their car parking problems. Wouldn't it make their lives easier?
Booking Tools – Booking tools will allow the users to book parking spots for upcoming future events too. There might be a rush in some areas, but the app can help people pre-book a slot for some date in the future. It will ensure that they don't have to roam around finding a spot when the day comes. People need these types of apps, especially in metro cities, as they don't have a lot of space where they can generally park. Even if they park just like that, there are chances that their vehicle will not be there when they come. Illegal parking is not an option these days, one has to find a proper parking spot. That is where applications like these will help the user.
Payment Tools – Another functionality that you can provide is payments. People have to pay to park their cars. They may pay in advance with these apps, and that will make the parking experience smooth. It will save time for both the parking managers and the car owners. They will just need to check if the payment is done, and the driver can easily park their vehicle and then take it away after the scheduled time. It will make things easy for both the parties involved in the transitions. Also, parking managers will be able to provide offers sometimes to their loyal customers.
Apps That Provide Search Options – You can also develop applications that just provide users with an option to search. An option that finds them a spot to park, that lets them find where they parked their car.
Find A Parking Spot – There can be applications that help users in finding a parking spot that is empty where they can accommodate their car. It is something that troubles the drivers a lot. If they have an app where they can directly find the parking spots, it will be easy for them. They will save time and will always know if there is a free parking spot available or not. It will also help the parking managers as they will not have to deal with drivers after they have filled all the parking spaces.
Find Your Car – One more problem that people face is finding their car after they have parked it. That is because there are so many cars and so many floors that it becomes confusing when all the parking spots are filled. There can be an app where the exact location of their car is updated by the manager of the parking. It will help the drivers to easily find their car when they are back for it. Even if the car parking managers are themselves providing the service of parking and getting the car back to the passengers, they will also get much help. It will increase their efficiency.
Some Successful Parking App Examples
Every city and country has its own set of challenges when it comes to managing traffic. They differ in road rules also. Additionally, the behavior and tendency of drivers and car operators are highly competitive and fragmented. In such a scenario, car park operators opt for various interesting services to boost their profit and attract more and more customers. One prime example of the same is by the car wash app development firms by offering cleaning services when a car is kept in a spot.
Coming back to the point, the three most successful and popular car parking tools have been mentioned below. Their model will give a rough idea of how a similar tool with better specifications can be created.
1. Park Mobiles
Park Mobile is one of the most popular tools in the worldwide market, especially in Europe. This on-demand app development company spread to the United States in the early 2000s. At this point, Park Mobile has more than 2.5 million users all across the world, including major countries like Australia, Canada, and New Zealand. It is also one of the best providers of parking solutions all across the world.

Park Mobile enables the drivers to perform parking searches. They can also pay for the parking through their mobile devices. It is not required to use a kiosk or any kind of meter to cover on and off-street services while using this app. Along with these, this tool also offers various special parking facilities such as parking reservations for concerts, sports events, campuses, and more. This tool has a 20-year old history of highs and lows that are worth using.
2. Park Me
Park Me is an American street parking tool with a huge database of on and off-street parking. The application was launched in 2009 and has been in the market since then. It is popular for providing payment information as well as availability in the majority of the U.S. This mobile app development company operates in almost 16,000 cities and on 7 continents all over the world.

It has some specific specialties. This tool enables the drivers to check monthly and daily rates for parking lots at various locations. It also displays the rates for street parking. A very interesting feature is its timer that users can set to avoid overstaying, overpaying, or getting a ticket for not obeying the rules. There is also an option to check the real-time information on available sports as well as street parking.
3. Park Now
Park Now is a part of the Park Now group as well as one of the subsidiaries of BMW. This application recently set a milestone of 230 million transactions with its core brand as well as other brands such as Park mobile, ring go, and Park line.

Park Now allows the users to pay some amount as a parking fee on the street. In this way, the drivers prevent themselves from running to the parking meter. It operates for more than 80 cities in Austria and Germany. Park Now is a ticketless and cashless option for daily parking issues.
Revenue Model Of A Parking App
Every business needs to earn money to sustain itself for a long time. That is why it is important to know how your app can earn money. Generally, there are three ways in which parking apps can earn money, and they are as follows:
1. Commission
They provide parking spaces with an interface where they can list themselves, and people come and book parking slots there. These applications also allow the users to pay directly from the app. This amount goes into the bank accounts of the parking owners but after deducting some amount of commission. This commission is charged for providing them with a platform, promoting their parking space on their app. It is one of the major sources of earning through these apps. That is why the main goal is to encourage more and more people to pay through the app. There can be a model in which the parking space owners pay a fixed amount and then keep all the money that users pay without any deductions in them.
2. Advertisements
Advertisements are something that generates a lot of revenue for apps or every software development company that has a big user base. Parking apps can have a great user base. Hence, some of the parking owners will surely be interested in promoting their parking and want it to be present on the top of the list so that more people book slots with them. For this, they have to pay a great amount that becomes a revenue source for the apps. If you get people, who are regularly paying for the slots, and you have data to prove that, you can attract potential businesses to advertise on your app.
3. Premium Features
Last but not least is the premium features. You can provide users with premium features like monthly passes or exclusive parking space where they pay something extra per month to secure the same parking space or get a parking space where it is easy to park. It is something that might not be used by everyone but some people who have money and want luxury will use these features. These are also great to earn revenue from a parking application.
These are just three general ways, it is on you how you want your application to earn for you.
Must-Have Features
As discussed in the previous topics, there are some features that must be included in the parking app to make it successful. Some of them have been discussed below:
Search and Navigation: Search, and navigation is a common feature in all kinds of apps that require location in any way. Through this feature, users can determine the distance of the nearest parking lot wherever they have parked their car. Parking spot finding is one of the biggest problems in cities, and search options solve it up to some extent.
Booking: The booking feature makes the users able to pay for their parking lots on a daily, weekly, or monthly basis offered by the mobile app development company This helps the drivers to park their vehicles seamlessly and stay away from issues like everyday reservations, wastage of time and money, and more.
Payment Gateway: As it is evident that there are so many payment methods available in the market now, the IT development company must include all of them to attract more and more customers. Giving payment options is a huge benefit to the company as most of the drivers do not want to deal with cash. As far as the payment systems are considered, the choice depends on the country as well as usage trends of customers.
Notifications: To increase the activity, push notifications are something that never fails to disappoint. Applications may enable notifications about discounts and application updates. Besides that, they can also tell the users before their parking time comes to an end through these notifications. This makes the users able to extend their parking time or hurry up in finishing their task in order to avoid paying a fine.
From a technical point of view, one can hire mobile app developers to make things possible using a react native firebase. React native push notifications are also a good opinion of the developer decides to implement them using the backend. Whatever platform a company chooses, it is important to hire dedicated developers and create a suitable MVP product that will satisfy the customers and make a difference in the market.
Steps To Develop A Successful Car Parking App In 2021
Know Your Goal: The first step to everything is knowing the goal. You need to know where you want to reach before you start your journey. So many people start their business or start developing their app, but they don't know the end goal. It is where things fall. It is therefore really important that you know your goals as a web development company before you start with your plan.
Do Research About The Target Users, Competition: Once you know where you want to reach, try and do deep research about the target users and the competitors in the market. Research is where you win or lose your customers. You need to make sure that your app is solving problems that no other app is solving in the market. Even if you are doing something that has already been done, make sure you are doing it in a better way. Many applications went down because better apps came after them and provided users with better features or services. But, all of this depends on the research that you do before actually starting with the development.
Hire Developers Or A Development Company: Once you know about your target users, about the competitors you just need to start with the operations. You now need to hire full-stack developers or a development company that can help you with the actual development.
Define Your Technical Requirements: You need to define the technical requirements and provide them to the team of developers who are working on the app.
Create A Prototype Of The Application: When your developers know all the requirements, they just need to create a prototype based on which the whole app will be developed.
Develop The App: After the prototype, it is finally the time to start the actual development process. This process takes time and needs care. A full-stack development company is a great option to partner with for the development of your app.
Test The App: The code needs to be tested once the developer has completed the development. It is important to hire dedicated developers. It will ensure that the app is free from any kind of errors or bugs.
Deploy: Once you have developed the app and know that there are no errors in it. You just can deploy the app right away.
Conclusion
Parking apps can be of great importance in the year 2021. People are facing trouble parking their vehicles, and this is where an IT development company can help. All the details that are mentioned will help anyone to get a brief idea about the development of parking apps and how they can be used to generate revenue.