A website is much required for business and its owners as it is a great tool to communicate with customers regarding services offerings and brand promotion.
In the existing world, there are various businesses and millions of websites. There are 1,874,272,280 websites, and when you read this article, there will be more. This figure is changing in seconds, although another fact is that there are 543 million websites are active.
This article is dedicated to top website development questions for business owners suggested by top web development companies. The experts say that these questions and answers will give you insight into the websites, such as why they are important, the cost factors, and how to develop.
So, let's kick start the reading about these important questions one by one.
1. How to develop a website?
Developing a website is quite interesting, and a web development company can help you great about it. It doesn't matter that you want to sell products or wish to provide information to the users via a website.
It is such a great tool to engage the user if designed and developed appropriately. The changed behavior of online shoppers created multiple opportunities for businesses to grab via a website. In 2021, digital buyers are expected to reach 2.14 billion interested and encouraging the enterprise to develop a website.
Suppose you want to launch your website instead of developing your own. It is such a great idea to consult with experts. They will craft a website for you so you can meet your business goals.
Although if you want to know the steps, then these are the following-
Register the domain name
Find suitable web hosting
Design & develop the website
Upload the content
Launch your website
Another way to have a website is to hire top website developers. They are individual professionals who handle all the tasks by own. While going with anyone's options, the development cost will differ, and the rest of things depend on features & functionalities.
2. How much does it cost to develop a website?
The website development costs depend upon the requirements and features you want to have in it. Another factor that affects the price to develop a website is the size of the business, i.e., small, mid, and enterprise businesses.
For example, it takes $25,000- $50,000 to have a business website having informational content and transactional functionality.
There are 543 million active websites around the world, and active unique internet users are 4.60 billion. But the fact is that two of three users prefer to browse a finely designed speedy website.
Moreover, while accessing the website, average users decide that the company is genuine or not. Therefore, it is required that a website you want to launch must have great design and fast speed, and that may take some high cost, but it will be worth it.
The cost mentioned above is average, but if you want to know the actual price per your requirement, it will be fine to advise a website design and development company. Their services & cost includes the cost of developers, content writers, graphic designers, and testing professionals.
3. What is website development?
Website development is the crafting of a website using web technology and tools. The professionals associated with it are called website developers.
Its process includes web design, web content development, client-side/server-side implementation, network security configuration, and content designing. Here coding is comprised of the following three-
Server-Side Coding
Client-Side Coding
Database Technology
HTML (hypertext markup language), CSS (cascading style sheets), and JavaScript are common technology because they are the potential tool to engage the customers.
As per the fact, 75% of users admit that they judge the credibility of any company via its website design. Therefore, if you plan to launch your website, you should hire a developer who has comprehensive experience. It will add great value to your business.
4. How to develop a website for free?
Once it was impossible, there are multiple options available that allow creating the website free, and the biggest advantage is that there is no programming knowledge required.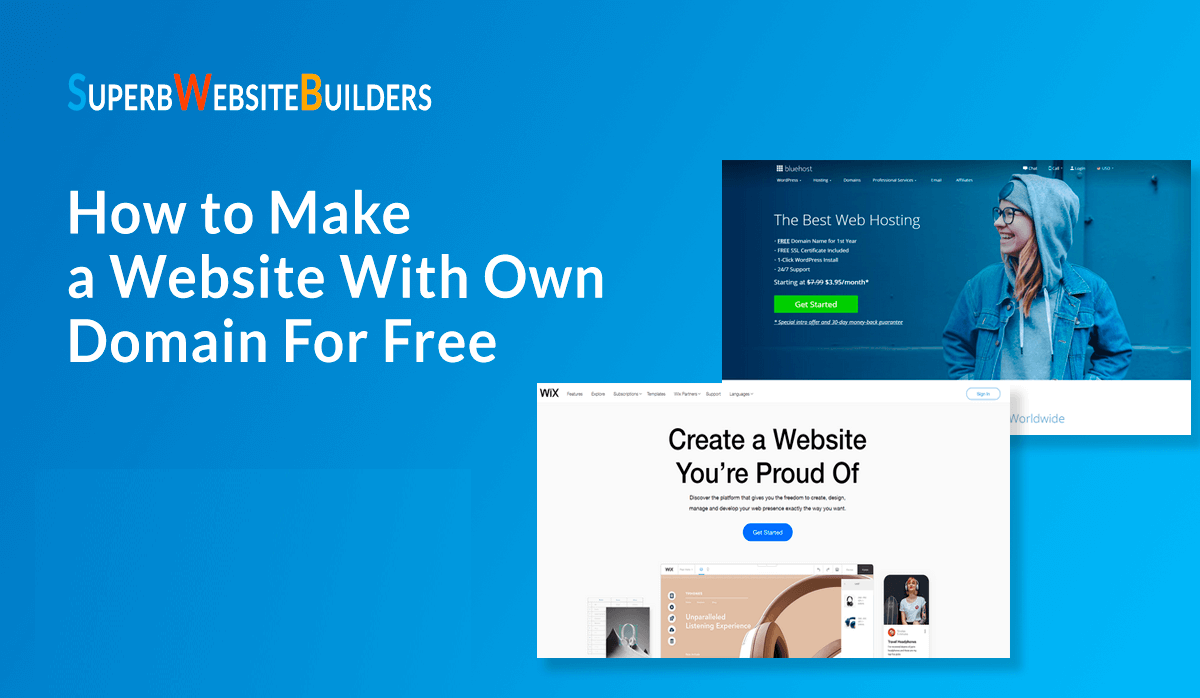 It covers ecommerce website development to informational websites. Although it is quite a tussle task to develop a website for the newbies by using the following best free website builders in 2021, it is now very easy for everyone –
Top 10 best free website builders
All these are top-10 free website builders that allow you to bring your idea in the form of a website. You should note that free versions have some limitations, including low storage space, limited webpages, few templates, etc. However, if you want to give it a try for the first time, this works great.
One of the biggest disadvantages is that you can't connect your domain name as you have to retain the link generated by the website builder.
The paid version may be a costly affair, but there you will find more features. Still, if you need a fully functional website, then a software development company can help you greatly.
5. How to develop a website for my business?
For targeting the potential customer base, the website development process is crucial, and it is always working great as you can apply the new generation marketing techniques for growth.
Read More:- The Beginner's Guide to Website Development
It is such an excellent idea to inform the customers, explain the value proposition, drive sales, and boost brand awareness. Here is some interesting fact that more than 50% of website traffic is from the search, but on the other hand, 88% of consumers are less likely to access the site again after bad experiences. So, while developing the website, you have to take care of it.
Here are some key steps involved in developing a website –
Obtain the desired domain name
Purchase hosting plan as per need
Create an engaging home page banner
Design & develop the website
Develop and upload the fine content as per your business
Launch the website
Optimize the website as per the principles of SEO
Create social media handles for brand promotion
Apply the website maintenance strategy
Regularly update your website, including the content
By following the above steps, you can enjoy lifelong benefits. Although, implementing a business website is no an easy task. If you have some experience, it is okay, but if not, you can avail of a web development company.
6. How to develop a website from scratch?
In this fast-paced world, each business's success depends on how they present themselves online. The website is such a great tool for that.
When a web development firm designs the website in a customized way as per the specific requirement of clients is called a website from scratch.
Read More:- An Ultimate Guide To Web Development
It offers many benefits, such as when the website is built from scratch, it grabs users' attention and loads faster than the websites created via website builders. However, after the launch of the website, you also have to do SEO for brand promotion.
The following are the steps to develop a website from scratch-
Choosing the website name and registering it as a domain
Designing & creating the layout of a website
Development of backend and frontend
Testing & QA
Validation & Optimization
For the development work, you must possess a deep knowledge of UI/UX designing, HTML, Database Software, PHP, JavaScript, etc. It is such a laborious process.
For a non-technical person, it is impossible to craft a professional website, so it is recommended to hire dedicated developers to develop an excellent website for your business.
7. How to develop websites faster?
There are several ways to develop a website faster, as suggested by top web development companies. Still, the actual thing depends upon your skills and in-depth knowledge of web development skills.
There are three crucial ways of developing the website
Via CMS (content management system)
Via Site Builder
Developing a website from scratch
Here, a content management system and site builder help you create a website in easy steps where developing a website from scratch requires some perquisites such as HTML, CSS, JavaScript, PHP, Angular, React, Python, etc.
All these options have advantages and disadvantages. If we specifically want to build a website faster, we can also follow some technical steps, such as we can reuse the snippets with some little modification. For example, if we are writing code for login, we can reuse the previous login code with some changes.

The second-best way is to use web development frameworks. It accelerates the development time and helps the programmer for faster website development. Instead of spending time in design, it is such a better idea to use website templates after modifying the design as per requirement.
The vital need of any business website is that it must look professional and responsive. That will help you to represent your business in the best way.
8. What is the website development process?
The website development is very interesting and amazing. Several experts are involved in providing website development services, and they use a specific method for development.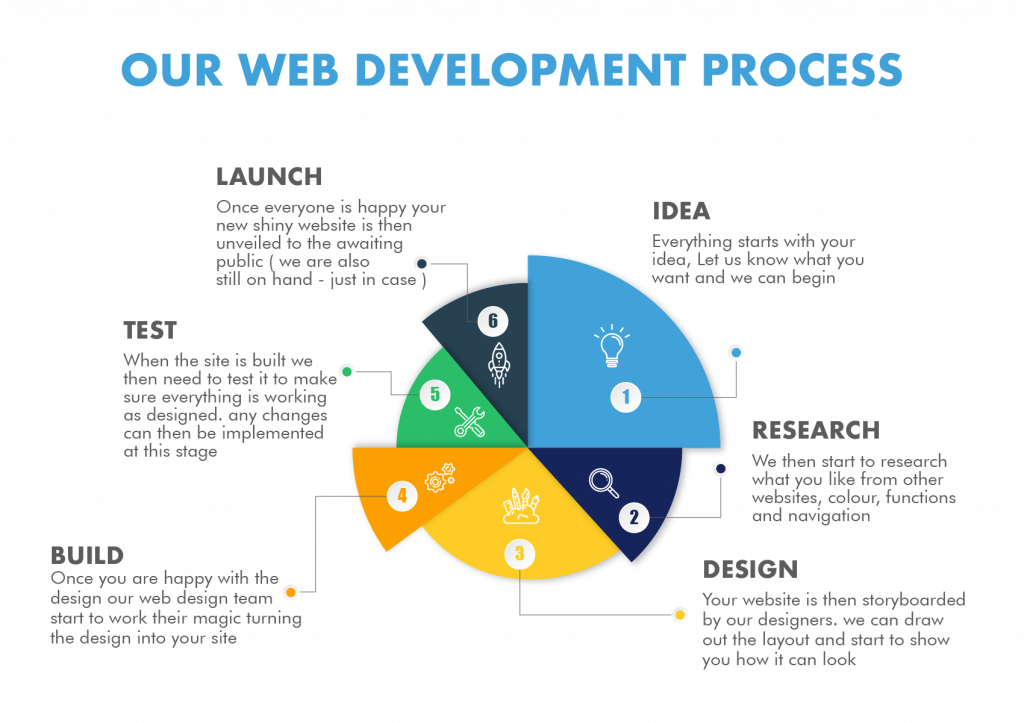 A best-designed & developed website is always fruitful for every business as it is required for brand awareness and high reach to the target audience. Each enterprise or business needs a professional web portal that involves following and also represents the website development process.
Domain: It is the website's name that you have to register with domain providers by paying a fee that ranges from $10-$20.
Hosting: It represents the storage of a website where the admin will store images, texts, videos. You can choose it as you need.
CMS Installation: After purchasing the domain name and hosting the CMS such as WordPress is being installed.
Theme: It is a template that is used to make a website graphically & visually rich.
Plugins: for adding extra functionality to the website, plugins are used.
Page Creation: while creating the page, you have to upload the images and text for informational purposes.
Testing: Before launching the website, testing is required to eliminate the bugs and for quality assurance.
By following the above steps, your website will be ready.
9. How many hours to develop a website?
Developing a website typically will take 4-6 weeks; however, the requirement and implementation of functionalities play an important role in the time duration.
The website developers follow the stepwise procedure to do it. While developing a website, a landing page is first introduced to a visitor where crucial information is being displayed. It takes a minimum of 35 hours, and if requirements are more, it can take more time to design and upload the content.
On the internet specifically, you can find two types of business websites-
Business Information – Website The website is using this website for displaying business information and brand promotion. However, the website containing 4-5 pages takes approximately 165 hours or a week. If the client's requirements are more or if it is a large website, it can take more than two weeks.
Ecommerce Website – There are 78.25% of the user from the age group of 25-34 Yrs. prefer to buy from ecommerce websites. It is the main reason for the high rise in the development of ecommerce websites. However, it requires appropriate time for crafting a good ecommerce portal where its UI/UX takes more time. The reason is if its UI is not perfect, then the user will not take interest. So, approximately it takes 350+ hours to build an ecommerce website.
10. How much should I charge for website development?
This question concerns any website development services provider. It does not matter that a business is offline or online; it requires a fully functional website to serve the customer best. It can be a question of any developer that how much they should charge for website development.

If we go approximately, then it takes min. $ 25,000 to the max. $150,000 apart from it, there is maintenance cost also involved that remains 20% -25% of the overall project cost.
The following represents the price factor and cost regarding website development –
Web Design – $25,000- $150,00
Website Marketing – $5000- $10,000
Website Design Services – up to $100,00
Website Maintenance – 20% -25% of the overall project cost.
It can also be understanding as there are types of business that exist, so their websites are accordingly. The following are some price details related to it-
Small Business Website – $5000- $10,000
Corporate Website – $12,000- $35,000
Ecommerce Website – $10,000- $55,000 (Up to 1000 products)
Database Driven Website – $8,000- $75,000
The above data represents the approximate rate that can be less or more as per clients' requirements.
11. How to develop a website step by step?
Developing a website is a tedious task, and it requires certain skills. It is a step-wise process, and each website development company follows it.
In this rapid digital world, a website is beneficial for businesses, such as from small businesses to the enterprise level. You can understand its importance as the global active internet users are 4.7 billion, and there are 543 million active websites.
Following are steps involves in developing a website-
Domain & Hosting: The first things required are domain name and hosting. The domain name will be the name of the website, and hosting represents website storage. There are hosting providers that sell the subscription plans.
Platform: one of the top platforms is WordPress that covers 52%, where the rest of the percentage is divided among other platforms.
Theme: it represents the website designing part in which website developers install it for providing a great graphical experience.
Configuration: under this segment, the website configuration such as navigational functionality is being established.
Content Upload: Here, content addition takes place later than is used for SEO purposes.
Testing: it is for quality assurance.
The above steps are standard; some modifications may occur as per requirement or run time need.
12. What do web developers use to build websites?
The website developers that is expected to reach 27.7 million in 2023 where in 2018, they were 23 million. The point is whatever number it is and whatever their skills, but almost they follow the same procedure that gives insight about the web development process.
Read More:- Fullstack developers Vs Specialised Web Developers. Which developer should you hire?
These professionals take care of the whole process that includes designing, development, and maintenance work. The development work is categorized into two parts, i.e., backend development and frontend development.
For frontend development, the developers use
And for backend, the following technologies are being used
PHP
PYTHON
.Net
Ruby
Java
If we closely observe, then web developers complete the work in the following steps-
Planning: It is the most important step as a plan is very important for website development.
Designing: For website designing, there are various tools available that web developers use. Such as Photoshop, Adobe XD, Illustrator, etc. Although CSS Programming also plays a crucial role.
Development: It includes front-end development and backend development where technologies such as PHP, JavaScript, HTML, CSS are being used. Here developers also use CMS ex. WordPress and the tools such as Dreamweaver, Google Web Designer, Notepad++, Atom, etc.
Testing/Debugging: to ensure the quality assurance testing is a crucial process after development work is finished.
13. What to look for in a website developer?
One of the prime factors that affect the success of a business is a perfectly designed website. And for the same skilled web developers are always required.
Choosing a web development firm is crucial and most important for any enterprise because only they can ensure their online presence.
A website helps the businesses reach the customers, brand promotion, and service offerings. So, before finalizing the things, you must look for the following in a website developer-
Web Design Expertise – 94% of users get the first impression from the web design, and there are more than 60% of users now prefer to access the websites via mobile phone. So, the developer must have great designing skills regarding web and mobile designing.
SEO Optimized Website – The developer must have hands-on experience to design & develop SEO optimized website. That will directly help for the internet marketing purpose and search engine optimization.
Developing Skills – For creating a professional website, high programming skills and in-depth knowledge of the latest technological tools require Photoshop, WordPress, HTML, CSS, jQuery, JavaScript, PHP, etc.
Planning Ability – Along with technical expertise, planning ability must be required to ensure that the project will go in the right direction.
Moreover, there are other factors that you must look into a website developer is that how many projects they have developed? How many industries they have served via web development etc.
14. Which platform is best for website development?
In terms of business and customer relationships, a website makes a strong bond. There are several website development platforms exist that a website and mobile app development company use to build the product.
There are no such criteria to judge which platform is best as the things depend upon the requirements. Although the following are some most popular platforms that are being used for professional website & web app development-
WordPress – WordPress is one of the most popular platforms used by developers worldwide. Although it is vitally used for blogging, a professional website can also be built with it. There is no need for expert-level programming skills required that makes it usable by all.
PHP – It is a server-side scripting language but offers several advantages while developing dynamic websites. There 78.9% of all websites are PHP websites and recommended by almost all website developers.
Magento – Whenever there is a need for a good eCommerce website, Magento is a promising platform. In terms of scalability, it is such a great option.
JSP – It is another popular platform that is introduced by Sun Microsystems (now Oracle). The full form is Java Server Pages. It supports server-side programming.
Other platforms you can include ASP.NET, Open Cart, etc.
15. How to develop an eCommerce website? 
Retail eCommerce sales are expected to reach 476.46 million US dollars in 2024. That indicates that ecommerce website development is growing rapidly where the number of online shoppers is increasing overnight. If you also want to launch your eCommerce website, then you can follow these steps-
Product: first, you have to decide about the product(s) you want to sell.
Business Model: it is another vital step for choosing a business model such as B2B, B2C, B2E, etc.
Target Audience: Identify the target audience to whom you would like to sell your products.
Domain Name: decide about the domain name and purchase it from the domain services providers, for example, GoDaddy.
Hosting: The hosting service provider will let you upload your website on the hosting account to purchase from them.
Ecommerce Platform: Here, you have to choose an eCommerce platform such as Magento, WooCommerce with WordPress.
Setup & Product Listing: Then, you have to set up your store and, after it, upload product images & descriptions. It also includes the setup of a shopping cart and payment methods. Now you have almost done.
After finishing the above steps, you have to apply SEO to reach the desired customer base, and the customer will be able to find you.
16. How to develop an online shopping website?
The online sale is projected to increase 22% by 2023 as compared to 14% in 2019. So, several opportunities are waiting for the online shopping website's owners.
Read More:- How to Create an Ecommerce Store and Generate Sales
You can set up your online store still; it will be better to hire  website developer. Although there are the following steps to develop an online shopping website-
Ecommerce Platforms– Crucially, there are three types of eCommerce platforms Open Source, SaaS, and Headless Commerce. The open-source is free to use but requires programming skills. Software as a Service offers a subscription service that you have to purchase for setting up your online shopping website. Headless Commerce separates the shopping cart and display of the eCommerce site separate. The best examples are CMS, DXP, and PWA.
Domain Name– It represents your website name that you have to register with domain name services providers. Ex- GoDaddy.
Hosting– To make the website live on the internet, hosting is also required to purchase from the services providers such as HostGator, Blue Host.
Theme– Choose an Ecommerce theme & template, and install it on your website.
Products– Add your products to the site, including details, descriptions, and price tags.
Payment Methods– Here, you can use third-party APIs such as PayPal, Square, Stripe, etc., to set up the payment methods. The amount will be directed to your account.
Testing– It is the most important step to eliminate all the drawbacks before launching the site.
These are the standard steps that are required to develop an online shopping site.
17. How to develop your own website?
A website is a much-required thing for any business as it opens the door of growth for any brand irrespective of industry. It promises excellent branding and earnings; the only condition is that it must be perfect and professionally designed in which choosing any one of the top web development companies is a smart decision. However, there are some standard steps that you can follow to develop your own website, which are-
Domain Name Registration– It reflects your company name, products, and services, so here you have to choose and register it. So, the customers must find you in an easy way.
Web Hosting– You have to choose the hosting company as per your budget and requirement. There are several hosting services providers that you can consult.
Designing– It involves user interface creation and is one of the important steps. A good website having creative and responsive design always has more visitors.
Development– It involves programming where you have to write the code for including the functionality and features.
Content– To make the website useful in terms of information and customer query, you have to upload well-crafted content. Here you have to provide the info that a customer wants to know.
Test & Launch– After removal of bugs via testing and ensuring that website is working fine, you can launch your website.
In addition to these steps, you should publish the correct contact details and update the website on a regular basis.
18. How to find a website developer?
A website developer is a skilled professional who develops the frontend and backend of a website. There are more than 23 million web developers exist who are providing website development services around the world.
So, finding the suitable one is such a tough task. However, by following these steps, you can find a qualified website developer.
As a first step, you have to look into your budget requirements. That is how much you want to spend on the website.
Choose how many much-experienced developers you want for your project.
If you finalized the name, then you should check their portfolio or previous working history.
Read the submitted client's testimonials about their web development services.
Discuss the pricing module.
Look, if they offer any additional services.
Enquire about the strategy they will use to develop your website.
Enquire about the working mechanism of how they work, and what kind of tools & technology they will use.
Ask for a reference.
If you are satisfied with all the points such as work & price will be according to you, you can easily have your website.
19. How to develop a simple website?
Once, it was quite tough for the newbies to develop a website; now, there are many options available. If you know about it, it is okay, but you can also help a suitable web development company in the USA. Still, if you go own, then these following steps will help you greatly.
Defining The Website's Purpose: it includes making an informational website or selling products online, your future goal, etc.
Choose Web Hosting: for any website, three things are required and crucial: host, domain name, and site builder. So, here you have to choose host and domain name then you will be able to develop your website.
Choose Site Builder: a couple of years ago it was complex to build the site as each line of code was required handwritten but now site builder such as WordPress, Wix, Squarespace, Weebly allows to build the website in a couple of hours.
Website's Blueprint: Now, you have hosting, domain name, and site builder. So, it is advised that before starting the work, you should develop the blueprint that except homepage and about us, how many other pages you want to have.
Build & Optimize: Build the website and optimize it on the basis of SEO principles so the people must be able to find you.
Debugging & Testing: Before going live, test the website, look for any bug, eliminate it and then launch.
20. How to develop a business website?
Business website development requires lots of effort and sharp developing skills. There are two ways to have it: you can hire a website development company or build your own. There are certain steps related to it that you must follow, which are-
Obtaining The Domain Name: it will represent the website name as well as your brand name. So, you have to carefully choose it.
Purchasing Hosting Plan: the hosting services are required for a website to be viewed on the internet. Although there are several services providers, you should purchase it from an authentic firm and keep security, safety, and scalability in mind.
Designing a Homepage Banner: it will help you to display a clear description of your business.
Content Management System: the content is always king not only in terms of SEO also in terms of keeping users engaged. For managing the digital content, a perfect CMS is required. Ex- WordPress.
Ecommerce Platform: if you are a product-based business, then you need to include the eCommerce platform such as WooCommerce, Wix, GoDaddy Online Store.
Creative User Interface: It is such a great thing to attract users, so you have to implement a responsive and innovative user interface that facilitates smooth access.
SEO Optimization: to overcome the cutthroat competition, SEO is the most important thing, so you have to apply it on your website accordingly.
Regular Update: you have to update your website regularly, so it must remain updated and secure.
21. Where To Hire a Website Developer?
Whenever it comes to the business website, the users search it as Website Developer Near Me. Hiring the right website developer is quite tough when multiple choices are available.
There are certain top websites from there you can hire the developers. The following list represents the top websites from there you can hire a freelance web developer-
There are 23 million web developers worldwide where approximately 1.5 million are freelancers who work individually for clients worldwide.
Getting the work done by website development companies and freelancers has advantages and disadvantages – For example, the difference between cost, availability of resources, etc.
22. How to hire a website developer?
There are 200 million active websites in the USA, so for having great business & overcoming the business competition, you must have a responsive website that can be possible with the help of website developers. Here are some common steps that can help anyone to hire a website developer, which is the following-
Specify Business Challenge: Without specifying the business challenge, things will be confusing, so you should be clear with your motive.
Decide What You Need: There are three types of frontend developers, backend developers, and full-stack developers. The frontend developers handle the designing part, backend developers handle the coding part, and full-stack developers handle both.
Expertise & Portfolio: While hiring a developer, you should check that what kind of expertise they have, how many years of experience they have, and the information mentioned in the portfolio is correct or not.
Tools & Technology: You have the right to ask what kind of tools and technology they will use for developing your business website.
Payment Model: It involves the payment model a developer will follow till finishing the work.
23. How do I become a website developer?
Website developers are the frontline force in the internet age as they develop websites and web applications for businesses around the globe. As their basic responsibilities, they design the user interface and write the code to fully functional a website.
They use various programming languages and tools to develop a web product that includes object-oriented programming, multiplatform development, etc. They can be divided into three categories such as frontend developers, backend developers, and full-stack developers.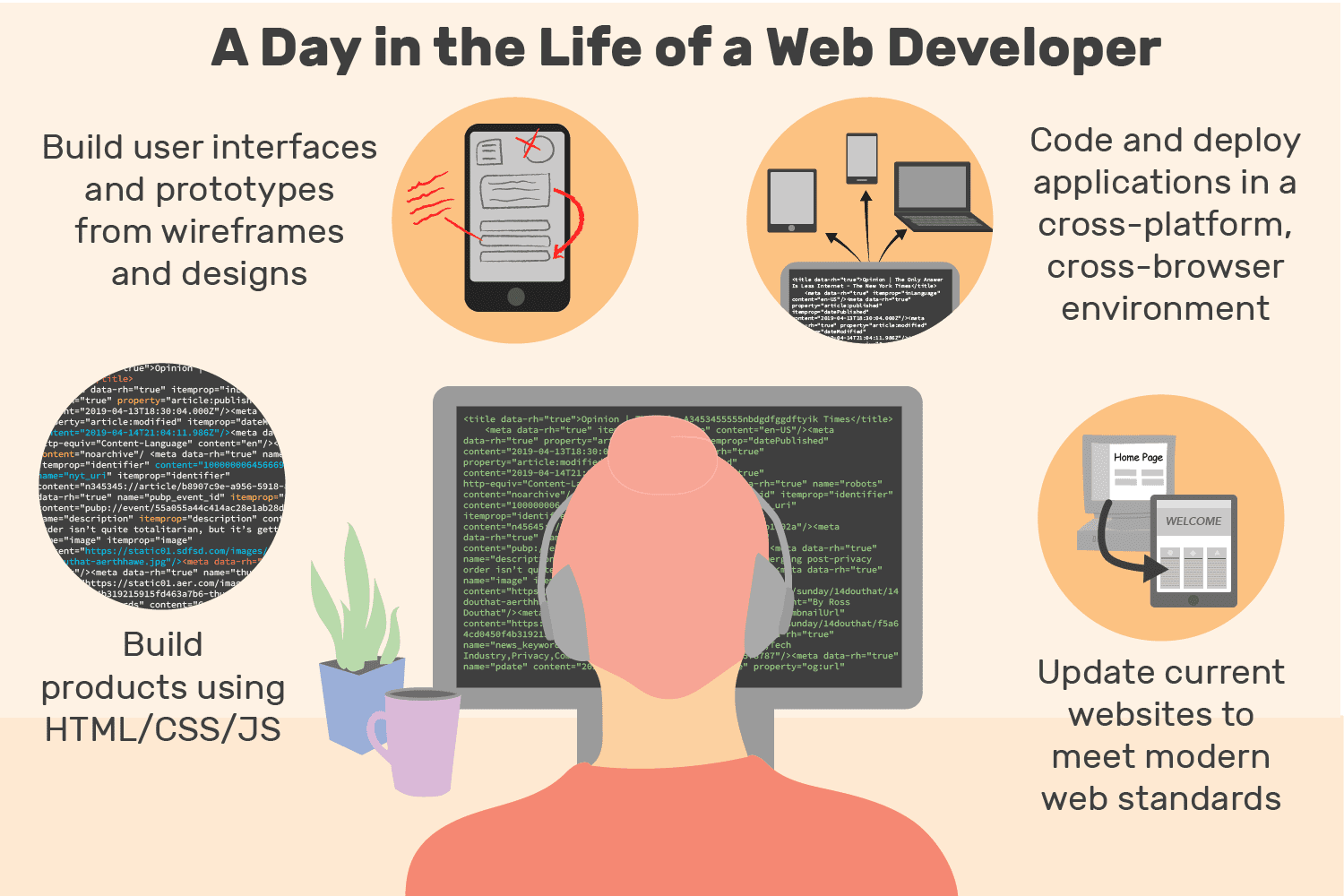 Anyone can become a website developer, although there are some skills required to do so. Following are the steps to become a web developer-
Choose development specialization: the technology and tools are different for frontend and backend website development, so you have to choose them accordingly.
Learning & Developing Skills: for becoming a developer, you have to learn concepts and sharpen your programming/technical skills.
Practicing: A constant practice is required where you have to try different methods of web programming.
Portfolio: You must have your portfolio to showcase to the client; you can do it easily.
24. How do you develop a website?
The standard way of web application development that every professional is following includes fresher to experienced developers. So, if you want to know how a website developed, then you must read the following steps-
Domain registration: it is the first step where you have registered the domain name. Please note that the domain name must be correct, unique, and represent your business or work theme.
Hosting: it helps make the website live and visible on the internet to purchase it from any hosting services provider such as GoDaddy, HostGator, etc.
Website Builder: These platforms allow you to develop the website fast, such as WordPress, Weebly, Wix, etc.
Frontend and backend development: it includes designing the home page banner, user interface, webpage programming, etc., that makes the website ready to use.
CMS: its full form is Content Management System that you need to integrate the digital content.
Webmaster Tools: these tools help you for the analytics purpose that you can later use for future sales planning.
25. How much does a website development cost?
It is quite tough to decide the website development cost of a business website because it depends upon the project size and the client's requirement.
Although a web development company in the USA charges $5,000 for a simple website and a large website can initially range up to $500,00.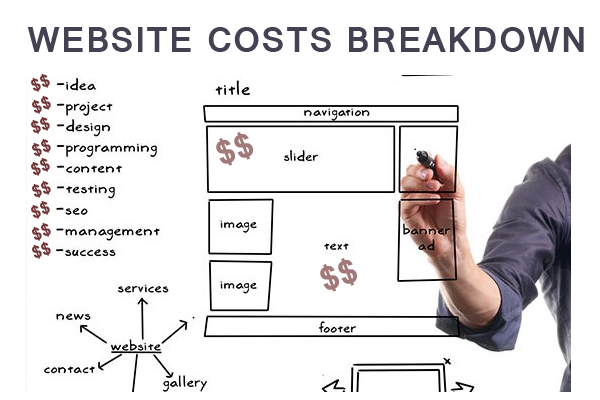 An additional cost also involved is maintenance cost that remains 20-25% of the overall project cost. If we specifically break the price, then a small business website costs $5000-$12000, a medium scale business website costs up to $300,00, and a large scale enterprise business website's cost can go more than $500,00.
Behind the costing, there are some factors associated such as –
Requirements
UI/UX Designing
Front-end Development
Back-end Development
Content Management System
Specific Plugins such as shopping cart, setting up payment methods, etc.
Based on the above factors, the cost can be decided, but you should note the website development cost is directly proportional to the addition of requirements, features, and functionalities.
26. How to become a website developer?
Website developers are the cutting-edge power and skilled professionals in modern times to craft business websites or web applications for enterprises.
It is their essential duty to plan & design the UI/UX components and compose the code to make a site completely useful. They can be separated into three classifications: frontend designers, backend developers, and fullstack developers.
For turning into a web designer or developer, anybody needs to do the following-
Specialization: here, you have to choose what kind of specialization you want to have, such as frontend, backend, or full-stack development.
Learning technologies: several technologies can be used for website development, so you have to choose accordingly. As an advice, you can start with HTML & CSS.
Proficiency With Tools: for a website developer, it is a must to have proficiency with tools because technology is changing rapidly, generating challenges every day.
Communication Skills: although technical skills play a crucial role, you can underestimate communication skills because it helps to exchange ideas with clients smoothly.
Professional CV: you must have a professionally designed CV that will help you get the work done. As a recommendation, you must include the brief details of projects you have done or will do.
27. How to start website development? 
The web development industry is an evergreen industry. Its requirement always exists in all sectors because every business wants to present itself on the internet platform to grab users' attention.
Read More:- How To Start A Web Development Business
For example, there is considerable demand for custom web application development as it offers multiple benefits such as cost & time effectiveness.
The following are some points that will let you know that what you should initially do to become a professional web developer-
Learn the basics: it involves learning basic web development technologies such as HTML, CSS, Java, JavaScript, etc.
Basics of CMS: for every website, a Content Management System, aka CMS, is necessary, so here you have to achieve proficiency in it.
Basics of UI/UX: the user always interacts with the front end of the website as a user can be a arts or commerce scholar or a school student who does not know about coding. So, here you should learn that how to craft the frontend so the user can find it interesting.
PHP & SQL: these are the most popular programming languages where PHP is used for making a website, and SQL handles its database. You will be amazed to know that even the best web development also uses it as a primary tool for developing web applications.
SEO Basics: developing a website is nothing until it is SEO optimized. So, to become a good developer, you also need to learn search engine optimization basics.
28. How to develop a blog website?
Creating a blog website is almost similar to a simple website development process. Although you should note that, to date, there are more than 500 million blogs published, and the online world experiences 2 million blog posts daily.
It is the estimate only basis on the collected data by various agencies. It is quite tough to find the exact number; the only thing is a blogging website is a great tool to express ideas in the form of words.
Here are some simple steps to create a blog website-
Select a blogging niche. For example – traveling, finance, technology.
Choose a blogging platform such as WordPress. Almost blogging websites are built as WordPress website.
Choose domain name
Purchase hosting account
Setup WordPress website
Select a theme and design
Research the topic, write a blog, and publish it on your website.
Optimize your blog website and content for SEO.
Wrapping it up!
Developing a website is not an important task; the important thing is to create the website in the right way. However, it is much required for each business worldwide because there are challenges every day, and companies have to overcome them for growth where a perfectly build a website is much fruitful.
So, whenever you plan to have a website, you should consider these questions and their answers as great guidance. All these questions are based on the experience of the best web development company that has served several clients.