If you've ever contemplated to start web development business, now is the time. More companies understand that consumers are web-focused and use the internet to search for information, book ahead, and other items.
Companies need good websites and somebody to develop them. The recent disease outbreak in 2020 i.e. Covid-19 was not only a push towards the companies to go digital but it is also a new era for web developers to gear up and face the opportunities it has provided.
It's challenging as well as an awesome job to establish your corporation. Most of the people in the united states like to start a company of their own and become their boss.
Most entrepreneurs have brilliant ideas to get their company going. You may be a professional web developer but it can be daunting to take the first step when you switch from a steady job and predictable income to the completely new sector where the revenue stream can be very unpredictable.
Global companies that operate without even a website or a mobile app are impossible to believe. In every market, from entertainment and retail to production and healthcare, companies compete with each other through the establishment of highly appealing websites.
Since apps and websites provide a wide range of exposure, it is worthwhile getting your business website and your mobile app. It is not enough to simply build one for the sake of it. When you plan to build or update your website, quality matters greatly.
What is Web Development Business?
A web development company is usually engaged in the design, production, creation, and maintenance of websites and apps. Most businesses delegate the project of web development to the businesses that are specialized in providing such facilities.
Full-service web development business usually has teams of management staff, computer programmers, software developers, web designers, and marketing staff who work in close collaboration with their customers on bringing forward ideas about websites and mobile apps.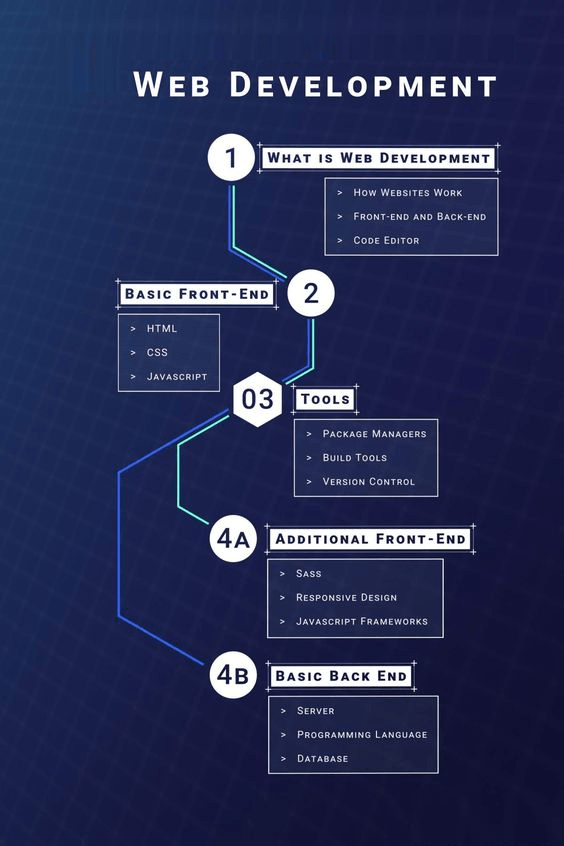 A webpage can be created to the specific requirements and desires of an enterprise by a website development services. The web development process includes many other phases, the strategy employed by a web development company to build your business site will rely on several variables most of which your contracting agency would take care of all along the process.
Some businesses often propose to develop and build an app or website using an automated content management system such as Joomla, WordPress, Magento, or maybe some other from the current platforms server.
Read More:- What Are the Advantages of Custom WordPress Development
A website development company effectively works with its client and the design department to provide end-to-end website construction and mobile application development solutions.
How To Start Web Development Business?
The biggest myth about the business model of the Web developer and the company is that it is easy to begin and establish. This confusion leads creators to not schedule things as thoroughly and to not organize anything before entering.
You need not just access to the internet, you will need a comprehensive web developers business plan, time, dedication, effort, and expertise.
It takes time to build a large corporation and thus maintain your aspirations and commit to achieving them in the end. Use below-stated guidelines as you float forward with your business plan.
Do A Self Swot Analysis
Figure Out the Abc's Of Sector i.e. Web Development Sector
Determine the Target Audience/Market
Determine The Start-up Cost
Create A Good Website
List Down The Operating Expenses
Decide The Services You Will Offer
Determine The Price For Services
Find Your Dream Team
Promotional Activities
Keep Scaling Up Your Business

1. Do A Self Swot Analysis
Your strengths will help you in choosing the main services you'd be providing and your weaknesses will help you discover your growth areas and help you avoid wasting money and resources that somebody else can manage. Identifying your SWOT analysis will help recognize your EQ and sensitivity towards various decisions and actions.
2. Figure Out the Abc's Of Sector i.e. Web Development Sector
As a businessman, a good plan is key to success. It helps you to map and find out some grey areas about your venture. First things first start figuring out if opening a website development service is the right approach for you considering the following factors.
Pros and cons of opening a web development company.
What do all the operating expenses and start-up cost?
Who would be the target market?
How long will it take to reach a break-even point?
What are you going to name your company?
Registration process system.
Compliances and other professional requirements.
Note you are not just going to do building work. You will also be the salesperson, business manager, project leader, and planner of the project. These skills are not derived from online classes but hand-on experience and prior learning of the market.
3. Determine the Target Audience/Market
Ideal customers are corporate clients, who require comprehensive programming and delivery of applications. Adding a generic "Web Developer" name to your LinkedIn profile is not good enough.
You need to specialize if you want to develop the influence of being an ideal web developer. While you may be concerned that this is restrictive, it's honest how all the highest earners made it into a six-figure income.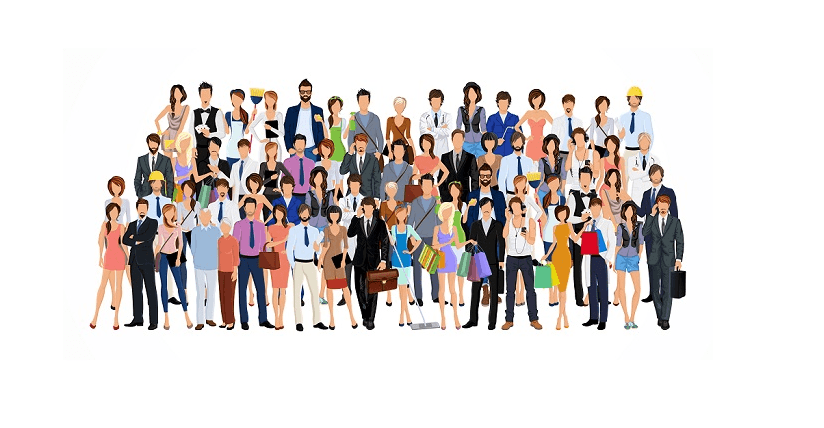 Try to take on small freelance projects via various mediums to establish a niche and a consistent customer profile before investing into a full-blown business. This may even before you break the ground, you would have enough income to start web development business and a developing customer profile.
4. Determine The Start-up Cost
The basic costs are so low for beginning a web development company. All it takes is a desktop and some office space. Almost all of the expenses will be encased in a decent quality desktop or laptop, sufficient screen space, a business mobile device, a text editor, etc.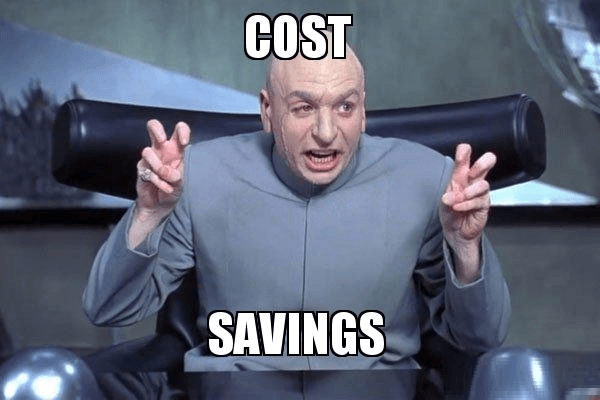 Marketing your brand and registration will also cost a minimum. Over and above there is no major capital cost other than digital devices.
5. Create A Good Website
Your brand begins with a symbol and a colored scheme, but after that, it's about the message that links you to your targeted audience. This could sound trivial but your website represents your skills.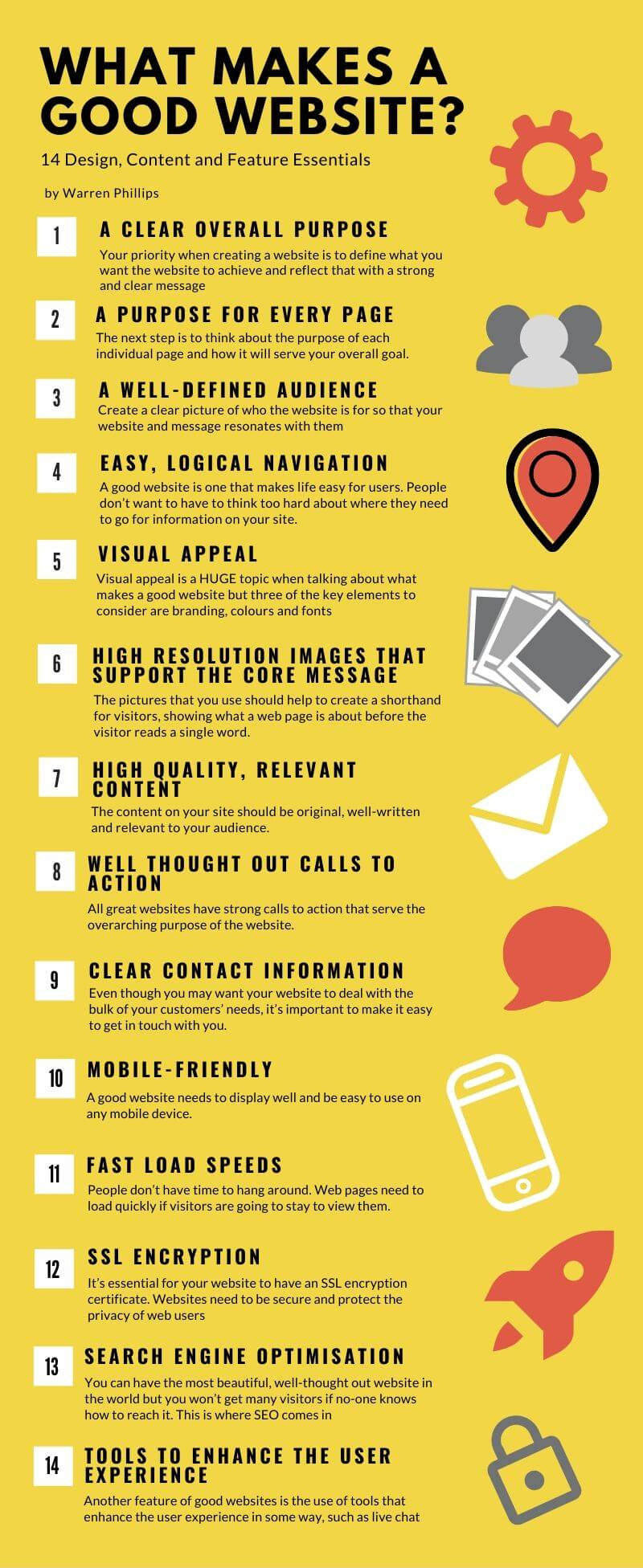 Source:- What makes a good website
Show off with your page what you do, and what you're doing. If your website has the newest tech, you will have more prospective customers. Verify that you stand out from competitors.
Lots of web developers are out there. Be sure to pick one that suits your needs. Look at the website of the competitors, and render yours much finer.
6. List Down The Operating Expenses
Operational expenditure is marginal. Web development companies with offices are paying expenses and renting the majority of the ongoing expense, like all other businesses.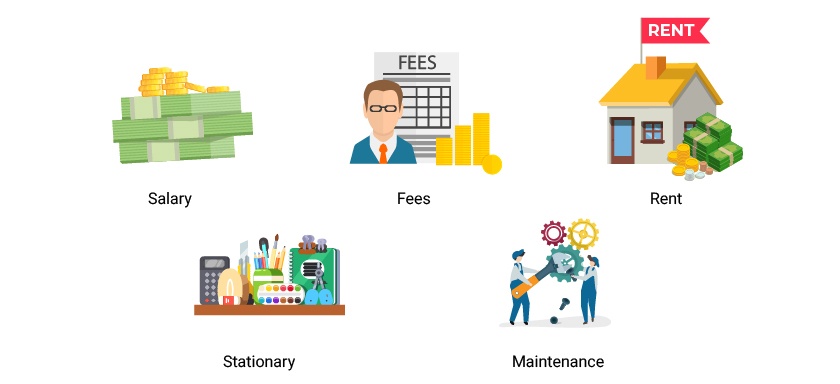 Other expenses are generally minimal, such as agency supplies. Costs such as cloud storage, software for time tracking, and project management software depend on developer requirements. If your home is your office then that costs way less and manageable.
7. Decide The Services You Will Offer
In addition to identifying your viewer's niche market, you're going to want to build a very well-defined selection of offers. Characterizes the services well and then develops them to create recurring income.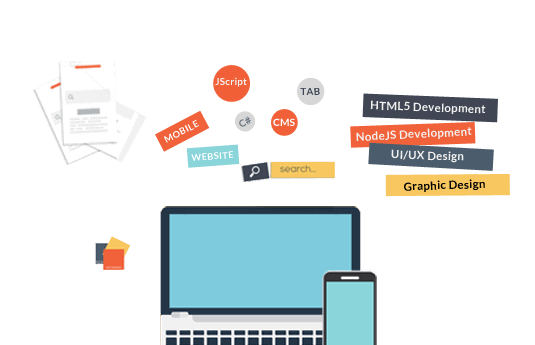 You'll also have to pick the right price range for each facility. For instance, you may be offering any or all of the following such as total website Designs, website revamps, maintenance activities, website transformation to WordPress from Other systems, Plugin development, or Themes.
You may also be offering complimentary capabilities such as Web Hosting Management, material Development / Editing, SEO, social networking Channel Management, etc.
8. Determine The Price For Services
Do not put plagiarism on their pages but collect knowledge from them. Programmers need to learn how their abilities can be pricey. Make sure that you are within the correct proportions and give your customers all the new apps.
Consider a suitable software development company to partner with in accepting payment by credit card. See who hires the rivals. They made some mistakes and rectified them if they've been in business for some time.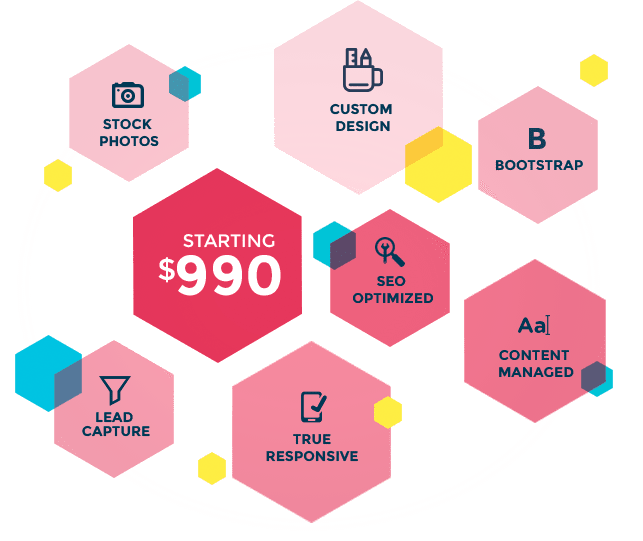 Use their experience to create a great website, take a look at the examples provided by website builders for small businesses. Operation rates are higher than hourly pay for major ventures, so people won't ask you how you're spending your time — it's already planned for because they've compensated for it.
9. Find Your Dream Team
You can either do this yourself or hire dedicated developers and designers for your business choice is yours. You are much more likely to begin on your own or with the help of very small management staff, but you're certainly going to recruit more people.
Think of what you're great at doing, whether you can manage to do it on your own, then decide the things you can pay somebody to do for you, or you need help with.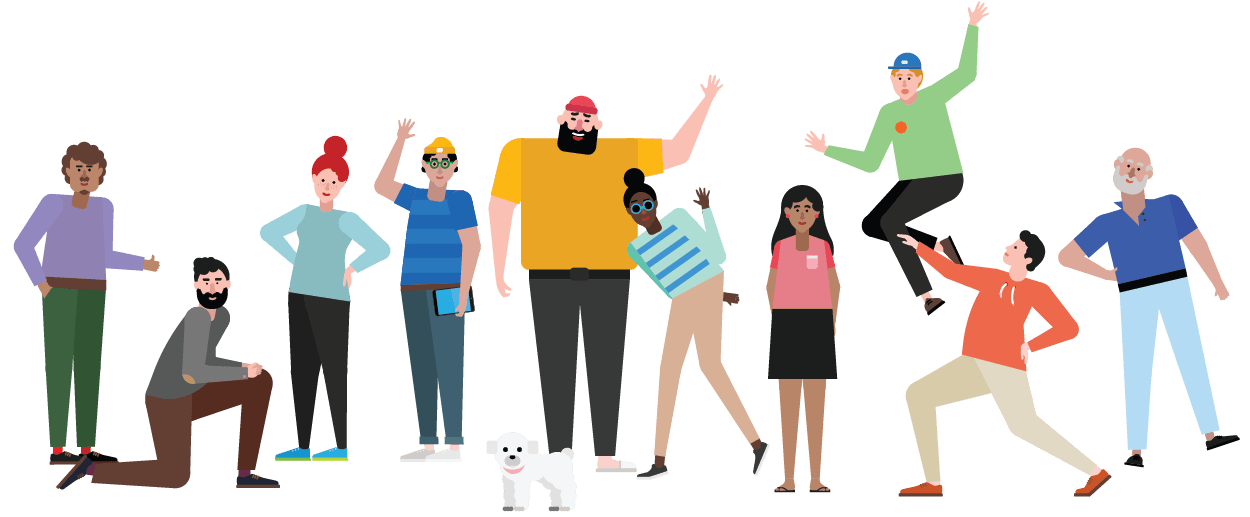 To build a squad you will need human resources, and you may need to explain the purpose of wanting to work with other individuals or companies. You must explain how they have the expertise or assets you need.
10. Promotional Activities
You are confident of your success-time to show this to the public with a profile on the social media pages that attracts your ideal customers. Take the time to socially interact with your customers and develop a robust marketing campaign.
Now that you are setting up your website and ready for action it's time to promote your tech venture. You have to advertise it to launch your brand.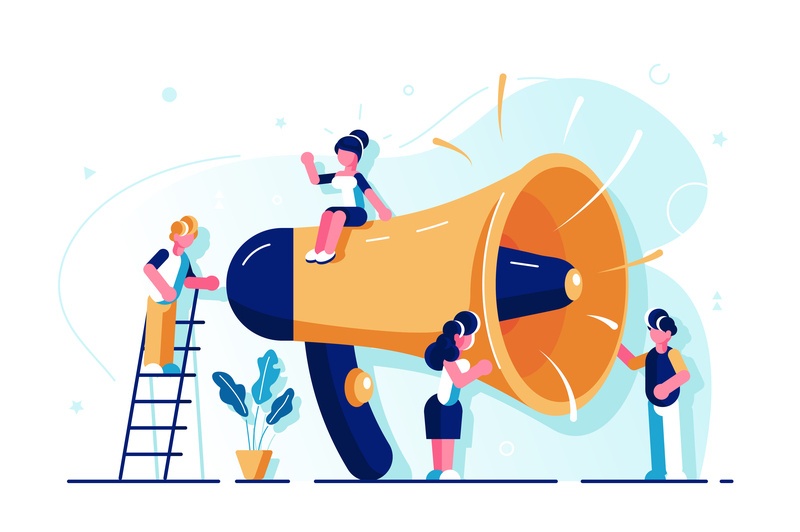 Find two or three channels you could use to drive your business forward. Do not attempt to advertise your company on too many channels, or you cannot stay consistent with it. Great skills publicity will help you gain clients to your website. Seeking your Social Media niche is now a vital resource.
11. Keep Scaling Up Your Business
This may mean taking on low-paying work to build up your portfolio — not just nice, but what someone in your place had to do. When you're more defined, you'll like to begin to think about how more value can be built into your services so you can make more profit. You can provide extra services which are beneficial to your clients.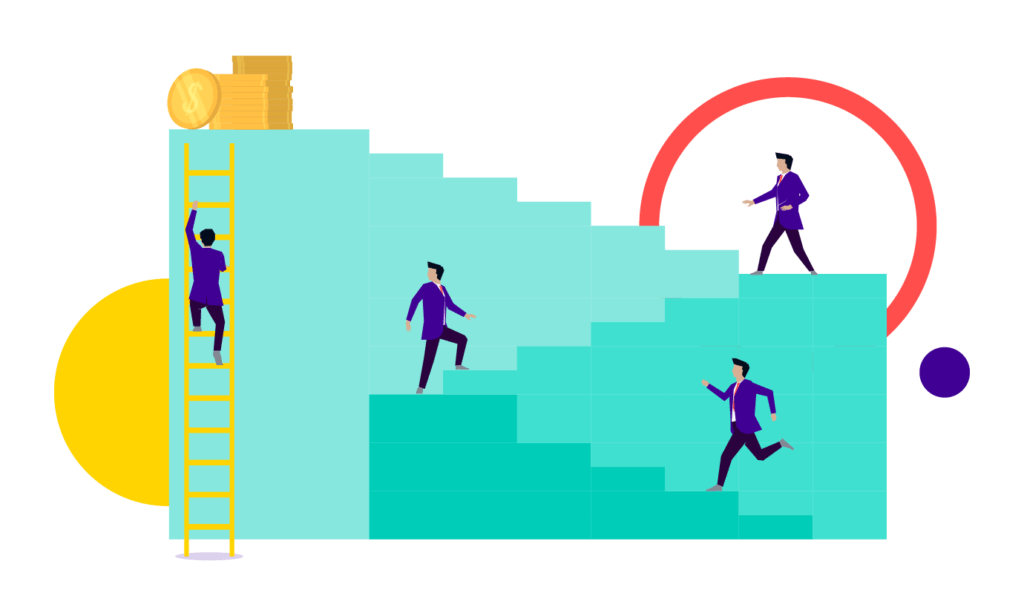 One thing to keep in mind is keeping growth within your budget. Do not spread out too far, there will be nothing to prevent you from getting going with this stuff now, to be honest.
You are restricted only by your time and concentration, which is going to be rather divided by doing many of the other things described in this article above.
Merits of Establishing Web Development Business in 2021
Below are some valid reasons why you should begin a web development company if you are still involved in this entrepreneurial project and have what it takes to excel in doing so.
Start Virtually
Start with a Part-time basis
Hire dedicated developers with knowledge
Understanding the client's needs
1. Start virtually
You wouldn't need an actual tangible workplace to operate it from one of the great benefits of launching your own web development company.
The possession of a physical environment to stay is more conventional, but it does add added expenses, lease and bills and servicing while it can provide a place to meet customers. It's no longer needed. You are more agile and versatile without one, and instead of office administration, you can concentrate more on your venture.
2. Start with a part-time basis
If you need to establish a web development business, you can begin on a part-time basis. There would be a grueling job ahead of time and long hours, but for instance, if you need to work extra time to make money, you can do so between now.
3. Hire dedicated developers with knowledge 
It is a sector that grows and evolves at an incredibly fast pace and developers that began 5 or 10 years back will use older technologies and drop behind. For potential customers, developers with recent expertise and experience would want expertise not out-of-date.
4. Understanding the client's needs
More businesses and organizations are aware of how difficult it is to have a website presence. However, not everybody can develop a website. We also need web developers who not only enjoy a platform, and whose clients can know how to access and manage it.

Conclusion
There are thousands of developers with the same building blocks and other resources. Do you think that your idea is special? Many businesses will do something similar there. Here you can hire web developers to start your own professional website.
All you should do is critique the work of your rivals and decide what you can do to give consumers better service and stand out among the multitude by advertisement, which makes you special, stronger, and more respectable for customers. This is all about to start a web development business in 2022.