Creating a Mobile application is always a complex task, and whenever a professional app is required, it becomes too tough to make the decision. Here we have created an article that you can refer to as your guide to create a mobile app for your business.
Today's mobile app development market is highly competitive due to the increased demand for smartphones for professional and personal usage. A variety of businesses are using mobile apps to cater to the demands of their customers and facing tough market competition. On the other hand, users also demand innovative features that can ease their tasks.
So, businesses need to be very specific about the app's idea and the features to include while developing an app. As every other business has an app in hand, you need to think of some out-of-the-box mobile app features to make it stand out from the crowd and grab the user's attention at first glance. Now, the question arises, how to create a mobile app. Right?
To create a mobile app, you need to follow a systematic mobile app development approach. Many entrepreneurs or start-up owners aren't aware of the steps to follow to create a mobile app. For them, consulting one of the best mobile app development companies in the USA or any other area is the right solution. Such companies have a team of dedicated developers and designers who can create a mobile app adhering to your business needs.
A successful mobile app development process consider some major factors, such as –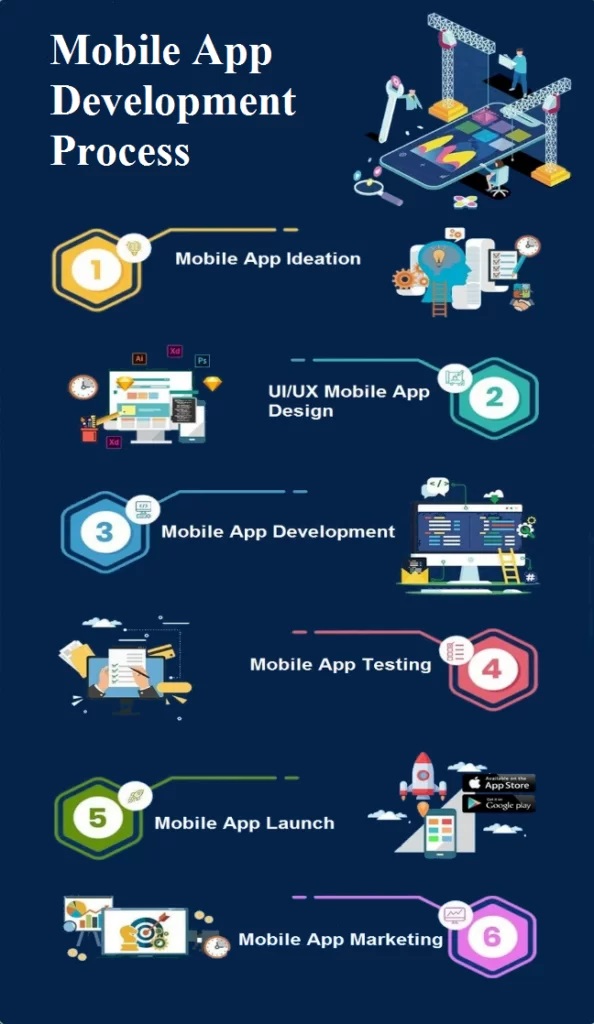 Idealizing
Revenue Model
Area Of Operation
Legal Work
Marketing
Pre-Launch Testing
Feedback
Maintenance & Support
Before proceeding to the expansion of the mentioned above factors, there are some other points that you need to focus on. So, let's start with some key stats about mobile app development. It will provide you with great insight into why app development is worth it to a brand, business, or enterprise.
Key Stats That You Would Like to Read About Mobile App Development
A question may arise in your mind that you are here to know about the steps to create the mobile app, so what is the need of mentioning the statistics. The reason to include the stats in this blog is to share the info on what is going on in this world regarding mobile app development and its usage. It will help you to decide about your app, and on the other hand, it will work as motivation.

Let's check out these interesting stats-
Active internet users worldwide are 32 billion; that is, more than 90% population is using a mobile phone.
In 2020, the global mobile app download was 230bn.
Social network users will be 4.4 billion by 2025.
In 2020 the global spending on apps was $170 billion.
An average US citizen spent 263 minutes on the internet for non-voice activities.
Mobile gaming shares 57% out of the total online gaming worldwide.
Now, I hope the reason is clear to mention these stats. As a business or brand owner, you can leverage these trends to launch the app, and consulting with an experienced mobile application development company will be worth it.
Why It Is Beneficial To Create A Mobile App For Your Business?
Are you searching for the best options to create a mobile application? If yes, then first you need to ask the question by yourself – "does my business needs an app?" or "what are the benefits of developing a mobile app for an enterprise or business?" These questions are crucial for a business that is seeking growth opportunities.
I hope you have got your answer, but from my side, the answer is –"Yes." The reason is, it doesn't matter that which business you belong to the customer's demand are rising day basis, and with the old fashioned way, it is impossible to cater the requests of modern customers. So, here you need an app that not only helps you to grow your business also facilitates the customers to enjoy your services.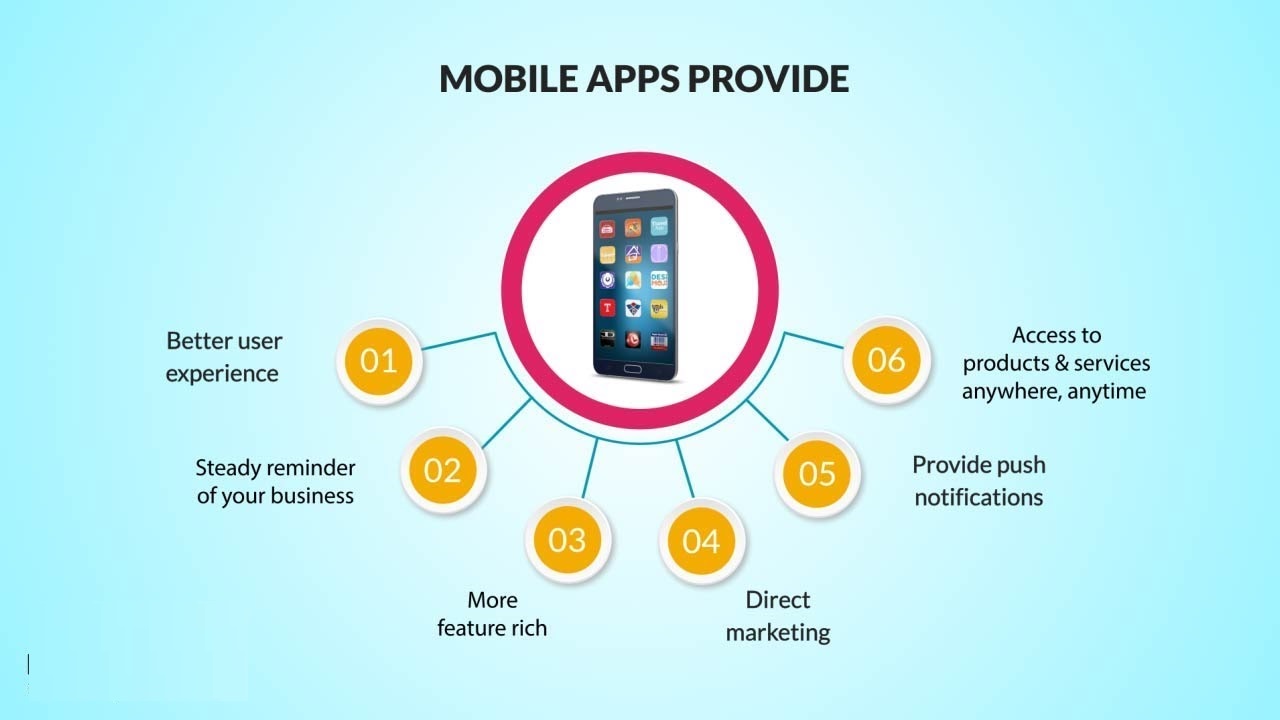 Forwarding with the thought, here are some benefits of having a mobile app for business-
1. Better Communication
The mobile app is the best option to stay fantastically connected with the customers. An app facilitates the business to directly communicate with the clients. For doing it in a better way, you also need to include the other option while creating the app, such as Chatbot development, that can improve the communication process.
2. High Customer Engagement
It is such as the perfect idea to create a mobile app for a business as it engages customers in the best way. Whenever there is a need for any support or assistance, the customers need an immediate response or suppose they want to mention some complaint about the product; then, an app can let them do it in a faster way.
3. Better Reach To The Potential Customers
It has been proved multiple time that an app having multiple functionalities and a variety of features attract more customers. It is the ultimate goal of any business to on-board more customers and improve sales.
The interesting point is that you can achieve both via creating a promising mobile app. For example, hybrid mobile app development services are the most preferred now these days to target multiplatform users via a single app.    
4. Improved Brand Awareness
A mobile app could work as a brand ambassador if it offers the features and functionalities if others fail to do so. A fantastic app can improve brand awareness and also enhance the brand image among customers. You can utilize a professional mobile as a perfect advertising tool that can open the door to connect with new customers.
5. Incorporating Latest Trends
If you are looking for opportunities to incorporate the new technologies in your business, then implementing these with the help of an app is such a fantastic way. For example, suppose you want to use AI for your business, then with the help of Artificial Intelligence Development Company, you can launch an AI-based app that will robustly support your business. The techniques such as AI, ML, Blockchain, etc., offer solutions for almost all businesses.
6. Cutting Edge in The Competition
The mobile app promises a cutting edge to the business in the ongoing competition. The reason is the drastic change in customer or user behavior. Now, most consumers prefer to shop or demand services online, where the expectation is to get them effortlessly.
The other thing is the relation between a brand and a customer. A mobile app helps to do it in the best way. So, if your app has all the required features, including the advanced features, then it will build trust among customers.
7. Instant Support
The various survey reported that most of the customers expect instant assistance from the service provider and that can be possible with the help of an app. You can add an AI-oriented help center within the app so the customers can help themselves instead of waiting to hear from support assistance.

Essential Steps To Develop A Professional Mobile App
This section is dedicated to the steps that will take you through the whole process of mobile app development. So, let's check out what it says.

1. Idea Formulation
It all started with idea formulation. The app development can't take place until you have a feasible idea to get it to transform into an app. It is okay that mobile app ideas can't be completely original, but it would be better that they must have some unique elements that can help you to stand out from the crowd.
2. Define Objectives
For developing an interesting app defining the objectives is a must. It not only gives the right direction to the business also to the team of app developers involved. At this step, you need to figure out that for-
What do you want in an app?
What kind of solutions do you want to provide via the app?
What kind of features do you want to include?
What kind of technology do you want to use for app development and more?
Defining goals will also help you to manage the resources in the right way.
3. Research About The Market
Defining ideas and objectives is not enough to create a mobile app. You also need to study and do appropriate research about the market and its latest trends. As a business app owner, you need to figure out that-
What are others doing with their apps?
What features are your competitors included in the app?
What are the current trends that customers prefer while using the mobile app?
What are the latest app development components you can include in your app?
And others.
4. App Features
These are the features that make any app interesting. If your app has only 10 interesting features and can grab the attention of users, then it is okay instead include unnecessary features. It would be best to decide what will be core functional features and what are the additional features. On the other hand, increasing features will also affect the development time and cost. So, you should choose carefully.
5. Wireframing
The next step is to decide on the layout of the app. Wireframing is not the app's graphic design. It is like the blueprint of an app that you can draw on paper, or you can use various Wireframing tools available on the internet.
It shows glimpses of what the homepage will look like, how the user will move from one page to another, how pages will remain connected to each other, and so on.
6. Tech Stack
Choosing the right tech stack is more important than anything else. Suppose you have developed the app using ordinary technology available but are you sure that in the future if you want to expand your app, it will help?
So, it is better to decide the tech stack by keeping scalability and flexibility in mind. It is always considered as the best practice. It includes designing and development tools.
7. App Monetization
How can my app earn? It is an essential question that you must ask yourself. Its answer will let you decide the monetization strategy of the app. You can decide what kind of versions you can create regarding earning via an app.    
8. UI/UX Designing
The UI/UX components are also responsible for making an app interesting. The best way to do this is to create a mockup that allows developers and designers to analyze the feel of a mobile app.
It will also give insight into what kind of elements you can include and what to exclude to make an app fantastic. Although implementing UI/UX contributes to mobile app development costs, without an excellent UI/UX, an app can't survive.
9. App Development
Till this step, you have decided what kind of app you need. So, it is time to kick start the actual coding to develop the backend of an app that requires robust programming. There is no need to mention here that the tech stack will be used accordingly, such as tech stack for native app development, hybrid app development, cross-platform app development, etc.
With the help of experts, the app development work will be progressed. For example, if you have planned for a progressive web app, then experts knowing PWA development services will help you to make it out.
10. App Testing
Post-development of app testing is much and much required because the development process does not stop at the finishing of coding. As a business owner, first, you need to ensure that the app is working fine according to the purpose you have created a mobile application. Once the testing is done, now you can proceed to the app launch.
11. App Launch
The experts will help you to launch your app on a platform such as Google Play Store or Apple App Store.
12. App Marketing
Whatever you have developed, let the world know via an appropriate marketing strategy. It will help you to connect with the potential customer base. The only thing you need to take care that your app must solve the problem for which customers are searching.
13. Mobile App Maintenance
Mobile app maintenance or web app maintenance is very important for continuous business growth and strong relationships with your respected customers. The point is that sometimes the app stops performing well in the absence of maintenance that directly affects the business.
So, what you can do- for regular updates, you must hire a mobile app maintenance company that will help you to keep your app fully functional in the long term. Usually, the maintenance cost of mobile app maintenance remains 20-25% of the overall project cost. Therefore, it is not the spending; it is a worthy investment.

How Much Time Will It Take To Create A Mobile App?
Developing a professional app is not an easy task when there are a lot of expectations from it. Some crucial factors also affect the app development time. The factors such as app idea, the app's complexity, features to be implemented, and app security is essential.
If you are going to develop a basic app, then it may take less time, but if you want to implement advanced functionality, it may take more than 5-6 months approx.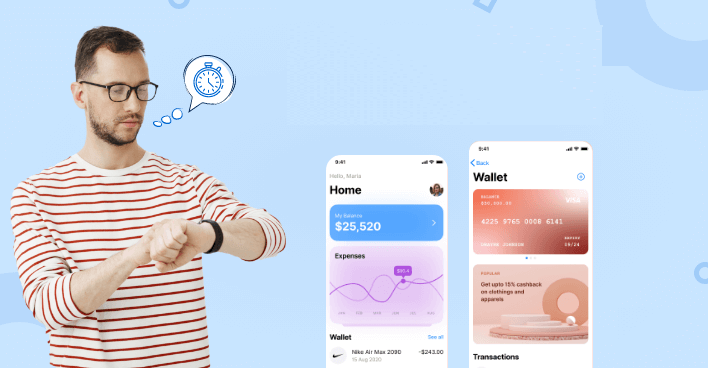 Infographic on Create A Mobile Application

How Much Does It Cost To Create A Mobile App?

The year 2019 and 2020 are gone in fear of Pandemic, but the year 2022 came with various new opportunities where the market is growing and moving forward gradually. The businesses are looking forward to innovative ways to boost growth. Launching a business with the help of a mobile app is a fantastic idea. Most of the startups are going this way.

When an enterprise or startup decides to develop the app, then questions like the following comes to mind –
How much does it cost to develop a mobile application?
Or 
How much does it cost to create a mobile app?
It is obvious to ask this question as it is directly or indirectly related to fund management. So, the answer to this question is to create or develop an app with some factors associated, but if we go with the average cost to develop a mobile app, then it can be in-between $8000-$15,000. It can be more with the advanced features.
Including complexity and features, cost also depends on what kind of mobile app developers you have hired. So, before taking any decision, it would be best to hire a mobile app developer who can add worth to your product to refrain from money wastage.
In this section, we have gone through some essential aspects related to mobile app creation. In the upcoming section, we will read about the steps to create a mobile application.

The Final Words
It is expected that total mobile app spending will reach 85 billion USD by 2025. So, there are vast chances of growth for almost all businesses, and a mobile app will work fantastic for it. If you are also a small business owner or a start-up, then the right to launch your next business app is now. So, as the conclusion here some following points that you can follow such as–
Create an Idea
Research the market trends
Wireframe your idea
Hire mobile app developers
Develop a mobile app
Test and launch
I hope this article will help you have a mobile app that facilitates your customers to have a great service experience in a well-mannered way.
Frequently Asked Questions
Q1. What is Mobile App Development?
Mobile app development is the process of designing, creating, and programming software applications that run on mobile devices like smartphones and tablets. It encompasses the entire app development lifecycle, including concept, design, coding, testing, and deployment to app stores.
Q2. What is the Cost to Create A Mobile App?
The cost of creating a mobile app varies widely and depends on factors such as complexity, features, platforms, and location of development. On an average, mobile app development cost begins at $8,000 to $15,000 or more for a quality mobile app.
Q3. How Long Does it Take to Create A Mobile App?
There is no fixed time for mobile app development as it depends on the mobile app requirements given by the clients. So, if you want to know the exact time required to create a mobile app, connect with Dev Technosys now.
Q4. What Are the Benefits to Create A Mobile App?
Well-developed and feature-rich mobile app development process offers several benefits, including increased brand visibility, enhanced user engagement, direct access to customers, improved customer loyalty, the potential for additional revenue streams, and the ability to provide personalized and convenient services. Mobile apps can also streamline business processes and offer valuable data insights, making them a powerful tool for businesses and organizations.
Q5. Which is the Best Mobile App Development Company?
Among all organizations, Dev Technosys is recognized as the best mobile app development company. With a team of 500+ dedicated developers, creative designers, quality analysts, and testers, we can create an outstanding mobile app for you. Feel free to seek our mobile app development services.