Are you passionate about helping people via an app like TaskRabbit? So, they can get the services from skilled taskers. 
Or 
Do you want to build an app like TaskRabbit, where people can find a skilled handyperson for the services like furniture assembling, TV mounting, home relocation, delivery services, or any other home services? 
If yes, referring to apps like TaskRabbit is such a great idea as there is ample need for solutions similar to it.
Every decade the world faces some changes and things replaced by their advanced version. The same is applied to the economy and the market. There is a new term in the market that is Gig Economy. It refers to the exchange of labor & services between individuals where they connect via an online marketplace or digital platform. The workers can be on-call, contract basis, or works based on per task.
The apps like TaskRabbit are raised as one of the great popular solutions as a unique solution to all needs. This app is the best example of Gig economy apps and works as a great medium that connects potential customers to freelance talent.
Here are some interesting facts that you would like to read-
57.3 million freelancers are working around the USA.
In 2020, the gig economy was 296.7 billion USD, and it is expected to reach 455.2 billion USD.
TaskRabbit is one of the promising apps used by the major population in the USA, where 140,000 taskers exist on the network.
Some facts About TaskRabbit 
These facts are really interesting if you are looking forward to building apps similar to TaskRabbit.
Founded in 2008, and Ingka Group acquired it in 2017.
It deals in 45 categories such as furniture assemblies, home services, TV mounting, domestic help, and all.
It has a presence in four countries Unites States, the United Kingdom, Canada, and France.
60% of taskers are millennials, and the total number is near around 140,000.
In the US, an average tasker earns $35/hour.
What is TaskRabbit?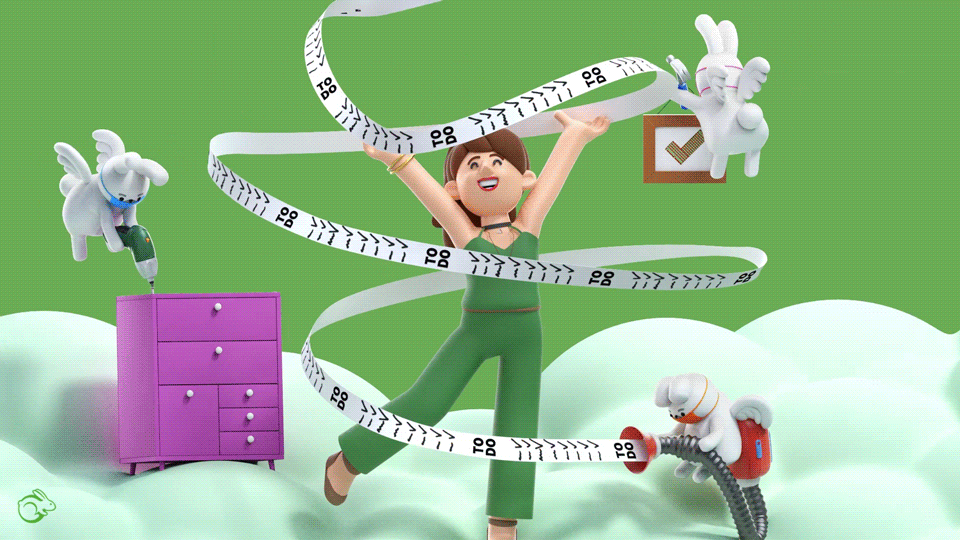 When it comes to finding out the freelancers experts who can provide the solutions you need, TaskRabbit is the most preferred choice among the customers. It comes in two forms one is a web portal, and another is a mobile app. The TaskRabbit mobile app can make your household task easy where you can request any help from kitchen appliance repair to the house shift. Here you can find help such as
Features Task
Handyman
Moving Services
Yardwork & Removal
Furniture Assembly
Mounting & Installation
Cleaning
Shopping & Delivery
Office Services
Contactless Tasks
Baby Prep
Virtual & Online Tasks
Help for Parties & Events
& many more.
It is not only for the requester, but it is also a tremendous app for freelancers to register themselves as taskers. If you are looking to step toward building an app like TaskRabbit, it will be beneficial for you.
Note: In March 2021, TaskRabbit launched its services in Milan and Rome, which is considered a step forward to include more customers.   
How Does TaskRabbit Works? 
Finding the right help at the right time sometimes becomes tough. For finding a service provider, you need to search through site by site and pages by pages where TaskRabbit works like magic. You only need to search within milliseconds; you have profiles of taskers in front of you that you can choose as per your need. For any person looking for home services app development, then TaskRabbit is best for taking inspiration.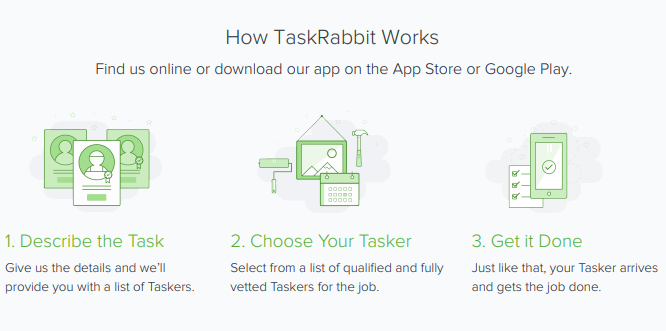 Using this app is very easy. You need to register yourself than in the next step; you need to build your profile only. The best part is you can schedule the appointment with taskers as per your need. Then after you can search for the desired services, you can apply the filters to narrow down the search for saving time.
It is a tremendous mobile marketplace that allows finding the skill taskers. TaskRabbit claims that the customers need not worry about the damage as they only allow skilled taskers to onboard on their platform.
#A. For Users
#1. Getting Started
For using the TaskRabbit app, you need to download and install it from Google Play Store or the iOS play store. After installation, you have to set up your profile by filling in some essential details.
#2. Finding a Tasker 
For any help or work, you can search for an individual tasker or a contractor. Suppose you need to get multiple works done at your home or office, then you can also hire individuals and form a team. The TaskRabbit facilitates the user with keyword-based searching. Suppose you want to renovate your home, then in the search bar, you have to enter home renovation.
Then there you need to fill in some basic information, including your location. Within seconds it will display the profiles with the price. After choosing the right one, you can schedule the appointment with ease.
#3. Hiring a Tasker
For hiring the tasker on TaskRabbit, you can get all the information related to him by clicking on the profile to help you make the decision. There you can check reviews and feedback posted about a particular tasker. In addition, some taskers are ranked as Elite Tasker then it means that these are marked as high rated taskers by the users and met the following standards –
A tasker has a rating above 98% or gets the five-star maximum time from the users after the job is done.
Complete almost all tasks every month in comparison to the other taskers.
They have not violated TaskRabbit's guidelines.
Note: Once you booked the tasker, you will have a notification about the $1 charge applied to your account to verify your credit card details. The actual charge you have to pay once the tasker finishes the job.
#B. For Taskers 
#1. Sign up
To become a tasker, a person needs to download the tasker app for registration.
#2. Build Your Profile
Some essential details need to be filled in, such as name, experience, and task in which a particular person can help.
#3. Eligibility Verification
for verifying the identity, this process is crucial once it has been done, then further steps are smooth. The tasker needs to provide social security number, including other details.
#4. Registration Fee
Inapplicable cities, a tasker needs to pay a $25 registration fee.
#5. Set Location & Availability 
It refers to mentioning availability in the area, working hours, and day availability.
#6. Start Getting Work
Once all the steps are done, then the taskers get the job as per their specialization.
It is much necessary to implement the user and tasker segment in the app if you want to build apps like TaskRabbit. Directly you can understand it as the TaskRabbit app is for two persons one is task doers and task posters. So, initially, you have to ensure that your app must work fine for both categories.
What are the Features You Should Consider While Developing an App Like TaskRabbit? 
The most crucial thing that makes an app successful and popular is its features. For developing apps similar to TaskRabbit, having information about the features is much required and fruitful. In combination, your app will contain three segments – end-user panel, tasker panel, and one admin panel. Here are some brief information about the features-
#A. End-User
Smooth Signup
Easy Navigation
Profile Management
Save favorites
Help & Support
Service Selection
Search Tasker
Appointment Scheduling
Cancel & Reschedule Appointment
Review & Rating
Payment
#B. Tasker Panel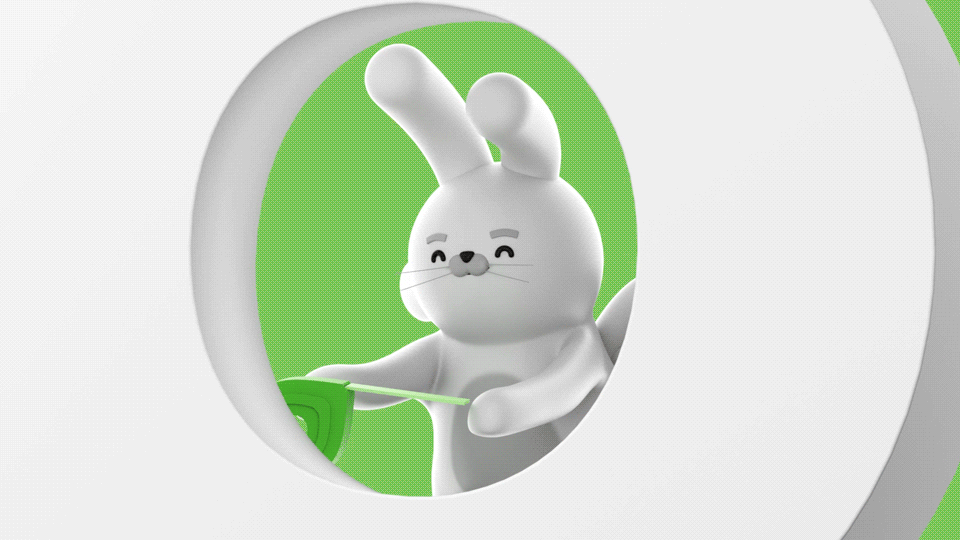 Easy Registration
Profile Setup
Adjust Visibility
Chat With Customers
Push Notifications
Ticket Generation
Adjust Working Hours
Accept/Reject Customer's Request
Review Customers
Service Price Modification
See & Manage Earnings
#C. Admin Panel
Monitoring User and Service Provider Activities
Push Notifications
Adding or Removing Service Providers
User Profile Management
Manage Review & Ratings
Complaints Handling
View Payment Histories
CMS Management
Ad Management
Appointment Monitoring
Mail & Message Sending
Develop An On Demand Mobile App At The Top Mobile App Development Company
You can also add more feature in you app like TaskRabbit although you need to focus on these following 7-must have features –
#1. Push Notification
For any on-demand app development, push notification is must require a feature that enables the users to get real-time updates. It is useful for users and useful for the app owners so they can connect with the users to send the deals, offers, coupon codes, and other information as updates. More than 90% of apps use push notification features, and you can't believe that results are great.
#2. Social Media Integration
Social media is one of the powerful mediums in terms of customer engagement and retention. Social media integration improves the app functionalities higher. Especially if you're going to develop an on-demand app like TaskRabbit, it is much better that your app must have a social media feature.
User can use their social media account to login into the app and on the other hand, the service providers can use to promote their services, publish their ads, attracting new customers, and others.
#3. Analytics
It is necessary for any app that is supposed to build for the business activity must have an analytics feature because without monitoring the things can go worst. If your app, like TaskRabbit, has analytics features, it will be easy to monitor each little activity. It includes monitoring the app usage, users' onboarded, user's and service provider's activity
#4. Multiple Payment Options
Many users are using apps similar to TaskRabbit. You have to consider that each user likes to play with their favorite payment method, so here you need to include multiple payment options to pay as per their convenience. There is a huge volume in the digital payment market where options are payment from credit card, debit card, mobile wallet, and COD. Among all these methods, a mobile wallet is perfect. It is safe and secure can be recharged within seconds from the bank account.
Know about Top Android Frameworks For Mobile App Development
#5. Smooth Registration        
It is a fact that apps having a hectic registration process have disappeared from the App Store and Play Store due to the fewer users. It would be best to put your all efforts into building an app like TaskRabbit having a smooth registration process so the users can enjoy it while onboarding the app to get the service done by the taskers.
#6. Personalization 
Each user wants to use an app according to the choice, and here, you are going to develop a service provider app so, it is much required to implement a personalization feature in the app. The user should be able to customize it as per their preference and use.
#7. Loyalty Program  
Now these days, most apps offer loyalty programs to their users. It creates trust and harmony between brand and users, so you can also consider it as one of the potential features while building an app similar to TaskRabbit.
How to Develop a Service Provider App like TaskRabbit?
The most important thing required to develop the TaskRabbit clone app is a positive mindset and patience, including technical expertise. Here are some easy steps to follow –
#1. Goal Setup
Although it is an initial step but most important for the app development. Here you need to set your goals that why you need an app and what are the objectives that you want to get fulfilled by it. The most important questions you should ask by yourself that –
-How your app like TaskRabbit will help others?
-How will your app improve the user experience?
-How will it solve the issues?
Finding answers to these questions is most important because the whole story revolves around it.  
#2. Revenue Model  
If you are planning to launch a personal app only for informational purposes, then it is okay. Still, if you need to develop an app for business purposes like TaskRabbit, you need to decide on the revenue model. That can be of the following type –
– Subscription Based
– Freemium Model
– Pay Per Service
– Advertisement Model
All these models can promise great revenue; the only thing you need to consider is app marketing.

#3. Wireframing 
Wireframing, in simpler terms, can be understood as a sketch of an idea. The Wireframing represents the skeletal framework of the mobile app. It is such a great concept to prepare sketches of the functionality and components of the app. It saves you from the last-minute change in the design. If you forget to add something, then you can do that during the Wireframing.
#4. Crafting Backend
Once you have done with the above step, proceed for the actual implementation that can be categorized into two parts, i.e., front-end development and back-end. For the best user experience, you need to ensure that both must be fine and work in synchronization. Because if there will be no balance between the front-end and back-end, then things may become worst, and you may lose what you want.
#5. Testing 
Testing of an app like TaskRabbit is as important as development. It would be best to test the app with strict testing guidelines to avoid further issues even after launching. Sometimes a simple bug can damage an app's functionality, and you never want to have it in your app, so strictly test it before launch.
#6. MVP
Instead of launching a final version, it would be better to launch MVP that stands for Minimum Viable Product. The MVP version contains the essential features of an app that you can use to showcase the investors or seek approval from the compliance authority. It is secondary usage; the first use is beta testing. The reason is sometimes, after testing, there may be chances that some bugs are left. Via beta testing, these can find out, so MVP is best for that. Real-time users' feedback is also added to help you launch an error-free version of an app as the final version.
#7. The Final Version
There is no need to tell what the final version is, but if you have worked tremendously on the above steps, your app will be successful.
What Will Be The Cost To Build An App Like TaskRabbit?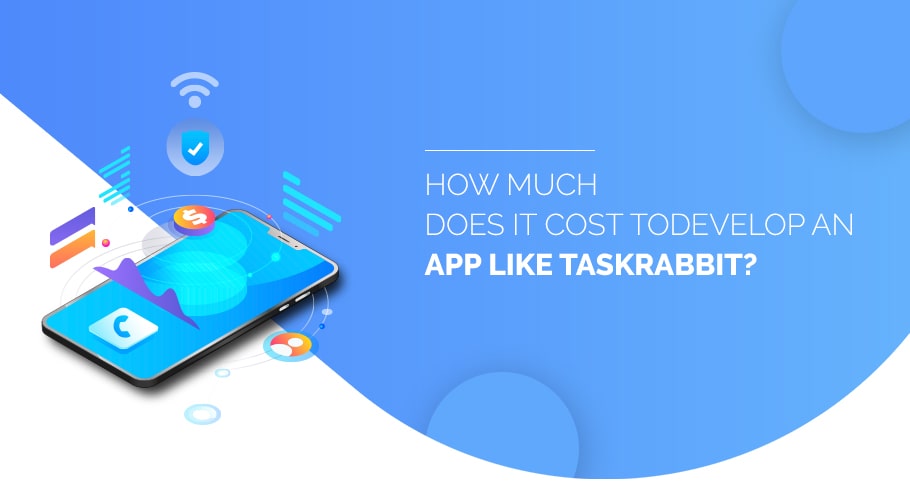 Several factors can affect the development cost; however, approximate it takes $30,000-$50,000 to develop a TaskRabbit app clone. The factors that affect the cost are features, functionalities, UI/UX, and platforms.
The basic version of an app like TaskRabbit will cost you around $10,000-$15,000. The cost will increase as the complexity increase. The USA's mobile app developers charge $25-$50 per hour that you can choose accordingly.
Top-10 TaskRabbit Alternatives
You can also refer to these top-10 alternatives while developing apps like TaskRabbit.
Thumbtack
Wonolo
Jobble
Amazon Mechanical Turk
Upshift
Handy
Take
Staffy
Agent Anything
Helpware
All these alternatives mentioned here are tough competitors of TaskRabbit and unique from each other. The only common thing is that these apps are the best examples of Gig economy apps. So, for the success of your app, it would be best if you research all these apps, including the TaskRabbit app.
The Final Words about It!
During the past five years, the Gig economy rose and is expected to reach USD 455.2 billion. There are several apps based on this economical concept in the market where TaskRabbit is one of the best available apps that connects the customers with taskers to get the job done skillfully. If you want to build an app like TaskRabbit, then you are thinking in the right direction. Only you need to hire dedicated developers to help you develop apps similar to TaskRabbit.