In today's digitized world, where every product and service is available online, finding soulmates have become the new normal. Those days are gone when people used to search for their perfect match online with the help of relatives and other sources.
The invention of matrimony mobile applications and website have made the search process easier and hassle-free. The matrimony apps have unlocked thousands of options for people to select a perfect life partner from their comfort place.
With the increased demand, businesses are planning for matrimony mobile app development and searching for the cost to build a matrimony mobile app.
Are you also one of them? If yes, then this blog is for you. Here you will know everything about the matrimony mobile app, including its cost, features, development, and more. So, let's get started!
Introduction to Matrimony Mobile Apps & Website
Matrimony mobile apps act as a one-stop destination for people looking forward to finding a perfect partner matching their likes and preferences. People can simply download the matrimony app, create a profile, and start looking for a perfect life partner. They can also apply advanced filters such as location, appearance, religion, and more to get the best results.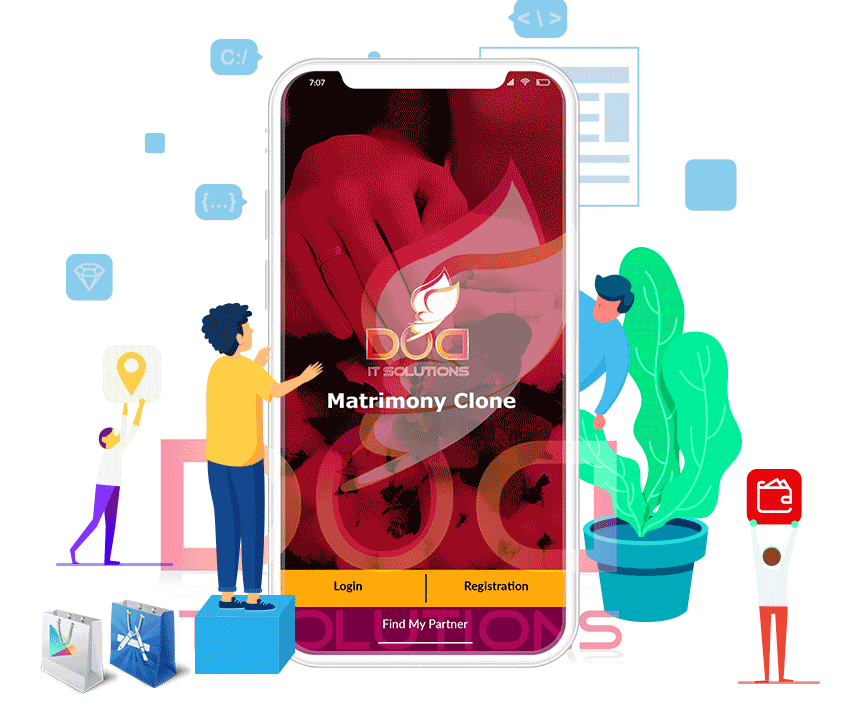 Well-developed matrimony mobile apps have unique features and functionalities that make the search process easier. Users can simply send requests to each other via the 'Connect' button and start chatting to build a better connection before marrying.
So, this is how the concept of matrimony app development works and makes it easier for people to date online.
Matrimony Mobile App Development Market Stats & Growth
Time has changed greatly, and people now prefer to use online matrimony websites and mobile apps for matchmaking rather than implementing traditional ways. In previous times, not every parent believed in online matchmaking, but everyone has slowly started adopting this new trend.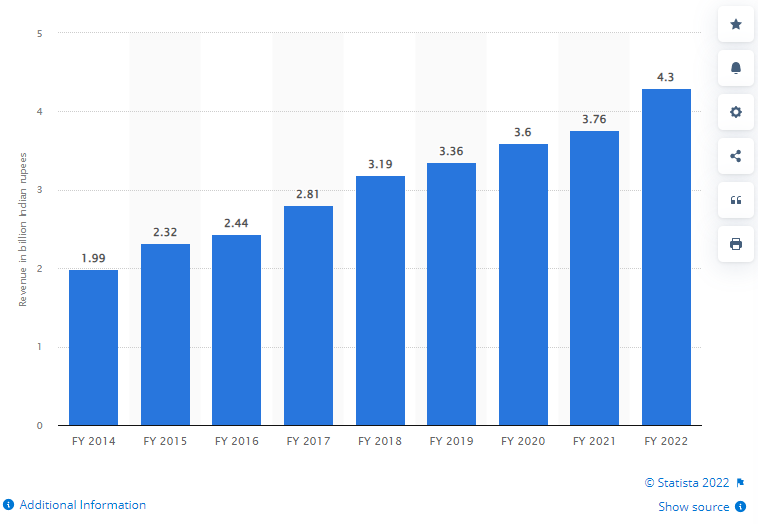 The revenue from the online matrimonial business is expected to increase in 2023 compared to the revenue generated in 2017.
As per recent statistics, in 2023, the market is expected to reach $0.26 billion, a significant increase from $0.11 billion in 2017.
In the fiscal year 2023, Matrimony.com matchmaking services brought in nearly 3 billion Indian rupees, up from about 3.76 billion rupees the year before.
Top mobile app development companies have increased their investment by 25%to 30% The development of mobile internet usage has proved to be extremely beneficial.
These statistics reflect the demand for matrimony mobile apps in today's competitive world. Since the demand is increasing significantly, businesses must be well-versed in the process to develop a matrimony mobile app and matrimony app development cost to outshine competitors.
After that, creating a successful matrimony app will become a little easier. But before that, let's look at the popular matrimony apps ruling the market.

List of Popular Matrimony Mobile Apps to Find Your Soulmate
Matrimony apps are a boon for people who believe in arranged marriages and prefer to find a perfect soulmate online. Nowadays, ample matrimony mobile apps are available online for free, and they are gaining huge market attention.
If you are also searching for such websites or applications, refer to the following list of the best matrimony mobile apps. Each application has a different cost to build a matrimonial mobile app depending on the application features, functionalities, tech stack, and more.
Top 5 Matrimony Mobile Apps 2023

Matrimony App

Customer Ratings

No. of Downloads

Available On

Shaadi.com

3.9
10M+
 Android | iOS 
Jeevansaathi
4
10M+

Community Matrimony

3.8
10M+
Android | iOS
Betterhalf.ai
4.3
1M+

Gofordesi.com

3
10k+
1. Shaadi.com
It is one of the popular matrimony mobile applications. In India, it ranks among the most demanded matrimonial apps and websites. Through Shaadi.com, you can find a partner based on caste, religion, education, height, astrology, photos, and more.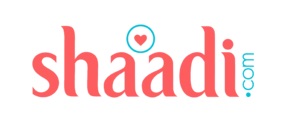 Features of Shaadi.com Matrimony Mobile App
Review matching profiles and their matches
Communicate with the match via Shaadi Messenger
Video calling feature to meet your mate
Search based on community, city, or career
2. Jeevansaathi
Running for the past 15 years, Jeevansaathi is another leading app for online matchmaking. Users can access this amazing app from any corner. This matrimony website and app creates different profiles based on caste, appearance, likes, and more.
So, people can easily find their perfect soulmate based on their preferences. So, the matrimony mobile app development cost for such apps varies on the features included.

Features of Jeevansaathi Matrimony App
Personal confirmation for genuine profiles
Chat and Hangouts for message sharing
People can post video profiles
Voice and video calling for forming better connections
3. Community Matrimony
As the name reflects, it is a community-based matrimony mobile application used by thousands of people to find their match. There are around 350+ communities registered on this matrimony website or application, so the chances of getting a perfect soulmate are unlimited. Businesses planning to create a community-based matrimony app can use this application as a reference.

Features of Community Matrimony Mobile App
Highly safe and secure
Easy to use UI and partner search
Save the matches
Instant push notifications
4. Betterhalf.ai
Betterhalf.ai is the first marriage app that doesn't involve parents. It is the free, fastest-growing matrimonial app with the latest technologies like AI to connect lovers. A revolution in the matrimonial sector has begun with the Betterhalf.ai matrimony website or app.
Its cutting-edge compatibility algorithm powered by AI is coming to disrupt the traditional dating app model. Undoubtedly the cost to develop a matrimony mobile app like betterhalf.ai will be high compared to the rest.

Features of Betterhalf.ai Matrimony App
Search partner based on your marital status
Exclusive features to keep users engaged
User-friendly and intriguing interface
Get Selfie & Govt ID-verified profiles based on compatibility & interests
5. Gofordesi.com
Like in the USA, people who live abroad face difficulty to find an Indian bride or groom. So, to overcome this challenging situation, the gofordesi.com matrimony website acts as a savior. It is an amazing application to find a desi and compatible match based on different preferences.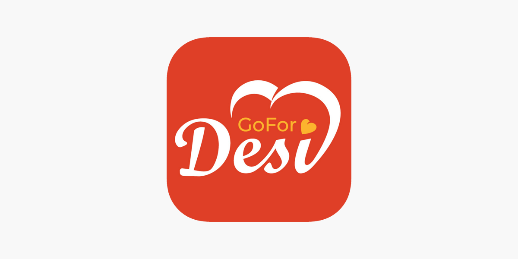 Features of Gofordesi.com Matrimony Mobile App
Free and reliable place to find Indian soulmate
Messaging features to create strong bonds
Contact unlimited members until you find the right match
No information sharing without your consent
Here you go! These are the five popular matrimony apps of 2023 that users can refer to find their perfect soulmate, and businesses can take reference to develop a matrimony website.
But, as you can see, different websites or applications have different features, and the mobile app development cost will vary accordingly. So, let's discover the factors affecting the cost of the matrimony app.
Major Factors Affecting the Cost of Develop A Matrimony Mobile App
Looking for the exact cost of matrimony app development? Following are some of the cost-affecting factors suggested by the app development company experts that every business owner should know.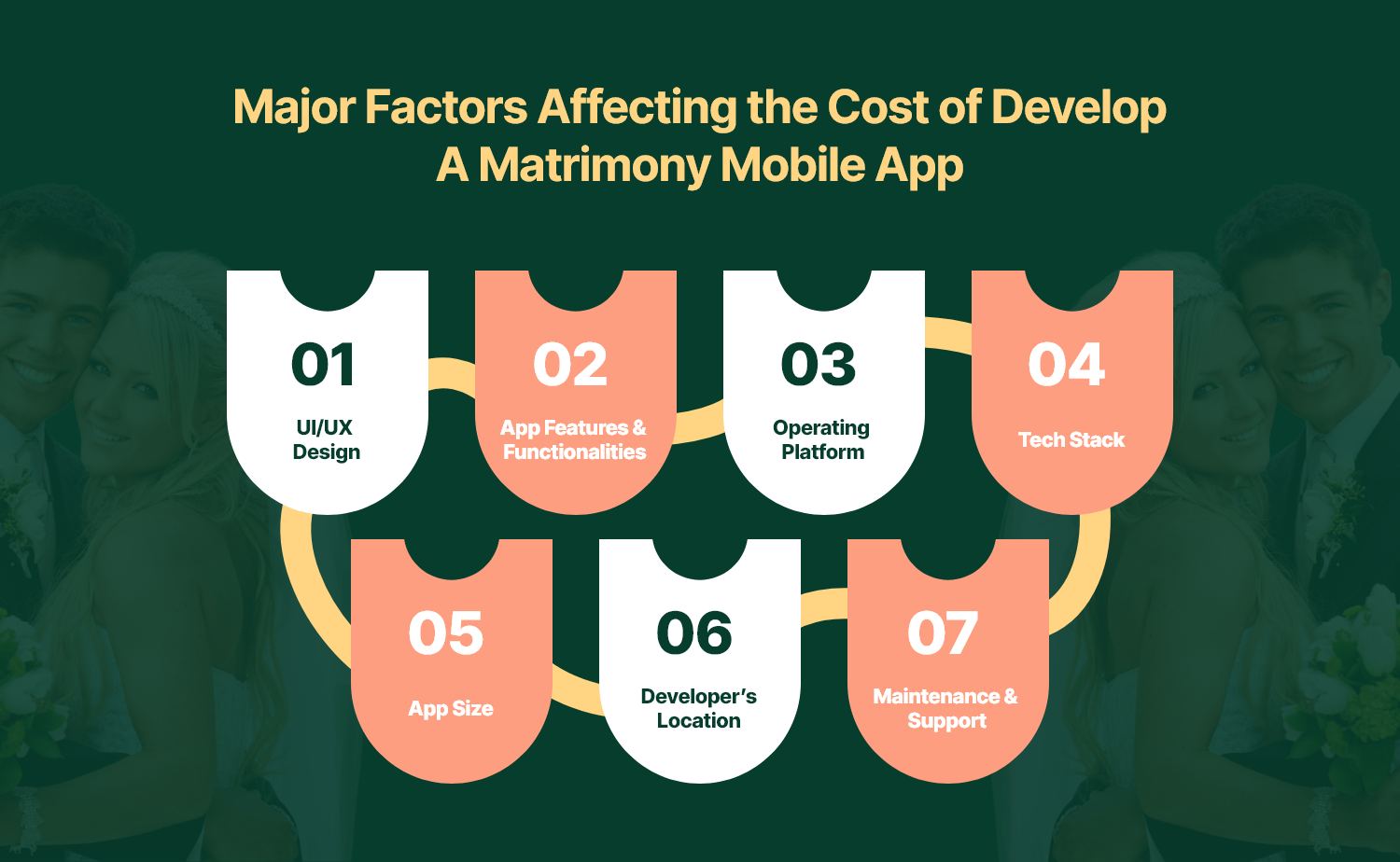 1. UI/UX Design
Whether you develop a matrimony website or a mobile app, its design is crucial in catching the users' attention. But, you must know that the design of a business website differs from a matrimony mobile application, and hence the cost varies. The more complex the design, the higher the cost of matrimony app development will be.
Average Cost: $3000 to $10,000
An investment made once in the design of a business application can benefit you in the long term. So, if you don't have enough budget for your matrimony app, try to keep the design simple yet appealing; rest, you can go for the advanced UI/UX design.
2. App Features & Functionalities
Every mobile app has a unique set of features and functionalities, which is undoubtedly one of the major cost-affecting factors. To develop a unique matrimony app, businesses make the mistake of inserting too many features in a business application. It further increases the app development cost.
So, the best alternative is to include only the essential features if you have a limited budget to develop a mobile app.
Besides this, if budget is not the major concern, try to include unique features that make your business app stand out and outshine the existing matrimony applications.
For that, first, hire a mobile app developer, discuss your budget and requirements, and they will provide you with the best solution accordingly.
3. Operating Platform
Every business application is developed for a certain operating platform, and the target audience also differs based on the platform. For instance, some people have Android devices, while some have iPhones.
So, businesses have to decide the operation platform for which they have to develop a matrimony app. The cost of the development platform varies from Android to iOS and cross-platform.
Android App – $10,000 to $20,000
iOS App – $20,000 to $30,000
The cost of an Android matrimony mobile app begins from $8,000, and the iOS matrimony app development cost begins from $30,000 and more, depending on the application. So, whether you want to go for android app development or iOS app development, decide everything before development to get an idea of the estimated cost.

4. Tech Stack
Technologies are one of the essential assets to make an application successful, but on the other hand, they are a major cost additional factor during the mobile app development process.
Undoubtedly, every business owner wants to make their business app unique and incorporate the latest tools and technologies, but this greatly increases the cost.
| | |
| --- | --- |
| SMS & Voice Verification | Nexmo, Twilio |
| Payments | PayPal, Stripe, EWallets, NetBanking |
| Database | MongoDB, Hbase, Cassandra, Postgress |
| Mobile Platform | Android, iOS |
| Push Notifications | Twilio, Push.io |
| Cloud Environment | AWS, Google, Azure |
| Real-time Analytics | Hadoop, Spark, BigData, Cisco, IBM |
Businesses need to understand the need for particular technology for their matrimony mobile app and then insert the tech stack accordingly. Taking care of such things will keep the budget on track and help businesses craft 100% secure and successful applications.
For better assistance, it is advisable to avail assistance of a renowned website development company or mobile app development company.
5. App Size
Application size completely varies depending on a mobile app elements, features, design, and other factors. If you are developing a simple matrimony mobile app, the size will be small, and hence the cost will be low compared to an application of a big size.
So, keep an eye on the rest of the factors to keep your matrimony website or application size in control. It will ultimately balance the app size; thus, you need not pay a huge cost to develop a mobile app.
Small App – $5,000

Medium App – $13,000

Complex App – $21,000
6. Developer's Location
You are wrong if you think that only the development process and its associated process will impact the development cost. The mobile app developers' location will also impact your budget.
For instance, if you hire mobile app developers in the USA, the cost will be slightly high, but the work quality will be top-notch. On the other hand, if you go for cheap mobile app development services, you need to adjust the quality. Now, you decide what you want – Quality or Budget?
One of the best solutions to overcome such obstacles is to hire a mobile app development company whose prices are reasonable enough and where experienced professionals work. It can be possible with a little research and effort.
7. Maintenance & Support
The matrimony mobile application development doesn't end right after its development. Yes, you read it right! Timely mobile app maintenance and support are essential to keep the application updated and working seamlessly.
So, besides investing in developing a mobile app, keep a budget for its maintenance and support. When you update the mobile app, you need not spend a huge amount on its maintenance, but if you ignore the process, be ready to pay bucks for a long time.
It is better to ask the mobile app developers about maintenance charges while availing their assistance. A better decision taken in the beginning will save you from future expenses and keep your matrimony app success on track, that too, for the long-term.
These are the seven major factors affecting the cost to build a matrimony mobile app. We hope you must have got cleared clear the things to consider while planning for matrimony app development. Just discuss all of these factors with your mobile app development services experts and they will deliver a successful app within the desired budget.

How to Develop A Matrimony Mobile App Within Your Budget?
Want to develop a long-term matrimony mobile app on a reasonable budget? Follow these step-by-step matrimony app development processes, and you will get a mobile app adhering to your business needs and demands.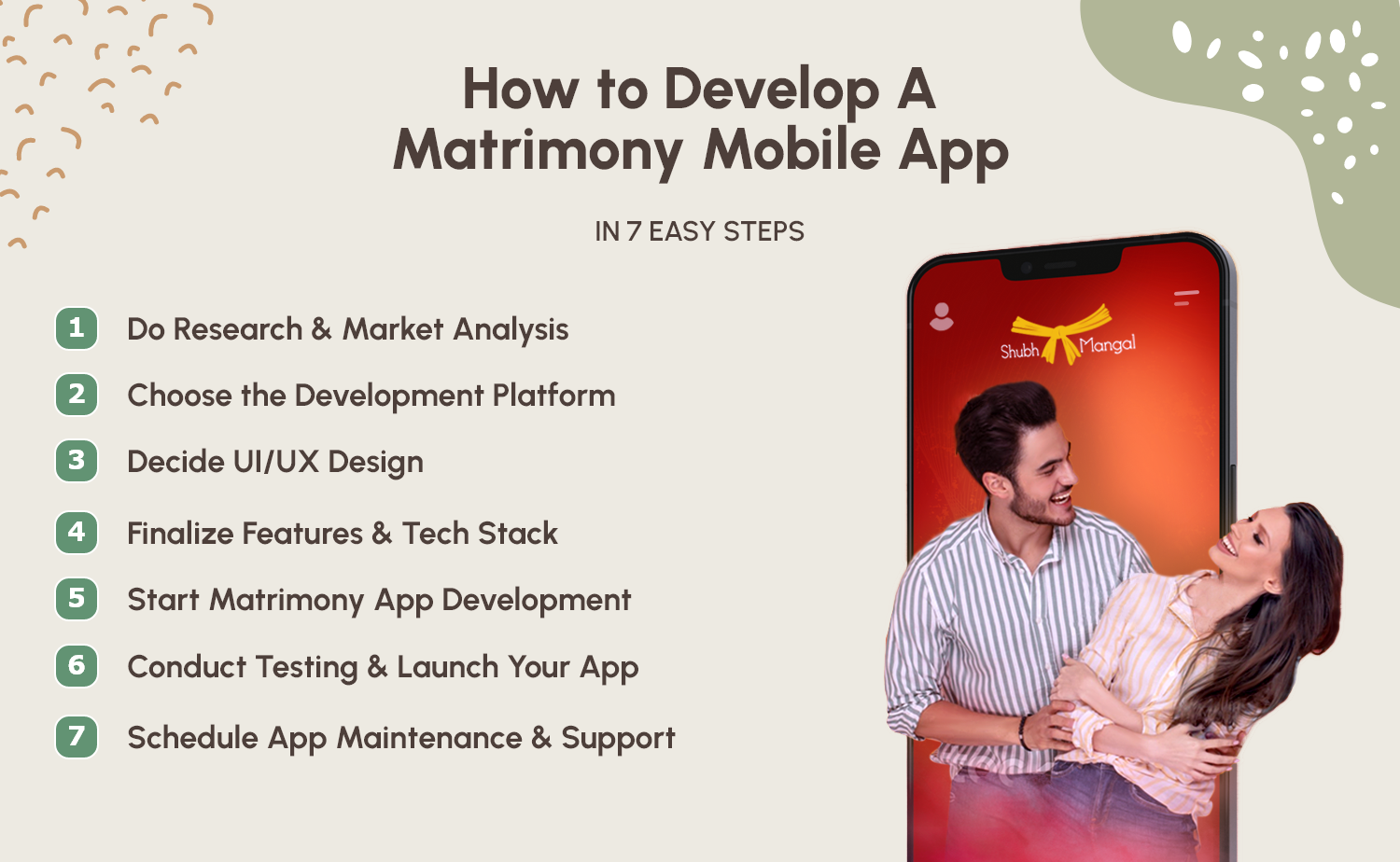 #Step 1 – Do Research & Market Analysis
Research is the key to success. We all must have heard this, and undoubtedly it is a fact. So, conduct extensive research before you plan matrimony app development.
Additionally, knowing about your competition is crucial to leave them behind. Research the top matrimony apps in 2023, search for their loopholes, and try to fulfill them while developing a mobile app.
#Step 2 – Choose the Development Platform
When developing a mobile app, choosing the development platform is crucial to initiate the process. So, decide whether you want to opt for iOS app development or Android app development. Your platform will impact the rest of the matrimony app development process.
#Step 3 – Decide UI/UX Design
Next, think of a unique UI/UX design for a mobile application to make your application appealing and grab the users' attention simultaneously. Mobile app design could be a revenue-generating factor for your matrimony app, so think about it.
#Step 4 – Finalize Features & Tech Stack
Now, coming to the crucial elements of every business website and mobile app. Yes, we are talking about the mobile app features and tech stack. Besides including the basic features, try to insert some advanced features of the matrimony mobile app. Also, if you are availing mobile app development services, ask the experts to add the latest tech stacks.
#Step 5 – Start Matrimony App Development
Finally, you can begin the matrimony mobile app development process, which will become easier after gathering all the details before development. Either do everything yourself or hire dedicated developers from a well-known organization.
#Step 6 – Conduct Testing & Launch Your App
After the successful development of a matrimony app, conduct extensive testing to check the errors and remove them before users recognize them. Once you eliminate all the errors, launch your matrimony mobile app on a suitable platform, i.e. Google Play Store, App Store, or both.
#Step 7 – Schedule App Maintenance & Support
It is an additional yet mandatory step for all mobile app development processes. So, do not overlook the mobile app maintenance after developing a matrimony app, as it might impact the performance of your business application.
This is it! Following these seven-step processes to develop a matrimony app will help you craft a successful app. If you find the process difficult, it is advisable to hire matrimony mobile app developers.
Conclusion!
Hopefully, this blog has offered you a detailed insight into matrimony mobile app development cost, features, development process, and more. Now that you know everything about the matrimony mobile app, it is your turn to get into action.
In this ever-rising competition, developing a feature-rich matrimony app is a must. So, it is advisable to hire matrimony app development company, discuss your app idea with them, and rest assured!
No one can assist you better than mobile app developers with years of expertise and technical knowledge. So, begin your research now!