App development Or App Developers in India is much needed if you plan to widen your audience base and business growth. On the other hand, finding the right talent is quite complex until and unless you have not researched about it or without having a clue about where you can find those.
The whole world is divided into regions or countries. Some countries are known as developed, and others are called developing companies. Some countries are progressing fast, such as India. In terms of geography, it is the second largest country in Asia. The government is also taking progressive steps in terms of technology. Now, you can find technology experts having diverse experiences.
There are many app developers in India, and it is one of the top-notch countries that is catering to the demand of global clients regarding their IT solutions requirements. India is one of the biggest upcoming economies and is on the way. You can find the right talent here.
On the other hand, there is a myth in the market about- It is a good or bad idea to hire app developers, in India.
The truth is there is good demand for Indian mobile app developers. There are some global brands for which many Indian developers are working and creating fantastic mobile platforms like LinkedIn Pulse, Paytm, Zomato, and others.
Here I would also like to mention some statistics in support of why hiring app developers in India is the right choice.
Some Key Stats About App Developers In India
These key stats are based on international survey agencies such as Statista.com, marketinsightsreport.com, and IBEF. So, let's check what these are.
App market revenue in India is projected to reach $1608 million in 2022.
By 2026, the estimated revenue of the app market will be $2286 million, with an annual growth rate of 9.19%(CAGR 2022-2026).
The app development software segment is expected to touch the figure of $1.70 billion in 2022, and by 2027 it will be $3.18 billion with a CAGR(2022-2027) of 13.32%.
The mentioned stats represent a big picture about that how custom mobile app development in India including traditional app development is progressing rapidly. The reason is customization offers 360-degree freedom to implement the features precisely. Due to having a great skill set and fine working style most global clients are opting for custom mobile app development services in India.

Reasons That Makes Hiring App Developers In  India A Right Choice
India is the land of opportunities, and app development experts in India are optimistic. Multiple global brands have outsourced their projects to Indian developers. One of the best examples of a case study about software or app development project in India is Citigroup- a US-based multinational investment corporation. It hired an outsourcing workforce from India, and other outsourcing is from the Philippines and Poland. Other examples of project outsourcing in India are Klout, Fab.com, etc.
Let's check why mobile app development outsourcing in India is the right decision!
#1. Communication
English dominates the market, but in reality, many European and Asian nations are less fluent in this language. On the brighter side, you will find that most Indian app developers are fluent in English. So, you can have a clear conversation and discussion with them. It ensures you can easily convey the message regarding your project development requirements.
#2. Top Outsourcing Hub
For over two decades, India has been one of the hot-shot destinations for outsourcing IT projects. Another destination is Ukraine. But after the Russia-Ukraine war, the Indian IT industry appeared stronger as they were more promising. India is one of the English-speaking countries on the list of top countries efficient in English. On the other hand, the US dominates Indian IT outsourcing services.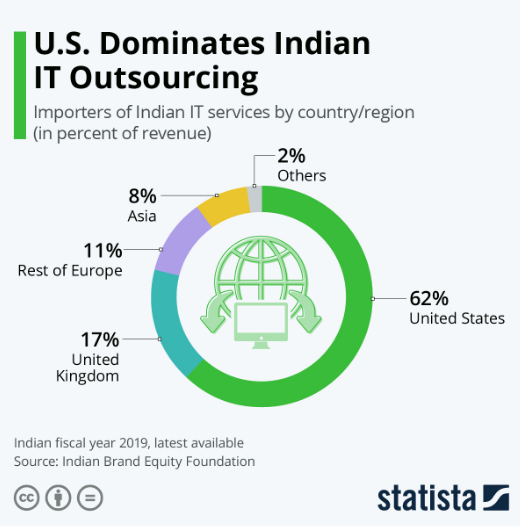 If we go with the industry sector-wise breakup of export revenue, then IT Sector in India is on the top covering 58% contribution in generating revenue. Indian app developers are leading in the line of outsourcing app developers.
#3. Experienced IT Professionals
India is not only the land of diversity but also the land of professionals with diverse skills and expertise. Indian app developers have one of the dominating positions in the list of top IT outsourcing countries. The surprising fact is most of the IT professionals belong to the young workforce, 18-35 years. Here you can find experts in various technology. Whether it is Android technology, iPhone technology, or cross-platform app development, you can easily hire app developers in India.
#4. Affordable Hiring Cost & Models
Compared to the other regions, app developers in India works at affordable hiring cost. That makes it one of the best reasons to choose to outsource. Additionally, the app development industry has three hiring models: full-time hiring, part-time, and hourly. Indian developers work on all these models that you can choose accordingly.
| | | | |
| --- | --- | --- | --- |
| Countries  | Full-time Hiring Cost  | Part-Time Hiring Cost  | Hourly Hiring Cost |
| USA | $100,000- $120,000 | $80,000- $100,000 | $250-$300+ |
| UK  | $90,000- $120,000 | $70,000-$90,000 | $200-$300+ |
| Europe | $90,000- $120,000 | $60,000-$90,000 | $200-$300+ |
| Russia | $75,000-$100,000 | $60,000-$80,000 | $180-$250+ |
| Australia | $70,000- $90,000 | $60,000-$80,000 | $150-$180+ |
| India | $50,000-$70,000 | $40,000- $70,000 | $25-$100+ |
Although the hiring cost also depends on the project's requirements. But one thing is sure, if you are looking for a budget-friendly option for hiring mobile app developers, then hiring Indian app developers is a fantastic option.
Suppose you are looking to hire developers for specific technology such as Android app development or want to develop an iPhone app. In that case, hiring Indian app developers for the work is a much better option. Here are some details regarding technology-specific costs.
Android App Development, India – $20,000- $50,000+
iOS App Development in India- $50,000- $70,000+
React Native App Development- $35,000- $45,000+
Progressive Web App Development– $20,000- $35,000
Phonegap App Development, India- $15,000- $30,000
If you want more details about the cost, then it would be better if you consulted with an experienced mobile app development company in India.
#5. Quality Assurance
Regarding quality assurance, app developers in India are leading in the worldwide software industry. Do you know that most Indian software development companies are ISO certified? That showcases their interest in quality assurance. Including quality, you can have an innovative solution for your business.
#6. Compatibility With Latest Technical Trends
Including the fastest growing economy, India is also a place where you will find experts know implementing trending technology. The IT infrastructure is rapidly progressing, generating the need for trending technology and experts. It is one of the reasons behind the rising demand for Indian app developers.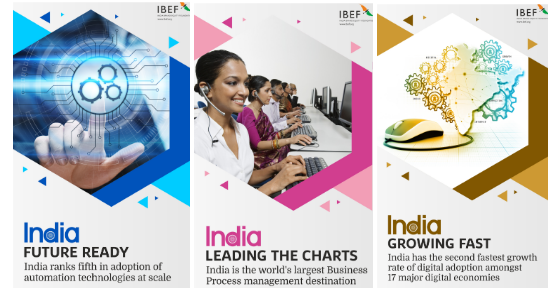 The Indian government focuses more on the IT sector as it is one of the sectors generating good revenue and making the nation proud. They have approved RS 5000 crore to take it to the next level and reach the top for catering to worldwide project development needs. The government has also formed a commission named – Niti Ayog to support cutting-edge technologies like AI, IoT, and others.
Things You Need To Consider While Hiring Indian App Developers
Outsourcing a project to an India app development company is a perfect move, but you have to know whom you will hire. Right outsourcing service providers can help you develop the project excellently. So, let's see what would be better to do for hiring Indian app developers.
First, you need to do is to have patience. Taking a decision in hurl is not the right thing for the project. The better idea is to research over̥ the internet and hire a suitable mobile app development company in India. The reality is there is a cultural difference between USA or UK, and India. So first, you need to know about the cultural values initially, then search about what companies have a good record in providing mobile app development services based on their ratings, reviews, portfolios, and clients' testimonials.
A perfect shortlist can save you from lots of useless efforts. After researching mobile app development in India, make a shortlist of suitable dedicated app developers or companies. The next step is to consult with them to clearly understand their terms of services and hiring models.
Technology and communication tools have thinned geographical boundaries. The Internet allows us to connect with people in other parts of the world. Various communication tools are available, including Apps like Skype, Zoom, Google Meet, and Microsoft Teams. So, after shortlisting, the next step is to have a project discussion with app developers. Here it would help if you enquired about their working methodology, hiring model, working hours, and other specifications.
While discussing the project, it would be best to enquire about their previous project and their work so far. Suppose you are going to opt for iPhone app development in India for your project, then it will be better to explore accomplished project details. It will give you an idea of whether they can make you meet your requirements or not.
The hiring model refers to the ways of hiring developers. In simple terms, you can understand it as the hiring model depicts for what duration developers will work for you. The hiring models are- full-time hiring, part-time, and hourly hiring. The best part is you can choose a model accordingly. But only the bottleneck can be non-availability. So, confirm whether or not the model you want to choose is available with a particular company.
Although you are ready to pay the cost or invest in the project by hiring a mobile application development company, Android development company, or iPhone app development company. The price will be worth it if the project is developed with quality. Try to find out what quality assurance procedure they use, as the app's fate will depend on it.
Cost Estimation of Hiring App Developers in India
In the upper section of this blog, you can find the cost, but if you want to know about that –
How much does it cost to hire app developers in India?
Then on an informational basis, you need to know that the average cost to hire Indian app developers is $30,000- $50,000 on a project basis. The development cost depends on several factors such as –
Project type
Project Complexity
No of features
Team size of app developers
Cost of tools & technology
Testing cost
Additionally, if you are looking to hire Indian app developers on an hourly basis, then it will be like-
Android app developers for hire- $20-$30
iPhone app developers for hire- $25-$45
Read More: How Much Does It Cost To Hire an Android App Developer?
The Final Thoughts
Finding the right talent at the right time sounds fantastic, but things seem as different as they seem. There are several steps associated that you need to follow carefully. For the same, you can search over the internet to hire developers. It will be a great decision if you are looking to hire Indian app developers. For more details, you can contact us any time; our consultants would be happy to assist you with that.