As of 2021, there were around 30 million IoT devices worldwide. As per Statista, the number will increase 3x times more by the end of 2025. This world is dominated by artificial intelligence and advanced connectivity technologies, so leaving IoT behind is not an option. The impact of IoT in the business industry is increasing and slowly, businesses are opting for IoT app development to reap the benefits lifetime.
Internet of Things is a modern progressive technology that contains the ability to connect smart devices with cloud servers. Today, IoT is offering a brilliant opportunity to optimize business processes while increasing their productivity, revenue, and business profits. The vast opportunity and benefits offered by IoT have made it the foremost choice among millions of businesses. Not only this, there is a lot more that IoT offers to businesses.
So, let's take a precise look at the amazing business opportunities that IoT mobile app development offers.
How Are Businesses Implementing The Internet of Things?
As technological advancement is evolving every passing day, businesses are getting several opportunities to incorporate technology, increasing efficiency and improving productivity. Today, businesses are using IoT to bring on-demand mobile app development services accessible to customers. As per research, businesses that have adopted IoT technology into their business process have already seen high ROIs and profits.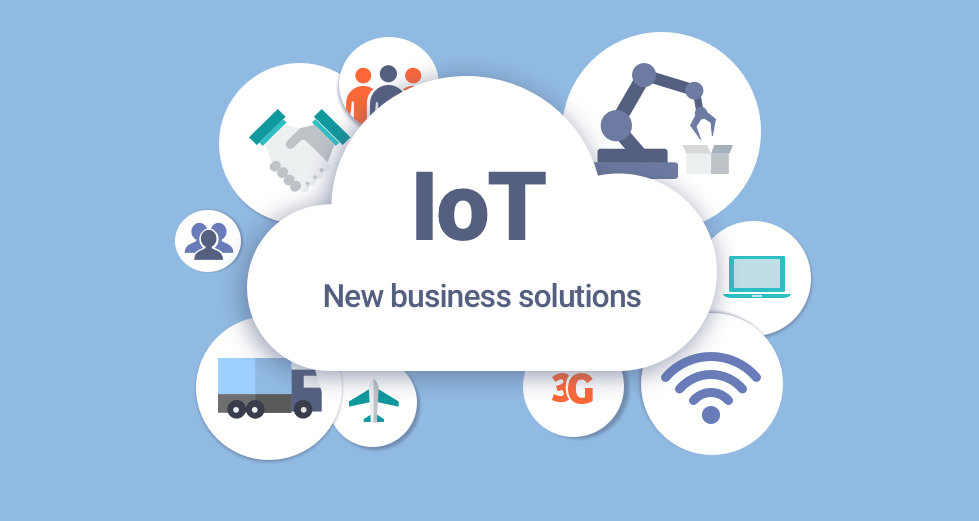 Not only this, there is a lot more impact of IoT that businesses will experience in 2022 and beyond. To better understand how IoT is transforming businesses, continue reading the succeeding section.
Impact of IoT Application Development on Businesses
Are you wondering about how IoT is profiting businesses in today's time? If yes, then the following section will help you. Here is a list of the amazing impacts that internet app development is offering to businesses in today's time.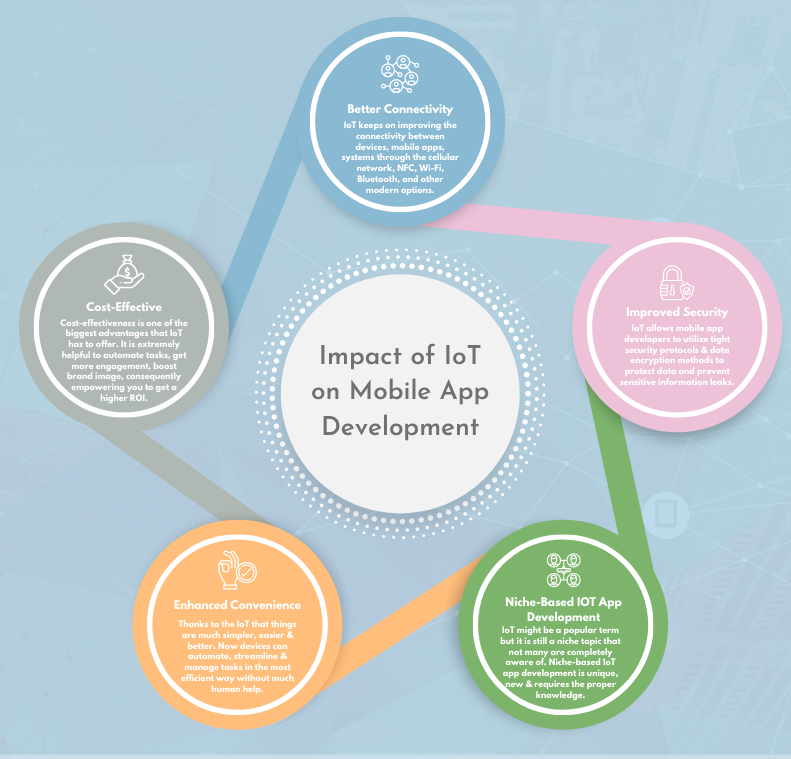 1. Consistent Business Growth
After the growth of global digitalization and the Internet of Things, the technology covers multiple niches which continue to grow actively. For example, research predicts that investment in online app development services is projected to grow by 13.6% by 2022. Moreover, the stats are driven by new sensors, mobile connectivity, and computing potency.
It is seen that applications implementing real-time analytics and IoT can easily switch activities from local devices to cloud computing solutions. So, this is how the impact of IoT promotes consistent business growth and helps them reach the heights of success.
2. Improving Work Efficiency
IoT devices enable organizations to monitor multiple aspects of business and open the door to opportunities to improve work efficiency. Essentially, businesses can analyze different areas of an operation via IoT technology and look for areas to optimize and improve them.
Besides this, IoT application development allows the employees to complete more than one task or job within less time. This clearly means that IoT comes up with more business opportunities to increase profit while improving work efficiency.

3. Personalizing Communication
IoT-based mobile applications generate tons of data which is very crucial for businesses. From managing operations to understanding customer behavior, IoT apps feed every data automatically. It uses insights from the data to personalize communication and, in turn, keep its customers satisfied.
By utilizing the customer's data, businesses can provide products and services that they are searching for. Also, they can suggest the relevant product to increase their business sales. All this activity makes the customer feel valued and helps businesses generate an ever-lasting bond with them.
4. Better Inventory Management
Businesses that rely on physical inventory will be happy to know that IoT applications possess the potential to improve management systems and tracking. Through IoT mobile app development, businesses can easily track changes in their inventory via an automated system. This enables businesses to save their employees time and utilize it somewhere else to achieve more productivity with inventory management.
5. Enhanced Customer Service & Retention
While utilizing IoT-based smart devices, businesses better understand the customers' behavior while improving customer service. All this can be achieved by facilitating follow-ups after sales, such as automated data tracking, reminding customers about product maintenance, etc.
So, this is how the impact of IoT is helping businesses offer the best services to their potential customers while increasing their profit and revenue. But, all this wouldn't have been possible without the support of IoT application development company professionals. So, along with knowing the importance of IoT for businesses, they should also focus on the hiring process.
6. Increased Business Opportunities
A company that uses IoT solutions is able to offer quality products and services due to the increased effectiveness. As a result, organizations will be able to perform more challenging tasks in terms of time and quantity. Also, the smart technologies implemented in IoT-based applications make an enterprise more competitive and, in turn, increase business opportunities.
7. Thorough Business Marketing & Development
Smart IoT devices situated in homes, such as an application or voice assistance, can help businesses directly communicate with end-users regularly while offering invaluable source information for better business analysis. In addition, IoT also helps enterprises gather a large volume of data employed for developing targeted advertising, business strategies, fine-tuning pricing policy, and other marketing activities.
So, these are some of the ways how the Internet of Things or IoT applications are marking its strong presence in the market and helping businesses gain more profit in 2022 and beyond. Now that you are well-versed with the importance of incorporating IoT and its impact in the business process, hire IoT developers and begin the process right away. 

Summing Up…
As we all know that IoT, or the Internet of Things, is considered one of the most promising digital technologies of today's time, and businesses are using it to automate work processes. However, they should also realize that integrating IoT with business requires immense efforts and skills. So, one of the best ways is availing IoT software development services from experienced professionals to get effective IoT solutions.
It is advisable to conduct thorough research to find the best IoT application development company where experienced professionals work. A better investment made today in availing the best IoT development services will benefit you for the years to come.