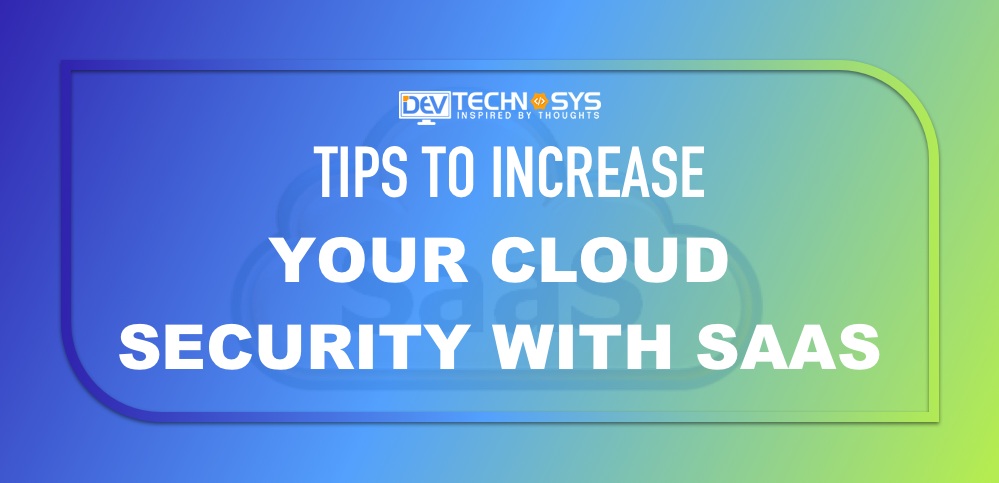 The cloud provides have successfully demonstrate their success in keeping their own services quite resilient as well as available without any signs of breaking under attack. However, the question arises whether cloud is secure or not. SaaS is often the biggest challenge which represents the public cloud use of organization.
Most of the large enterprises have multiple SaaS vendors and the main problem that these enterprises face is that they have significantly less visibility into the entire user activity as well as less ability to impose their own security policy. Security in case of a cloud is a shared responsibility. The cloud essentially reduces the entire scope of vital traditional security work but fails to eliminate it. Also, moving your workloads to cloud doesn't actually make them more secure.
Helpful Factors to Increase Your Cloud Security With SaaS Applications
Secure SaaS: Most of the organizations, especially small to medium sized enterprises are discovering that SaaS can certainly help in improving the overall security. The SaaS provider will be responsible for the management of the application in a particular infrastructure which is continuously protected and monitored.

They will also be responsible for all the security as well as vulnerability testing along with secure deployment and even threat protection during the runtime. SaaS provides help in increasing the cloud security by means of following these vital steps. So hire right SaaS development company which can provide secure SaaS for your business.
Concentrated Team Effort: The SaaS provides will be responsible for the infrastructure as well application security but the overall security is actually a combined effort. Different aspects of cloud security includes access management, privileged identity management, identity management which are the responsibility of the SaaS user.

It essentially means that the user is quite responsible to ensure that all the logins are kept secure and the access passwords are protected adequately. He should also follow good practices which need to be enforces like ensuring login details to be never written down anywhere.
Following Best Practices: Most of the SaaS applications are often compatible with different password managers and they have two-factor authentication services. The entire security on the end of the user can easily be increased by ensuring that the particular application can only be accessed through a secure connection like VPN, instead of an unsecure public Wi-Fi and also ensuring that the web browsers which are used to access the applications should have any known security issues and they need to be kept up to date. This way, SaaS can help in increasing cloud security. SaaS web application development needs to take this factor into account.
Read the Blog: Factors That Define the Fate of Your SaaS Application Development
Utilizing the Security which suits: Measures which actually suit any particular organization's protocols and setups might not suit together as they can certainly vary as per procedural and operational differences. This is where flexibility of SaaS provides the key advantages. The SaaS provide offers various options to suit the various business models and requirements.

You need to work with your cloud provider in order to ensure that your SaaS application actually suits the requirements of your organization, from the existing infrastructure and all the way to the internal security requirements. SaaS application development has to consider these security requirements to enable higher cloud security.
Following Effective Security Strategies: You need to isolate the data at rest with immaculate encryption. The SaaS providers have their own vested interest in actually maintaining a strong isolation between the customer data and routine maintenance procedures. Encryption is quite a useful tool for the purpose of creating logical isolation from different data center tenants which enforce classification policies as well as ensure digital shredding at the end of the life.

You also need to segment and then contain traffic with virtual network as well as filtering controls. Subnets with different virtual private clouds can easily declare if instances have Internet, VPN or no external access. Network access control lists can easily define permitted as well as blocked inbound along with outbound traffic. SaaS application can help in monitoring your traffic and hence boosting the cloud security.

You can also utilize different third-party tools in order to establish a particular security control panel to easily achieve greater visibility, threat protection and compliance, data security as well as automate the entire security configurations.
Read the Bog: What is the Next Wave of SaaS Development
SaaS providers can also take complete responsibility of the entire application code which means the customer can easily develop and even run in clouds. Through the usage of static as well as dynamic testing tools, one can identify as well as remove different application vulnerabilities. For various cloud-based workloads, you can consider cloud-based testing tools.
In order to reduce the risk, SaaS can essentially back up the entire data in a particular fault domain. Some of the cloud providers proposes backup capabilities as a particular extra cost option but it actually isn't a great substitute for any proper backup. In this case, SaaS can offer the customers the necessary cloud security. However, the customers are responsible for the determination of right replication strategies along with maintaining backups.
Conclusion
SaaS can provide multiple security options to the users. When it comes to cloud security, SaaS can easily offer various protection that ensures the users that their data is secured and can't be breached by any external attacks.