Today, where there is a huge demand for online shopping, the need for on-demand courier delivery services is increasing at lightning speed which could only be fulfilled with a well-crafted courier delivery app. Considering the ever-rising demand, most courier delivery enterprises and businesses have already stepped into developing an on-demand courier delivery app.
So, if you haven't started the courier delivery app development process yet and still wondering about it, don't miss reading this blog. While going through it, you will get to know everything about courier delivery app development, its importance, and why you should develop one for your business. Let's get started.
Courier Delivery App Development Market & Growth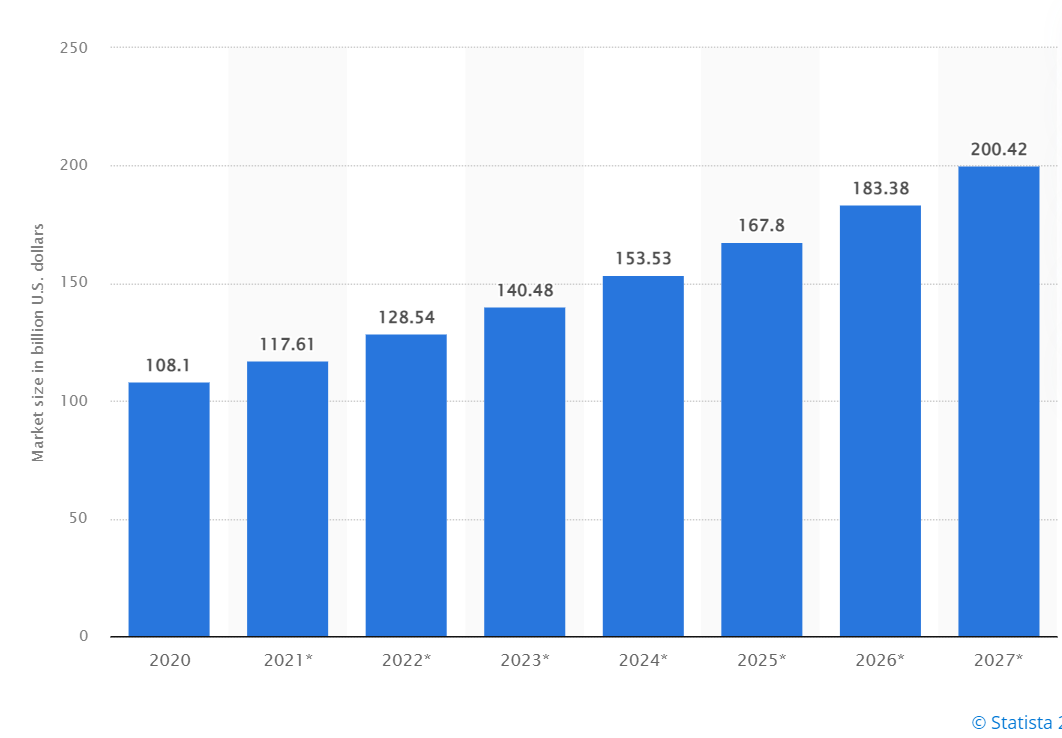 As per Statista, more than 65% of survey respondents said that they use on-demand courier delivery as the best product delivery option.
The global last-mile delivery market is expected to grow by more than $200 billion by 2027.
Local on-demand courier delivery app development services have surpassed $126 billion in 2021 and are expected to reach $134 billion by the end of 2022.
Courier delivery app development costs will be valued at more than $400 billion by 2024, with a CAGR of 8-10%.
These current market stats of on-demand courier services reflect the demand for courier service app development. Different businesses require different applications to take their business online and drive customers' attention. So, the following section highlights different types of courier apps that you can choose from accordingly.
What Is A Courier Delivery App?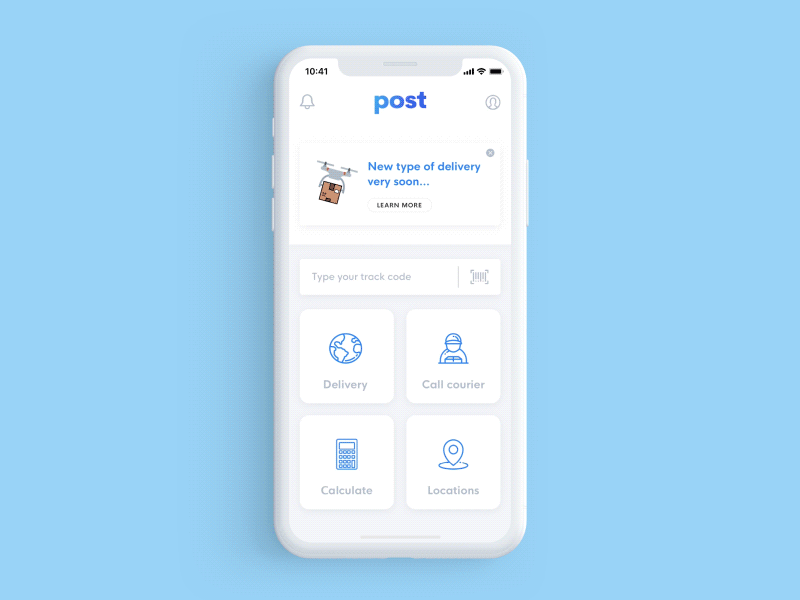 A courier delivery application allows businesses to track products, parcels, or other deliverables and send shipment notifications. The courier app offers free live tracking that can be used for all types of packages and services. While availing of on-demand courier delivery services, users and businesses don't have to worry about missing packages and late product deliveries.
Read More: Build a Courier Delivery App For Courier Business
Different Types of On-demand Courier Delivery Apps
When it comes to courier delivery app development, there are myriad options to choose from. The popular types of courier apps are highlighted below.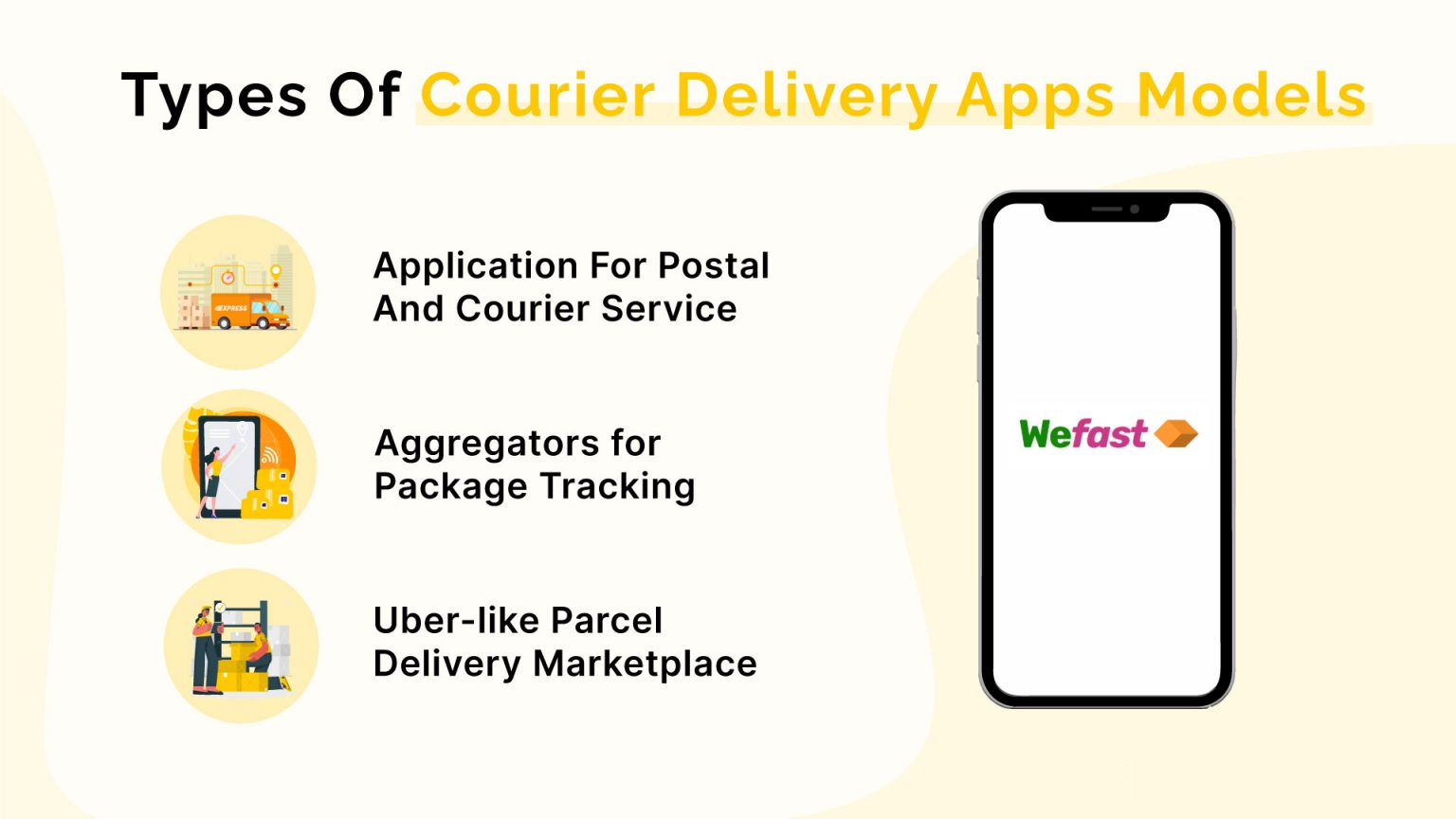 1. Real-time Courier Tracking App
This courier application is beneficial for package tracking aggregation. The business model allows all member carriers' data to gather at a single point. Therefore, the company only requires a single app to track all packages while using a real-time courier app.
2. Parcel Delivery
Besides private transportation, Uber has successfully marked its presence in hospitality and on-demand courier services. This business application is similar to a marketplace for parcel delivery. So, if you want to develop such an application, you can contact the best courier service app development, professionals.
3. Branded Courier Delivery & Integrated Solutions
While using this courier delivery business model, businesses use mobile applications that have amazing courier tracking features. It is a very helpful business model for online retailers as they send products to their doorstep. Such courier app development solutions enable customers to get quick updates regarding parcel dispatch, shipment, and delivery.
These three are the most popular courier delivery service applications that businesses use to deliver their products to customers' doorstep. Regardless of the type of application, the courier app development process is the same for all applications. Let's look at how to create a successful courier app.
How to Develop An On-demand Courier Delivery App?
No matter which business model you choose for the courier delivery app, the development process will be the same as highlighted below. Let's take a deep insight into the process one by one.
1. Analyze & Draft Your Business Idea:
Before stepping into the on-demand courier mobile app development process, analyze your business idea properly and then draft a flowchart for a better understanding and to conceptualize the flow of the process. Also, ask all the possible questions to get a clear understanding of why you should develop a courier delivery app and how it benefits your business.
2. Choose A Suitable Business Model:
After planning and brainstorming, move forward to choosing a suitable business model that adheres to your business needs. The popular on-demand courier services are already highlighted above, so you can choose any of them and create a perfect app for your courier enterprise.
3. Specify Business Goals & Requirements:
Expanding your courier delivery business to online services isn't just about developing a courier delivery app. To achieve business success, you must know the business specifics, requirements, and opportunities of the chosen business model. It will smoothen the development process while keeping everything on track. So, don't miss this crucial step.
4. Identify the Scope of Courier App Features:
Once you cover the theoretical aspects of a courier app, move towards thinking about the practical implementation of the concept behind it. It is advisable to jot down everything on a piece of paper to get an exact estimate of the courier app. It will also give you a slight idea of courier delivery app development costs from the beginning and help you manage expenses accordingly.

5. Create An MVP:
Before launching a complete courier app, it is better to go for an MVP version. It will save your app development time and effort and help you get users' feedback before launching the final application on the App Store or Google Play Store. Also, the MVP courier app costs less than the fully functional courier app development.
6. Test Your Courier App:
When you successfully develop a courier app MVP, conduct its in-depth testing. It will help you remove all the errors and bugs before users encounter them. Application testing holds the same importance as courier delivery app development, as even a minor error can affect your business growth. So, hiring professionals and dedicated QA for your application's testing is better before finally launching it.
7. Launch the App:
Once you successfully complete all the steps mentioned above, it is time to launch the courier application. You can also ask the courier service app development experts to launch the application, as only a few include this in their service, and the rest take additional charges.
So, this is the step-by-step process of courier delivery app development. Now that you are well-versed in every step to creating a successful courier app, implement them and get a perfect business app in hand. Also, make sure to insert the right on-demand app features, as they contribute greatly to your courier app's success.
Top 7 Features of A Successful On-demand Courier Delivery App
Including the basic features and functionalities in an on-demand courier delivery app is a very obvious process; every courier application has general features. So, to make your courier app successful and unique from the rest, think of something out-of-the-box.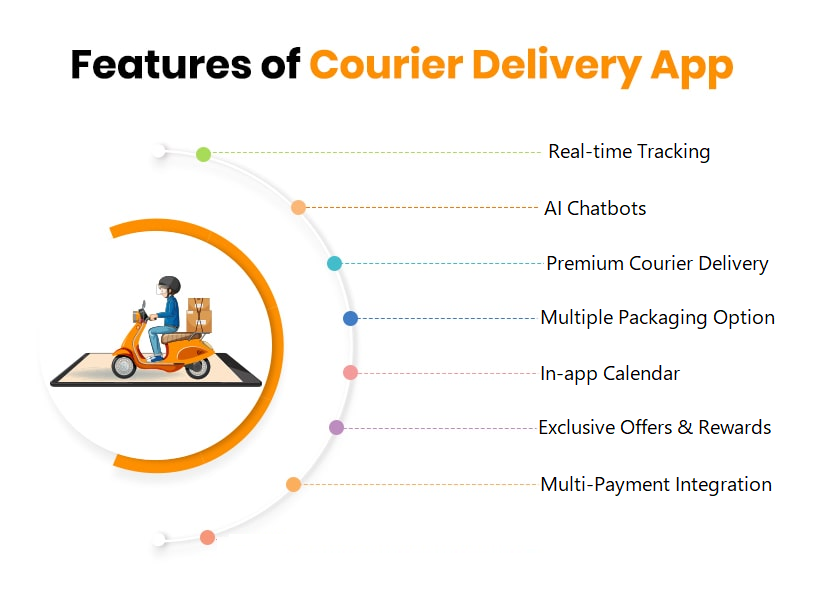 1. Real-time Tracking
Real-time tracking is one of the essential features of applications like on-demand courier apps. While using this feature, businesses and customers can get the information and location of the products/couriers.
It further results is improved courier delivery services and customer satisfaction. On the other hand, the real-time tracking feature also allows courier enterprise owners to look for nearby delivery partners.
2. AI Chatbots
In this technologically advanced world, automated chatbots are everywhere, and implementing such features into your courier delivery app would be advantageous for you.
For instance, when the users avail of courier delivery services, they will not have to wait for the customer service executives to provide the exact delivery date. Instead, the AI chatbots will automatically fetch the tracking information and share it with the users.
3. Premium Courier Delivery
Very few courier apps include a premium delivery option in their business application. But, if you want to provide fast courier delivery services to your potential users, this feature will do wonders. It is one of the best on-demand delivery app features that ships the courier in just two days. Also, it is a profit-driven feature as users will pay additional bucks to get faster courier delivery.
4. Multiple Packaging Option
Besides doing courier packaging on your own, you can also allow your users to choose the type of courier packaging they want. Wondering, how? Well, this amazing multiple-packaging option will be helpful for you.
It enhances the on-demand courier delivery services and helps users get their packages without physical damage. However, the users will have to pay the cost in case of advanced packaging, so this could be profitable for businesses.

5. In-app Calendar
A well-crafted in-app calendar is a must to let the users decide the time and date of the courier delivery at their convenience. On the other hand, this feature lets the courier partners know the ongoing and upcoming courier deliveries and manage their services accordingly. Overall, this feature helps to keep the process sorted and streamlined.
6. Exclusive Offers & Rewards
Timely offers and rewards are the keys to application engagement and business profit, so why not use them in your courier app. While using the advanced Artificial Intelligence feature, you can provide exclusive offers to your potential users. It will keep the users engaged with your courier delivery app and, in turn, increase the application's profit. To make your app advance, you can use AI integrations.
7. Multi-Payment Integration
Users prefer a different payment mode while availing courier delivery services online. So, make sure to implement multi-payment integration in your courier application. Also, provides all the possible options to allow users to pay via any medium, including debit card, UPI, net banking, cash, and more. It helps to keep users satisfied and happy with the services.
These are the top features of an outstanding on-demand courier app, so don't miss any of the features during app development. Besides this, to get an idea of the basic courier delivery app features, refer to the table mentioned below.
Basic Courier App Features

User Panel

Delivery Agent Panel

Admin Panel

Sign-up/Registration
Sign-up/Registration
Dashboard
Schedule New Courier
Manage Profile
Manage Profiles
Track Courier
Order Details & History
Manage Drivers
Make a Payment
GPS Tracking
Assign Pickup & Drop
Push Notifications
Push Notifications
Live Chat
Rating & Review
Courier Delivery Update
Order Tracking
Support & Assistance
In-app Chat & Call
Review Sales
Tech Stacks to Include During Courier Delivery App Development
Besides including the best features to make your courier app outstanding inserting the right tech stacks is also crucial. Don't know which tech stack to use? Don't panic! Refer to the following functions along with their tech stacks and make your courier delivery app work seamlessly.
| | |
| --- | --- |
| Functions | Tech Stacks |
| Programming Language | Java, Kotlin, Swift, Objective C |
| Payment Integration | PayPal, Stripe |
| Location Tracking | Google Places API |
| Map Integration | Mapkit, Google Maps |
| Storage | AWS, Google, Azure, Digital Ocean |
| Login/Registration | Facebook SDK, Gmail SDK |
| Analytics | Firebase, Google Analytics |
Courier Delivery App Development Cost
The cost to develop a courier delivery app isn't fixed as it varies from one courier application to the other. However, on average, the courier app development cost is around $8,000 to $20,000 or more, depending on the type of app.
This is cost of a basic courier app, and when you create an advanced application, the cost will ultimately increase depending on the features and functionalities.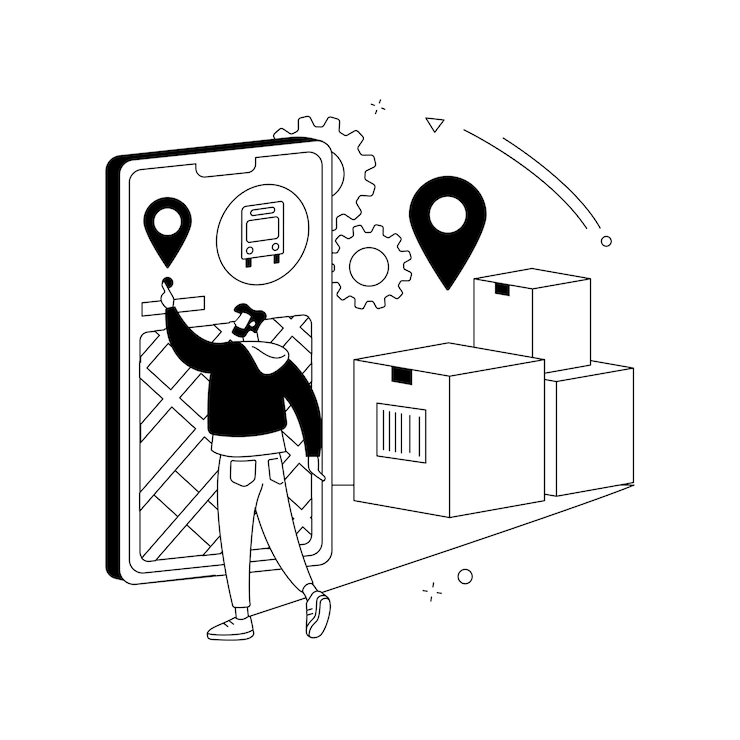 Other factors affecting the cost of app development are –
Design
Features
Development Platform
Functionalities
Tech Stack
Time & Efforts
UX/UI
Developer's Location
Every element mentioned above will contribute to the addition or reduction of courier delivery app costs. So when you hire mobile app developers for your courier app, ask them about the entire cost, including all courier delivery app development steps.
Summing Up!
In this technologically advanced and modern era, on-demand courier delivery services have become a boon and the need of an hour, of course. So, businesses cannot simply develop a courier delivery app and must take special care of every step of courier app development. So, either you should have a professional development team or hire a courier delivery app development company professional.
Frequently Asked Questions
Q1. How Much Does On-demand Courier Delivery App Development Cost?
The average cost to develop an on-demand courier delivery app begins at $8,000 and might go beyond $25,000 and more. The cost of courier delivery app development keeps increasing or decreasing depending on the type of application developed and multiple factors such as – App type, complexity, features, tech stacks, and more.
Q2. How Long Does It Take to Develop An On-demand Courier Delivery App?

There is no fixed time to develop a courier delivery app, as simple applications take less time compared to apps with advanced features and functionalities. So, when you share your requirements with the experts, only they will be able to commit to the exact mobile app development time required.
Q3. What Are the Major Factors Impacting the Cost to Develop Courier Delivery App?
Some of the major factors that can increase or decrease the cost of on-demand courier delivery app development are –
• App Size
• Tech Stacks
• App Features
• Developer's Location
• App Design
• App Complexity
Q4. How Can I Avail the Best Courier Delivery App Development Services Within My Budget?
If you cannot spend more on-demand courier delivery app development costs and want to seek reasonable development services, feel free to connect with Dev Technosys. Hire dedicated courier delivery app developers from us, and we will help you craft a perfect app within your desired budget. Request a quote now.
Q5. How to Earn More Profit From My Courier Delivery App?
Earning more profit from your courier delivery app can be achieved through various strategic measures and optimizations. Here are some key strategies to help you boost profitability:
• Include monetization models
• Keep dynamic pricing
• Partner with local businesses
• Optimize operations
• Management costs
• Provide offers & discounts