What's trending right now? Just give it a thought.
We asked countless people what's in the trend, and most of them answered fitness applications. Numerous entrepreneurs are running towards the trend to create a fitness app that will become a boom in 2023.
However, finding a fitness app idea is challenging in this growing industry. Covid has made us realized how important it is to stay healthy and get fit. Fitness is the new lifestyle of living today.
During the pandemic, the number of downloads on fitness applications increased by 46 % due to harsh effects on people's health.
Nobody wants to recall that time, but everybody felt miserable sitting at home with restrictions. It was when fitness icons like Chloe Ting came up with her  2 Weeks Shred Challenge of getting fit.
Chloe Ting, a famous YouTuber and fitness trainer best known for her YouTube channel will become a fitness icon for many in 2020.
She has made us all believe that there's no need to go to the gym and purchase a membership to lose weight and stay fit. You can do it with virtual assistance through tutorials, videos, and applications.
As a result, the fitness market is growing with no end. The demand for custom fitness app development is increasing day by day. Many start-ups want to invest in giants and expand technology with impressive fitness app ideas.
Now that you have come this far, find out the exclusive fitness app ideas that will be booming in 2023.
Let's dive into the blog to know further!
A Sneak Peek into The Fitness App Market!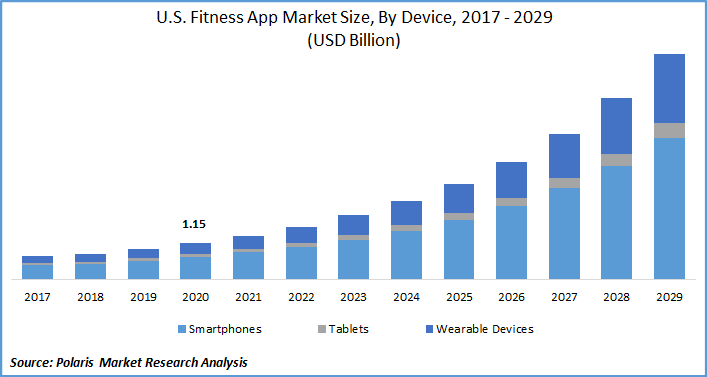 In 2022, it is expected that the fitness apps market will generate US$15.49 billion in revenue.
By 2027, the market is predicted to reach a value of US$33.04 billion, with revenue estimated to rise at 16.36% annually (CAGR 2022-2027).
In 2022, there will be 8.67% of users, and by 2027, 12.21% of users are anticipated.
It is anticipated that the annual income per user will be US$23.47.
Revenue in the Digital Fitness & Well-Being Apps segment will reach US$23.55bn in 2022.
Revenue is expected to show an annual growth rate (CAGR 2022-2027) of 15.16%, resulting in a projected market volume of US$47.70bn by 2027.
The average revenue per user is expected to amount to US$25.52.
In global comparison, most revenue will be generated in China (US$6,260.00m in 2022).
MyFitnessPal is a custom fitness app development that was the top fitness and sports smartphone app in March 2022, with in-app sales of approximately nine million dollars.
With around 8.1 million dollars in combined sales from the Apple App Store and Google Play, Fitbit came in second.
8 Fitness App Ideas That Will Boom in 2023!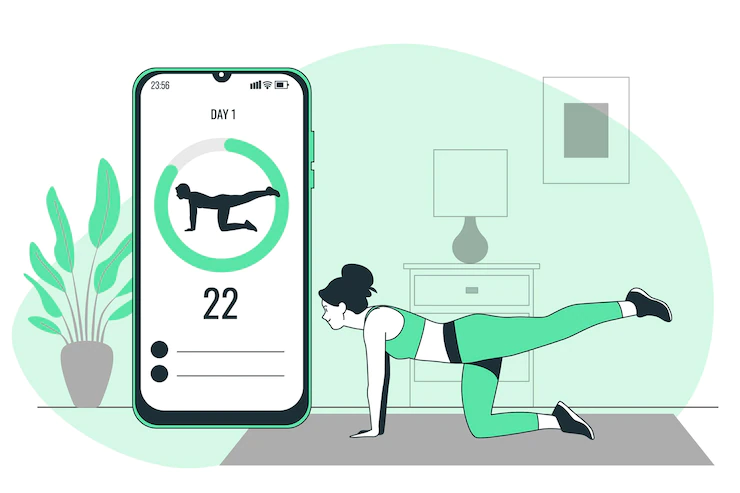 Read further…. And let's get started!
1. Diet And Nutrition Apps
Unhealthy food? Lack of nutrition?
This is it!
Do you know that less than 3% of Americans live a healthy lifestyle and the rest are unhealthy? No right. An unhealthy lifestyle is poor health choices and a lack of nutrition knowledge.
Diet and nutrition app offers users diet schedules according to fitness goals, amount of nutrition in meals, choice of nutrition, and creating custom diet plans.
The start-up has read every market stat indicating where they lack in fitness, so they developed a diet and nutrition app. Diet and nutrition apps are one of the most exclusive fitness app ideas as they are in trend.
If you choose a diet and nutrition app for development, there's no doubt about growth expansion. Some interesting diet and nutrition applications are getting popular from pandemics. To get an idea about diet and nutrition app development- unique features, process and cost you can review these Top 2 diet and nutrition apps with massive popularity.
2. Yoga Workout Apps
Struggling with yoga poses because you're new?
Has a yoga application solved it for you?
The answer will be "YES."
The expansion in yoga workout apps had grown when people struggled to do yoga without any trainer. A yoga trainer is not affordable for everyone because some start-ups develop yoga workout apps.
Yoga applications are one of the most effective fitness app ideas in the pandemic as it helps numerous people improve their yoga posture at home without hiring a personal trainer. Yoga is an exercise that offers physical and mental benefits to humans.
The curiosity about doing yoga is increasing worldwide but taking a step back because it sounds like hassles are also common.
Countless people stood straight and gave chances to yoga applications in covid 19, which helped them get mentally and physically. Look at these Top 2 Yoga Apps, which have immense popularity worldwide.
3. Fitness & Workout Tracker
Hands up if you also feel a fitness tracker makes your life easy!
We all do feel. Fitness & workout tracker is one of the excellent fitness app ideas that save a hassle of hours. Home workouts wouldn't be so easy without these workout trackers.
These tracker apps help users track every activity with minutes and repairs. Users must connect these applications with wearable devices like smartwatches and bands. After that, the application will track every moving activity the users do right after choosing the type of work they are doing to analyze burn!
Create fitness apps that help many users increase their fitness enthusiasm by witnessing improving results in the fitness journey.
These applications provide assistance in which workout you're getting a massive burn and what type of activity you're doing with variations.
Choosing these applications as start-up ideas will be an effective choice. So let's review these Top 2 Fitness & Workout Tracker Apps as competitor research for your upcoming fitness mobile app development.
4. Calorie Tracker App
Tracking calories is not easy at all.
Countless people work out at home and struggle to keep their calorie metre on track. It is important to know how many calories you're burning and taking in to get fit.
People doing workouts of Chloe ting in 2020 questioned how to track calories. The calorie tracker app is an incredible fitness app idea and has impressive features for users who aim for major fitness goals.
The application offers calorie intake details and traces their calories according to the chosen exercise they have been doing.
The calorie tracker app typically has built-in support with wearable synchronization advancement that helps the users connect it to their smart devices.
Many start-ups are interested in creating fitness apps as they're very popular among users as they show the burn on each workout and conveniently desire fitness goals.
These applications have unique features that integrate with so many devices. Below we have created a table of the best calorie tracker apps of 2022, which has the popular fitness app MyFitnessPal.
MyFitnessPal is a calorie tracker app that has also become the app of the week many times. So read till the end.
5.  Fitness Tutorial Apps
What do you remember when we say covid and fitness together?
We scheduled a small survey for our development team and asked these questions. The majority of them come with an answering "fitness tutorial." Yes, you heard it right.
During the pandemic, many entrepreneurs invested in creating fitness tutorial apps, which is one of the enduring fitness app ideas.
Many fitness coaches on YouTube channels have become the saviour of many people living at their houses with restrictions in covid.
YouTubers like Chloe Ting, Pamela Reif, POPSUGAR Fitness, ATHLEAN-X, and many more have developed fitness tutorials to guide people's workouts.
Numerous applications offer fitness programs to help better with the workout. So when it comes to fitness tutorial apps, people exclusive yes to them.
If you're considering creating a fitness app, you must choose this idea as the best in 2023 and develop it by hiring the best fitness app development services.
Here we have covered the top 2 fitness tutorial apps, which you must look at as an example.
6.  All-In-One Fitness App
Is storage full? Trouble in syncing all fitness apps is one of the major problems numerous fitness enthusiasts face.
This was when these applications became the trend, and the count has one of the best fitness app ideas. All-in-one fitness applications are one of the best fitness app ideas that help several people get on schedule with the one-stop destination.
With these applications, users don't need to download multiple applications for everything. One stop to all means having a calorie tracker, tutorial with fitness coaches, guidance in diet and nutrition, and many other things.
Individuals prefer this as one of the most exciting and enhanced fitness app types where there is no need for further downloading.
If you are looking for some excellent fitness app ideas, choosing an application with an all-one option will benefit you. To comprehend your knowledge, here we have covered some of the famous all-in-one fitness applications you must look at.
7.  Meditation Classes Apps
Do you know that two to six per cent of people in the world have experienced depression in the past year? Then you must have known the importance of meditation classes.
Applications have been rising in the number of downloads since then. In the world of stress, anxiety, and depression, these played an important role.
The meditation classes application has features that offer users virtual contact with their meditation instructor and some peaceful music to meditate together.
Over the past few years, we all have faced something miserable due to covid. Some people are still not over it. Meditation application became one of the best fitness app ideas when it helped countless people cure depression for more than 2 years.
After witnessing the increase in downloads and market stats of developing meditation apps, many start-ups took it as a chance to create applications with numerous exciting features.
However, you're not out of the race, as they're not many meditation applications on the market. Create a fitness app by reviewing the top 2 meditation class apps as an example.
8. Home Workout Apps
If you're on TikTok, you must be aware of the growth of the home workout app. Many home workout apps on the internet help individuals learn to work out without equipment and with low impact.
Many people face the issue of not having the resources, space, and equipment to work out. For those people, these home workout apps have created another boom effect.
Right after the development of one of two applications offering home workouts, users now demand more. Countless entrepreneurs searched daily on the internet to learn about the market stats growth of home workout apps.
Home workout apps have become the number one fitness app that doesn't require anything more than downloading. It is the only fitness app that has 10M+ downloads on every application.
So if you're looking for something amazing to create in the fitness app segment, you must choose home workout apps as one of the best fitness app ideas.
Here we have compiled a list of the top 2 home workout apps you must learn about to complete the research process.
To Wrap Things Up!
These are some of the most amazing fitness app ideas you can take a look at and simplify your ideal fitness app according to these.
These fitness app ideas have set a new bar for upcoming start-ups with unique functionality and concept. Dev Technosys is the best fitness app development company with experience building fitness applications over the past 12 years; hence we can help people with their business requirements.
We provide your fitness app idea wings to fly and reach success to get in touch with us now to build a brilliant fitness application that will be on the google trend in 2023.
Frequently Asked Questions
What Are the Top 5 Trending Fitness Applications Of 2023?
Now that you have new fitness app ideas, if you're willing to create one, then knowing about some trending fitness apps is vital. Here is the list of trending fitness apps in 2023 that you should look at.
MyFitnessPal
Nike Training Club.
Daily Yoga
Strava
How Much Does It Cost to Build a Fitness App?
The cost to build a fitness app out of these fantastic fitness app ideas of 2023. The cost of building a fitness app ranges somewhere between $20,000 to $35,000. Hence, the development cost may vary depending on factors like app complexity, size, features, and majorly development company.
How To Build a Fitness App with These Amazing Ideas?
Now that you have these incredible fitness app ideas, you must be thinking about its development. It is important to follow the building cycle to build a fitness app. Here's the step-by-step guide to building fitness apps that you should follow.
Defines Business Goals
Market & Competitor Research
Hire Dedicated Developers
Deciding Features & Functions
UI & UX Design
Decide on Tech Stack
Development Phase