Despite the fact that Flutter was only released in 2018, it has quickly become one of the most common models in the developer community.
Flutter's approval rate and replies are growing year after year. To hire flutter app developers, you must first comprehend the framework's programming knowledge and needs.
Employing programmers is harder said than done, particularly when the price of recruiting a new worker is significantly more than the cost of maintaining an existing one.
Check this blog to know more about how to hire flutter developers for your next project.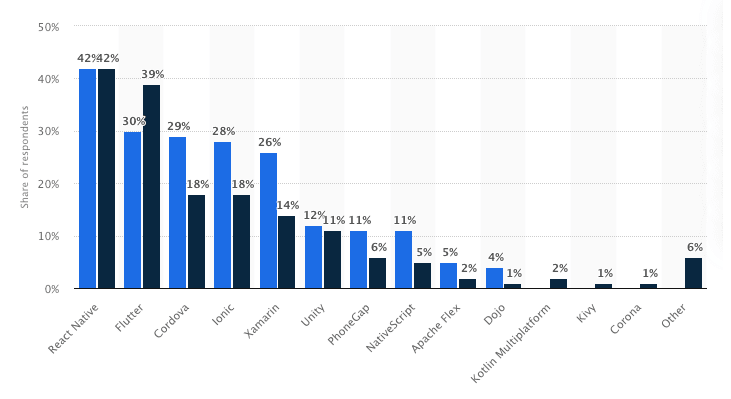 In a world where cross-platform technologies are used by one-third of mobile developers, you need the finest flutter application developer to attract more clients and build your business.
The hiring procedure has an impact on the quality of Flutter programmers you employ. Here are a few pointers to consider while hiring flutter expertise.
Three Types of Flutter Developers For Your Next Project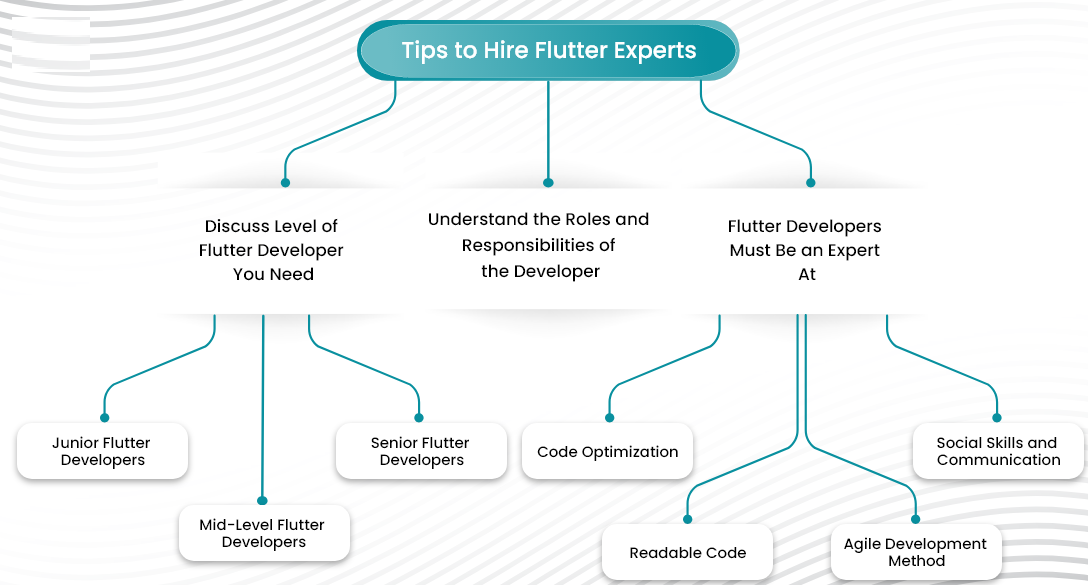 1. Junior Flutter Creators
Junior Flutter developers are up-and-coming professionals who have only recently begun their careers in this sector. They will not have substantial expertise or understanding of the framework, but they must be familiar with the programming language connected with it.
They will usually have zero to one year of expertise and will bring fresh perspectives and novel ideas to the board. Your aspirations should neither be too high nor too low when hiring Flutter app developers.
Junior programmers will not be aware of every feature of the framework, and their speed of development will be slower as well. When you recruit junior developers, you must train them in accordance with your company's work process and bring them up and running quickly on large projects.
2. Flutter Developers at The Mid-Level
You might have some sophisticated expectations while hiring Flutter engineers in the mid-level group. Most essential, they must have at least two years of experience working exclusively with the platform.
Given that Flutter was released in 2018, these are the developers who have been working with the technology from its inception. As a consequence, they must have matured with it and comprehended its growth up to the present day.
Aside from coding, they must have a solid knowledge of establishing business logic and bug-fixing experience. Mid-level Flutter developers must have sufficient domain expertise and be able to work freely without supervision. Yes, kids may need some form of aid, but only at the upper levels of growth.
3. Flutter Advanced Developers
When it relates to Flutter development, they are the society's fashionistas. Senior programmers are the ones that investigate a framework's possibilities, establishing its bounds and creating new examples for junior developers to follow. That is something to keep in mind while hiring a senior Flutter developer.
These professionals not only provide considerable expertise, but they also have a high degree of comprehension. Without going into the specific topics you should ask them in a discussion, you can assume a senior developer to demonstrate their capabilities in the interview through their resume and management qualities.
Apart from them, you will also come across flutter developers for hire who just freelance.

What Are The Qualifications of A Flutter Programmer?
Flutter mobile development is a huge hit for both developers and enterprises. This technology is still in its early stages, with Google releasing the first functional version for Android and iOS in December of 2018.
However, in less than two years, the community of developers has risen to 2 million. The structure is moving at a breakneck pace. It continues to provide appropriate alternatives for cross-platform app development.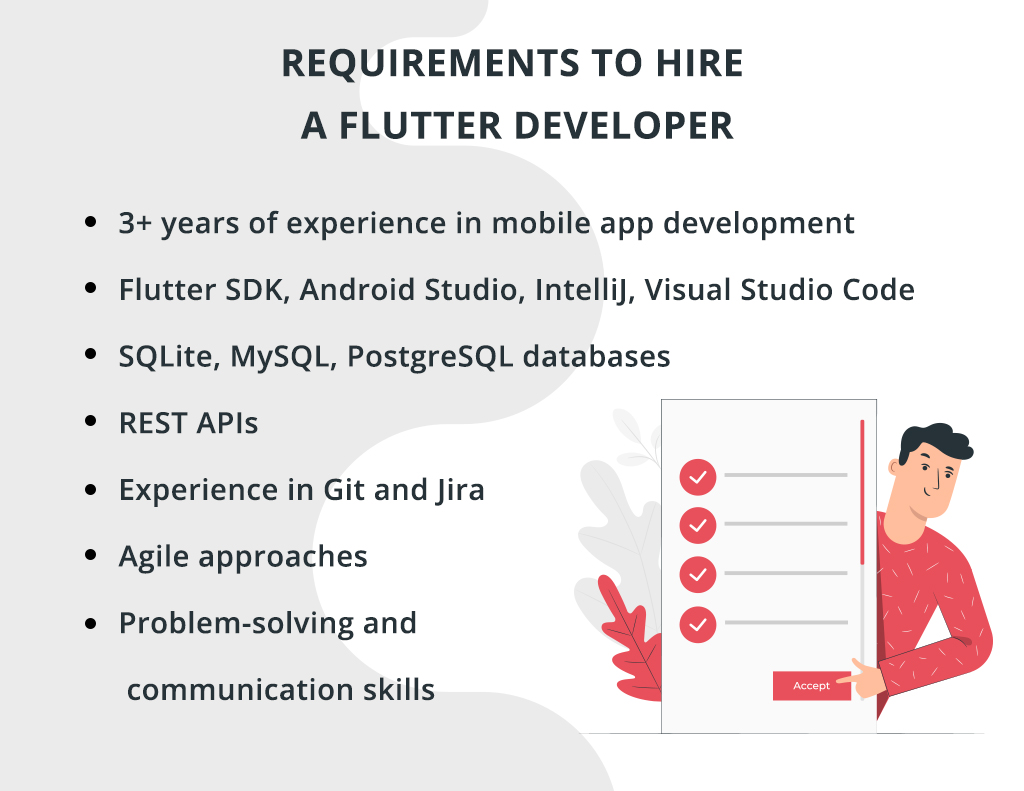 When deciding to hire Flutter developers, keep the following points in mind:
The major suggestion for establishing criteria is to consider prior developers' expertise.
They should be capable of developing mobile applications using full-stack web development services. That is one of the advantages of the Flutter framework.
Engineers can use their prior knowledge of various development methodologies. They must, of course, grasp the foundations of the Flutter framework.
Also, how it is dependent on mobile operating systems. Significant experience in Android or iOS app development would be a great asset. They are not required to learn everything from the start.
They can improve their expertise by implementing new ideas.
1. General Qualifications
The following are the general qualifications for hiring a Flutter developer for a successful flutter framework:
3+ years of expertise creating native and cross-platform android applications is required
1+ years of Dart expertise (optional)
knowledge of one of the following programming languages:

Kotlin as well as Java (Android)
Objective-C as well as Swift (iOS)
React Native Developer (hybrid development)

Understanding of the Flutter SDK, Android Studio, IntelliJ, and Visual Studio Code
Databases like SQLite, MySQL, and PostgreSQL
REST APIs (RESTful APIs)
Knowledge of Git and Jira
Experience with Agile development methodologies
2. Adaptive To Changing Demands
Furthermore, selected professionals must be up to speed on all industry developments and requirements. It implies that they must be relatively adaptive.
Flutter cross-platform programming is evolving quickly. It's also worth noting that it has a low learning curve. Adapting to new capabilities is unavoidable. It is critical to be prepared for continuous quality improvement.
Why Google Flutter Is Perfect For Cross-Platform Mobile App Development
3. Problem-Solving Skills
Flutter developers, like any other programmer, must be adept at problem-solving. It is an essential component of the development process. Their responsibilities are not restricted to a single field. When you employ a flutter app builder, they will handle the following responsibilities:
Conducting the requirement of the system
Designing an App Structure
Creating extensive evidence
Creation of Flutter apps
Experimentation
Upkeep and continuing assistance
Enhancement of app functionality

4. Communication Abilities
Another factor to consider while hiring Flutter developers is excellent communication abilities. Your project's success is dependent on effective team collaboration. The excellent experience may be backed up by the Flutter app development services' complete involvement. It is critical that your staff share your company's ideals.
It is beneficial to comprehend both the technical and business needs of your product. In this situation, people will be eager to participate in the process. As a result, creating a great experience for your clients is considerably easier.
The mixture of the aforementioned standards can help to streamline the recruiting process. Communication skills also play a vital when you think about how to hire a flutter developer.
Flutter Developers Must Be Proficient With These

1. Code Improvement
The vast majority of Flutter applications are built for the iOS and Android platforms. As a result, the codebase must be streamlined to meet the platform-specific needs. Because Android and iOS devices have excellent performance and visuals, the flutter framework language must be similarly fluid and smooth. As a result, hiring Flutter engineers requires a strong understanding of code optimization.
2. Code That is Understandable
Examine their code to find and employ Flutter expertise from a large pool of candidates. The code of a skilled developer will be legible and simple to comprehend. The code's readability indicates that the structure, grammar, and context are symmetrical and can be readily read, updated, and altered. A tangled (or spaghetti code) code demonstrates a lack of needed competence and technical aptitude.
3. Method of Rapid Production
Agile technology or software development approach is not exclusive to Flutter but is required for all sorts of development processes.
As a result, if you want to recruit a specialized Flutter developer, the applicant must be familiar with and adhere to agile development practices. This results in an efficient conclusion for the application or program.
Following agile development, approaches entail working with many in-house or remote teams to get the desired result.
4. Languages and Social Awareness
Contrary to popular belief, developers are not socially inept. Rather, if you need a great developer on your team, they must be excellent communicators with others, particularly team members and clients.
However, don't search for someone who can tell jokes. However, you will want someone who can help others comprehend the concepts, criteria, and speak with comfort.
How To Hire Flutter Developer For Your Project?
Flutter developers are few in comparison to other mobile programmers, yet corporate demand for Flutter is expanding.
Small and medium businesses may have a tough time finding or hiring flutter developers since they are sought after by larger organizations or tech-first businesses.
1. Employ a Flutter in-House Developer
Hiring an in-house developer is difficult since you're swimming in a sea of headhunters and highly sought-after individuals. You must ensure that all of the best circumstances are in place for your potential employee, from a competitive wage and bonuses to a suitable workplace and equipment. All of this costs money and finding a developer might take months.
If you're a business owner of any mobile app development services that value time to market, hiring a Flutter developer might not be the ideal solution.
Hiring a developer in-house also narrows your pool of prospective applicants because you'll need to seek a developer in your region. Hiring a remote developer is another option, but you might as well outsource development and have a committed expert to work on your team remotely without the stress of a salary, bonuses, and taxes.
Hiring an in-house developer is ideal for firms with an experienced IT department and all of the systems in place for hiring, growing, and managing a design team.
If a Flutter developer is the only expert that your present in-house team lacks, the best choice is to employ one in-house or throughout staffing.

2. Use A freelancer
Freelance programmers are the first to spring to mind as they are less expensive than in-house developers. On the surface, you don't have to pay for their taxes or workspaces, and you simply pay for the hours worked. This sounds fantastic, and many organizations, particularly small firms and startups, begin with freelancers.
There are several freelance platforms available today that safeguard consumers while also allowing them to identify the top candidates through feedback. Hiring a freelancer is now less dangerous than it was previously.
However, the days of one or two developers inventing a groundbreaking invention in their garage and launching a corporation are long gone. Building high-quality software that will last on the market nowadays necessitates a large team of professionals, including business strategists, managers, developers, designers, and quality assurance specialists.
Since freelancers are used to operating on their own time, supervising a team of freelancers may be a nightmare for your firm. Communication and organization can also be difficult.
Cost of Outsourcing Flutter Projects
If you're looking for outsourcing or out staffing companies, it's good to understand the best countries for outsourcing to. Because businesses want to save their budgets, they often choose companies from countries with lower costs of living.
The cost savings can be as large as 60%. For example, an application that will cost $100,000 to develop in the US might cost only $40,000 to develop in Ukraine.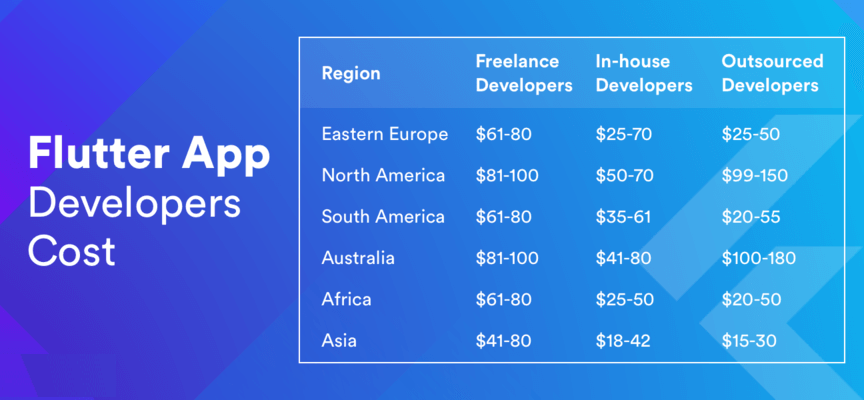 There are other places where you may readily discover an expert remote development team, such as India, Brazil, Europe, Australia, and Indonesia. There are several aspects to consider when hiring remote flutter developers.
For example, geographical proximity, cultural similarity, service pricing, and the availability of experienced and talented developers. If you are a startup or seeking experienced remote developers, you must consider all of these considerations before employing a distant programmer for your business.
Employing remote flutter programmers becomes simple if you understand the cost of living in various regions. You may easily provide a budget for the developer you intend to hire.
Here is a pricing comparison of a couple of the top nations when it comes to how to hire flutter developers:
India – $35-$40 per hour
$75-$120/hour in the United States
China- $40-$45 per hour
Brazil – 45-$50 per hour

Conclusion
The game is already in your yard. If you want to create a software development firm, you should hire an in-house flutter design team.
Outsourcing a flutter app development firm would be a fantastic alternative if you are a business or an established corporation looking to extend your existing staff. Always be sure to ask for a free Flutter tutorial before hiring your developers.
You now understand how to employ Flutter developers and which team model is appropriate for a company. However, before you begin the recruiting process, you must first identify your needs.
To employ the finest Flutter developer for your firm, identify the appropriate duties and obligations of a Flutter developer and align them with your expectations.