Whisking your shoe around, while there is no certain plan you have, music can be the best companion you have. Plugged earphones, shuffling playlists, sorted music directories, and dancing steps, all because of music streaming applications. Nowadays, in between the hectic schedules of individuals, they have explored an opportunity to be rejuvenated through these music apps.
It has now transfigured into a new embroidered culture that fortifies its usability. Due to consistent development, music streaming apps deciphers their importance.

Today, music streaming services have become the most popular method for consumers to listen to music. It shows the augmentation of music streaming services, which depends on integrated technology.
Music streaming has proffered the music industry and music artists an innovative and effective method of sharing and distributing music to consumers across the world.
Top Music Apps to Follow
Now, streaming services gives the users unlimited access to the available large catalogs of music. These music streaming services store the music that users can access via laptops and mobile devices.
Once they connect to the internet, they can listen to their beloved song by choosing it on the app. The availability dedicated music streaming platform lionizes the contemporary need for custom iOS app development or android app development. The users can store the music by saving it offline through a music streaming app.

Spotify is one of the most prominent music streaming apps, launched in 2008. It has proliferated across the world and offers people an instantaneous platform for music.
It offers users a facility to listen to their favorite artists' music. The most astonishing feature it possesses, is the users don't need to own the music. Spotify presents a free subscription service to its users for an uninterrupted musical experience.
Specifications- 
Quality of free tier:

Up to 160kbps 

Library size

: 70 million+ 

Platforms:

iOS and Android apps, desktop app, web player, smart TV apps, connected speaker support, cars

Free / $9.99-$14.99 per month

Ratings:

Google- 4.5
Apple store- 4.8
All paid users find added benefits like unlimited skipping through the musical tracks, no popup of advertisements between songs, and the option to keep the music offline they like. The users can explore the playlists customized by Spotify to find an artist or song.
It allows users to find new artists around the world. Furthermore, Spotify allows all record companies to showcase their artists on one platform.
The extensive popularity of Spotify opens up the scope for music streaming apps for android application development. Additionally, it interprets an area that quests a huge demand for music.

The technology of music streaming services has been transforming over the past ten years. Today, most music app developers try to offer their users to download applications for free to access a beloved musical journey.
In this service, one cannot eschew the name of Shazam. Shazam is a feature-laden music app that makes you able to a song which either you heard in a store or during a movie.
It shows the user the name of their opted song and the artist. They would have the option to share their discovery, play it on Spotify, music videos of it on YouTube, artists' tour information, discography, album reviews.
Read the article:- Tips to Develop Music Streaming App: Technical and Legal Guidance for 2019
Specifications- 
Quality of free tier:

Not Available 

Library size

: Not Available 

Platforms:

Android

, macOS, iOS, Wear OS and watchOS

Free /

$6.99/£6.99

per month (Shazam Encore)

Ratings:

Google- 4.5
Apple store- 4.8
Every song identified through the app will be saved as a tag. It can be shared with users' friends and view their discoveries. The users can also watch the lyrics of the identified music by Shazam. Furthermore, the users can create their accounts and get able to view all their music on Shazam from their computer. The app can also be used by users on Android devices, iPhone, and iPad, as well as with Android Wear, macOS, and Apple Watch.

Since its launch in 2013, iHeartRadio has proved to be a pioneer in the meticulous ever-evolving audio and digital landscape.
The unique platform offers free all-in-one digital music, podcast, live radio streaming, and entertainment platform. iHeart has been triumphally embraced by 1.2 million registered users. It's a radio app for the users' mobile devices, offering music lovers a chance to listen to their loved artists.
The app gives its users various ways to explore, customize, and discover new music, podcasts. The app supports most of the devices with no commercials and the users can find their nearby radio stations. They can also easily listen to podcasts and create customized music stations.

Specifications- 
Quality of free tier:

Not Available 

Library size

: Not Available 

Platforms:

iOS and Android apps, desktop app, web player, smart TV apps, connected speaker support, cars

Free / $4.99-$9.99 per month

Ratings:

Google- 4.6
Apple store- 4.8
Their customization of music stations depends on their liked songs, categories classical, rock, oldies, stations, etc. It facilitates the users to save their loved radio station and set it as an alarm clock.
The foremost feature that makes it wondrous, the users can also see an artist's biography. iHeartRadio apps function with iPhone, iPad, Android, Kindle Fire, Windows10, iPad touch, and other devices like Apple TV, Chromecast, Amazon Echo, gaming consoles, wearable, and vehicles.
With a non-identical approach to identify similar songs and recommendations, it extends the potential to iOS and android application development for a marketable solution.

It is a comprehensive music streaming platform that streamlines the efficient process of sound recording and music uploading.
Every mobile application development company has to follow a similar framework for the app's quick adaptability and usability among the user.
The users have to sign up to become able to upload their sounds. The only equipment they need is a mobile device with a microphone.
Read the Article- How mobile apps are Revolutionizing Music Industry?
Specifications- 
Quality of free tier:

Up to

 

64kbps

 

Library size

:

200 million

 

Platforms:

iOS and Android apps, web player

Free / $9.99 per month

Ratings:

Google- 4.7
Apple store- 4.5
The app allows the users to categorize their created sounds according to the work in progress, type of sound effect spoken, live, loop, remix, original, etc. Furthermore, they can organize the sounds into setlists by marking either public or private and are shown by visual waveforms.
If the user wants to respond to a sound, he can either 'like' or share the chosen sound on various social media platforms. It is noteworthy that the users can leave their comments by clicking on an exact point in the sound.
So, when you listen to a sound, that comment would instantly pop up at a point in the waveform where the comment was left.

In between numerous music streaming applications, the users are optimistic about more feature-rich apps. Now, if users like to listen to their own music library with no ads, music streaming without any radio stations, Google Play Music plays a vital role. It allows users to upload songs to their Google account and gives access to all at any time.
They can create custom playlists, play music in shuffle mode or manually opt for specific songs to play without any limit. A quality feature of "I'm feeling lucky mix" makes the user able to play audio from their library based on the music they mostly listen to.
The extensive feature also offers them to subscribe for a monthly fee so that they can discover and save new music to their account. The Google Play Music app can easily be installed on iPad, Android, and iPhone devices.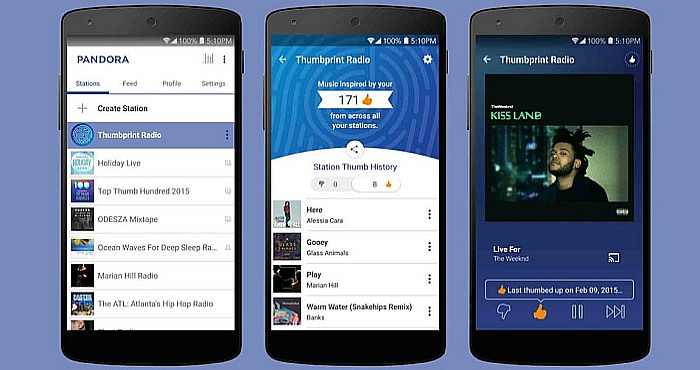 Convenience and practical applicability are considered as the auxiliary objective of the music app developers, apart from a sensual musical experience.
Here, Pandora exemplifies a similar musical streaming platform. The unique features, interface, and user experience make it popular among music lovers.
The users are required to enter their favorite artist and the app will instantly play songs of the artist. It also recommends similar artists listen for a delightful experience.
Read the Article- Cost and Features to Develop Music Streaming App like Pandora
The users are equipped with a rating feature, where they can rate songs. It will help to organize the songs to listen to according to their liked or disliked songs.
Additionally, it improves the listening experience based on the users' ratings. Furthermore, it allows them to bookmark their favorite artists which they can access later. The app also works efficiently while it is connected to Wi-Fi, the users can easily stream the songs with little or no buffering.
The users can register for free and can seamlessly able to save their station. It would support Android devices, Kindle Fire, iPhone, iPad, NOOK, Windows Phone, and other wearable devices.

Spinrilla is an app that offers users a platform for hip-hop mixtapes. The users can listen to music from the app or download it for offline use. The apps encapsulate the section for new music, singles, and popular songs at the top of the app.
It is a unique app that explains what kind of music the users would be listening to or the kind of music they are looking into. The app also makes them able to find styles of music they like and allows them to create a music experience. It also notifies about the upcoming tracks of the various artists.

Unlike other music streaming applications, Spinrilla allows the users to leave their comments on individual tracks, scroll back and forth through song. The users can create their playlists in the app, and save the songs to your device. Furthermore, It has also an inbuilt radio which offers you to listen to instrumental music, top hits, and location-specific radio.
Specifications- 
Platforms

: iOS and Android apps, web player

Library

– 30 million

Price

: $9.99-$14.99 per month

Ratings:

Google- 4.7
Apple store- 4.5
Launched in the year 2015. Apple Music Application provides both on-demand music as well 24/7 live radio. Earlier it was only available for iOS users, although after much contemplation, the apple music is now also available on the google play store for $9.99-$14.99 per month.
Although this music streaming application since the time of its launch to now also receives mixed reviews. However, it has quickly become one of the best music streaming apps out there.
The application also lets listeners get an insight into their favorite artists day to day life and what they are up to via following them on the application.
There are multiple plans available like an individual monthly plan, cheap student monthly plan, and family plan for six members in a single subscription. 
Specifications- 
Quality of free tier:

128kbps

 

Library size

:

56 million

 

Platforms:

iOS and Android apps, desktop app, web player

Price:

Free / $9.99-$19.99 per month

Ratings:

Google- 4.7
Apple store- 4.5
One of the leading music applications, it boasts around 43 million songs worldwide. The Application like its competitor provides incredible audio features including playlists, stations, recommendations, and Flow, a personal soundtrack feature. Although the best feature is a Hi-Fi streaming option with 16-bit FLAC quality for $19.99 per month.
Specifications- 
Quality of free tier:

N/A

 

Library size

:

 

N/A

 

Platforms:

iOS and Android apps, web player, smart speakers, cars, wearables, smart TVs, games consoles

Free / $9.99 per month / $99.99 per year

Ratings:

Google- 4.6
Apple store- 4.8
TuneIn is basically the best radio music streaming application. Although it does not provide on-demand music options, it has tons of radio stations, podcasts, and even live sports (in the premium version, anyway).
It further includes 600 non-commercial radio stations with both AM and FM stations. It is guaranteed that every radio station is available here.
However, music streaming is limited, and hence if you are interested in live sports news, podcasts, radio, etc. TuneIn Radio might be the optimal option for you. 
Digital music streaming platforms are taking the music industry to new heights. Today, the development of several similar apps by every mobile application development company is growing day by day at an astronomical rate. The consistent growth of available streaming apps builds numerous ways to access meticulous musical experiences every day.
The popularity of music streaming services encompasses a dominant footprint in the music industry. There are currently millions of consumers of music streaming services across the world and it shows the comprehensive development of the industry.
No doubt, in the coming years the digital music streaming industry would become a highly profitable revenue stream.