The word road mapping in website development means to plan your website architecture step by step. That means, finding the best and the most efficient framework, code editor, and back-end programming language to use.
So, to execute a perfect roadmap for website development you should have knowledge of every single technology or programming language, or tool that exists in the market.
If you're a beginner who has just started in this field, then knowing the basics will do the work. As you will gain both knowledge and experiences while you take part in different projects day by day.
If you have a unique idea for your business. Then executing those ideas through a responsive and dynamic application can bring success in this competitive market.
In order to ensure that hiring the best website development company available in the market is the way to go. As they are capable of developing your application according to the requirements and the service of your business.
If you want to know more about how to create a perfect roadmap for website development, please continue the blog.
What is a Roadmap for Website Development Mean?
Creating a roadmap for website development means planning the technical infrastructure for your application. If you are in the read-mapping stage that means you have already decided what will be your application vision.
The application vision is the part where you will figure out different ways to attract the targeted user base and make your product successful in this competitive market.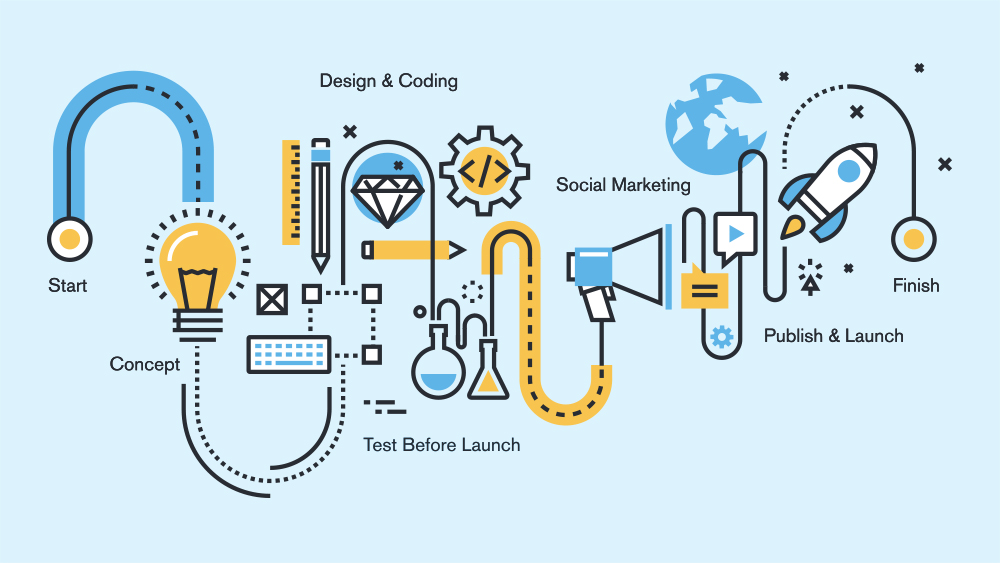 After you figure out the most effective way, now you have to decide on the tools, framework, and programming language of the application.
So that, your app can accomplish the organization's goal easily with less effort. This is known as creating a roadmap for website development.
If you don't implement proper tools to create your website it will not be able to provide better service to your users. As a result, you can lose your reputation as well as the market value of your product in the market.
Hiring dedicated developers can always help you to choose an efficient and cost-effective roadmap for your website development.
How do Websites Work?
Every big and small website is a lot of data that are stored in a secure place such as a computer or a cloud. This space is known as a server, and it is connected to the internet.
Now when a client tries to access any website through any browser such as Chrome, Safari, or Firefox, the website takes the data from the server as well as sends the input data back to the server.
This movement of data from the server to your internet browser is the basic function of the internet. Everything that you can access on your website through the browsers comes from a server.
Creating a roadmap for website development can be easy for creating a small business or blog website. But it took another level of effort to develop more complex websites such as Facebook, Airbnb, etc.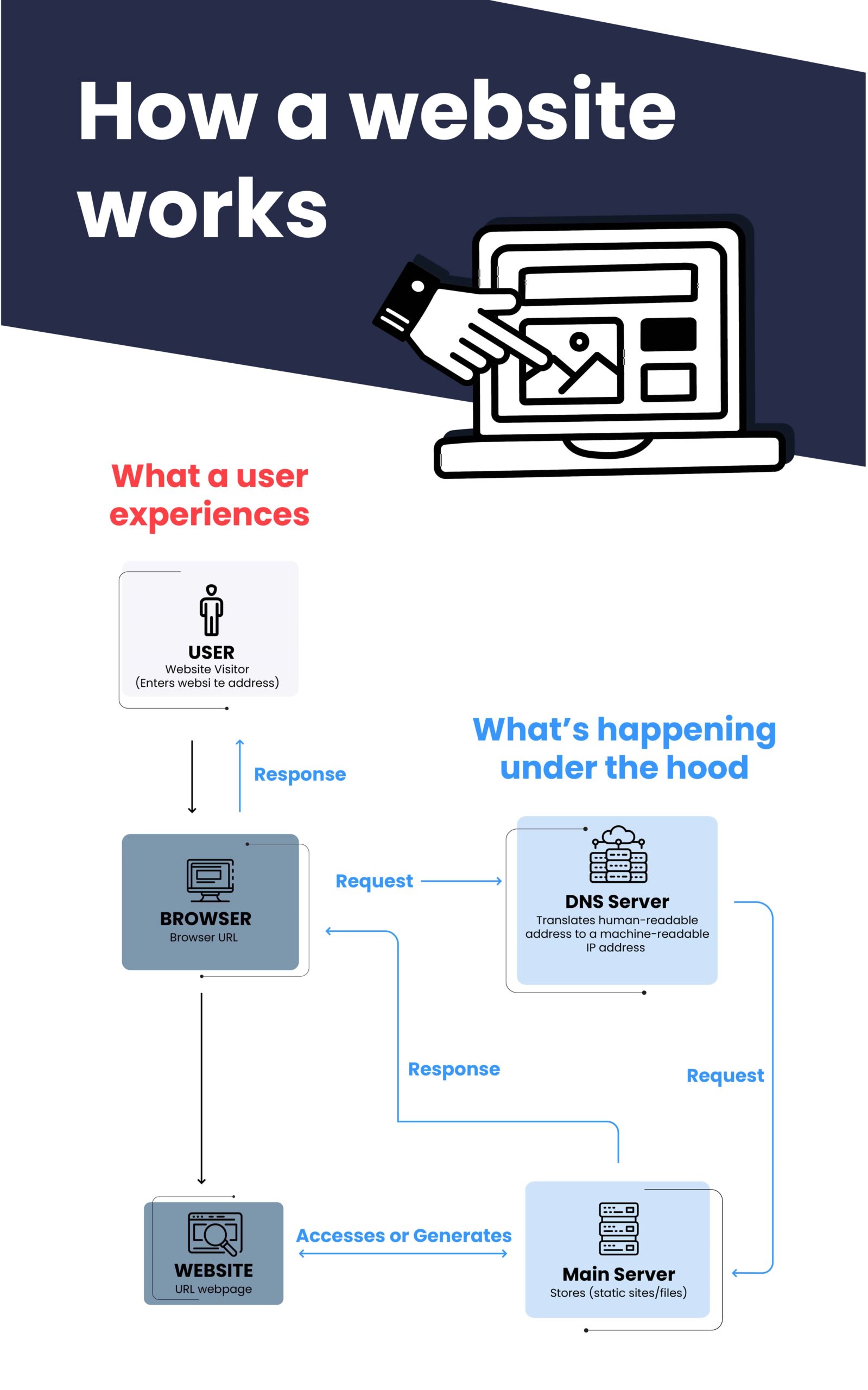 If you can successfully hire a better web development firm you can make this data movement process much faster. As result, you users will get to experience better reloading and processing speed.
And in order to ensure this optimum level of performance, you need to hire an experienced web app development company, which has experience in figuring out the perfect road-mapping way to develop your website.
Why Creating a Perfect Roadmap for Website Development is Important?
Being an owner of the business, before moving to the road-mapping stage of your website development process, you should fix your priorities, strategies as well as product vision very clearly.
Otherwise, it can be very difficult for the developer to deliver you a better responsive and dynamic product. As long as the developer does not know your product vision, implementing the tools and the framework can lose all your investments.
After executing proper planning produce for your website now is the time to create the roadmap of your website development process.
The roadmap will be planned according to your strategies to attract a more user base for your website. Here are some of the key procedures while developing a roadmap for a website,
Always ensure that you are choosing the right road-mapping tool for your website.
Try to develop a more visually clear and compelling roadmap for your website
You should conduct a thorough reviewing and screening of producers on your agreed-upon roadmap frequently.
Also, ensure the hired mobile app development company includes all of your products. And figure out effective strategies to implement on the roadmap.
What are the Different Types of Roadmaps Available in the market?
In order to create a communicative website for your users, you will need an effective road-mapping plan. This is because your user and the audience play a very important part to make your website successful in the market.
As, you will be able to decide factors like features, designs, initiative, and much more in this stage of the development process. There are many types of road-mapping procedures that are available in the market with their unique abilities. Here are some of the most common types of roadmaps that are usually required in the market.
1. Strategy Roadmap
This type of roadmap helps the internal teams and the executives to get a better visual overview of releasing a website on the strategy of your business.
By using this roadmap web development company gets a better understanding of the magnitude of the effort they have to put in so that the website goals can be achieved effectively. That is why is one of the most used roadmap types, for small to medium-scale businesses.
2. Features Roadmap
A featured roadmap helps the developers to get prepared for the new features; they are supposed to implement on the website. It provides a proper timeline to the development team.
Plus, it also provides information such as when to complement the development, testing, and implementation of the website. This also helps the website to provide updated services to its users. And also, notify them when they can expect the next update.
3. Portfolio Roadmap
The developers use a portfolio roadmap, to get a better idea of multiple website releases in a single view. This type of roadmap is capable of providing information on the whole strategic plan to the internal development teams.
Plus, it also helps the developers, to understand how their work is specifically related to the outcome of the other internal team associated with the same website development process.
Always remember the better coordination is they're between the development teams, the better will be the product outcome. This type of roadmap is basically used for scalable and complex websites. As the hired IT companies require more than one development team while creating the website.
4. Releases Roadmap
This type of roadmap is mandatory before launching your website in the market. As they are responsible for the communicative activities needed during the website release.
In order to make your website more functional to the users, you have to coordinate the releasing activities effectively among the functional teams associate with your website.  The functional teams include the sales team, marketing team, and also customer support team.
Hiring a better website development service for developing your website, can help you to pick the most effective roadmap type. So that, you can get a better result after launching your website in the market.
How to Build a Perfect Roadmap for Website Development?
Developing an effective roadmap for your development of a website involves 4 simple steps. By executing all these steps successfully you will be able to create a robust website, for providing services to your users. Here is the detailed information on those 4 steps,
1. Using the correct roadmap tools
The first part of creating an effective roadmap can be ensured by choosing the right road-mapping tools. For that, you may have to make some critical and important decisions. Make sure you think of the future of your website while making these decisions.
A wrong call can add, numerous extra hours to your whole website development process. Plus, will be stuck with a poorly executed website, which will only provide outdated information to the users.
People usually think road mapping is a static documentation process. Where once you document any decision or feature, it can never be changed. But the truth is, the roadmap is a dynamic and responsive process where you can change your decision.

Sometimes, the priorities and requirements of your business can change along with the user's base and budget. But that should be reflected in your roadmap of the website.
The roadmap is accessible to all the cross-functional teams associated with your organizations. These cross-functional teams including sales, marketing, and executive should have a clear overview.
This helps them in continuing the work, to your organization's goals in a more efficient manner. Try to create a roadmap that is easily upgradable and shared for all the technical and functional teams across the organization.
So, always tally carefully, all the advantages and disadvantages of every road-mapping tool that is implemented. Hiring iOS developers can provide you with some unique cross-platform solutions for your organization's website.
Also, try to avoid spreadsheet and presentation software. Because these are usually static in nature and cause difficulties when it comes to easy sharing. This means, that if you don't have any access to the centralized location, it can be very hard for the functional teams to access it.
2. Logical Justification for Every Decision Taken During the Creating of the Roadmap
Developing a roadmap for a website is not a simple work of enlisting the different features for your website. You should have a clear and convincing case for every feature that you want to add to your website.
Not only the features it can be anything including epics, themes, and other initiatives that you want to include.
Plus, all the technical and the functional team of your organization should have a clear understanding, of why you prioritize these features during the development process. This increases the efficiency along with the coordination among the development teams.
Implementing logical justification in the road-mapping process, have its own benefits. For this, you can expect your employees to implement strategic solutions for every decision they make.
Also, when you have a clear explanation for every implementation in the road-mapping process, you will be able to analyze the outcome of the product more clearly.
It has been seen, that the website which has justification for all the features and functionalities used. They can attract a scalable amount of user base, much more effective.
Hiring a better web development company in the USA can help you to implement features with proper logical justification, so that you can create an enhanced roadmap for your developing website, effortlessly.
3. Making the Roadmap More Compelling and Visually Clear for the Development teams
Visual clarity is important for every type of roadmap creation that exists in the market. For example, suppose you have enlisted all the road-mapping works in a spreadsheet.
Where there is a number of rows and columns for epics, features, and functionalities. Yes, it can be boring to go through, but the employees will be able to observe all the strategies at once.
As an admin in the organization, you have the responsibility to encourage every employee. So that they can achieve their personal target effectively, and make the organization reach its goals.
In order to ensure that, better virtual representation of the company strategies is the best way to work on. Also, some of the organization's team leaders spend a considerable number of working hours creating these types of presentations.
So that they can make their employees more efficient by creating a motivating environment around them.
Research has shown that people feel more attracted to visual representation and increase boring long speeches. Here are some of the examples which can make you understand, how much a visual representation is important for any organization,
A product manager in an organization created a visual representation of the roadmap in such an astonishing way. That the employees provide double amount to efficiency, to complete their work. So, the organization stills use that presentation, even though the information in it got outdated.
In some organizations, website owners send color-coded spreadsheets. So that the employees can understand which aspect is the priority and which one is not.
The Vice President of most of the companies hires designers from mobile app development companies. So that they can create a beautiful and motivating visual representation of roadmap documentation.
According to the above examples, your organization can reach a better position in the market. You can provide a motivating visual representation of the targets and encourage them to maintain better coordination among the internal teams.
4. Implementing a Thorough Reviewing and Frequent Updating Procedure
Maintaining a proper reviewing and update procedure for the roadmap of your website is very essential. For that hiring, a mobile application development company can be the most effective option for you, because they can develop dedicated road-mapping applications for your roadmap development process.
So, you don't have to use applications like PowerPoint and Excel which are static in nature. Plus, you will be able to find and provide roadmap updates in a lesser time frame.
Developing your own dedicated road-mapping app can provide you with other benefits also. Such as,
Implementing various changes like updating stories, altering priorities, and changing tasks from one team to another can be very easy.
You will be able to drag and drop color-coded bars and place the roadmap containers in the right place.
Moreover, you will be able to conduct a thorough review of every item in the roadmap. And assign them into different categories in an effortless manner.
Basically, you will not be able to provide an excuse for not updating your roadmap for website development. This can the best efficient solution for creating your roadmap as well as ensuring success for your development process.

If you provide irregular updates to your roadmaps, it can lead your development process to a disaster. Because, if you don't provide updates, then your whole development team will work on an outdated information system.
Plus, it will raise various questions and confusion among the various functional teams as well as the initiatives that you have taken to apply.
And most likely all the development and functional teams who were working together will fall out of coordination. As a result, the whole development process can misalign along with productivity.
Although if your roadmap is developed on a cloud-based server, then you don't have to worry. Because in cloud-based server every team gets a clear image of the live status of the development process of the website.
So, the development team can figure out the amount of work left for creating a perfect roadmap. In cloud-based roadmaps, you don't have to send or export updated versions, through emails and pdf. Every person connected to the server will be able to see the updated data every time, they log into it.
Some Facts You Need To Focus On While Creating A Roadmap For A Website
These are some important facts and statistics related to the website that you would love to read. It will help you create a fine roadmap for a fantastic professional website for business growth.
● The React.js framework is top on the list of web frameworks. 40.14% of developers worldwide use React.js.
● 48% of users influence by a website's design.
● Every minute 380 websites launch worldwide.
● A website with a video background has a 140% conversion rate compared to the other websites.
● More than 62% of companies prefer designing of mobile-responsive platform for their website.
● 38% of users stop visiting the website if there is an absence of an attractive layout.
● 68% of companies experienced a growth boost via using the mobile-friendly website.
● 40% of users visit any website by clicking on its logo.
Cost To Develop A Website
It is okay that you are keen to create a Roadmap for a website. But you also need to know how much it costs to develop a website. So, first of all, I would like to tell you that several components determine a website's development cost. Here is a tabular representation of it.
Components
Cost
Domain Name
$10-$15/ Year
Web Hosting

(based on requirements)

$10-$30+
UX/UI Design
$6,000+

Frontend Development
$5000+
Backend Development
$5000+
Quality Assurance
$7000+
Project management
$7500+
Business Analysis & Functional Specification Development
$2500+
Estimated Cost Range of Overall Website Development
$30k- $70k
What are the factors to avoid while creating a roadmap for website development?
Along with all the advantages of a perfect roadmap for website development. There are some crucial factors that you should avoid to get better results from your website. Here are some of those factors,
1. Failed to implement a logical planning procedure for the font and central part of your roadmap
As the owner of the organization, you have to update and refer to your created roadmap, throughout the development process. And this upgrading and referring procedure can continue for a longer period of time.
So, it is not possible for you to remember why you kept any feature on the top of your priority list.
Plus, integrating a logical planning procedure can also help you when you present the roadmap to your sales team. A strategic planning procedure can make your whole presentation more powerful and convincing.
As a result, they can attract more audiences to your website and increase your user base.
2. Implementing Dates That are Very far from your Roadmap
Implementing dates to your development process is a huge responsibility for your development team.  The whole creation of a perfect roadmap for your website development consumes a considerable amount of time. So, it is necessary to assign set-in-stone dates with achievable targets.
You have to list every target that you are going to implement in your road map. And analyze them to find the perfect time for the development team to achieve it. If you provide a longer time frame to achieve every target the employees may slower the efficiency of their work. Again, if you provide less time span, they can get impatient, which may cause errors in the development process.
Finding the most effective time span depending on the complexity of the target can be the only win for you. Moreover, you have implemented the dates in such a way that there is enough time to make alterations when needed.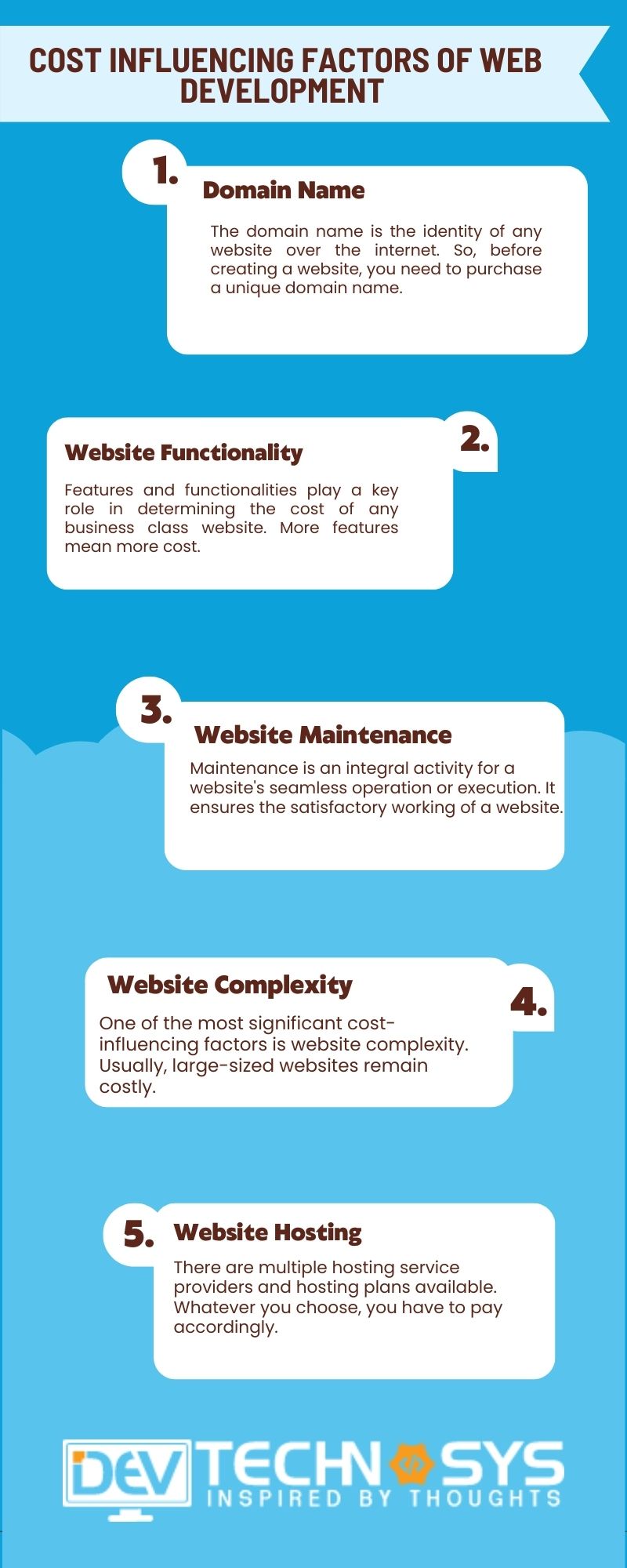 3. Static Roadmap During the Development Process
Making your roadmap, static in nature can decrease the fluidity of the development process. In order to improve it, you have to consider the roadmap for your website development as a living document.
That means you have to maintain a proper upgrading procedure for any kind of change in the priorities.  If your roadmap is static in nature, you may have to go through troubles. While sharing it with various technical and functional teams of your organization. This may lead your organization to a disaster.

As the functional, as well as the development team, will work according to the outdated information. And provide you with a result, which might not be your priority.
That is why hiring a better web application development company available in the market can help you to choose the right road-mapping tool according to your organization's requirements. So that you can share it with your relevant team across your organization. Plus, maintain the fluidity of the development process at the same time.
Conclusion
The roadmap is a very effective part of any website development process. Where developers decided the skeletal infrastructure for your website.
If you have done planning the priorities of your website and services, then now is the time to create a roadmap for your website development. Hiring the best website development company can help you to execute this part of the development process effectively.