Along with time technologies are also advancing at a very great pace. Now we can order everything with the help of our smartphones. Such as cab, cloths, foods and much more.  Just like that, you can order our daily groceries from famous supermarkets located near your house. It has been seen that 25 percent of people are using these grocery delivery applications to fulfil their daily grocery needs.
Moreover, the outbreak of the coronavirus pandemic in 2020, give a substantial boost to this market. As people can get their daily grocery essentials just by staying from their homes. Some of the researchers are predicting that the online grocery shopping market can reach up to $140 billion in 2022. So, if your thing to start a grocery business then the supermarket grocery shopping app development is the most effective option. With your own customized application, you will be able to target a larger audience base.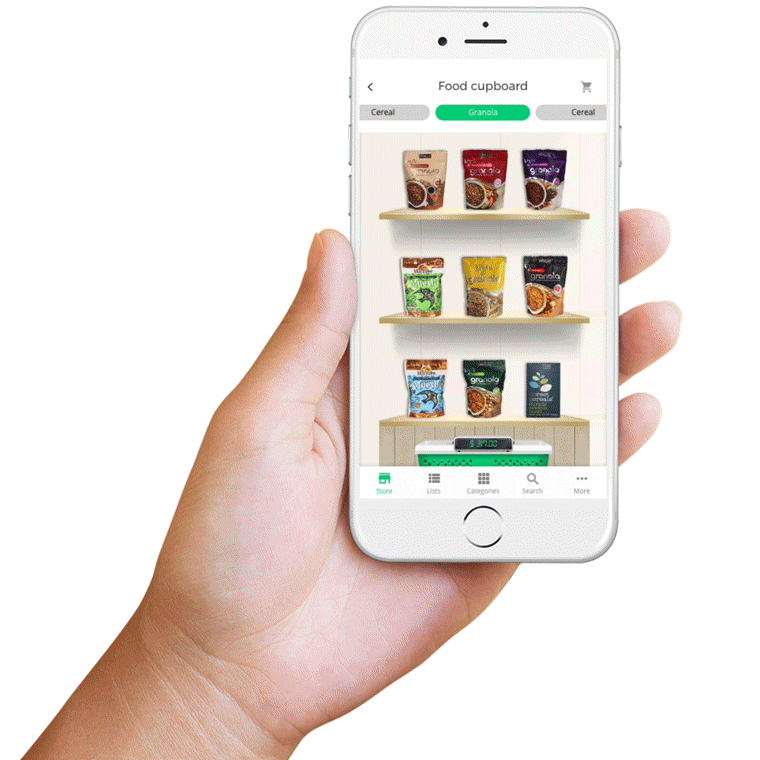 Along with time people are also getting familiar with these online shopping and grocery delivery apps. That way the user base of these types of applications is increasing day by day. As a user, you don't hay to visit the grocery store, collect all the items that you need by visiting different aisles and wait in long queues in order to pay for it. You can just open the applications through your smartphone choose the items. And place the order so that you can receive it in your preferred time slot.
To know more about how to develop your own supermarket grocery shopping app and what it cost. Please continue the blog.
What is a Supermarket Grocery Shopping App Development?
A supermarket grocery shopping app is a mobile application from where you can buy daily essentials and groceries. Your order will be placed at the nearest grocery store and it will be delivered to your door step. As a user, you will be able to see all the grocery items divided into various categories such as fruits, vegetables, grooming essentials, cleaning essentials and much more. You can choose the items you want and place them on a virtual cart. Then you can place the order by confirming the time and location of delivery.
If you have a grocery store or want to start one, hiring an on-demand app development company can benefit you in many ways. As they are capable of developing a dynamic, feature-packed grocery application according to the requirement of your business.
What are the Types of Supermarket Grocery Shopping App Models Available in the Market?
The supermarket grocery shopping application is one of the most competitive markets nowadays. This is because if you can provide a standard quality of service through your feature-packed applications. you will be able to earn a substantial amount of profit from it. So, first, you have to fix the requirement of your business and the services you are going to provide to your customers. Then you have to find the best eCommerce industry solution for your business.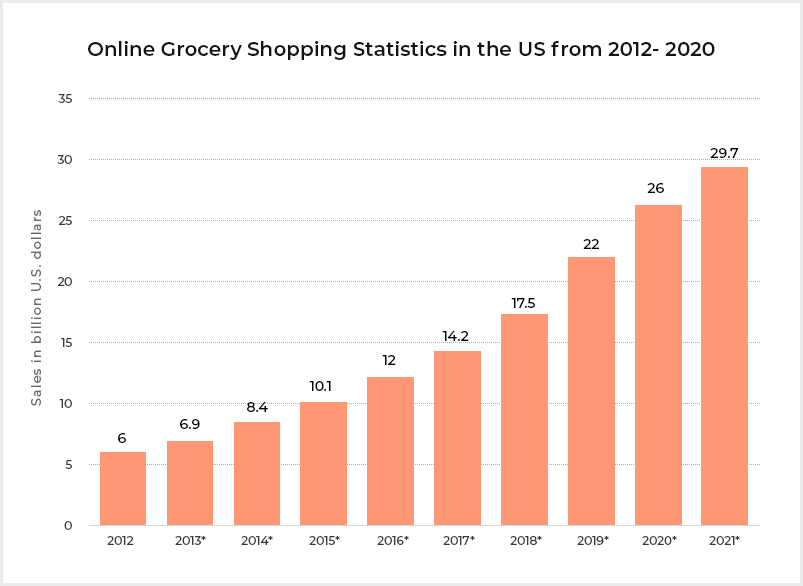 This is because you will be providing your grocery shopping services through your app only. Better the applications and the grocery shopping service you provide to your customers better will the market value of your business. A supermarket grocery shopping application can be broadly divided into two types of models, such as,
1. Dedicated Grocery Shopping App Development
In this grocery shopping app model, you will develop an application, where many local groceries store and supermarkets will sign up. They will sell their product through your applications. But the responsibility of fulfilling the orders as well as the delivery will come to your shoulder.
You will be providing delivery executives so that the customers can get their orders on their doorsteps. As timing is a very important part of any delivery service. You have to manage your fleet in such a way that they can get fulfil all the deliveries with the required time frame. To create a grocery shopping application in this model it is not mandatory to have your own grocery store.
The users in this model are allowed to order various products from different stores. And it is your responsibility to accumulate all the order and deliver to your customer's convenient location. Hiring an experienced website development service can help you to create a grocery shopping application that is capable to manage your fleet with maximum efficiency.
2.  Aggregator Grocery Shopping App Development
If you are choosing an aggregator grocery shopping app model, you will only work as an intermediate person between the store and the customer. In this model, you will create an app and collaborate with some of the local grocery stores. Now the users can place orders from any one of the enlisted stores. And from fulfilling the order list to delivery all be will be taken care of by that store only. The only thing you have to worry about is, increasing the scalability of the users. If your app has a better user base you will be able to earn a substantial amount of profit from this model too.
This model is perfect for those grocery owners who have their own chain of grocery stores thought out the cities. As they will be able to provide better service to their customers from any corner of the city. Also, in the aggregatory model, grocery shopping is also one of the main aspects of success along with customer service. So, by hiring an eCommerce app development company, you can ensure your success easily in this competitive market.
How Does The Supermarket Grocery Shopping App Works?
The working of a supermarket grocery shopping app developed by an experienced mobile app development company is very simple. It is similar to e-commerce applications where you can various filter options to find specific products. Then you have to specify the quantity of the product and add it to the shopping cart. Then you can check out the item from the cart by paying with various available payment options and place the order. In some of the applications, you can also select your preferred time of delivery.
Here is the step-by-step process on how a normal grocery shopping application usually works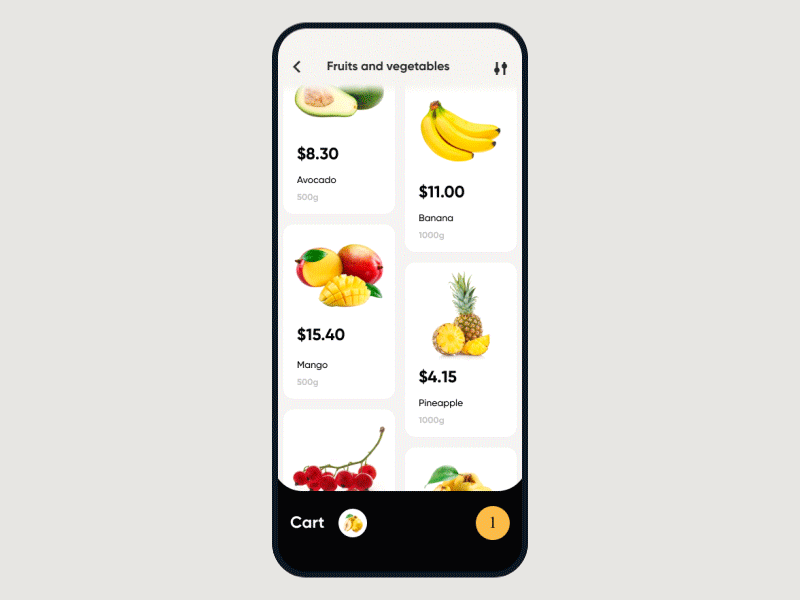 At first, as a customer, you have to sign up with your personal details to create a profile yourself. Usually, most of the applications use mobile phone numbers or email id and password combo. But nowadays you can sign up with your social media handles such as Facebook, Instagram and Twitter. Integration of this feature by web development companies helps the users to save time and effort effectively.
After the sign-up process, you just have to log into your profile.
Then you have to search the specific products that you want to buy, or you can use the search bar by typing the name of the product and add that into your personalized cart.
After you all the products that you want into your cart, you have to add a delivery location to your profile.
Once the delivery location is added you just have to pay for the products to confirm the order. Most of the grocery shopping applications will offer you a plethora of payment options. That includes debit cards, credit cards, gift cards, UPI and even cash delivery.
After the order is confirmed on your side, it goes to the store manager. And they revert back to you through applications if all the products that you choose are available in stock.
Then the approved order makes it ready for delivery by the employees of the grocery store.
Now your order is packed to get delivered to your given location at your preferred time slot.
A delivery executive will be assigned to deliver your order. And they will deliver the product to your doorstep within the time slot.
The whole process is done through the grocery applications. That is why you need a feature-packed stable application for your supermarket grocery shopping. There are many applications that also provide advanced facilities such as live tracking of orders. For that, you have to hire the best android app development company available in the market for your grocery business.
What are The Benefits of Using Supermarket Grocery Shopping Apps?
There are many supermarket grocery shopping applications developed by famous mobile app development company already exist in the market. And these applications offer many functionalities to their customers such as payment gateways, live delivery tracking etc. But there are some features which are very difficult to implement and cost like a fortune. So, it is better to integrate the advanced functionalities along with the increasing user base.
Here are some of the advantages of developing a supermarket grocery shopping applications for your customers:
1. Speed
One of the main things which makes online grocery shopping better than offline grocery shopping is speed. Here the customers don't have to find the product from by roaming different part of the store, look for their prices and wait in long queues in order to buy it. They can just do the whole grocery shopping by sitting at their home. Plus, in some cases, you will be able to complete the product delivery within an hour. This will increase the market value of your grocery business effectively day by day.
Another perk of having your own customized supermarket app development is that they are developed according to the requirement of your business. So, you can just eliminate the unnecessary functionalities very easily. For example, if you aim to save a considerable amount of investment for marketing purposes. You can just use technologies like a flutter. It takes very little cost to implement and add better performance to your application. So that you can provide a smooth and responsive user experience to your customers. Hiring grocery app developers can help you to develop your application according to the priorities of the business.
2. Better Reliability and Quality of Products
If you develop your own supermarket grocery shopping application you can expect a better quality of products. This is because most of the app control will be in your hand.  Plus, no changes and updates will be done to your application without your permission. This will make the product more reliable to you as well as to your customers at the same time.
Moreover, since the whole application will be under your control, you have to ability to analyze each and every part of the software. And try to prevent any kind of security and performance risk.

3. Special Offers and Discounts
In the customized grocery shopping applications, you will be able to analyze the ordering patterns of regular customers. And provide them attractive promotions, offers and discounts on the basis of their purchasing patterns. This will increase your user base exponentially along with the total revenue of your business. These offers can also make you're the one-time visitors a loyal customer.
Moreover, by hire dedicated developers, you can conduct various types of loyalty programs. In which the customers will earn some bonus points for every purchase in your applications. And they can use these points to get attractive discounts on their next purchase.
4. Customization
This benefit comes in handy when you have a unique idea for an online supermarket grocery shopping business. Choosing the customization development instead of the general one can open a huge number of possibilities in the development space. You will be able to develop it according to the scale of your userbase and alter it into a bigger one if it gets successful in the market. Plus, you can choose the basic and simple functionalities instead of the complex ones in the MVP of your application.
5. Customer Data
As an application, your supermarket grocery shopping app will contain a huge number of sensitive data of your users. As the users will share their credit card, debit card and bank related information during the payments. So, it is your responsibility to make sure the data doesn't fall into the wrong hands. For that, you should have a better quality security system integrated into your application.
These security systems developed by grocery delivery app development services will guard your customer's data. From any kind of hackers and cyber threats, and help you to provide better security to the user data.
6. Convenience
Providing better convenience is the main motto of developing this kind of online grocery shopping application. In order to make better revenue, you have to use a simple user interface in your software. So, that user feels comfortable, easy and convenient to use your application. This will only be possible if you choose a customized development process for your grocery shopping application. As the developers are hired eCommerce developers will design the interface according to your business goals. The users always prefer a simple, responsive and smooth application interface instead of a complex one with many functionalities.
You can always increase your user base by launching the application of the iOS platform along with the Android. For that, you have to hire iOS developers, who are capable of developing the same applications for the Apple app store.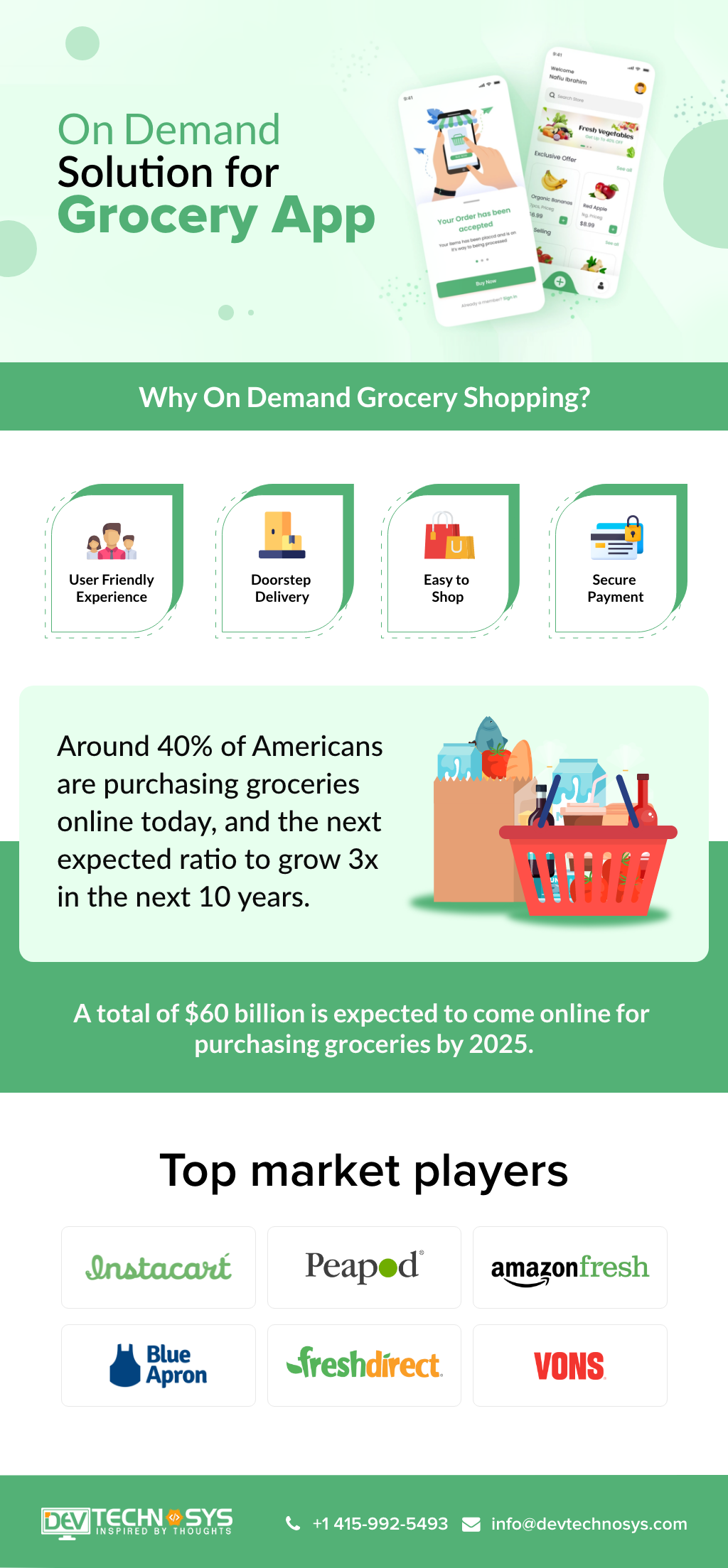 What are The Common and Advanced Features to Keep While Developing a Grocery Shopping App?
These IT company created applications contains a number of features for the customers, store owners and even for the admin. The main motive of implementing these features is to make it more convenient for the uses as well as the admin. Sometimes implementing a larger number of features and functionalities can compromise the performance of your application. This can cause damage to the reputation of your business. So, it is better to use simple functionalities in order to maintain a smooth and responsive user experience.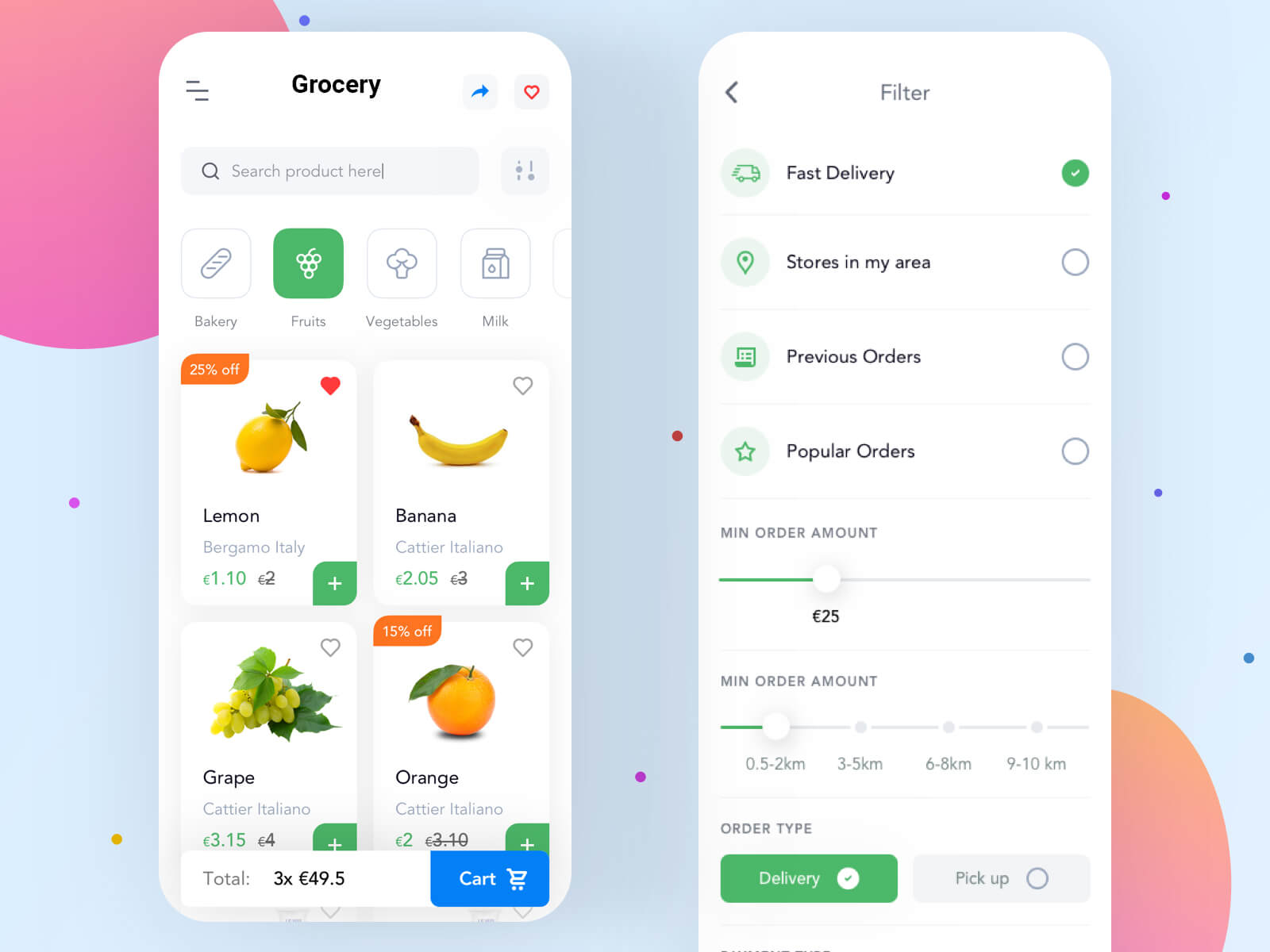 The usual features of a supermarket app development can be broadly divided into 3 parts, such as,
1. Grocery Application Features for Users
These features help the customer to create their own profile inside the application. Usually, most of the applications use email id and password or phone no, and password combo. But due to the implementation of technologies by eCommerce website development services now users are allowed to log in with their social medial handles.
With the help of this feature, the users can quickly find the specific product by using various filter options. This increases the efficiency of the product searching and reduces user effort.
Scheduling Delivery option
This allows the users to select a convenient time slot for delivering their order. Usually, the user chooses that specific time slot when they are sure they stay at home to receive the order. 
The setting is the option, where the users get full authority to change or alter any information about their profile. Plus they are also able to browse their previous orders when they need it. 
This feature helps the users to sort all the products into specific categories. So that the user can find the product they need easily
It is one of the most important features for every user. As it helps them to add new or store their payment information for faster checkout. The best payment gateway can provide you with all the payment options including UPI apps like Google Pay, PayPal etc. 
It helps to track the current status of the confirmed order.
Users can leave their valuable feedbacks with the help of this feature. It is also the most important part of your applications. By following this you can upgrade your app to attract a more user base.
2. Grocery Application Features for Store Owners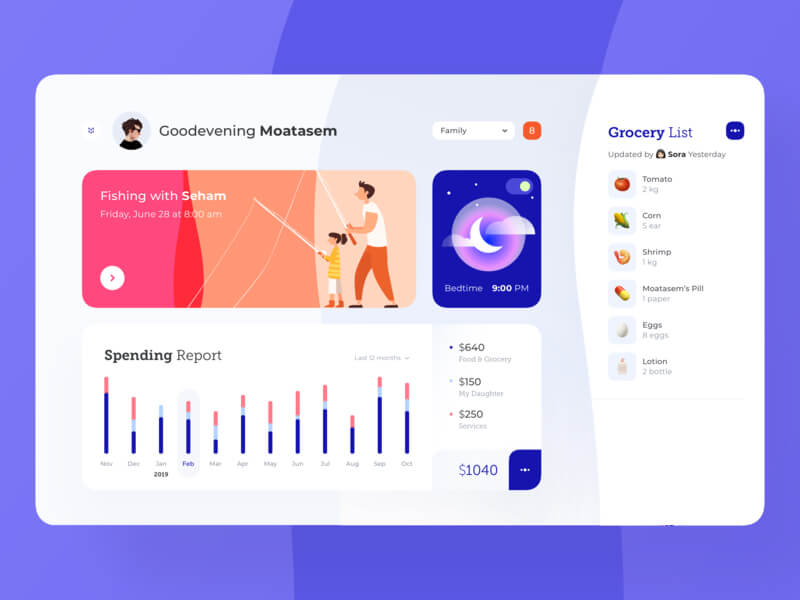 This feature helps every to locate the available store if the store owner relocates their store to a different place. 
Management option for all the profiles
The store owner can manage their own profile, with which they can update daily stocks and add new items to the list. 
This feature helps the delivery persons to locate the store, where the order is packed and ready to get delivered. 
Live tracking during the time of delivery
Live tracking feature activates after the delivery executive picks up the to deliver it to their user.
3. Grocery Application Features for Admin
For managing the numerous stores associated with the grocery shopping app.
Helps to show new updates, and out of stock status for any product to the users.
This feature helps the admin to know the live status of the confirmed product, whether it is in packing or in the delivery stage. 
With the help of this feature, the admin is able to collect all the reviews and feedback given by the user. So that they can use those to improve the app services. 
This help to alter the payment model, if needed.
As an entrepreneur or a grocery store owner you can implement all these above-mentioned features effective in your app, just by hiring the best website development company available in the market.
What is the Cost of Developing a Grocery Shopping Application?
The cost for developing a supermarket grocery shopping application always depends upon the hired mobile application development company and the functionalities implemented in it. It also depends on other factors like compatibility with various platforms, GPS service integrations and much more. So, creating a minimum viable product of a supermarket grocery shopping application can cost you from 10,000 US dollars to 30,000 US dollars in countries like the USA and UK.
You can always reduce the cost of development by outsourcing the development process to developers from countries like India. As their per hour rate is lower than the other countries. Plus, the implementation of various third-party technologies can also provide you with unique solutions to lower the MVP development cost of your application.
Conclusion-
The online supermarket grocery shopping application is one of the uprising business ideas in the market. If you have a unique idea for a grocery store application and you have done a thorough research of its requirement in your locality. This can be the best way to earn better revenue in the market. Just you have to hire the best mobile app development services for your applications. A better development service will always provide you with a responsive, feature-packed application according to the requirements of your business.